Chicken wonton soup is a quick and easy recipe that comes together in about 30 minutes. It's full of delicious flavor and is perfect for busy weeknight dinners.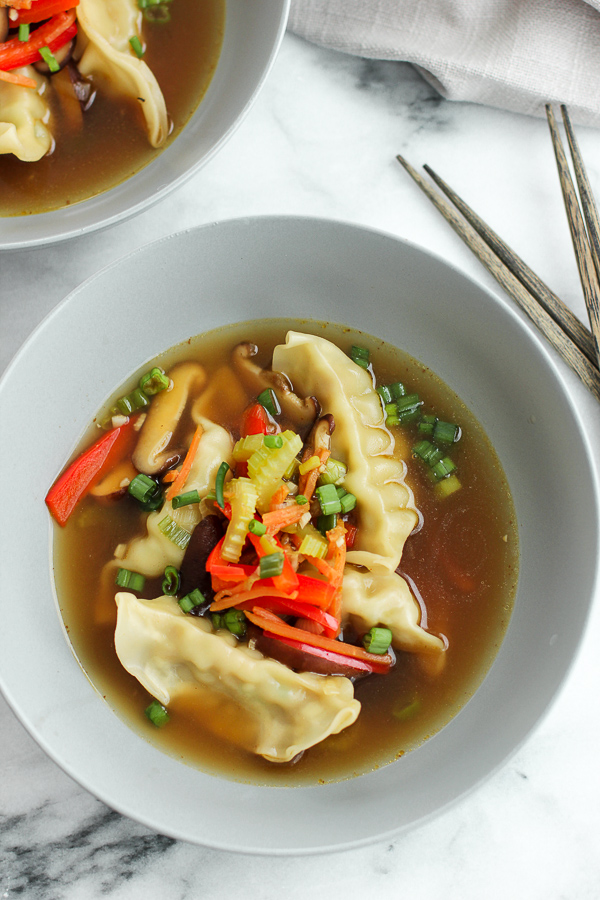 Who else loves an easy, but super tasty weeknight meal? Actually, I'm pretty sure I know the answer to that question. I think we all love an easy weeknight meal, especially on a busy night, am I right?
This wonton soup fits the bill perfectly. It takes about 15 minutes of prep and 15 minutes of cooking time. What makes this recipe so easy are frozen wontons, also known as potstickers or gyoza, which is the Japanese name for dumplings.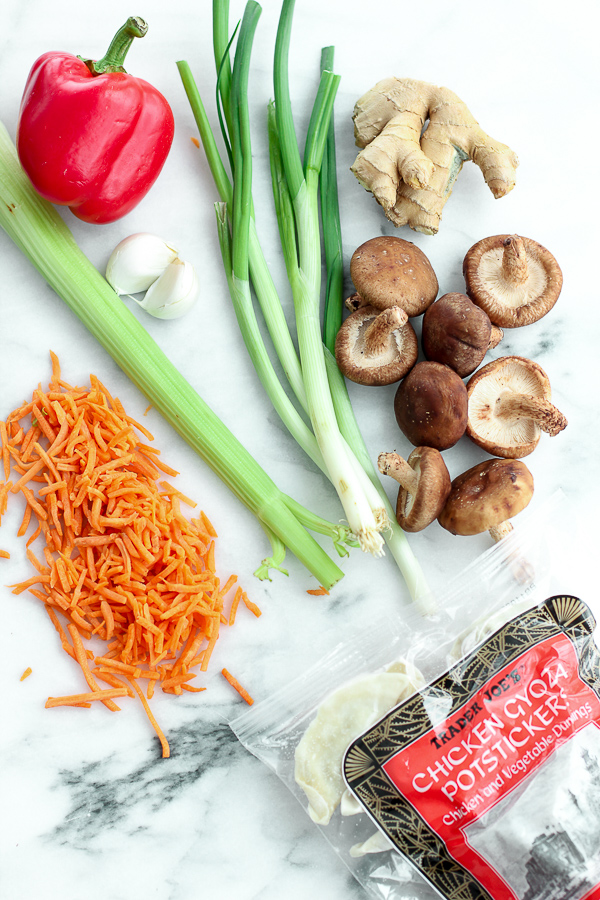 The prep work requires chopping a few veggies, but you can make that easier by taking a few short cuts at the grocery store. I like to buy shredded carrots and pre-sliced mushrooms and instead of chopping my own ginger, I often buy ginger paste, which is just as flavorful. It can be found in the produce section.
Once the prep work is done, the vegetables get a quick sauté before adding in the stock, sesame oil, soy sauce and a little (or a lot) of sriracha. Once the soup comes to a boil and the veggies are tender, in go the wontons, which only take a few minutes to cook.
The resulting flavor is way more that the sum of its parts. The sesame oil and soy sauce really amp up the flavor of the chicken stock and the sriracha gives it a nice little spice kick. Pair this soup with a quick salad, maybe some bread and you've got one tasty dinner.
If you have some more time to make this recipe, you can also make your own homemade potstickers. These are fairly simple to put together and make a big batch that can be frozen. You'll have plenty on hand for more wonton soup or a quick and easy appetizer.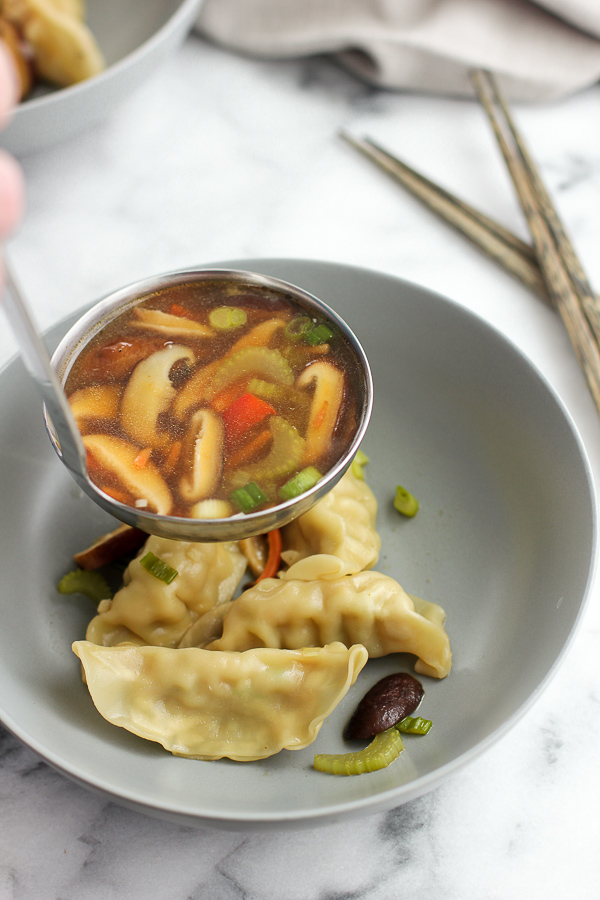 What can I serve with chicken wonton soup?
Your favorite bagged asian salad, to keep things super simple
Your favorite crusty bread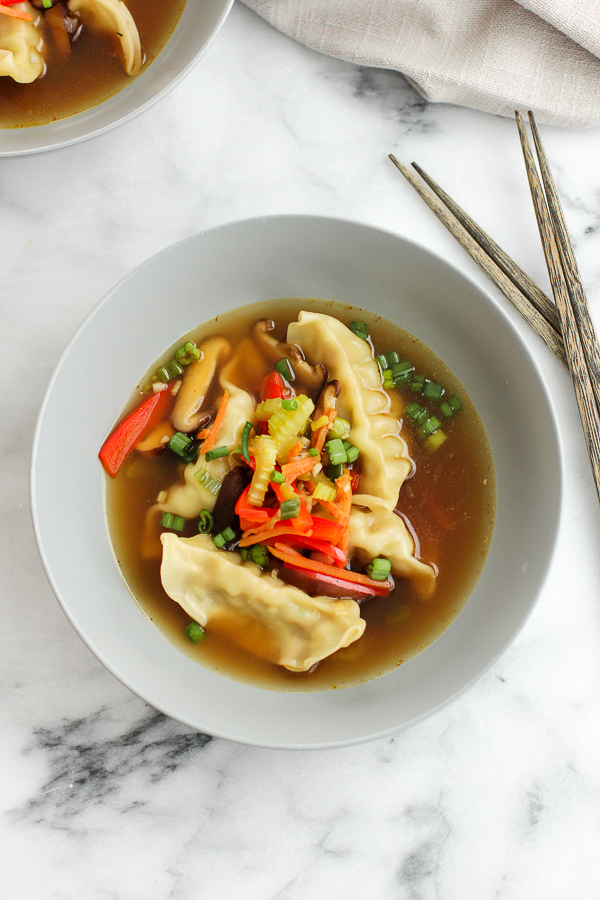 What are some tips to make Easy Chicken Wonton Soup?
If you're really pressed for time, take some help from the grocery store and buy some of the veggies pre-chopped. The easiest ones to find would be shredded carrots, sliced mushrooms and ginger paste.
This recipe calls for frozen chicken wontons, but if you can't find them, frozen potstickers or gyoza will all work in this recipe.
If you're not going to eat the soup right away, wait to put the wontons in until right before you're ready to eat. You can either keep the soup on a low simmer or refrigerate and reheat once you're ready to add the wontons.
If you don't want to use chicken wontons, you can use pork wontons instead. Either will taste fantastic.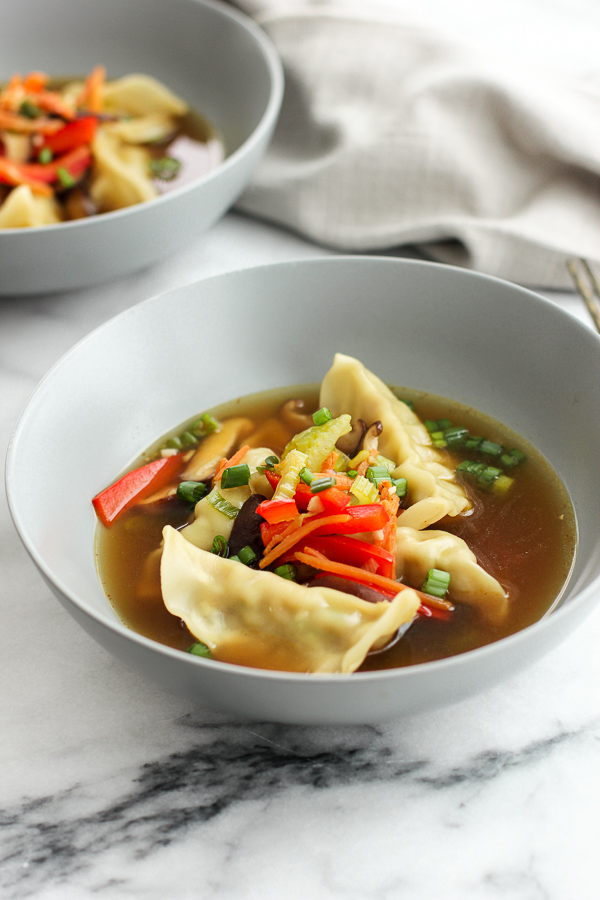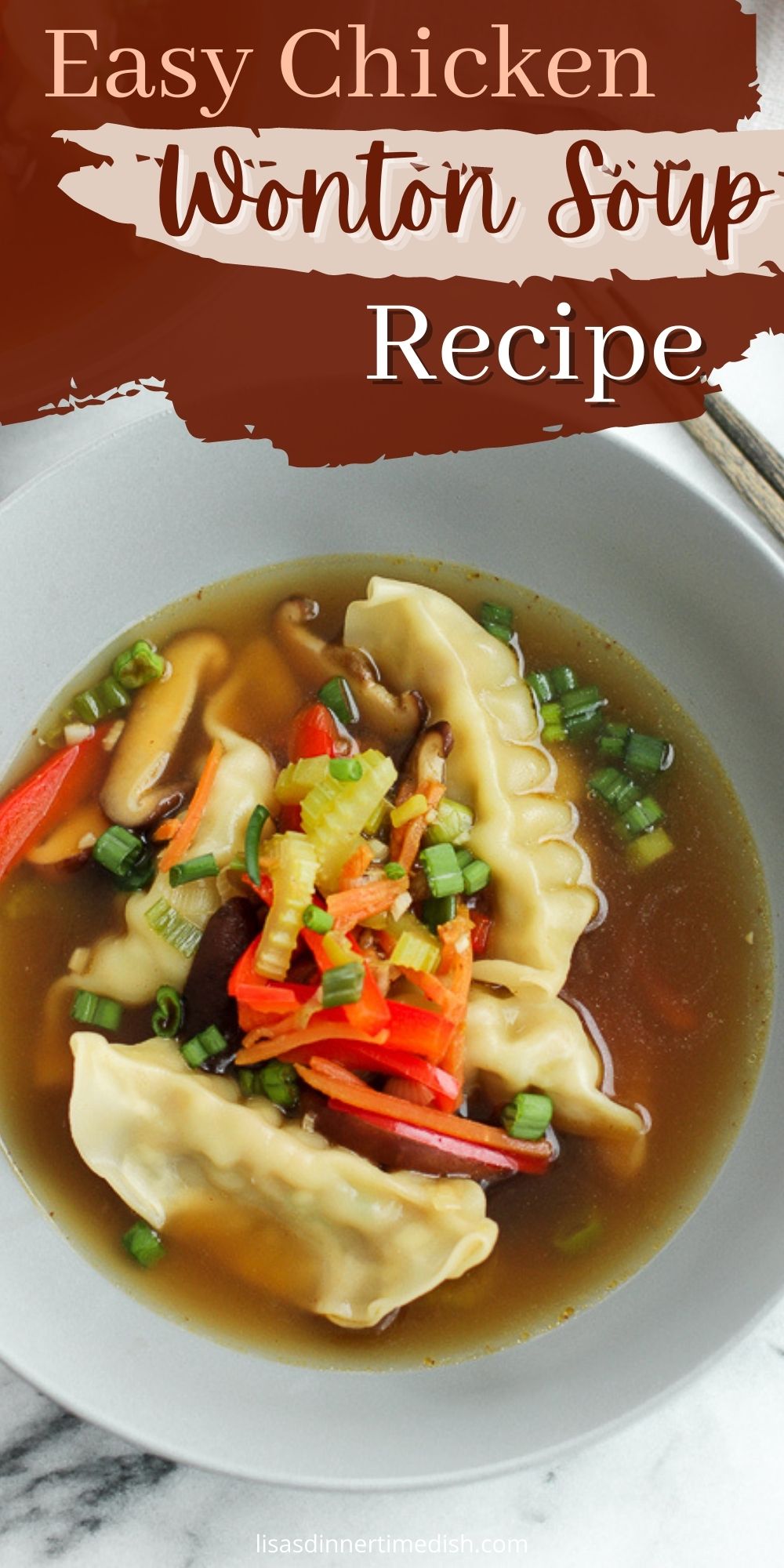 Yield: 4
Easy Chicken Wonton Soup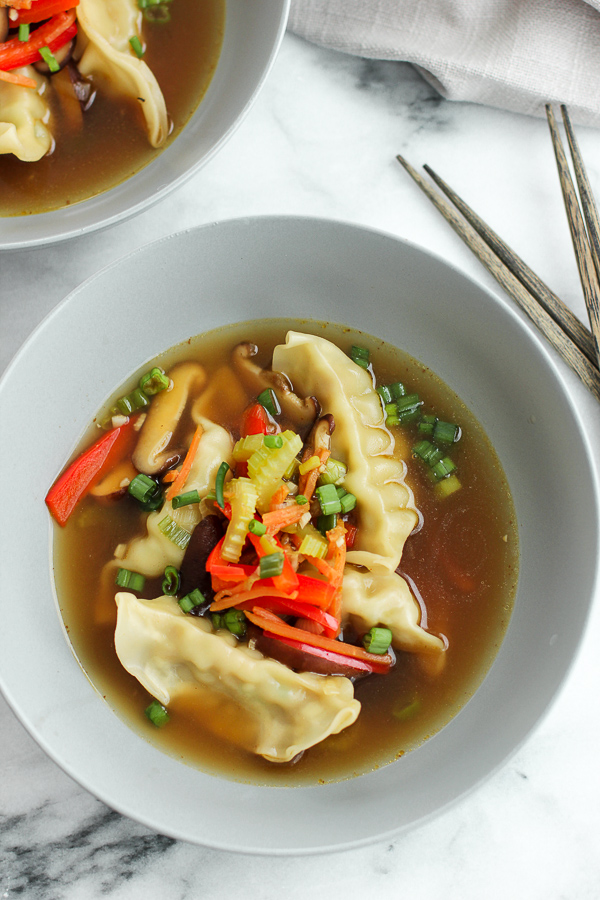 Chicken wonton soup is a quick and easy recipe that comes together in about 30 minutes. It's full of delicious flavor and is perfect for busy weeknight dinners.
Ingredients
1 tbsp vegetable oil
4 oz shiitake mushrooms, stems removed and tops thinly sliced
1 red bell pepper, thinly sliced
2 cloves garlic, minced
1/2 cup shredded carrots (see notes)
1 stalk celery, thinly sliced
4 green onions, sliced and divided
1 tbsp minced fresh ginger
6 cups chicken stock
1/4 cup soy sauce
1 tbsp sesame oil
1-2 tsp sriracha, according to taste
16 frozen chicken wontons (see notes)
Instructions
Heat vegetable oil in a soup pot over medium high heat.
Add mushrooms, red bell pepper, carrots and celery to pot.
Saute for 3-4 minutes, until veggies are tender.
Add 1/2 the green onion slices, garlic, ginger and sesame oil.
Saute for an additional 1 minute.
Stir in stock, soy sauce and sriracha.
Bring to a boil.
Reduce heat to medium, add wontons and cook for 4 minutes.
Serve with remaining green onions for garnish.
Notes
For convenience, I buy pre-shredded carrots.
I like to use Trader Joe's chicken gyoza pot stickers in this soup. But any frozen wontons or pot stickers will work.
Nutrition Information:
Yield:
4
Serving Size:
1
Amount Per Serving:
Calories:

459
Total Fat:

21g
Saturated Fat:

3g
Trans Fat:

0g
Unsaturated Fat:

16g
Cholesterol:

44mg
Sodium:

1938mg
Carbohydrates:

46g
Fiber:

4g
Sugar:

11g
Protein:

23g