Pork potstickers with sesame soy dipping sauce are perfect for game day. They're full of great flavor and can be made ahead and frozen until you need them!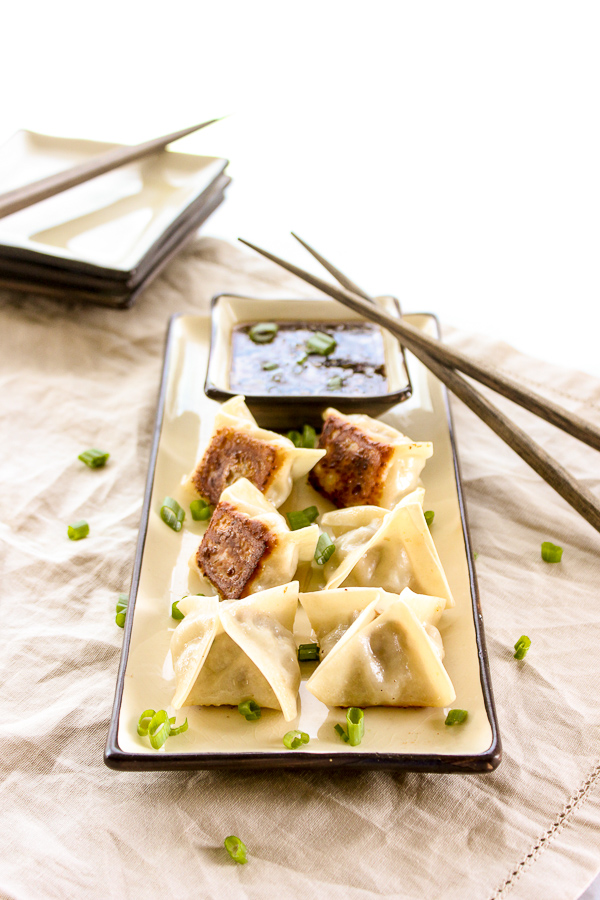 A few summers ago, a new restaurant opened near where we used to have our cabin and it quickly became one of our favorite spots "up north". It's set right on the edge of one of the most popular lakes in the area and has a really fun vibe.
It has a HUGE patio for outdoor dining as well as a gorgeous indoor space with a light and bright beachy feel. Then, while you're eating you can watch the boats go by on the lake. It makes me long for summer just talking about it.
The atmosphere is really fun and the food is SO good. Believe me, when when we spent time up in the area we were regulars there. Many times we'd go there just for appetizers and one of our favorites was the pork potstickers.
They have a super flavorful filling and are perfectly browned and crispy on the bottom and tender on the top. Pair that with a savory dipping sauce and you have a winner appetizer.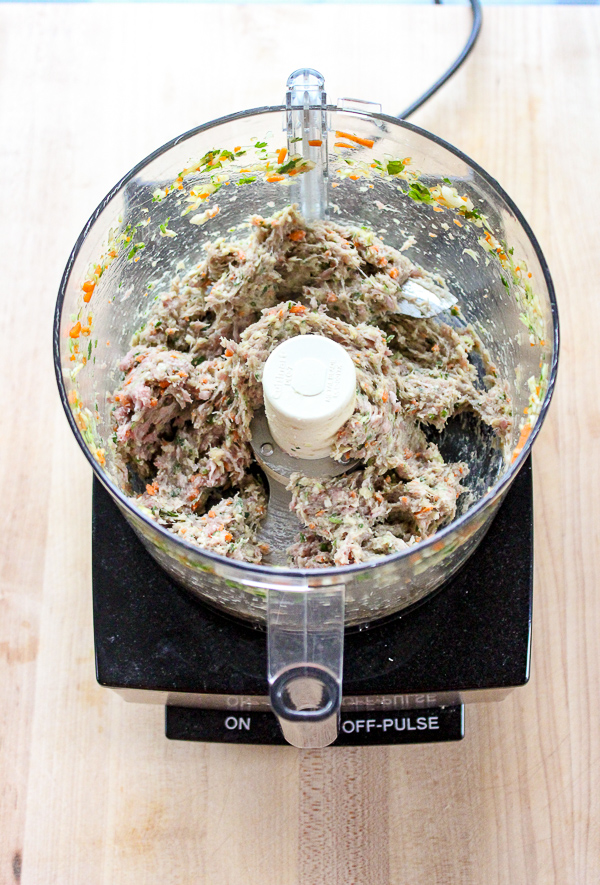 So of course, I had to try and make these pork potstickers at home, so that we could be reminded of our lakeside dining all year long. It turns out, they really weren't difficult to make and I discovered that they are absolutely freezer friendly.
Once you've assembled them, you freeze them in a single layer, then put them in ziplock bags. Anytime you have a craving for potstickers you pull out as many as you need and cook them right from frozen. In less than 10 minutes you have an amazing appetizer.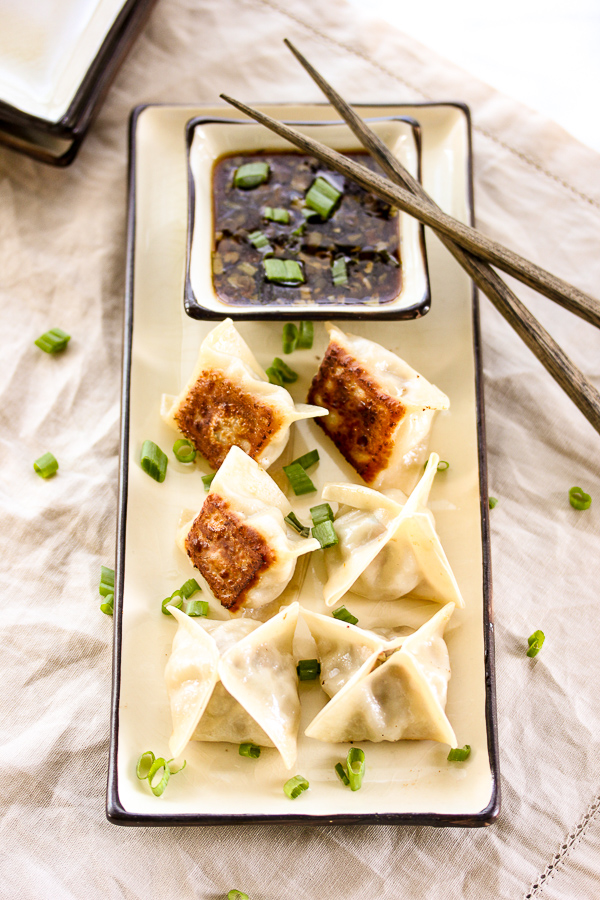 Making the filling for these little pillows of goodness is a snap. You literally throw all of the ingredients in the food processor and pulse until the veggies are minced and everything has come together. Then you start the assembly.
It takes a little bit of time, but it's not hard. Turn some music on and pour yourself a glass of your favorite beverage and I think you'll find it's actually kind of relaxing. My son, Alex, and I have made these together and we actually had a great time doing it.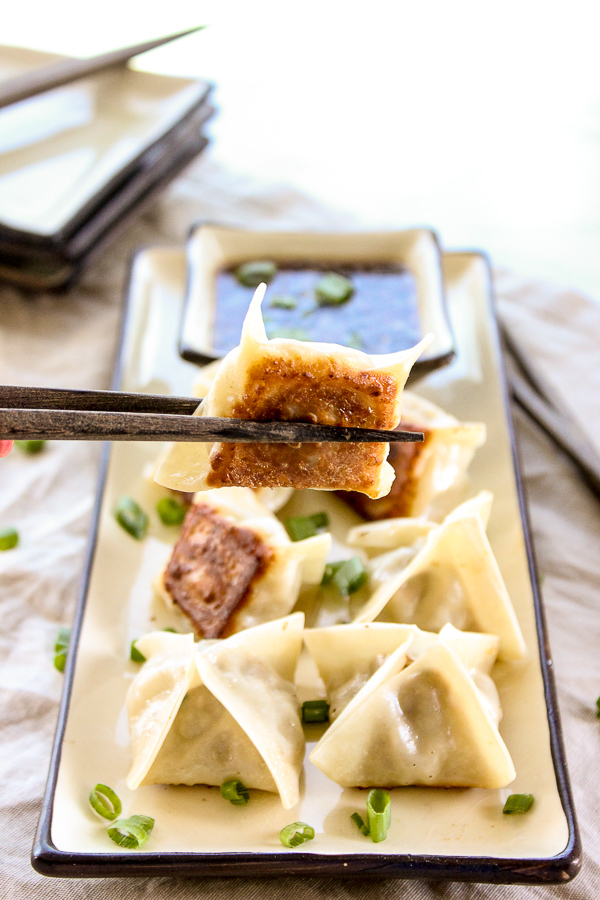 I think it's great to have a big supply of pork potstickers in the freezer to have on hand any time you're entertaining. That way you're guaranteed to have something delicious ready to serve in minutes.
What do you need to know to make Pork Potstickers with Sesame Soy Dipping Sauce?
Wonton wrappers can be found in either the produce or refrigerated section of the grocery store.
If you don't have a food processor, the filling can be minced in a blender.
I have hound that the pot stickers have tendency to spatter when they're added them to the pan, so have the pan cover in hand to block the spatter.
If you prefer, ground chicken or turkey can be substituted for the pork.
Yield: 40
Pork Pot Stickers with Sesame Soy Dipping Sauce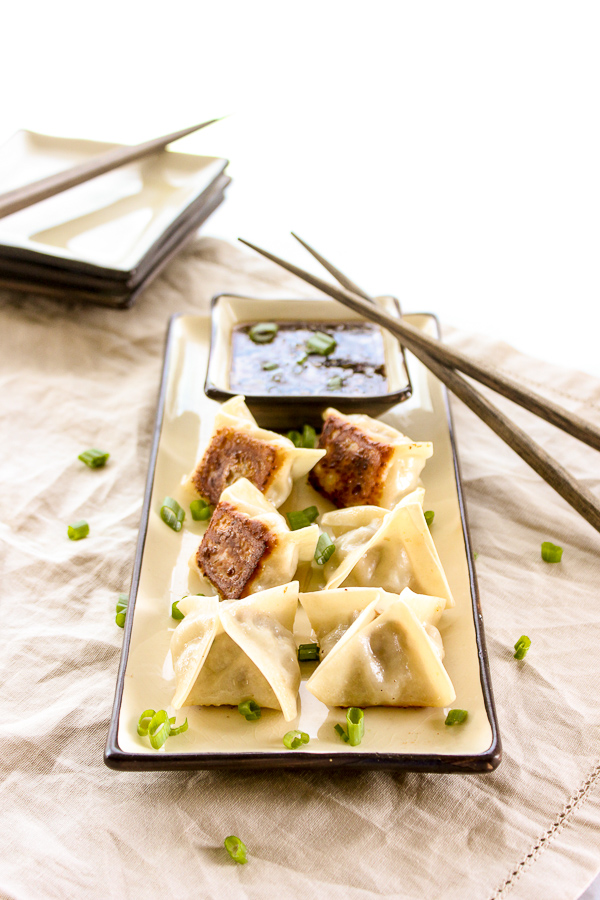 Pork potstickers with sesame soy dipping sauce are perfect for game day. They're full of great flavor and can be made ahead and frozen until you need them!
Ingredients
1 lb ground pork
1 1/2 cups shredded green cabbage
1/2 cup shredded carrots
2 cloves garlic, peeled and crushed
2 tbsp ginger paste
1/4 cup cilantro
1 tsp salt
40 wonton wrappers
1 tbsp peanut oil (you can also use vegetable oil)
1/4 cup water
1/4 cup soy sauce
1 tbsp sesame oil
1 green onion, thinly sliced
2 tbsp sweet chili sauce
juice of 1 1/2 limes
2 tbsp cilantro, minced
Instructions
To make the wontons, add the first seven ingredients to a food processor.
Pulse until all ingredients are well combined and veggies are finely chopped.
Place about 1 tbsp of the filling in the center of each wonton, do not overfill.
Moisten the edges of the wontons with water.
Pull two of the sides together, pressing to seal. Repeat with the other two edges and make sure all the edges are sealed.
To make the dipping sauce, whisk together soy sauce, sesame oil, green onion, chili sauce, lime juice and remaining cilantro.
To cook the wontons, heat 1 tbsp peanut oil in a large non-stick skillet that has a cover.
Add wontons to the pan, about 10 at a time (you don't want to overcrowd the pan), and cook until the bottoms are browned, about 1-2 minutes.
Then VERY carefully (it will spatter) pour 1/4 cup water into pan and cover immediately.
Steam wontons for about 4 minutes, until cooked through.
Carefully remove cover and allow to cook for about 1 minute more to allow water to fully evaporate.
If cooking more than 10, add another tbsp oil to the pan and repeat the process.
Serve with dipping sauce.
Notes
These freeze really well and can be cooked from frozen. Freeze in a single layer on a baking sheet and then store in ziplock bags. Follow the same directions to cook, they do not take longer when they're frozen.
Nutrition Information:
Yield:
10
Serving Size:
4
Amount Per Serving:
Calories:

299
Trans Fat:

0g
ENJOY!
This recipe has been shared at: