Zucchini Lasagna Roll-Ups are a delicious low carb alternative to traditional lasagna rolls-ups. With its hearty meat sauce you won't even miss the pasta.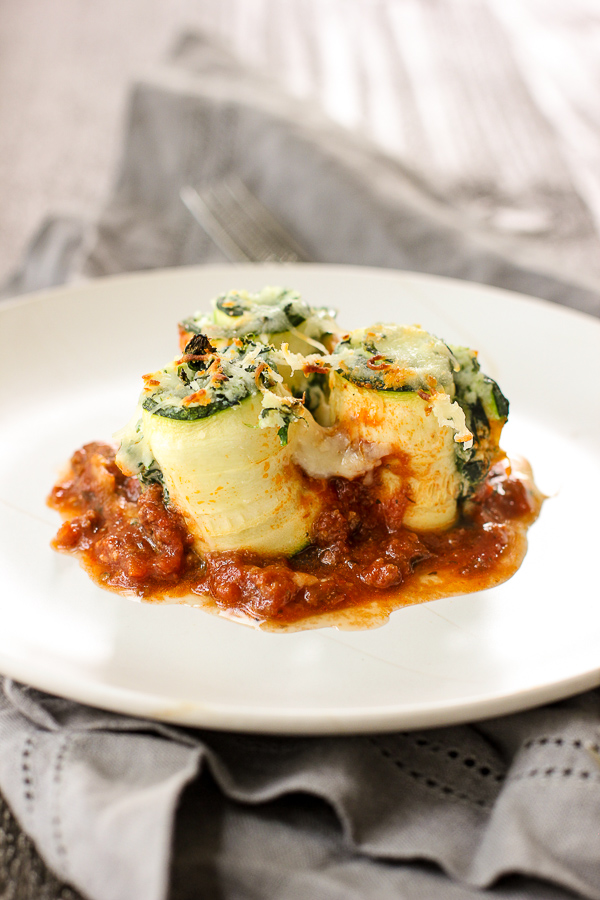 If you have oodles of zucchini from your garden or farmers market and you're not sure what to do with it, I have the solution for you. Zucchini lasagna roll-ups will use up your surplus and will make your taste buds very happy.
These roll-ups are also a perfect meal if you're trying to eat low carb. But even if you're not watching your carbs you'll love these. This dish is so hearty and flavorful, you won't even miss the pasta.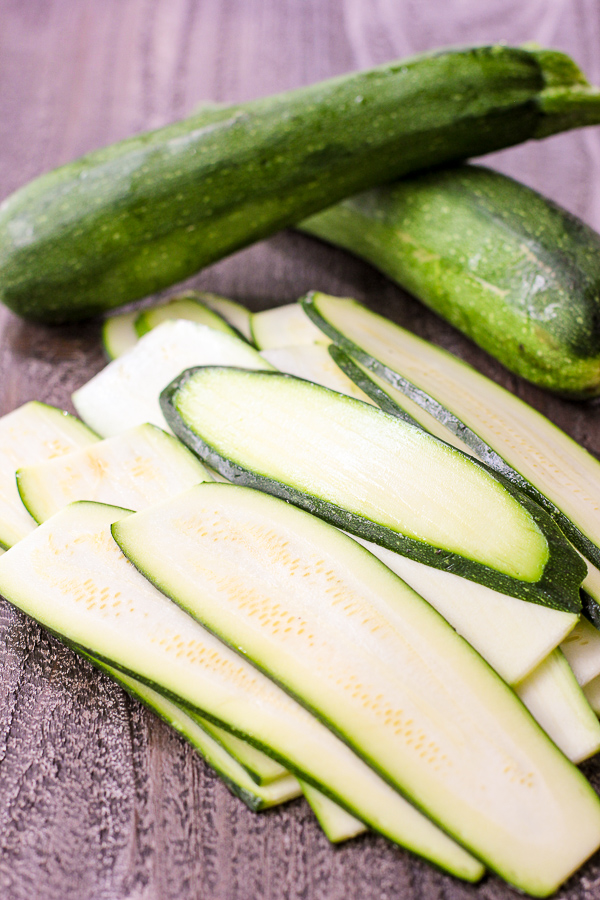 The key to these zucchini lasagna roll-ups turning out perfectly is to allow the zucchini plenty of time to release it's moisture and patting it all dry. If you skip this step, the dish will turn out watery.
Nestling the roll-ups in a meaty red sauce is key to making this dish nice and hearty. If you're vegetarian, you could certainly omit the ground beef and just go with marinara sauce, it will still be delicious.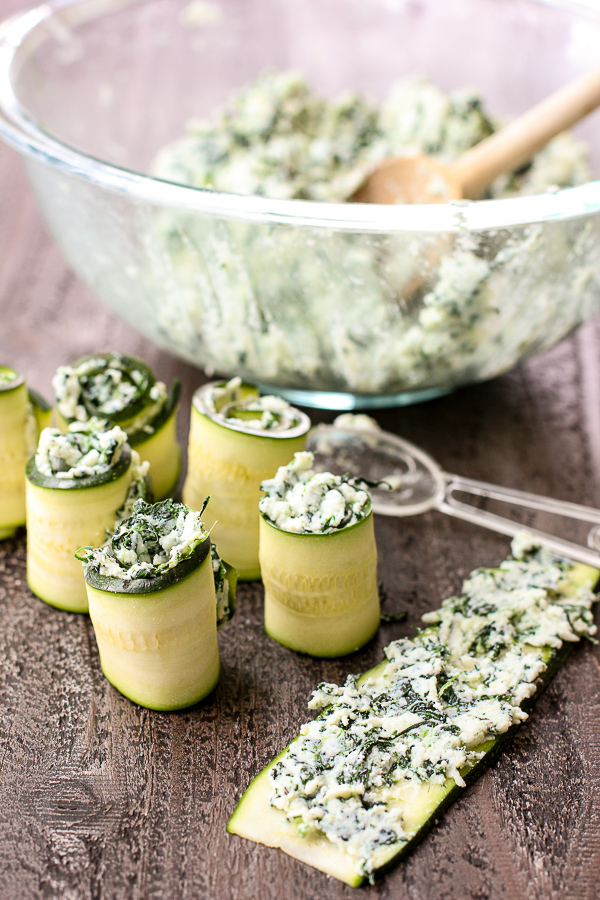 It does take a bit of time to prep this for the oven, but you can assemble it ahead of time and refrigerate it until you're ready to bake it. It only bakes for about 30 minutes, so it's perfect for a busy weeknight if you've already done the prep work.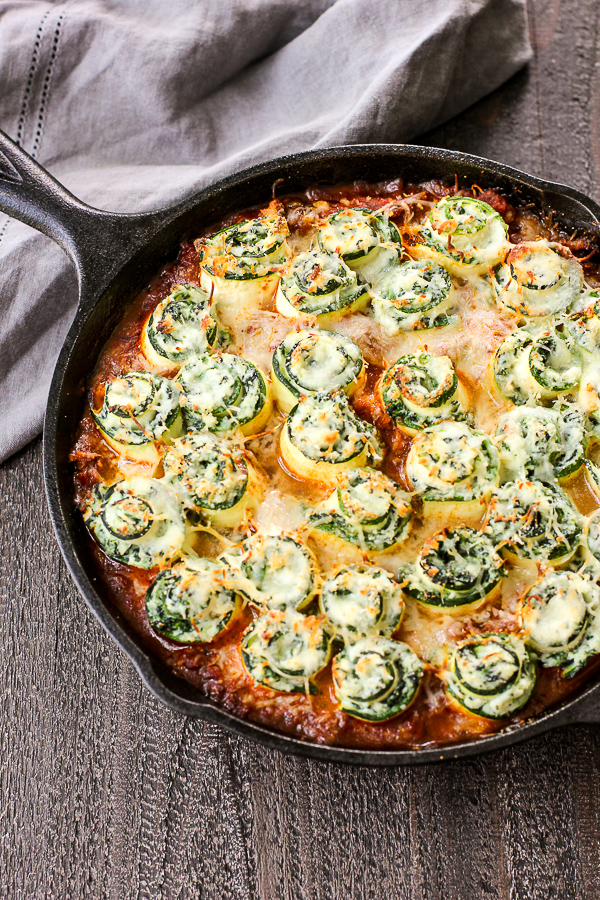 What do I need to know about making Zucchini Lasagna Roll-Ups?
In order to be able to form the zucchini into rolls, it's important for it too be sliced very thin. The easiest way to get the slices to be a uniform 1/8 inch is to use a mandolin to slice them. It goes quickly and they turn out perfectly. If you don't have a mandolin, lay the zucchini down and slice down vertically with a large knife to make thin slices.
I can't stress enough how important it is to let the zucchini release it's water. Salt it lightly and lay it in a single layer on paper towels. Then let the zucchini drain for at least an hour. The longer you let it sit the better.
I use my homemade marinara sauce for this recipe. It's quick and easy to make, yet it tastes like it's simmered all afternoon. If you don't want to make your own sauce, feel free to use your favorite jarred sauce.
Leftovers heat up well in the microwave.
I haven't tried freezing leftovers, but I wouldn't recommend it. I think freezing would make the zucchini mushy and it might just fall apart.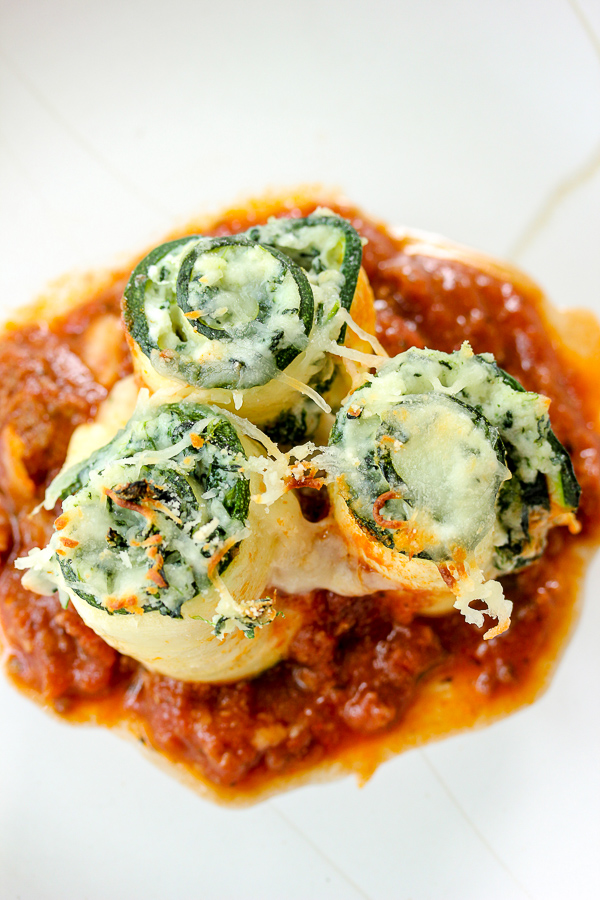 Here are a few more zucchini recipes you might like:
Zucchini Noodles with Roasted Tomatoes Chicken and Pesto
Bruschetta Chicken Zucchini Spaghetti
Spicy Italian Sausage and Peppers Over Zucchini Noodles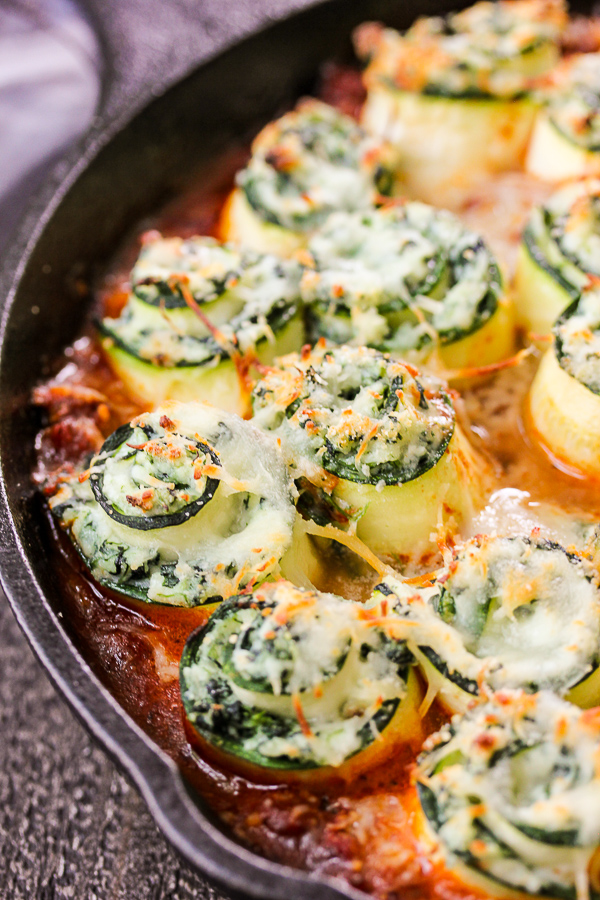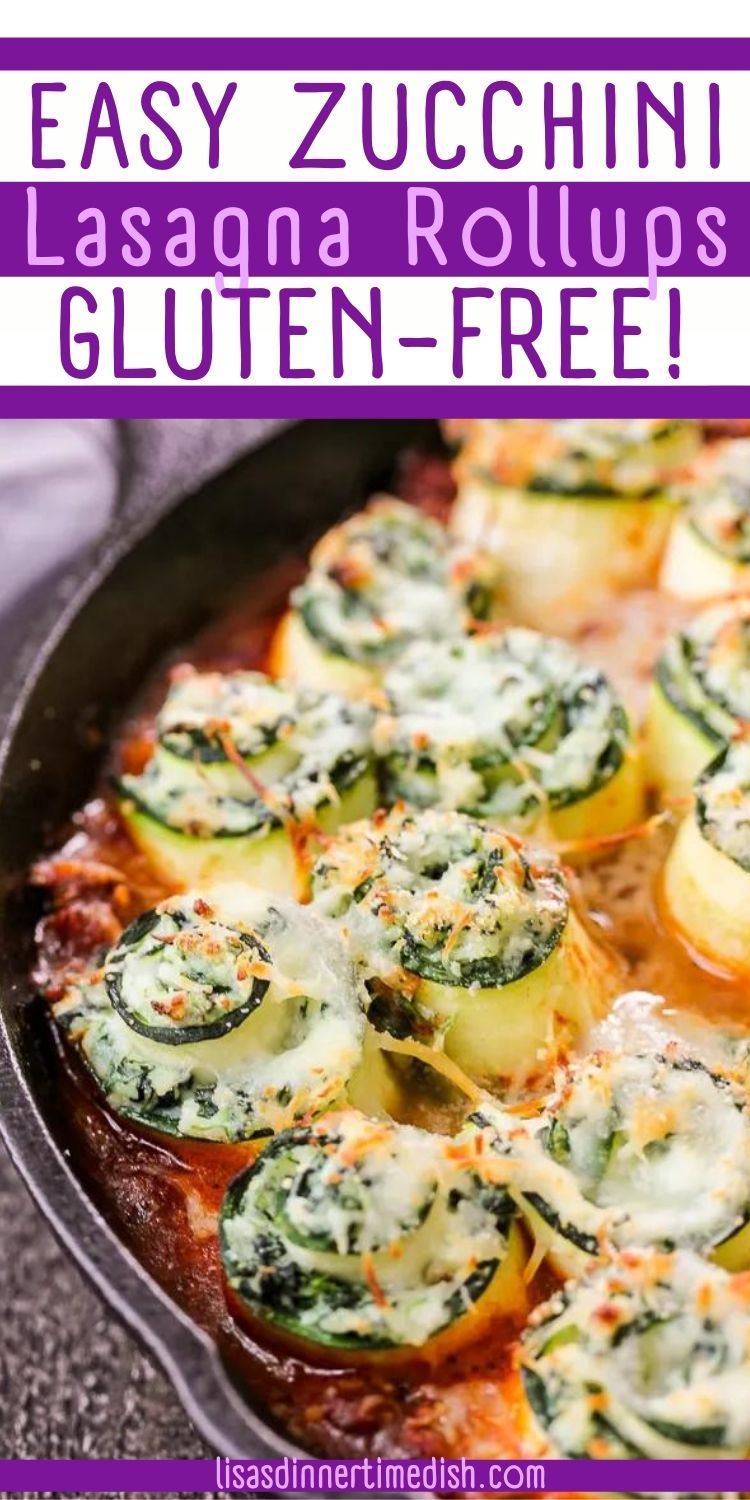 Yield: 6
Zucchini Lasagna Roll-Ups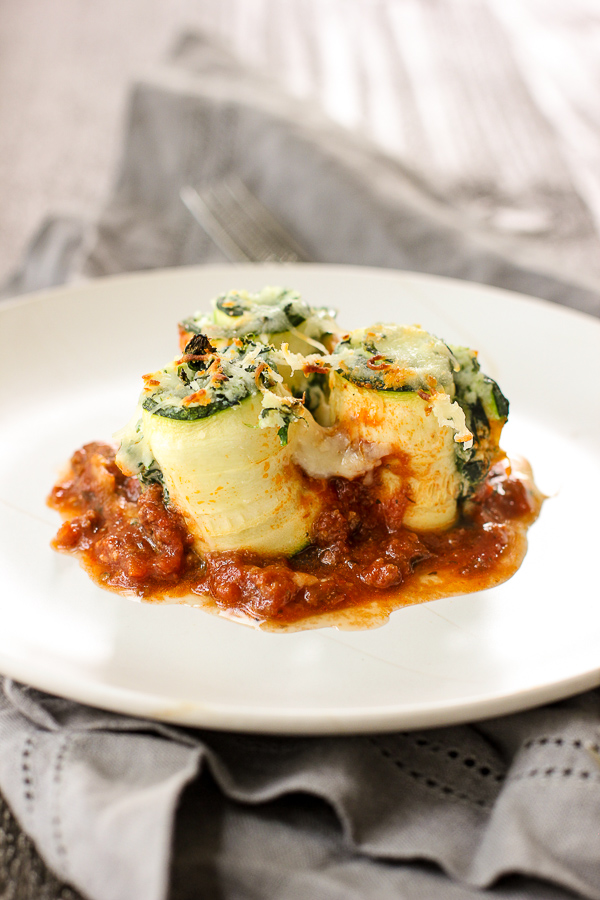 Zucchini Lasagna Roll-Ups are a delicious low carb alternative to traditional lasagna rolls-ups. With its hearty meat sauce you won't even miss the pasta.

Prep Time 1 hour 30 minutes

Cook Time 30 minutes

Total Time 2 hours
Ingredients
4 medium zucchini
salt
1 lb ground beef
1 (16 oz) whole milk ricotta cheese
1 clove garlic, grated
1 egg
1/2 tsp salt
1/4 tsp pepper
1/3 cup plus 2 tbsp grated parmesan, divided
1 cup shredded mozzarella, divided
1 (10 oz) pkg frozen spinach, thawed and squeezed dry
Instructions
Slice zucchini lengthwise into 1/8th inch thick slices.

Lightly salt zucchini and stack in single layers in between paper towels.

Let sit for at least 1 hour to allow moisture to be released.

Meanwhile, brown ground beef in a large skillet.

Stir in marinara sauce and bring to a simmer.

Reduce heat to low, cover and simmer until zucchini is ready.

Preheat oven to 350 degrees.

Combine ricotta, garlic, egg, 1/2 tsp salt, 1/4 tsp pepper, 1/3 cup parmesan, 2/3 cup mozzarella and spinach in a medium mixing bowl.

Stir until all ingredients are well incorporated.

Once zucchini has released its moisture, pat dry.

Spread meat sauce in the bottom of baking dish or an oven safe skillet.

Spread 2 tsp of ricotta mixture evenly on each slice of zucchini and careful roll-up.

Nestle each roll-up into the meat sauce.

Top roll-ups with remaining 1/3 cup mozzarella and 2 tbsp parmesan.

Bake in preheated oven for 30-35 minutes, until heated through and cheese is melted.

Serve immediatly
Notes
1. Don't be scared away by the long prep time. Most of that is hands off while you let the zucchini release its liquid.

2. The longer you can let the zucchini sit, the better. This will prevent the dish from becoming watery.

3. You can assemble this dish up to a day ahead and refrigerate. When you're ready to back, allow another 10 minutes or so for it to heat through.

4. Using a mandolin is the easiest way to get the zucchini sliced 1/8 inch thick. If you don't have a mandolin, lay the zucchini down and carefully slice down lengthwise with a large knife.
Nutrition Information:
Yield:
6
Serving Size:
1
Amount Per Serving: Calories: 354Total Fat: 21gSaturated Fat: 9gTrans Fat: 1gUnsaturated Fat: 9gCholesterol: 120mgSodium: 729mgCarbohydrates: 10gFiber: 3gSugar: 5gProtein: 31g

ENJOY!