Slow Cooker Pulled Pork couldn't be easier, plus, it turns out juicy and flavorful every time. It's great to keep on hand in the freezer for quick meals.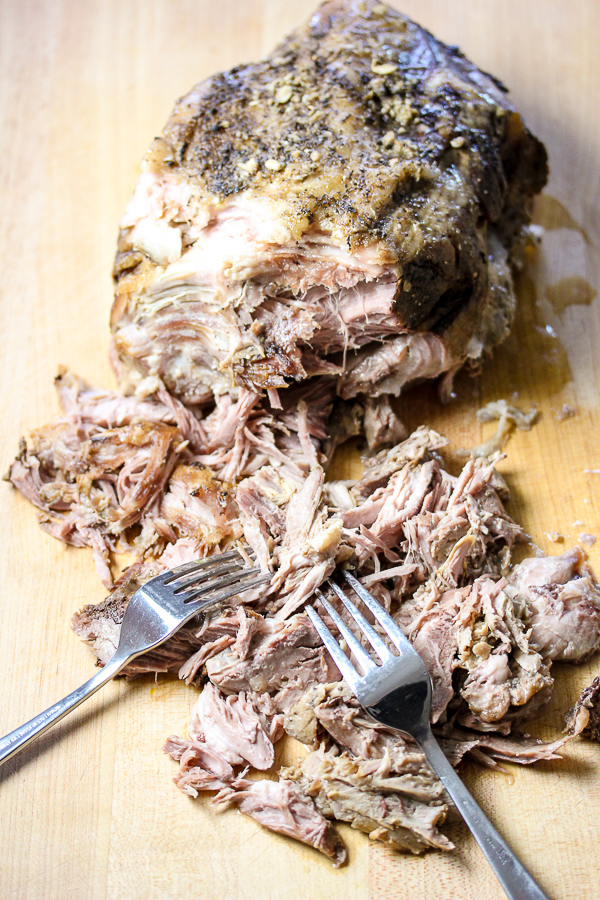 Stocking your freezer with pre-cooked ingredients is a huge time saver. On a busy night, it can be the difference between being able to put together a homemade meal and calling for take out.
I find it especially helpful to have cooked meat in the freezer. You can easily put together so many different recipes when you have cooked meat on hand. I try and always have things like shredded chicken, meatballs and slow cooker pulled pork in my freezer.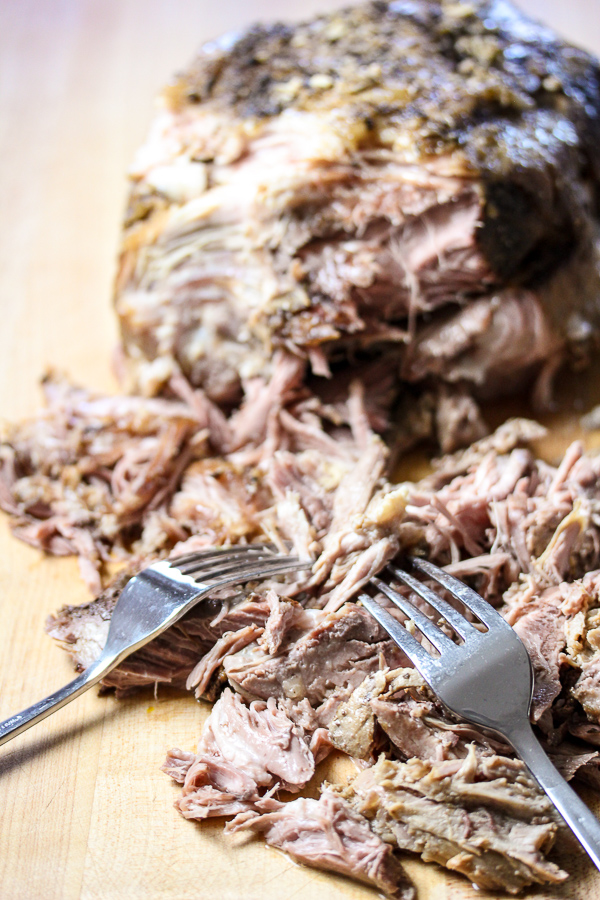 My freezer stock was starting to run low, so when I saw that pork shoulder was on sale for $o.98 a pound, I decided it was time to make some pulled pork.
I love making pulled pork in the slow cooker. It only takes a little bit of prep work in the morning and then I don't have to worry about it for the rest of the day.
I like to keep my seasonings fairly simple. I season the pork with garlic, lemon zest, oregano, salt and pepper, as well as white wine and onion. The pork tastes great on its own, but it will work great in a variety of recipes as well.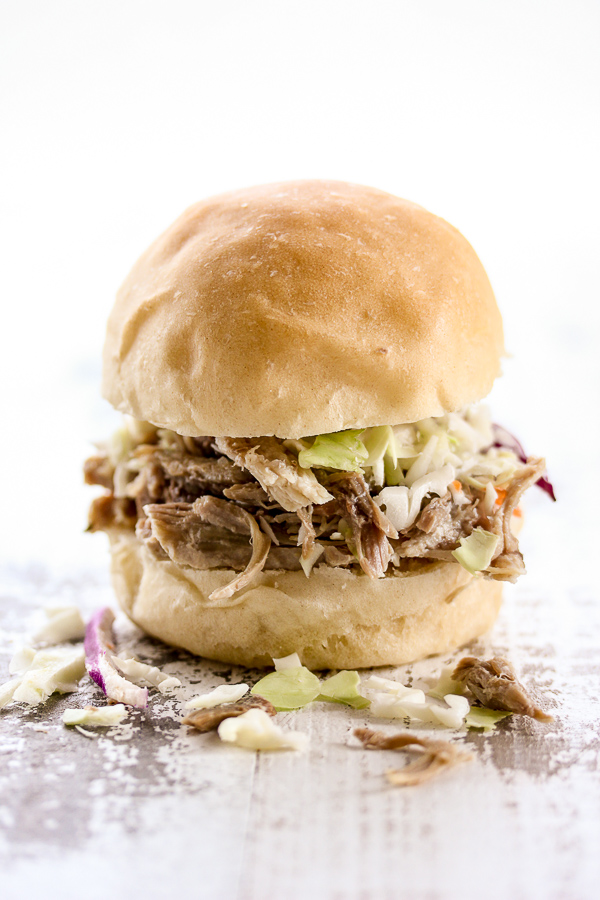 I package the pork in freezer bags, in one cup portions, once it's been cooked and shredded. That way I can pull out just what I need and it will thaw out quickly. With my freezer stocked, I'm ready to make a variety of recipes.
It's great for pulled pork sandwiches (with or without BBQ sauce). It's also great in soups or chili, enchiladas, nachos, quesadillas, Tex-Mex Lasagna, Mexican Cornbread Casserole and the list could go on.
I've also served this pulled pork at my kids' graduation parties. It's a great crowd pleaser that everyone seems to love.
Yield: 25 servings
Couldn't Be Easier Slow Cooker Pulled Pork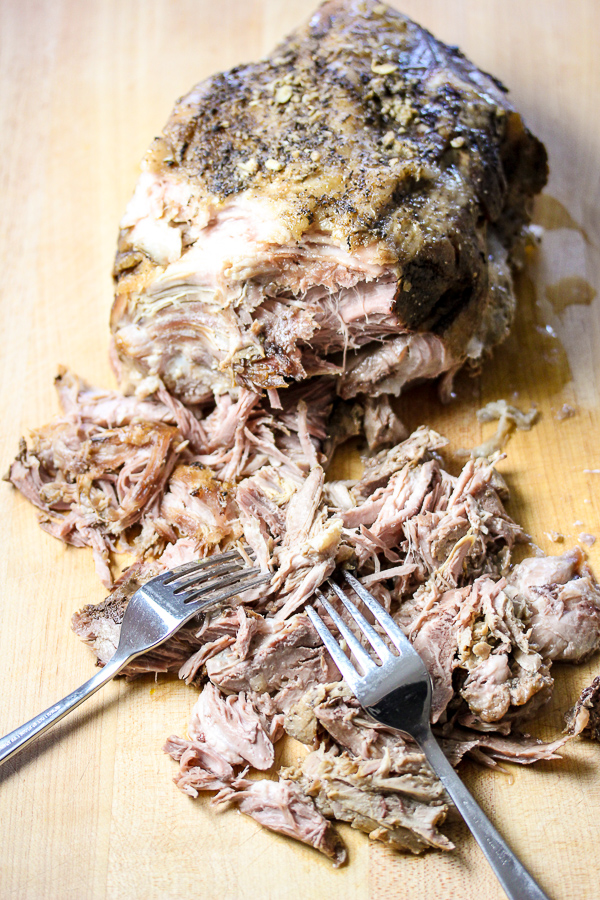 Slow Cooker Pulled Pork couldn't be easier, plus, it turns out juicy and flavorful every time. It's great to keep on hand in the freezer for quick meals.

Prep Time 5 minutes

Cook Time 8 hours

Total Time 8 hours 5 minutes
Ingredients
8 lbs pork shoulder or butt
4 cloves garlic, minced
zest of 1 lemon
1 tsp oregano
1 tsp salt
1 tsp pepper
1 onion, sliced
2 bay leaves
1 cup white wine
Instructions
Combine garlic, lemon zest, salt and oregano and mince together.

Place pork in slow cooker, fat side up (cooking it this way will help the meat to stay moist).

Rub garlic mixture all over pork.

Sprinkle or grind pepper over pork.

Cover pork with onion slices and add wine.

Cover and cook on low for 8-10 hours until fork tender.

Remove pork from slow cooker and put in a large bowl.

Allow liquid in slow cooker to cool so that you can skim fat from the top.

Meanwhile, remove visible fat and then take two forks to shred pork.

Once liquid has cooled, skim fat and add to shredded pork.

If freezing, put 1 cup portions into freezer bags and freeze.

Use pork in your choice of recipes.
Nutrition Information:
Yield:
25
Serving Size:
1
Amount Per Serving: Calories: 435Total Fat: 31gSaturated Fat: 11gTrans Fat: 0gUnsaturated Fat: 17gCholesterol: 131mgSodium: 192mgCarbohydrates: 1gFiber: 0gSugar: 0gProtein: 34g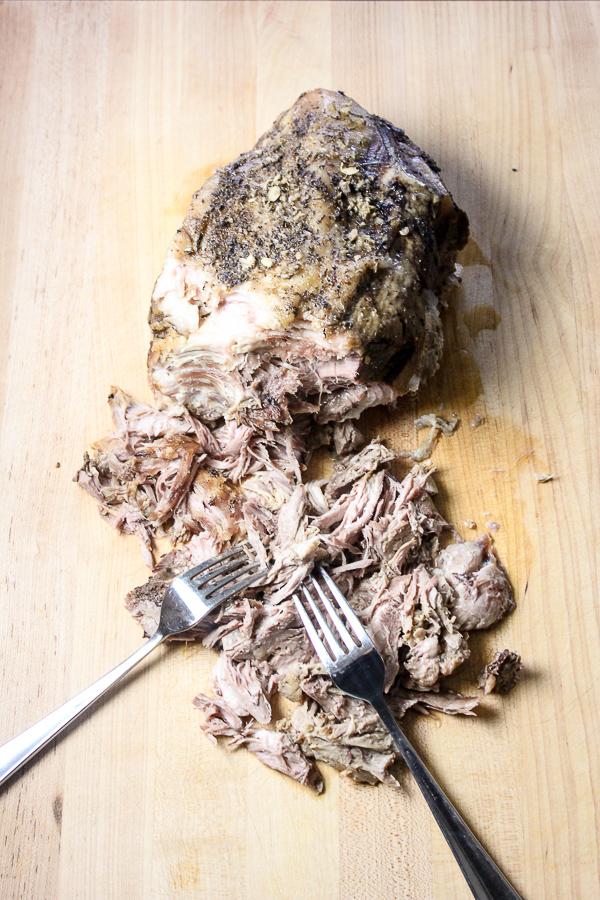 ENJOY!
I shared this recipe at: