I'm baaack! I had a wonderful time with my family over the last 10 days, seeing the sights in Washington DC and New York City, but I must say, it does feel good to be home and get back into a regular routine. I will share some photos of our vacation (including photos of Julia Childs kitchen!!!) later this week, but today I have this dee-licious roasted asparagus salad with champagne vinaigrette to share with you.
After 10 days of not- so- healthy eating, this salad is the perfect dish for me. It's light and tastes really fresh and bright from the orange juice and orange pieces, the pine nuts add a little crunch and the rosemary adds some depth to the flavor. It's perfect as a side dish or as a nice, light lunch.
Roasted Asparagus Salad with Champagne Vinaigrette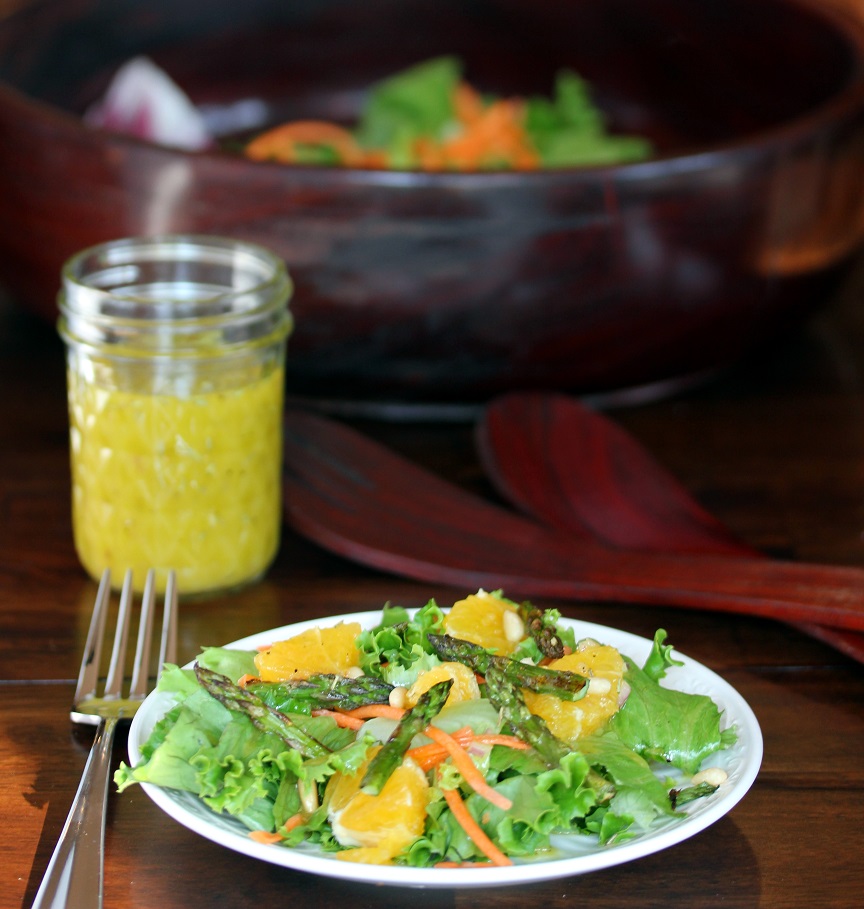 8 oz fresh asparagus
1/4 cup pine nuts
1 cup shredded carrots
1 (7 0z) bag mixed greens (I used Trader Joe's Champs Elyse'es mix)
1 orange, peeled and cut into chunks
3 tbsp fresh squeezed orange juice
2 tbsp champagne (you could also use champagne vinegar)
1 tsp Dijon mustard
1 tbsp honey
1/2 cup olive oil + 1 tbsp for asparagus
1/2 tsp dried rosemary
1/2 tsp salt
1/4 tsp pepper
Preheat oven to 425 degrees.
Cut woody ends off asparagus (about bottom 1 1/2 inch) and then cut into 1 1/2 inch pieces, toss with 1 tbsp olive oil. Sprinkle with salt and pepper.
Roast asparagus in preheated oven for about 10 minutes, until tips of asparagus are starting to turn brown. Allow to cool.
Meanwhile, place pine nuts in a small skillet and toast over low heat, until golden brown, about 5 minutes. Allow to cool.
To make dressing, whisk together orange juice, champagne, Dijon mustard and honey, slowly whisk in olive oil, making sure all ingredients are well incorporated.
Stir in dried rosemary, salt and pepper.
Combine mixed greens, carrots, orange pieces, asparagus and pine nuts in a large salad bowl. Toss with enough dressing to coat.
Serve immediately.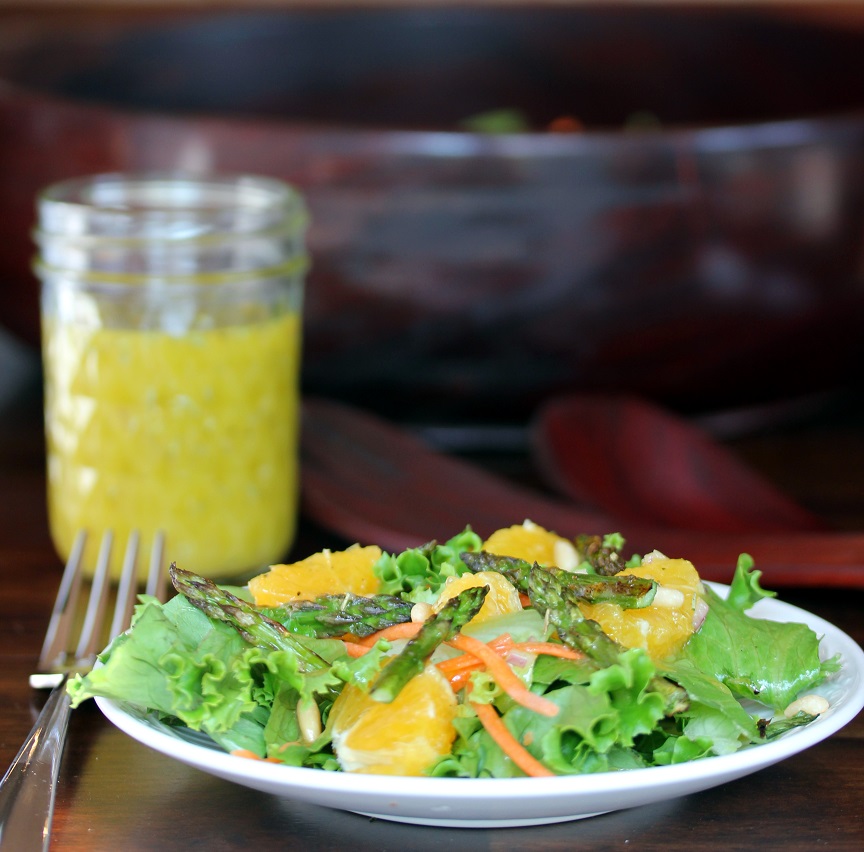 ENJOY!

Shared at these great blogs: