Swedish meatballs are a classic recipe with a flavorful mix of spices and a deliciously creamy sauce. They're a perfect appetizer at any holiday party.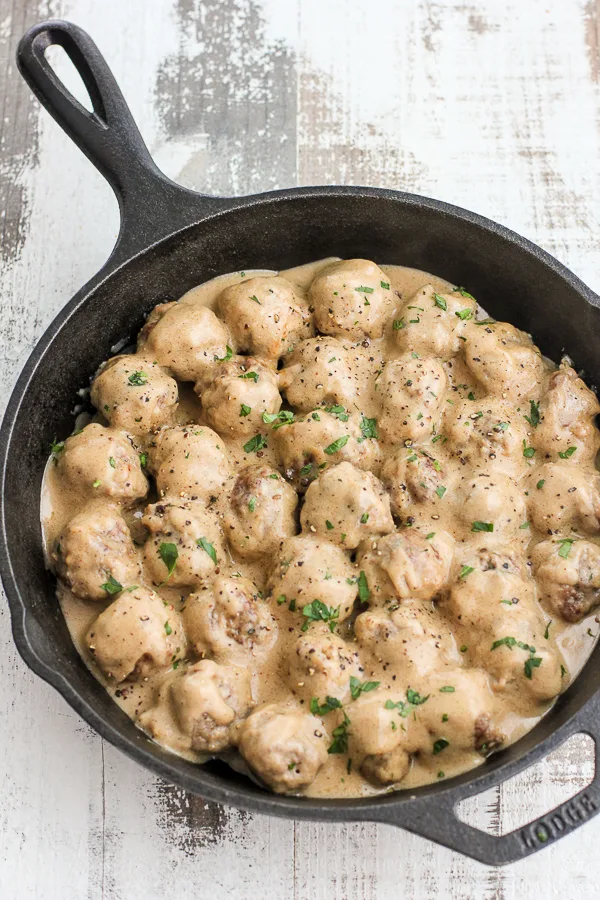 Swedish meatballs bring me back in time to dinners at my grandparents house.
For many years, Christmas Eve dinner would be at their house and these delicious meatballs were often on the menu.
Grandma, of course, would serve her Swedish meatballs with mashed potatoes and homemade lefse, which was also such a treat.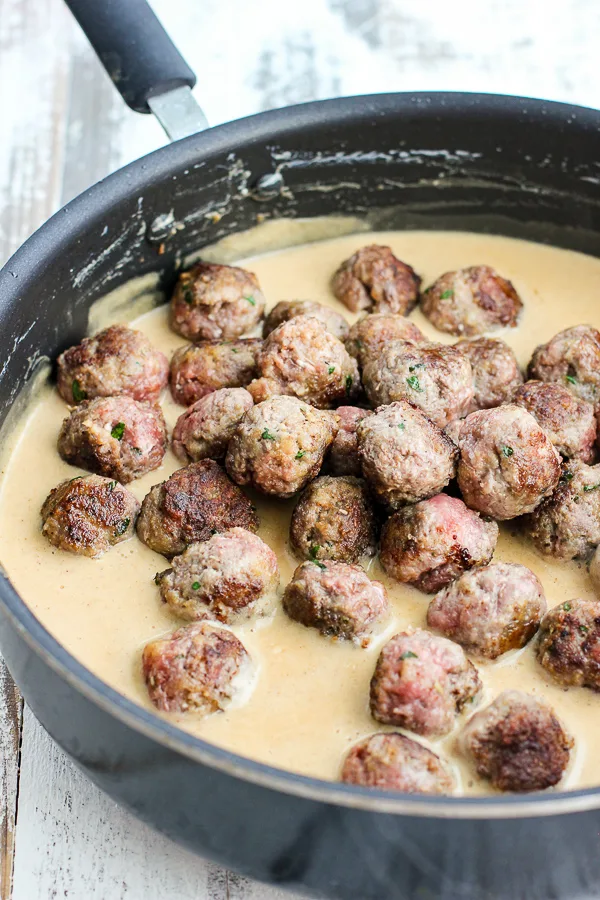 I recently realized that I had never made Swedish meatballs myself and decided it was time I gave a nod to my Swedish heritage and make them.
I thought for sure I would be able to find my grandma's recipe somewhere among my recipes.
I was quite certain I didn't have her hand written recipe, but I thought for sure she would have contributed her recipe to her old church cookbook, which I did have. But no, it wasn't in there.
I'll keep looking for it, but I fear it's lost for good. I had some ideas of what went into her delicious meatballs, but still needed some help.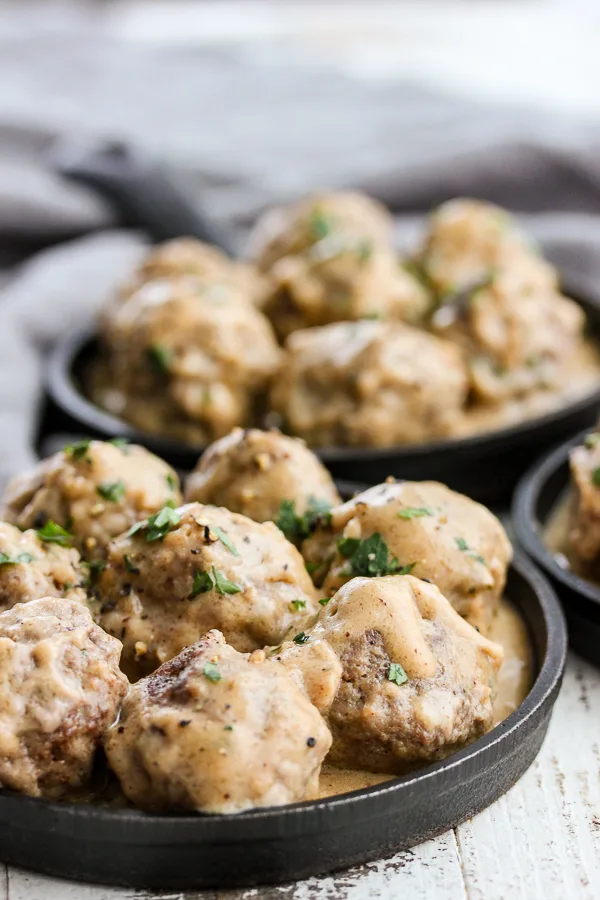 So with those ideas, along with some research, I came up with what I think is a pretty darn good recipe that my grandma would approve of.
As I said, she always served her meatballs with mashed potatoes and lefse, but I thought the meatballs on their own would make a great appetizer to add to any holiday spread.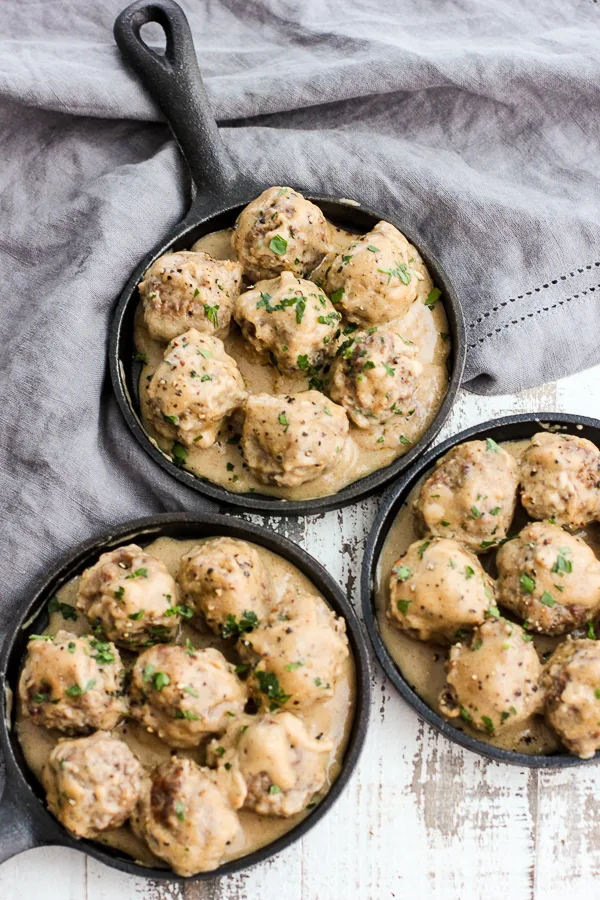 Swedish meatballs are not difficult to make, but they do have a list of spices that you may not think of putting into meatballs.
The meatballs traditionally have allspice and nutmeg in them, which is something I suspected, but it's certainly not an expected ingredient in a savory dish. More expected is the addition of thyme and garlic.
Overall, the flavor of the meatballs as well as the sauce is supposed to be mild.
For that reason, I used dried onion and onion powder to flavor the dish. I didn't want any one flavor to be over powering.
The result, I believe, is spot on. The flavor is mild and the meatballs are soft, tender bites of perfection.
As I said, these make a perfect holiday appetizer, but you certainly could serve them as a main dish.
Serve them with either mashed potatoes, as my grandma did, or over egg noodles. Both would be absolutely delish!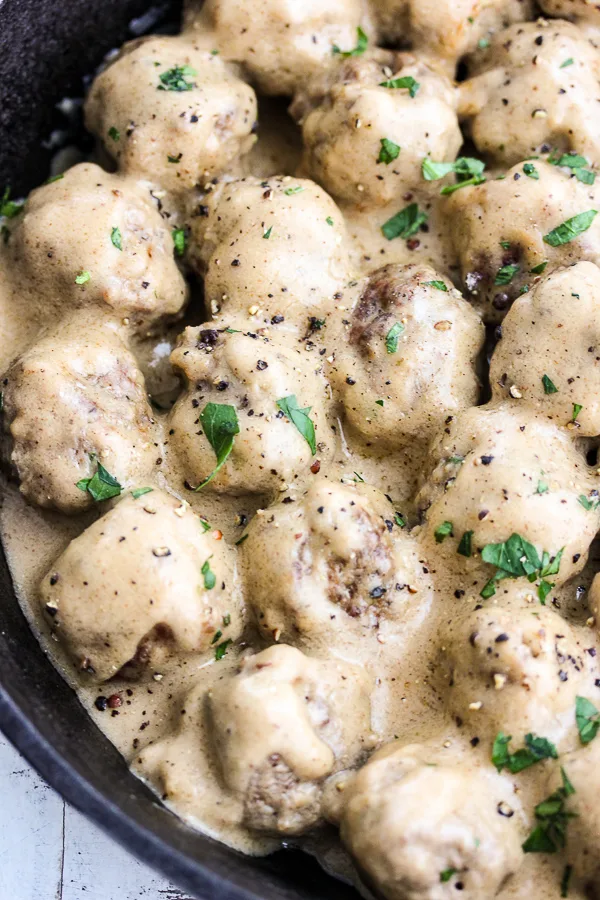 Need more meatball recipes for your holiday entertaining?
Yield: 8
Classic Swedish Meatballs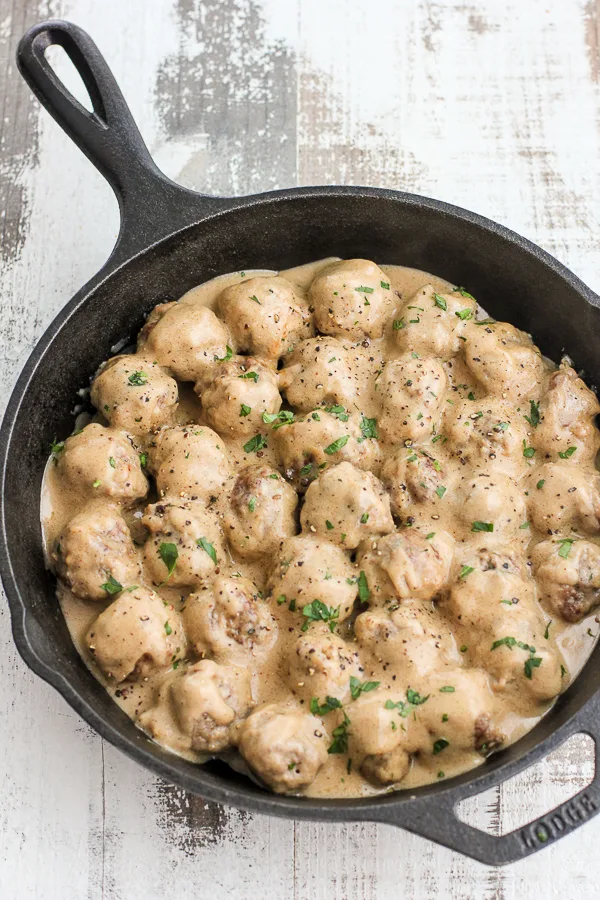 Swedish meatballs are a classic recipe with a flavorful mix of spices and a deliciously creamy sauce. They're a perfect appetizer at any holiday party.
Ingredients
For Meatballs:
1 lb ground beef
1/2 lb ground pork
3/4 cup plain breadcrumbs
1/4 cup cream
2 tbsp water
2 tsp dried onion
1/2 tsp garlic powder
1/2 tsp thyme
1/4 tsp allspice
1/4 tsp grated nutmeg
2 tbsp fresh parsley
1/2 tsp salt
1/2 tsp pepper
1 tbsp olive oil
For sauce:
drippings from meatballs
1/4 cup flour
1 tsp sweet paprika
1/4 tsp onion powder
3/4 tsp salt
1/2 tsp pepper
1/4 tsp grated nutmeg
2 cups chicken stock
2 tsp Worcestershire sauce
3/4 cup full fat sour cream
Instructions
To make meatballs:
Combine bread crumbs with cream and water and let soak for 10 minutes.
Add remaining meatball ingredients, through pepper to a mixing bowll.
Once breadcrumbs are done soaking add them to the rest of the ingredients.
Mix well with your hands until well combined.
Form into 1 inch meatballs.
Heat olive oil in a large skillet over medium high heat.
Brown meatballs on two sides.
Remove from skillet and set aside.
To make sauce:
In a small bowl, combine flour, paprika, onion powder, nutmeg, salt and pepper.
Heat meatball drippings in same skillet over medium heat.
Add flour mixture to drippings, stirring with a whisk to coat with the fat.
Gradually whisk in chicken stock.
Cook until mixture comes to a bubble and thickens.
Stir in Worcestershire sauce and sour cream.
Reduce heat to low.
Add meatballs back to skillet, cover and cook for 20 minutes until meatballs are no longer pink.
Nutrition Information:
Yield:
8
Serving Size:
1
Amount Per Serving:
Calories:

444
Total Fat:

29g
Saturated Fat:

11g
Trans Fat:

1g
Unsaturated Fat:

14g
Cholesterol:

109mg
Sodium:

714mg
Carbohydrates:

16g
Fiber:

1g
Sugar:

3g
Protein:

29g