Italian stuffed pepper cauliflower rice skillet is a delicious twist on traditional stuffed peppers. It's low carb, high protein and ready in 30 minutes, making it perfect for any night of the week.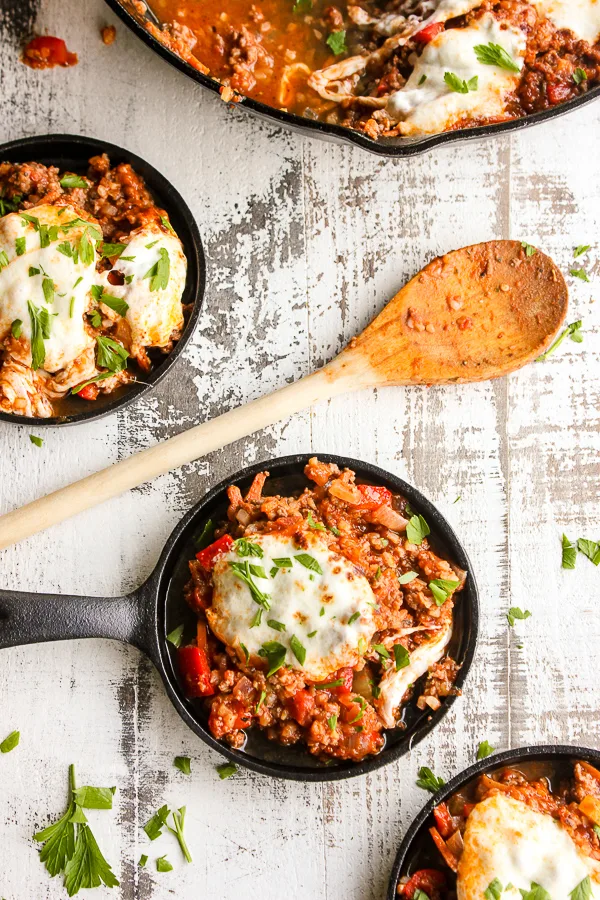 It's October and that means that it's time for the fall edition of Freaky Friday. If you're not familiar with Freaky Friday, it's a recipe swap that some of my blogger friends and I participate in once each season. My friend, Michaela, from An Affair From The Heart secretly assigns each one of us another person's blog.
We each pick a recipe from our assigned blog to cook and then share on our blog, keeping it a secret until today. What's so fun is having the chance to try out another blogger's recipe and then share it with our own readers, introducing you to some great blogs.
This round of Freaky Friday, I was assigned my friend Justine's blog, Fully Belly Sisters , which I was very excited about. I met Justine early on after I started blogging and I love her blog and her recipes. She focuses on recipes that are delicious, but healthy at the same time.
As I was browsing through her blog, some of the recipes that jumped out at me were this Antipasto Salad with Peperoncini Olive Tapenade , her Bacon Scallion Deviled Eggs and for a delicious sweet treat, these Nutella Filled Chocolate Chip Cookie Bars.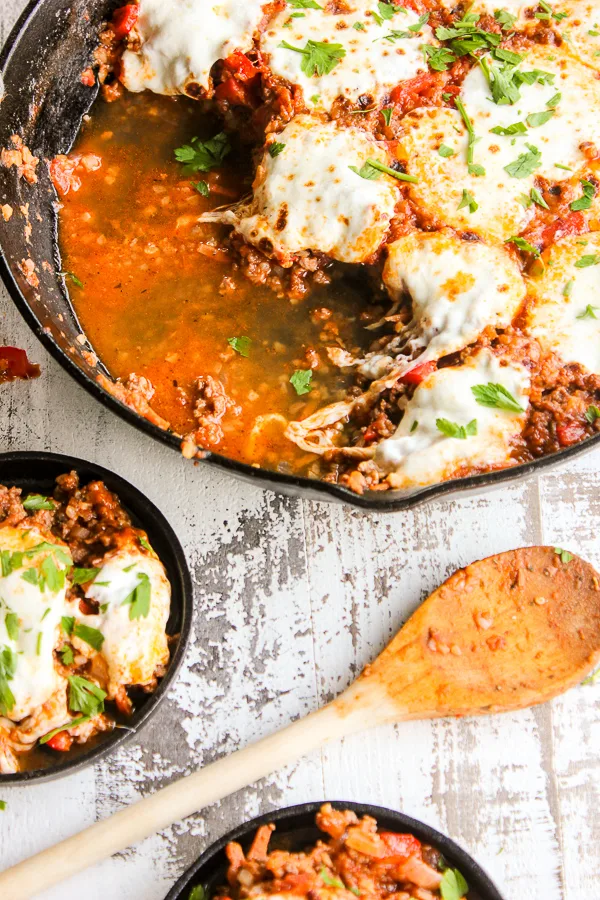 When it came time to choose the recipe I was going to make for today, I had to go with her Italian Stuffed Pepper Cauliflower Rice Skillet. Steve and I have been eating a high protein, low carb diet for the past few months, so this recipe was a perfect choice.
It's full of both protein and lots of veggies, along with lots of flavor. On top of that, it's really quick and easy to prepare. From start to finish, the recipe only took about 30 minutes to prepare. That makes it a perfect meal any night of the week.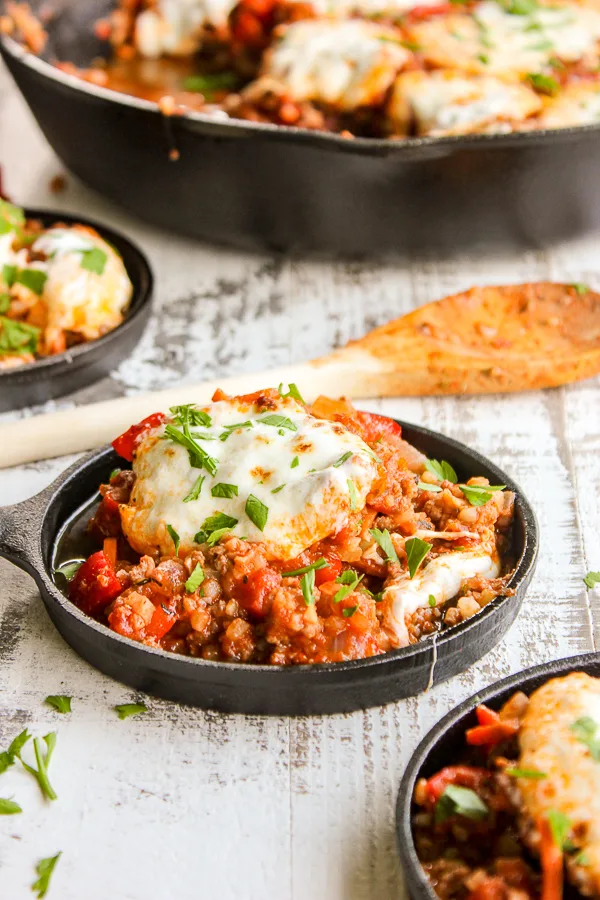 Italian stuffed pepper cauliflower rice skillet is a perfect meal for busy weeknights. By chopping up the peppers instead of stuffing them and taking some help from jarred marinara sauce, you'll have dinner on the table in 30 minutes. Other than a short time under the broiler to melt the cheese, everything cooks up quickly on the stove top.
Now let's talk about the flavor. This may be a quick meal, but it's not lacking in flavor. It's got a great meaty flavor and fennel adds a bit of a sausage taste.
I also added a pinch of red pepper flake and a little Italian seasoning for even more flavor. Then of course, there's all that melted cheese on top to really make it delicious. Trust me, you're going to love this one!
Yield: 4-6
Italian Stuffed Pepper Cauliflower Rice Skillet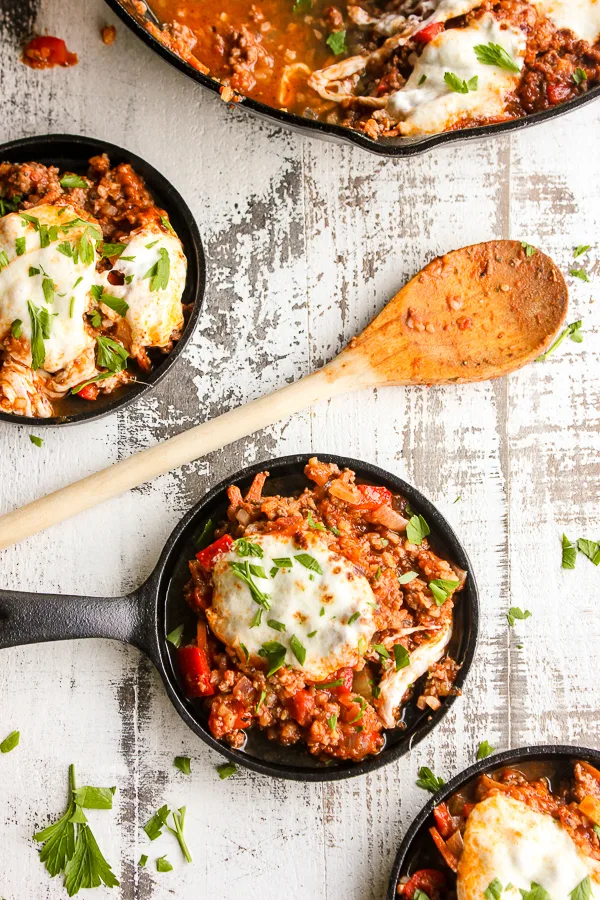 Ingredients
2 tbsp olive oil
1 small onion, diced
pinch of red pepper flakes
1 large carrot, diced
1 stalk celery, diced
1 to 2 red and/or yellow bell peppers, diced
3 cloves garlic, chopped
1 1/2 tsp dried Italian seasoning
1/2 teaspoon fennel seeds, lightly crushed
1 (12 oz) pkg cauliflower rice, about 3-4 cups
1 pound ground beef, preferably grass-fed
1 1/2 tsp salt
1/2 tsp fresh ground black pepper
2 cups marinara sauce
1/4 cup grated Parmesan
8 ounces fresh mozzarella, sliced
chopped parsley, for garnish
Instructions
Preheat broiler on high.
Heat olive oil in a large oven-safe skillet over medium heat.
Add onion, a pinch of red pepper flake and cook, stirring frequently, until onion is translucent, about 5 minutes.
Then add the chopped celery, carrot, garlic, and peppers.
Cook for about another 2 minutes, stirring the vegetables to coat them well and letting them just begin to soften.
Stir in the Italian seasoning and fennel.
Add the cauliflower rice and ground beef to the skillet, along with the salt and black pepper.
Break up meat with a spoon and cook until the beef is no longer pink.
Stir in the marinara.
Bring mixture to a bubble and simmer for a couple of minutes.
Stir in grated cheese and top with sliced mozzarella cheese.
Put the skillet under the hot broiler for a few minutes, until the mozzarella begins to brown and bubble.
Remove from the oven and top with chopped, fresh parsley.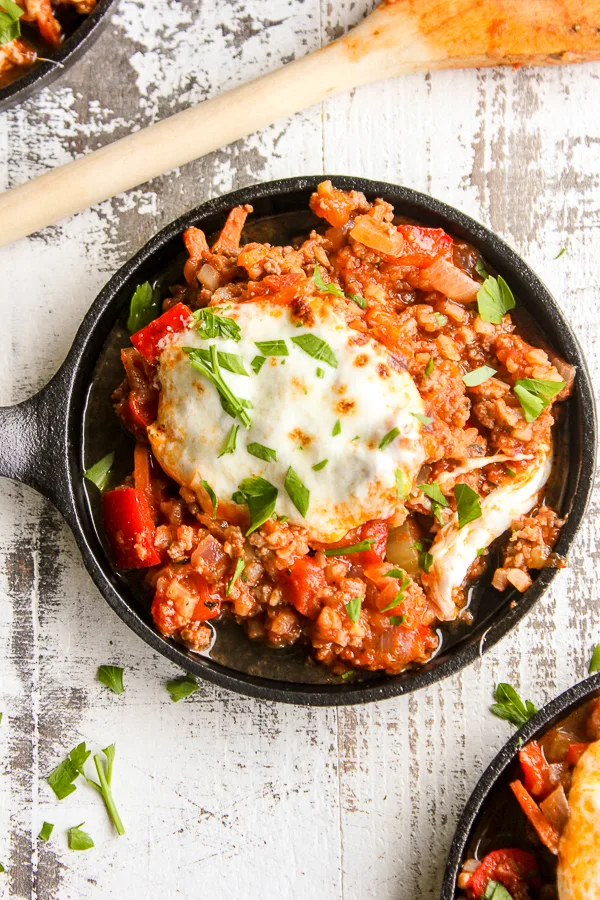 ENJOY!

SaveSaveSaveSave
SaveSave
SaveSave
SaveSave
SaveSave
SaveSave
SaveSave
SaveSave