Turkey Veggie Bolognese is a lightened up version of classic Italian bolognese. It's still thick, rich and satisfying like the classic, but ground turkey and lots of veggies give it a delicious summer flair.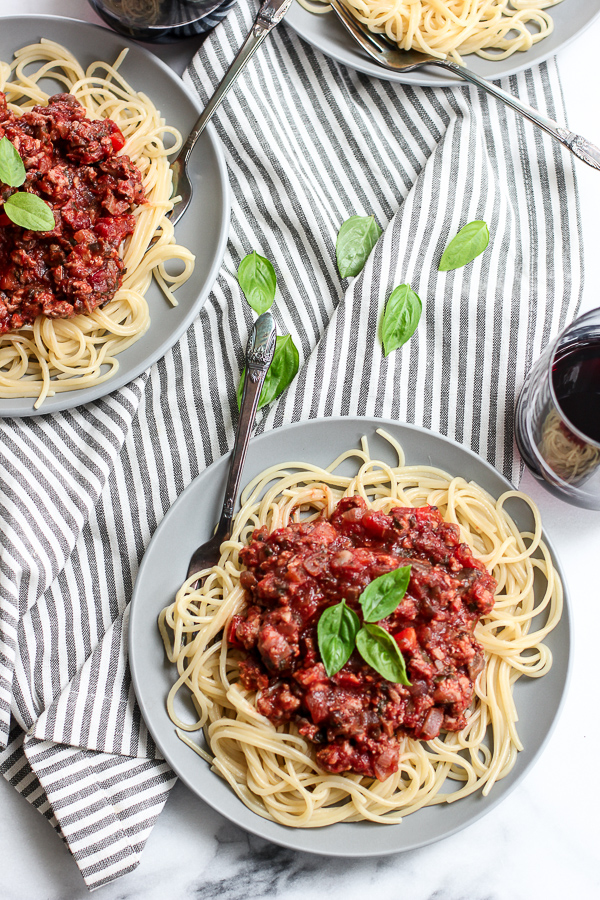 Bolognese is one of my very favorite Italian dishes. For those of you not familiar, bolognese is a thick and hearty meat sauce. It can consist of any combination of ground beef, pork and/or veal.
It's combined with root vegetables, wine, tomatoes and heavy cream along with herbs and spices. Then it's slow simmered until most of the liquid reduces and you're left with a thick and delicious sauce that's perfect over a plate of pasta.
As I said, bolognese is one of my favorite dishes, but it is a little heavy during the summer months. So I decided to create lighter, healthier summer bolognese. What I came up with is this super yummy turkey veggie bolognese.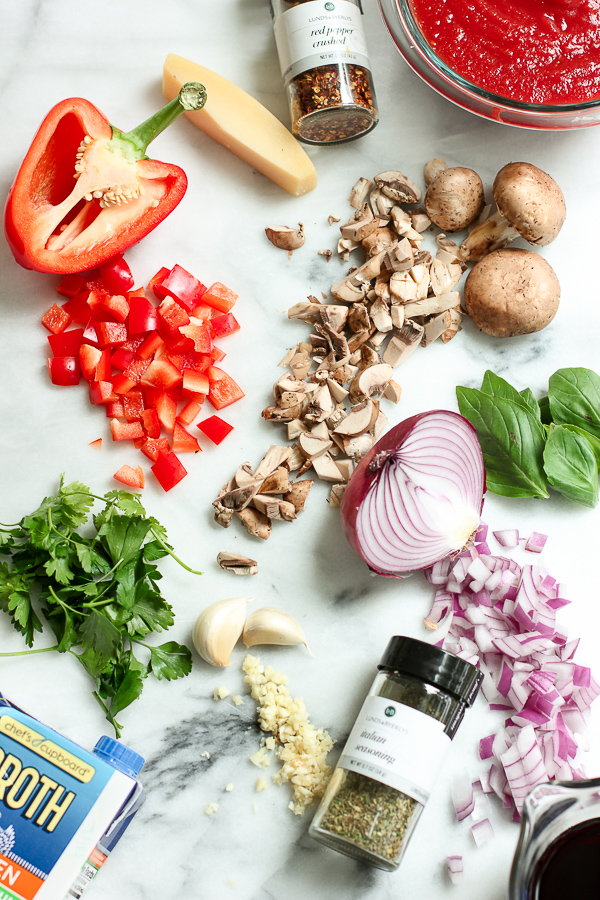 My lightened up summer version starts with lots of veggies. Onion, mushrooms and red peppers step in for this. Instead of beef, veal or pork, lean turkey breast goes into the pot as a healthy, yet tasty alternative.
I really like to use cremini mushrooms along with red wine for this recipe. Both of these ingredients help to deepen the flavor and make it taste richer. While it simmers, I also add a parmigiano reggiano cheese rind for even more flavor.
Once the ingredients have all been combined, the bolognese gently simmers, uncovered, for anywhere from 45 minutes to an hour, until it's nice and thick. Along with thickening the sauce, this allows the flavors to combine and deepen into something amazing.
This sauce is delicious served over spaghetti pasta or if you want to keep the dish even lighter, zucchini noodles are a great option. The choice is yours.
What ingredients do you need to make Turkey Veggie Bolognese?
onion
red pepper
cremini mushrooms (also sometimes called baby bellas)
garlic
ground turkey breast
Italian seasoning
crushed red pepper flakes
red wine
chicken stock
crushed tomatoes
parmigiano reggiano cheese rind (if you can't find this, any parmesan rind will work
fresh basil
fresh Italian parsley
pasta or zucchini noodles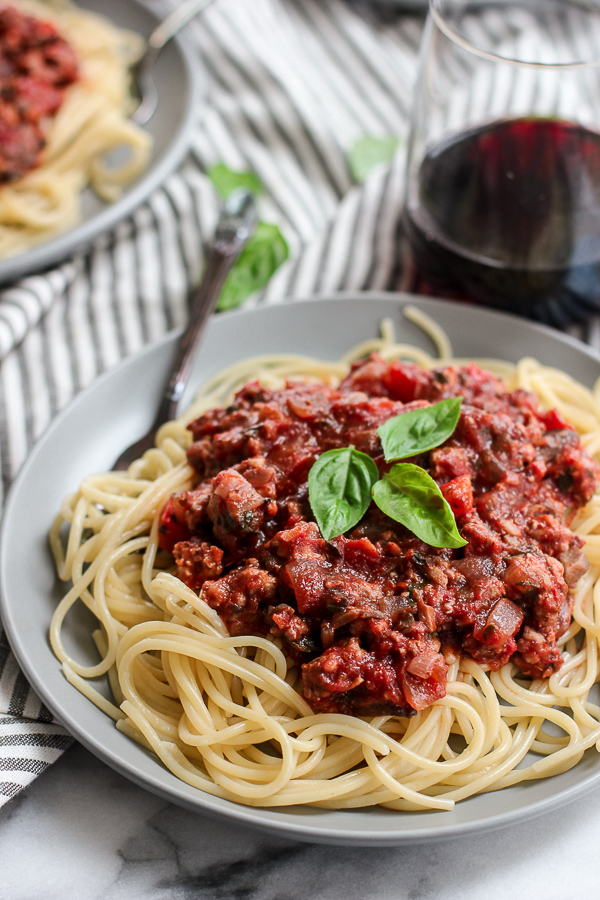 What should you know about making this recipe?
Cremini mushrooms, also known as baby bellas, are my favorite choice. They have a deeper, richer flavor than white button mushrooms, which really helps the sauce achieve it's rich flavor.
If you don't have a red pepper, an orange or yellow pepper would also work. A green pepper is not going to give the same sweetness to the sauce.
For the least amount of fat and calories, 98% lean turkey breast is your best bet.
You don't absolutely have to add the cheese rind while the sauce simmer, but I highly recommend it. It adds a bit of salty, cheesy flavor.
Once all of the ingredients are mixed together, the sauce will be fairly thin. You want to bring it to a boil and then reduce the heat to a low enough simmer that the sauce is at a low bubble. Stir occasionally, uncovered, until the sauce has reduced by about a third to a half. You still want there to be sauce, but you don't want it to be too saucy.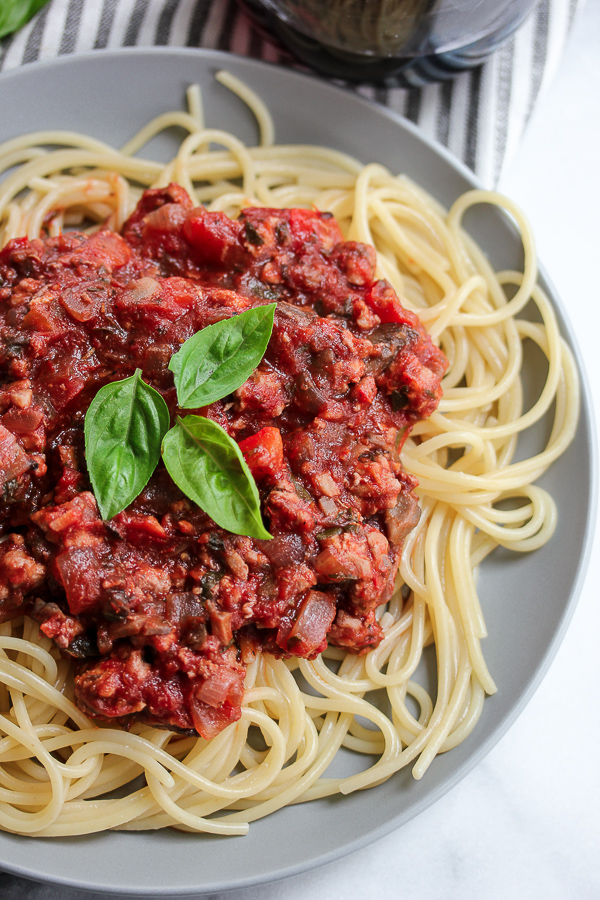 Want some more summer pasta recipes? Try these:
Yield: 6
Turkey Veggie Bolognese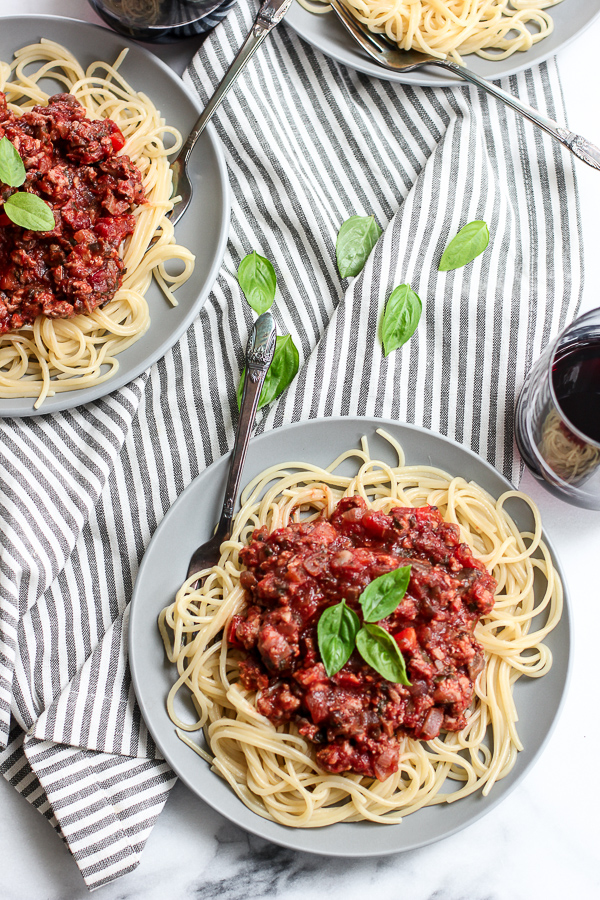 Turkey Veggie Bolognese is a lightened up version of classic Italian bolognese. It's still thick rich and satisfying like the classic, but ground turkey and lots of veggies give it a delicious summer flair.
Cook Time
1 hour
15 minutes
Total Time
1 hour
30 minutes
Ingredients
1 tbsp olive oil
1 medium red onion, chopped
1 red bell pepper, chopped
8 oz cremini mushrooms, chopped
3 large cloves garlic, minced
1 lb ground turkey breast
1 tbsp dried Italian seasoning
1 1/4 tsp salt, divided
1 tsp black pepper, divided
1/4 tsp crushed red pepper
3/4 cup red wine
1 cup chicken stock
1 (28 oz) can crushed tomatoes
1 inch piece of parmigiano reggiano cheese rind
1/2 cup fresh basil, chopped
1/4 cup fresh parsley, finely chopped
Cooked spaghetti or zucchini noodles for serving
Instructions
Heat olive oil in a large pot over medium heat.
Add onion, red pepper, mushrooms and. Saute until mushrooms have released their liquid and onions are translucent, about 5 minutes.
Stir in garlic an cook for an additional minute.
Increase heat to medium high and add turkey, stirring to break up meat.
Season with Italian seasoning 1/2 tsp salt, 1/2 tsp black pepper and crushed red pepper and cook until turkey is no longer pink.
Stir in wine, bring to a boil and let reduce for 1 minute.
Stir in chicken stock, tomatoes, remaining salt and pepper, cheese rind, basil and parsley.
Bring mixture to a boil, reduce heat and simmer uncovered for 45 minutes to 1 hour, stirring occasionally, until mixture has reduced and thickened.
Remove cheese rind from sauce before serving.
Serve over cooked spaghetti
Notes
The nutritional information is for the sauce only.
Nutrition Information:
Yield:
6
Serving Size:
2/3 cup
Amount Per Serving:
Calories:

212
Total Fat:

5g
Saturated Fat:

1g
Trans Fat:

0g
Unsaturated Fat:

4g
Cholesterol:

56mg
Sodium:

647mg
Carbohydrates:

10g
Fiber:

2g
Sugar:

4g
Protein:

27g
ENJOY!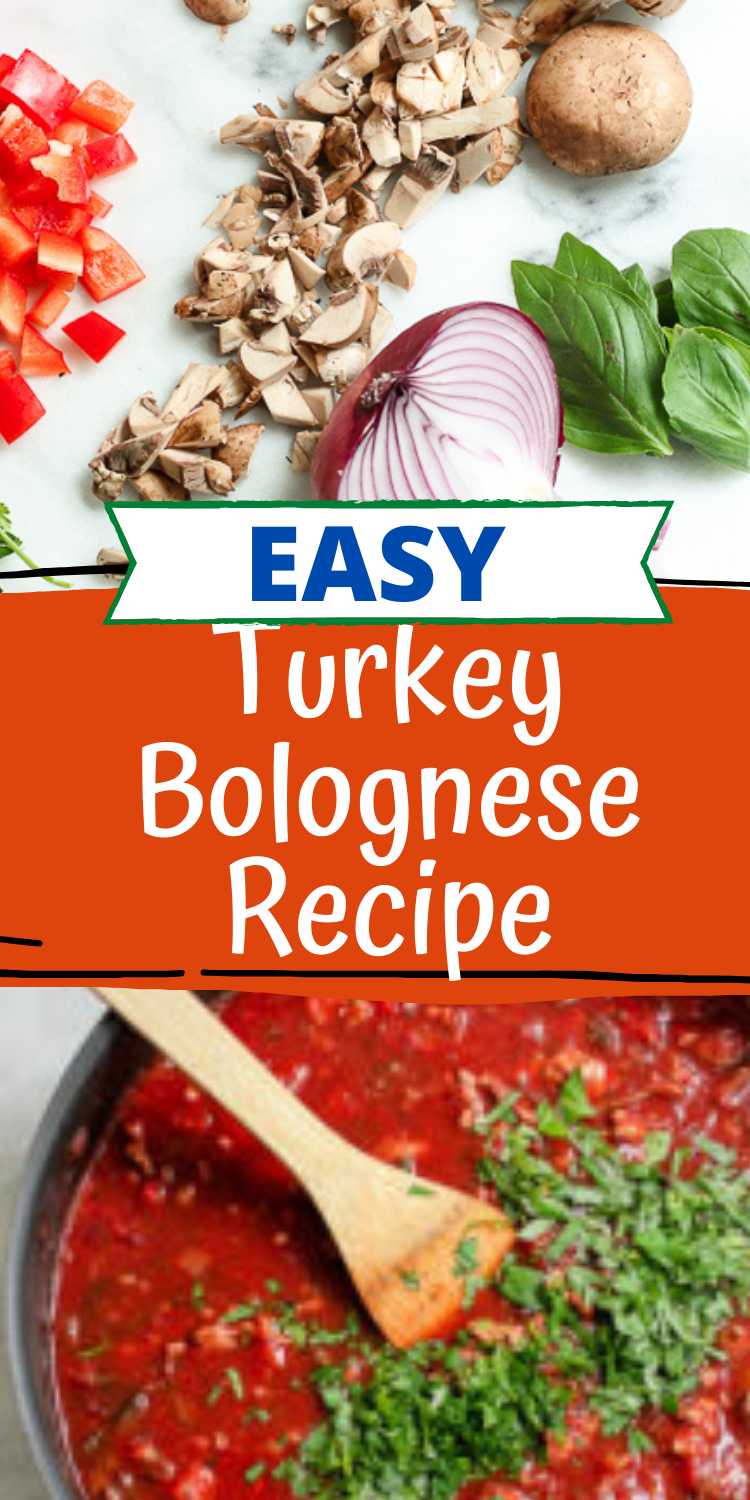 This recipe was originally posted on October 2, 2015. It was updated to improve user experience and re-posted on July 23, 2020.