This field greens salad is fresh and flavorful with an easy homemade balsamic vinaigrette, along with mouthwatering homemade croutons. Eating your greens has never been so tasty.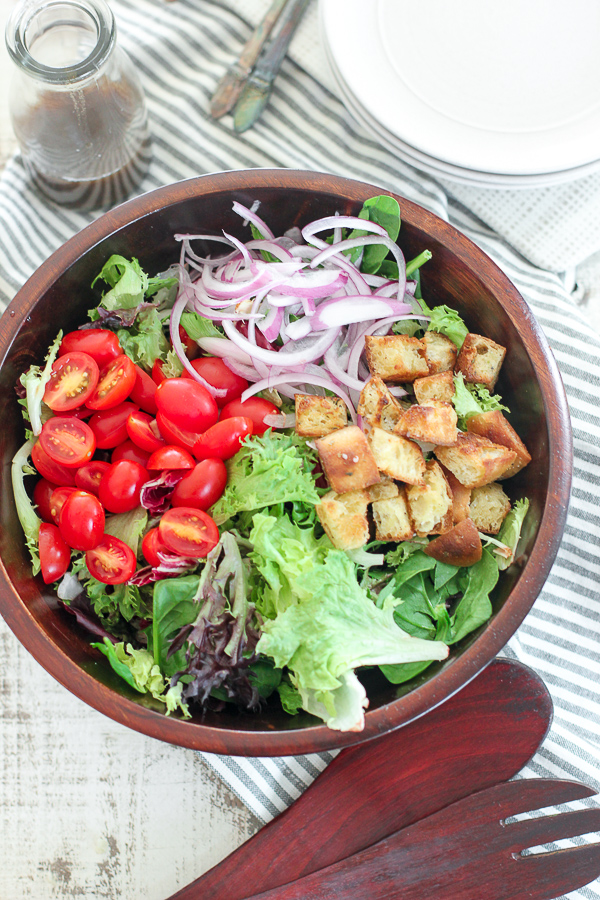 This is a salad that I have been making for years and it's one that everybody loves. The inspiration came from a little wine bistro we used to live down the street from. The food there was phenomenal and their field green salad was no exception.
After enjoying this field green salad at the restaurant a few times, I had to figure out how to make it at home. That way we could enjoy it anytime we wanted to.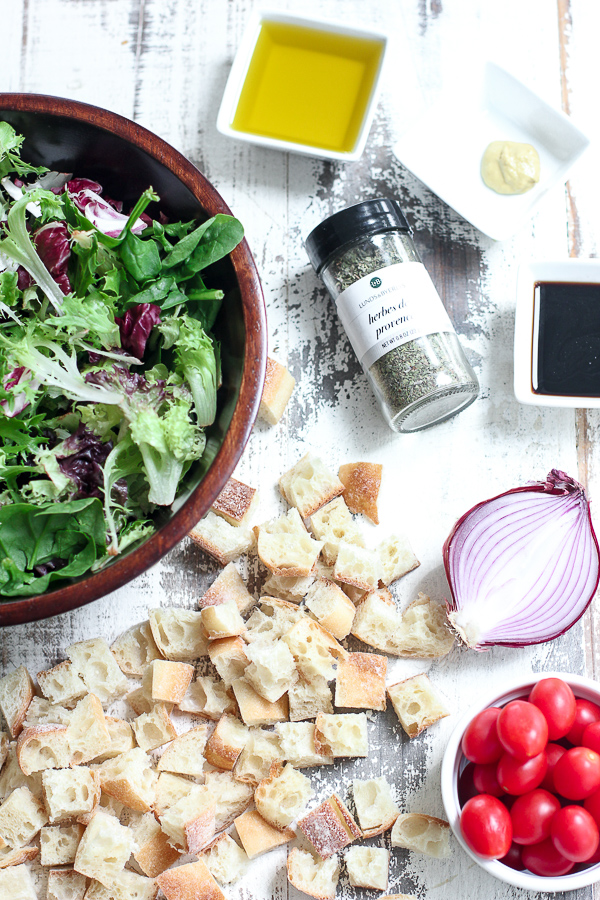 It's actually a very simple salad made up of mixed spring greens, grape tomatoes and red onion. To finish it off, it's dressed with a simple balsamic vinaigrette and topped with yummy homemade croutons.
But don't get me wrong, this simple salad is full of delicious, fresh flavor. It's, of course, a perfect starter, but it also makes a fantastic entree topped with sliced grilled chicken or steak.
Whether you serve this fresh green salad as a starter or as a main dish, it's definitely company worthy.
The croutons are a big part of what make this salad so fantastic. They're really quite easy to make. All you need to do is cube the bread and then saute the cubes in a skillet with some olive oil.
I like to use ciabatta bread to make this, but French bread or sourdough would also be a great choice.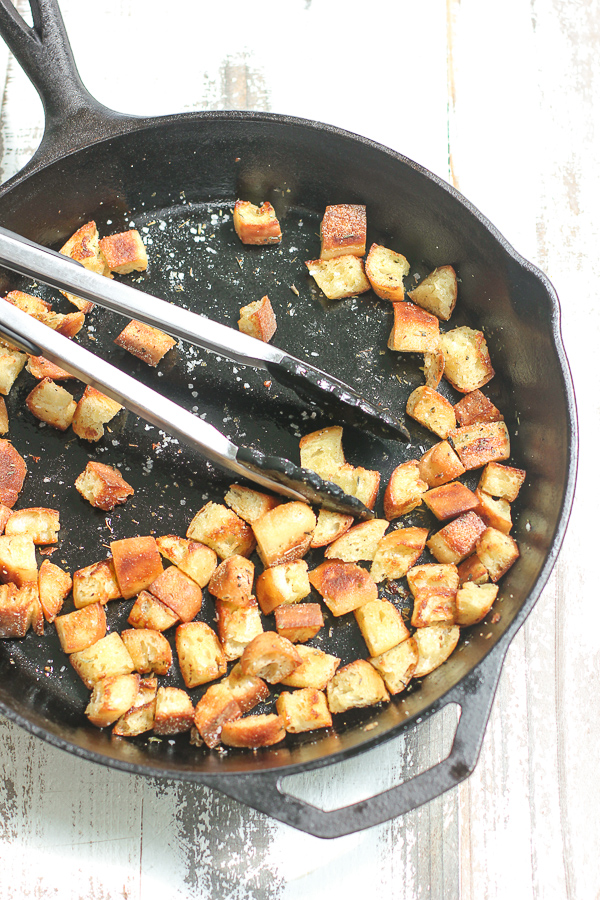 How is a field greens salad made?
Start out with a package of fresh field greens. This type of lettuce can also be called spring greens, mixed greens or baby greens. The mix is made up of a variety of tender leaf lettuce and range in color from green to red, to purple.
The greens are tossed with a very simple balsamic vinaigrette which consists of balsamic vinegar, dijon mustard, olive oil, onion powder, salt and pepper.
The croutons are really what puts this salad over the top. I like to make the croutons with ciabatta bread. Either a loaf of ciabatta or rolls will work, either way you cut them into bite size cubes. You add the cubes to a skillet with hot olive oil and toss them until they're browned and crispy on the outside. After they're browned you sprinkle them with herbes de provence and a little salt. If you don't have any herbes de provence on hand, Italian seasoning will also work.
For added flavor and texture, grape tomatoes and thinly sliced red onion complete this salad.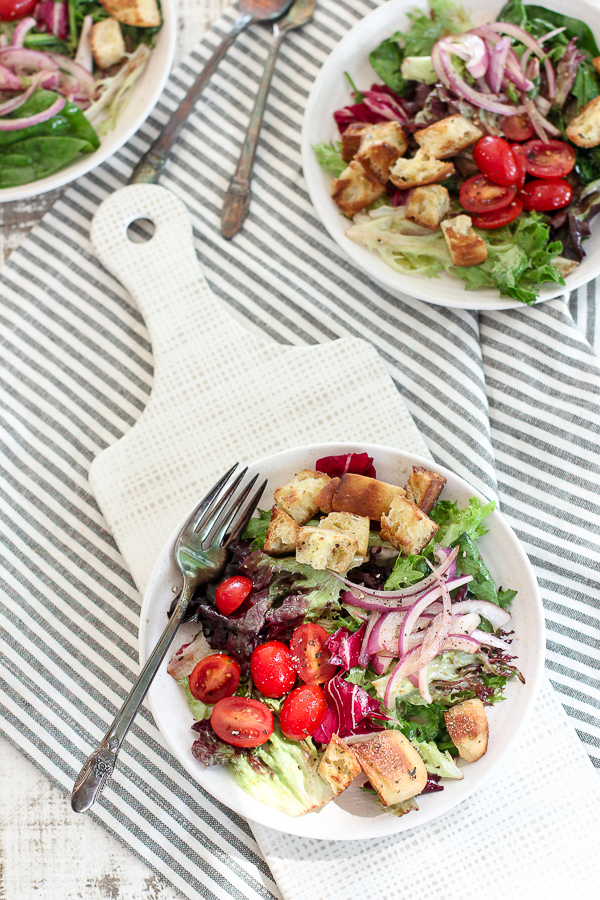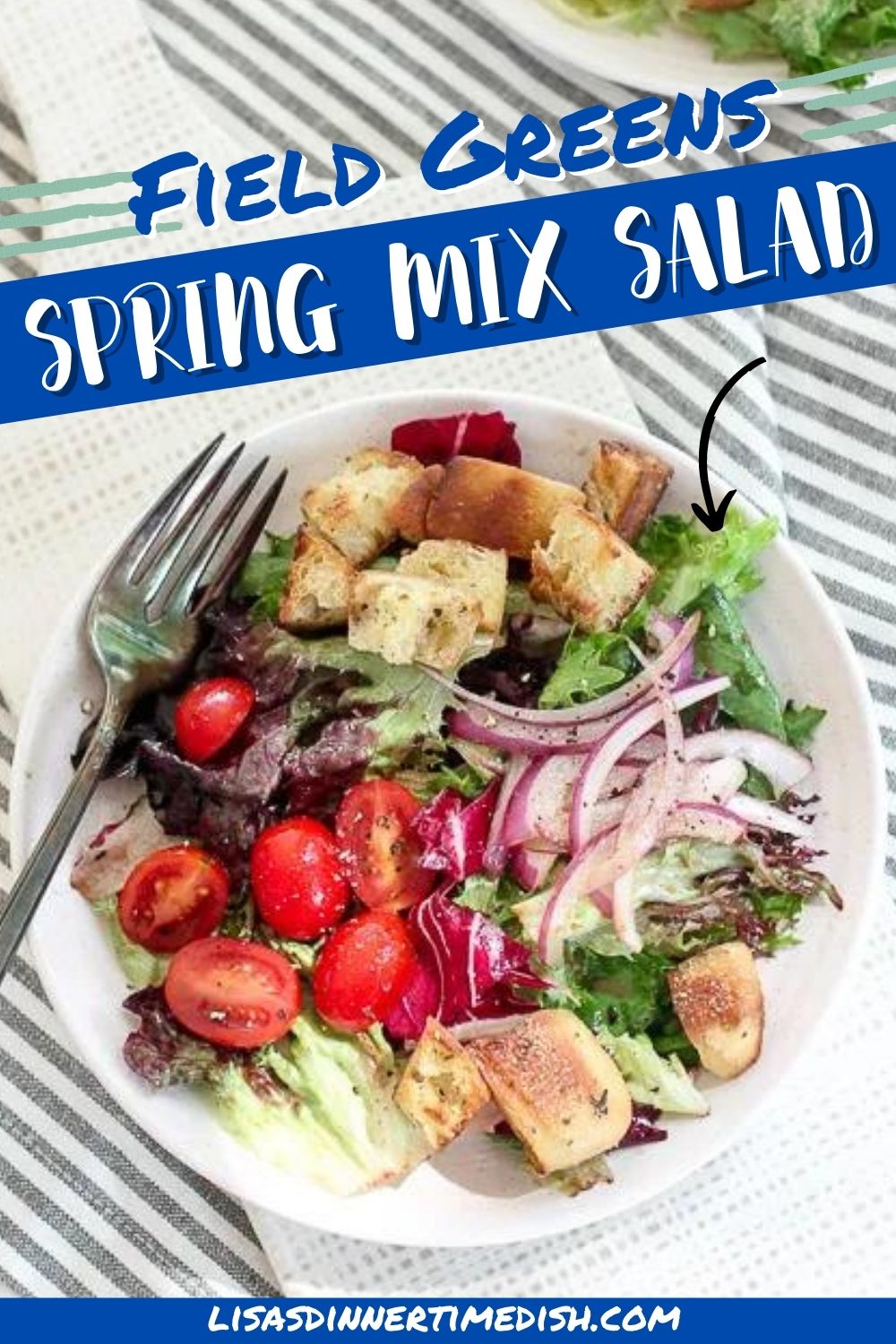 What are some good recipes to serve a field greens salad with?
There are so many different dishes that this salad would go well with. These would be some of my favorites:
Yield: 4
Field Greens Salad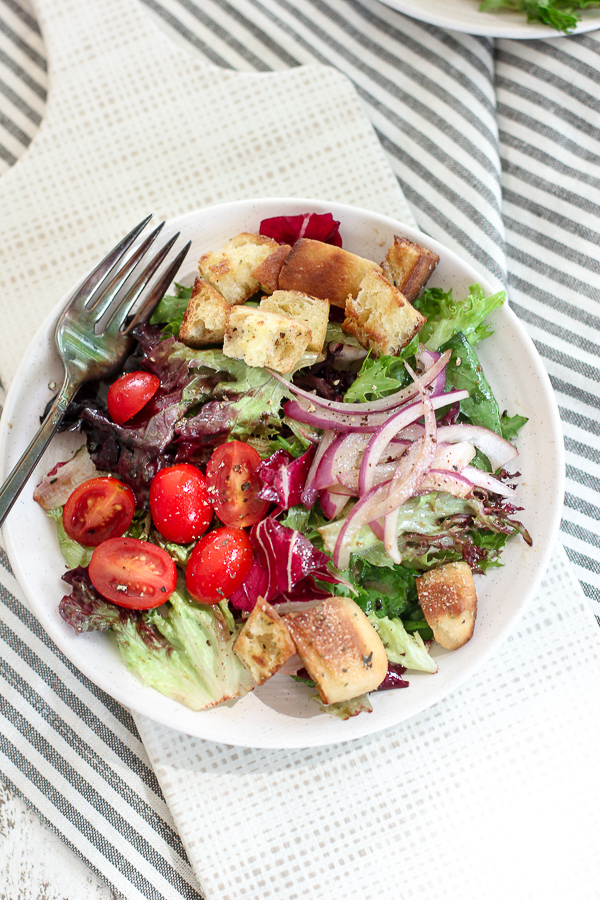 Ingredients
2 tbsp balsamic vinegar
1 tsp dijon mustard
1/4 cup plus 3 tbsp olive oil
1/2 tsp salt
1/4 tsp pepper
1/4 tsp onion powder
4 slices ciabatta bread or 2 ciabatta bread, cut into small cubes
1 tsp herbes de provence
1 (5 oz) bag spring mix greens
1 cup grape tomatoes, sliced in half lengthwise
1/2 medium red onion, sliced thinly
Instructions
In a small bowl, whisk vinegar and dijon mustard together.
While continuing to whisk, slowly drizzle in 1/4 cup olive oil.
Continue whisking until the oil is fully incorporated. The dressing should thicken and look glossy.
Stir in salt, pepper and onion powder.
Heat remaining 3 tbsp olive oil in a large non-stick skillet over medium heat.
Add bread cubes, tossing until coated with the oil and continuing to toss until nicely toasted.
Sprinkle croutons with herbes de provence and a little salt.
Remove from pan and reserve.
In a large salad bowl, toss spring greens, sliced onions and tomatoes together.
Drizzle dressing over the top, a little at a time, so it's not over-dressed, tossing until coated.
Divide onto salad plates, top with croutons and fresh cracked pepper.
Shared at these great blogs: