I love to make tomato sauce in large quantities. It's just as easy to make a large batch as it is to make a small batch and it freezes beautifully. It's great to have on hand when you need a quick meal and equally great when you're making a more complicated dish, like lasagna, because it's one less step for you.
I've got a number of tomato sauces that I like to make, like this San Marzano Pasta Sauce, but this is the first time I've made tomato sauce in the slow cooker. I have to say, it was so easy and it tastes amazing! The sauce has a lovely deep tomato flavor and depending on how much red pepper flakes you add, it also has a nice little spicy kick. It gets pureed at the end, so nothing needs more than a quick rough chop and then you let the slow cooker do all the work for you. Your kitchen will have an amazing aroma and when it's done, you'll have about 3 quarts of sauce ready for pasta, chicken parm, lasagna or whatever you happen to be making that needs sauce.
Fresh Tomato Sauce in the Slow Cooker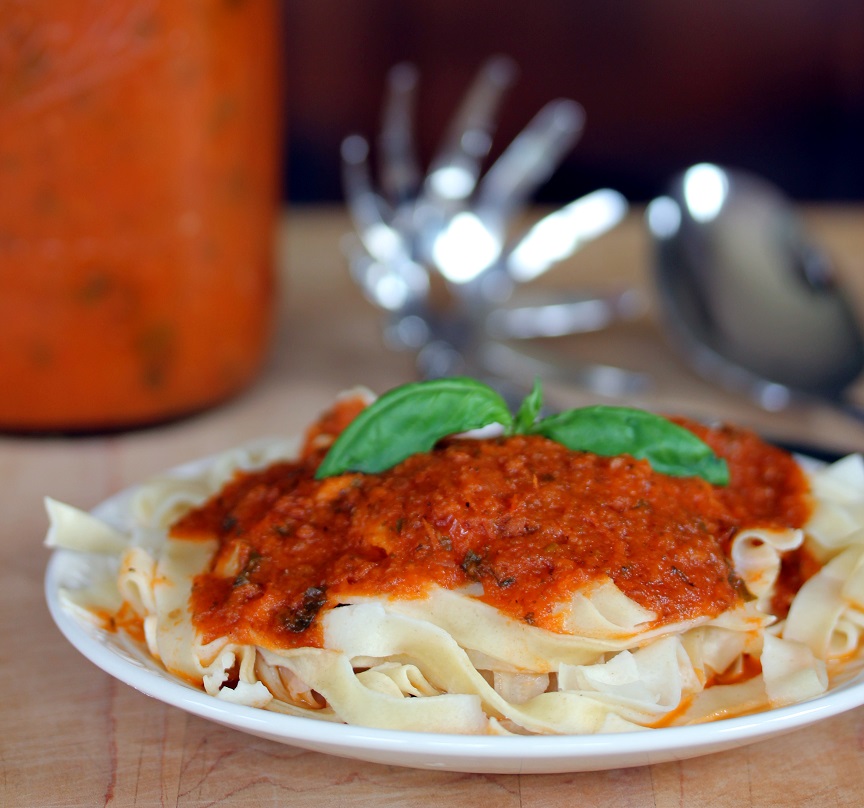 7 lbs fresh tomatoes
1 large onion
8 cloves garlic, crushed
1 cup dry red wine
1/4 cup olive oil
2 tbsp dried Italian seasoning
1/4 to 1/2 tsp red pepper flakes, depending how much heat you want
2 tsp salt
1 tsp pepper
1/4 cup torn basil leaves
1/4 cup torn fresh parsley
1/2 cup chopped basil leaves
1/4 cup chopped parsley
Roughly chopped the tomatoes and onions.
Add all ingredients to slow cooker, EXCEPT for the 1/2 cup chopped basil and 1/4 cup chopped. Stir until ingredients are well combined.
Cook on high for 7-8 hours, until tomatoes are very soft and breaking down.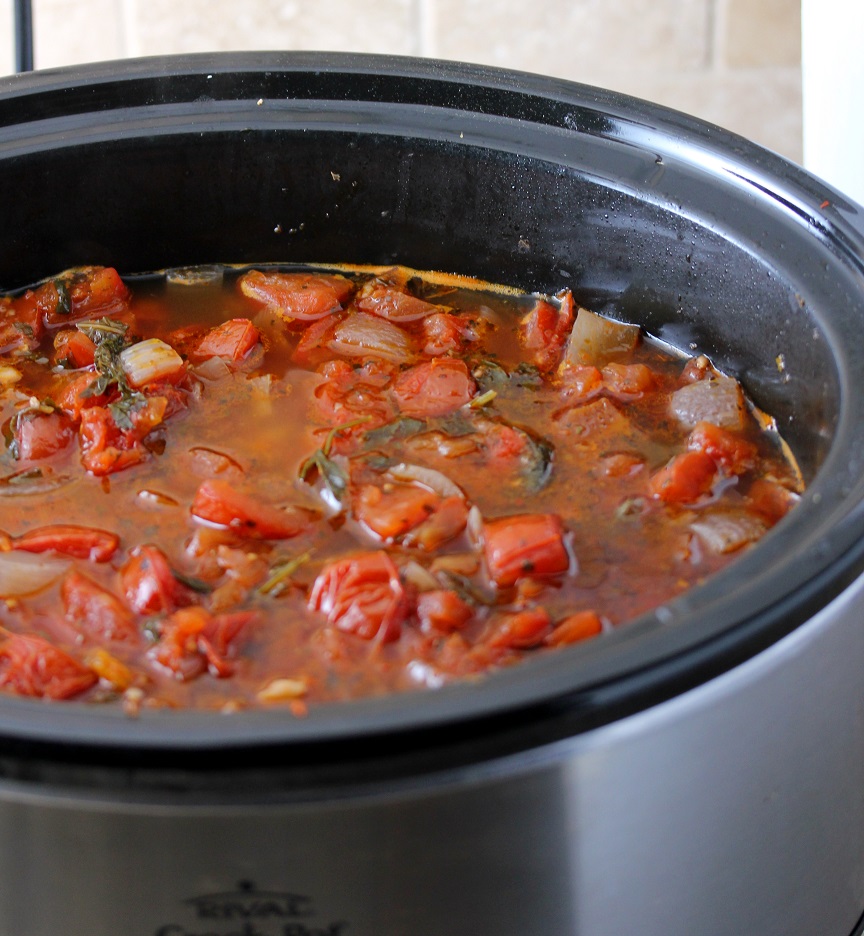 Puree sauce with an immersion blender, if you have one. Otherwise, puree in batches in a blender or food processor.
Stir in remaining basil and parsley.
Refrigerate for up to 1 week or freeze for up to 6 months. I like to freeze this in 2 and 4 cup containers.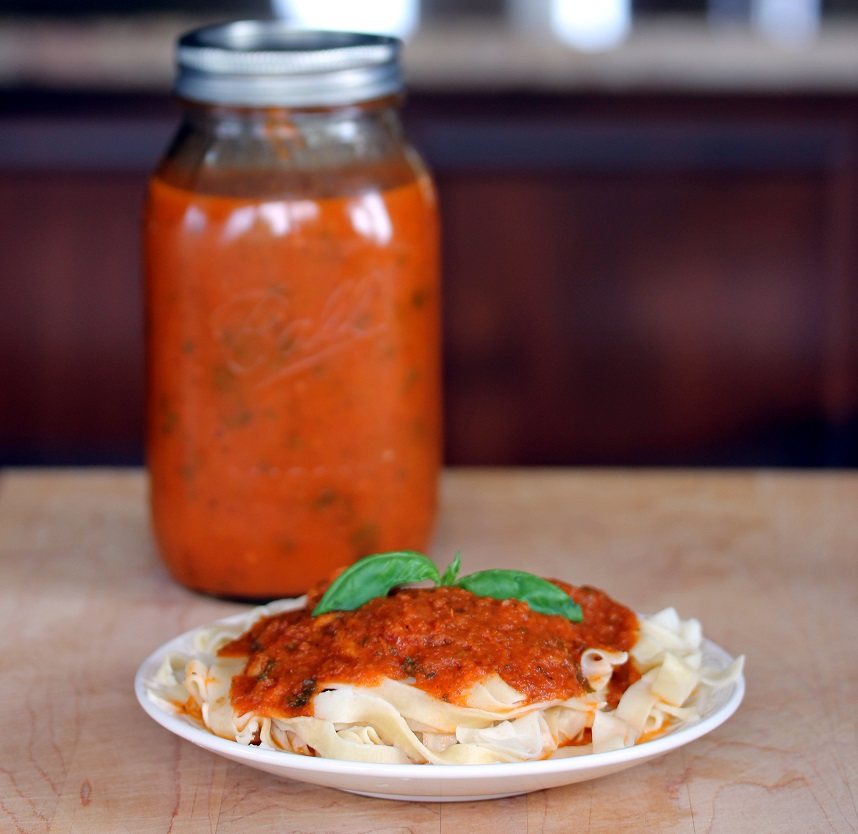 ENJOY!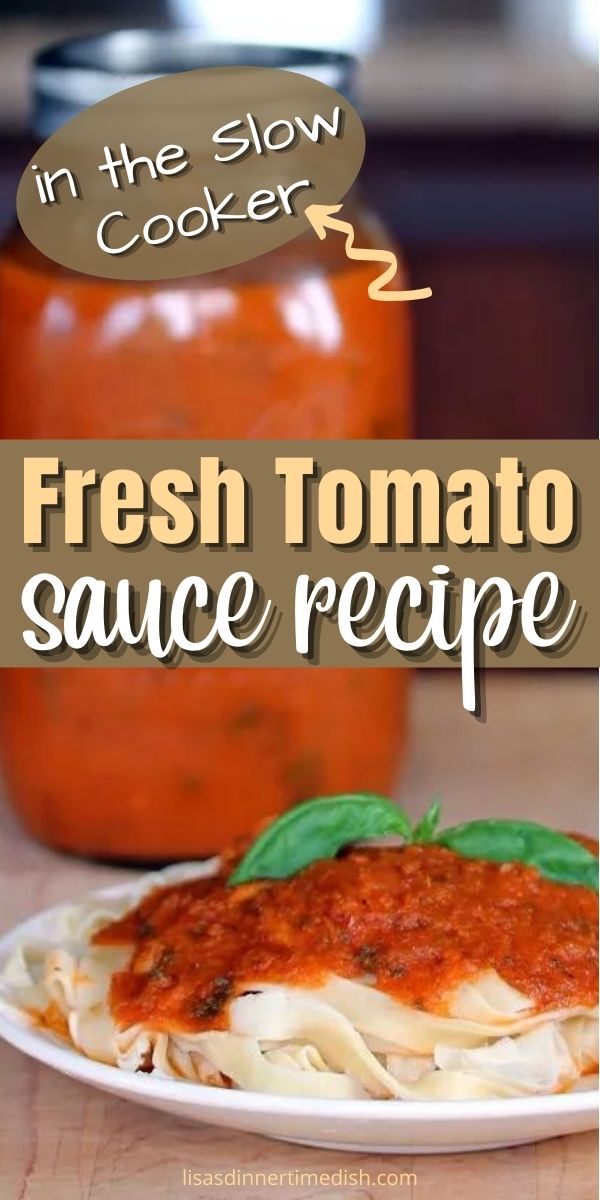 Share at these great blogs: