Spicy Thai Basil Slaw is a quick and easy salad that's full of delicious Asian flavors. It's perfect for weeknight meals as well as summer backyard barbecues.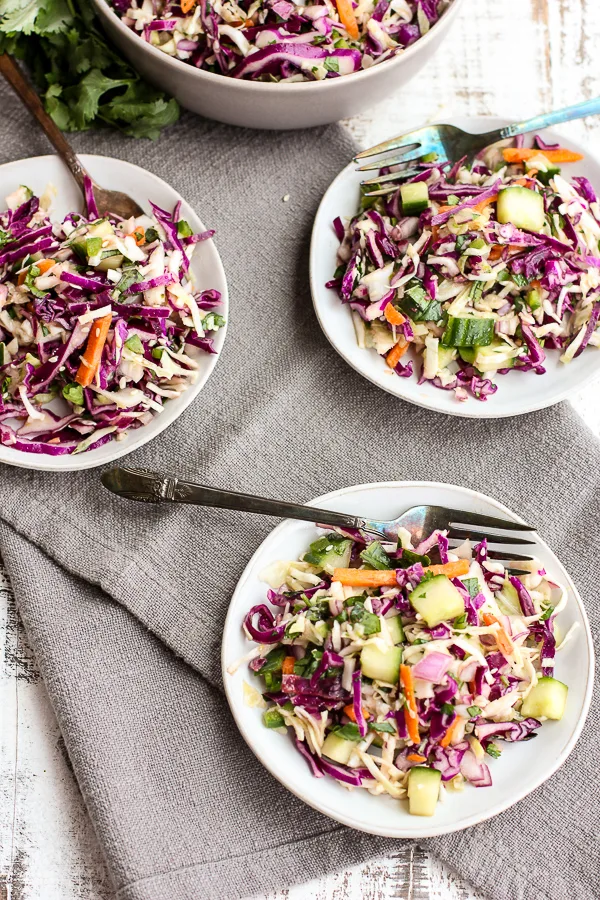 It's time for the spring edition of Freaky Friday! If you're not familiar with Freaky Friday, it's a recipe swap that some of my blogger friends and I participate in once each season.
My dear friend, Michaela, from An Affair From The Heart is the creator of this event. Each season, she secretly assigns each one of us another person's blog.
Then each of us picks a recipe from our assigned blog to cook and then share on our blog, keeping it a secret until today. What's so fun is having the chance to try out another blogger's recipe and then share it with our own readers, introducing you to some great blogs!
This time around I was assigned to Julie from Hostess with a Heart and I couldn't be more excited. Julie loves to cook and entertain and her recipes definitely reflect that love. You can find so many recipes on her blog that are perfect for both entertaining as well as family dinners.
As I was browsing through her site so many recipes jumped out at me. Her Baked Chicken Parmesan Meatballs sounds absolutely scrumptious. I also think her Chicken Shrimp and Gumbo sounds amazing.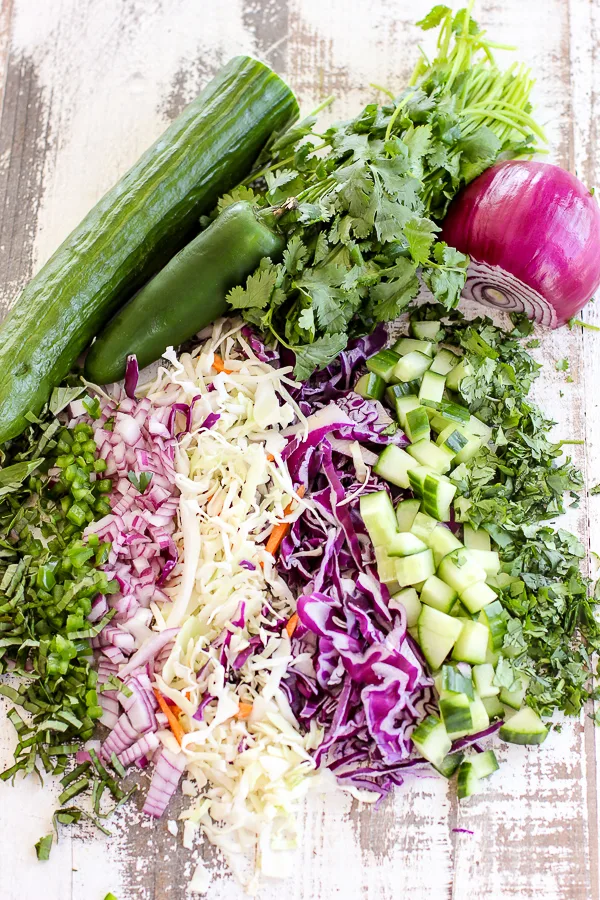 In addition to lots of savory dishes, Julie has a great collection of desserts. I can't wait to try her 6 Ingredient Blueberry Lemonade Pie. It sounds so easy and so tasty. I think it will be a perfect dessert for summer.
In the end, I chose to make her Thai Basil Cabbage Slaw with Jalapeno. Not only did it sound delicious, but it also sounded so easy to make.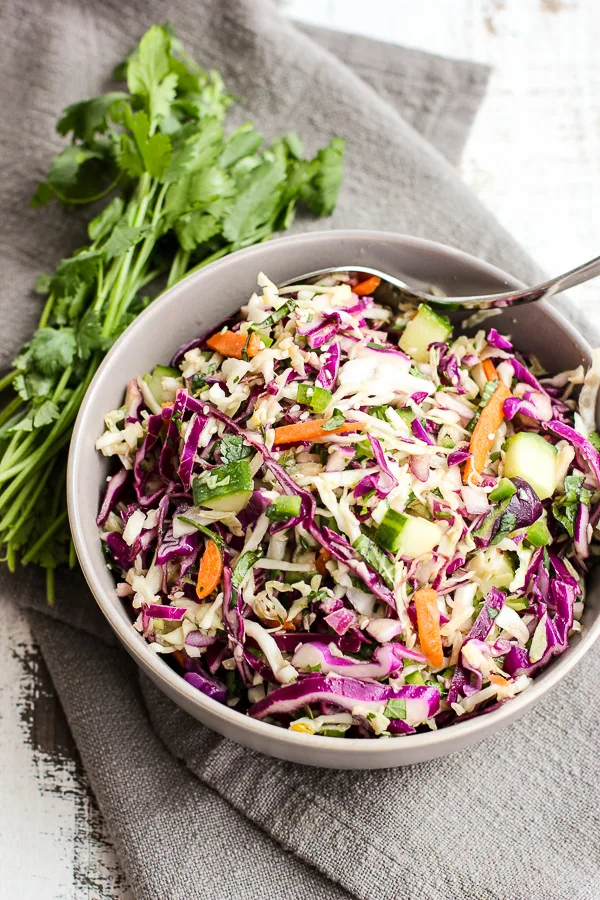 This salad starts out with packaged coleslaw mix and packaged, pre-shredded purple cabbage. Not only does that make the prep work easier, it also adds beautiful color to the salad. Once you've chopped the rest of the veggies and herbs, the dressing gets whipped up in no time.
Besides being easy to put together, this spicy Thai basil slaw tastes absolutely amazing. The sesame oil adds a great nutty depth to the flavor and all of the citrus brightens up everything.
Then there's the wonderful crunch from the cabbage. The cucumber adds more crunch along with a coolness, which perfectly compliments the heat from the jalapeno.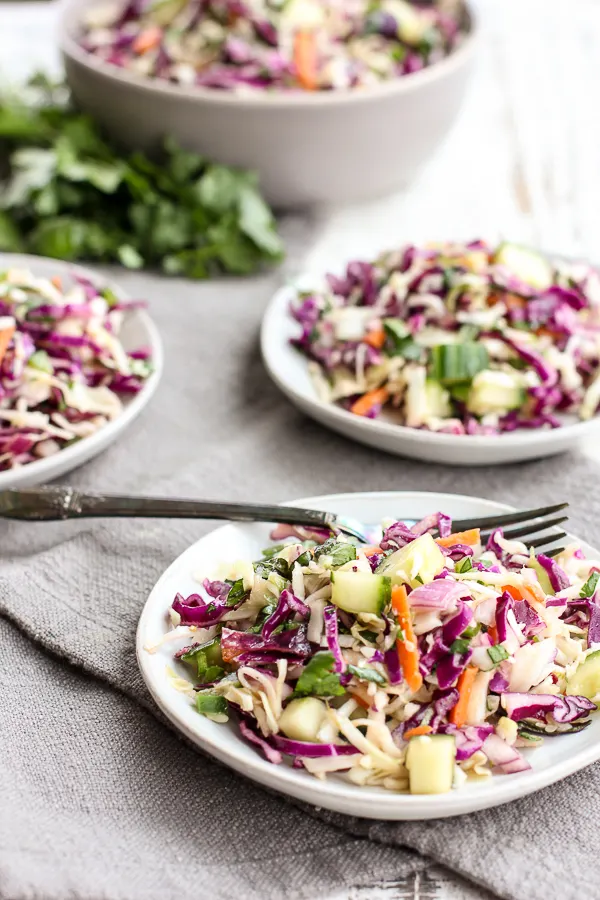 If you want to make this slaw more than a couple hours ahead of time, I suggest that you wait to toss the slaw with the dressing until you're ready to serve it. You can also adjust the heat to your liking by adding an additional jalapeno, or by reduce the amount of jalapeno.
Finally, please make sure you check out some of Julie's other recipes, along with the recipes all of my friends are sharing today for Freaky Friday. You can find all of the links at the bottom of this post.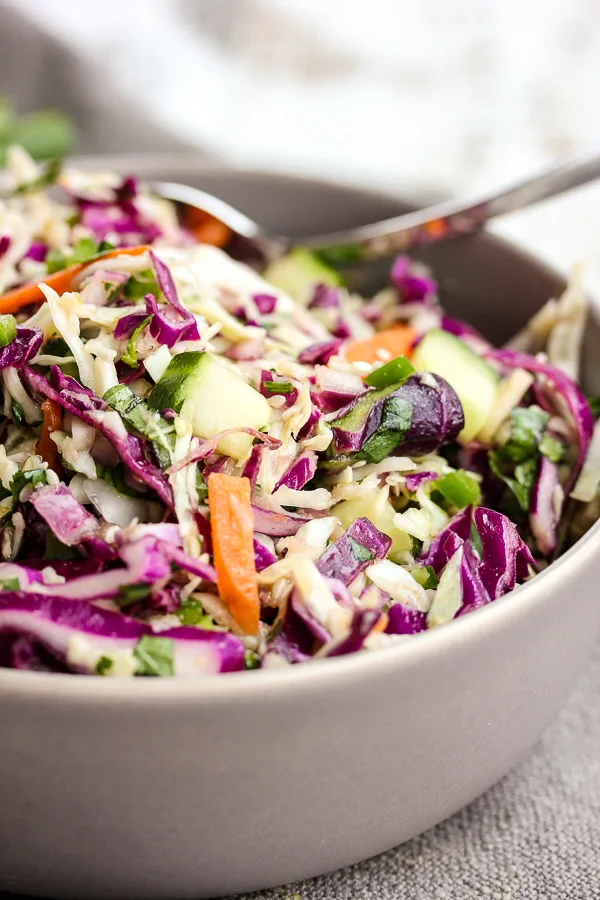 Take a look at all of our Spring 2019 Freaky Friday Recipes:
Yield: 12
Spicy Thai Basil Slaw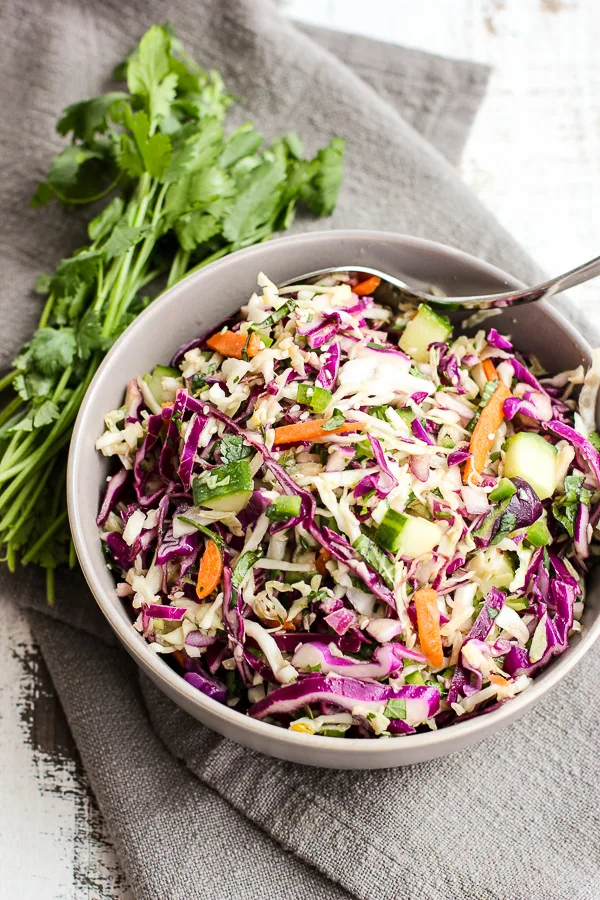 Spicy Thai Basil Slaw is a quick and easy salad that's full of delicious Asian flavors. It's perfect for weeknight meals as well as summer backyard barbecues.
Ingredients
1 cup cucumber, diced
1 (14 oz) bag coleslaw mix
1 (10 oz) bag shredded purple cabbage
1-2 jalapeno, seeds removed and finely chopped
1/4 cup thai basil, chopped
1/2 red onion, finely chopped
3/4 cup cilantro, chopped
1/4 cup sesame oil
2 large oranges, juiced
1 lime, juiced and zested
1/2 lemon, juiced
1 tbsp soy sauce
1 tsp onion powder
1 tsp garlic powder
1 tsp salt
1 tbsp sesame seeds
Instructions
In a large bowl, combine cucumber through cilantro.
In a small bowl, whisk together sesame oil through salt, until well combined.
Pour dressing over slaw mixture and toss until salad is well coated.
Sprinkle salad with sesame seeds.
Notes
Use 1 or 2 jalapeños based on the level of heat that you like.
If you can't find Thai basil, you can substitute regular basil.
If you're making this salad ahead of time, store salad ingredients and dressing separately until ready to serve.
Nutrition Information:
Yield:
12
Serving Size:
1
Amount Per Serving:
Calories:

82
Total Fat:

6g
Saturated Fat:

1g
Trans Fat:

0g
Unsaturated Fat:

5g
Cholesterol:

1mg
Sodium:

289mg
Carbohydrates:

7g
Fiber:

1g
Sugar:

4g
Protein:

1g