Easy two bean beef chili is a quick and easy recipe that your family will love. It's so hearty and is full of great Tex-Mex flavor.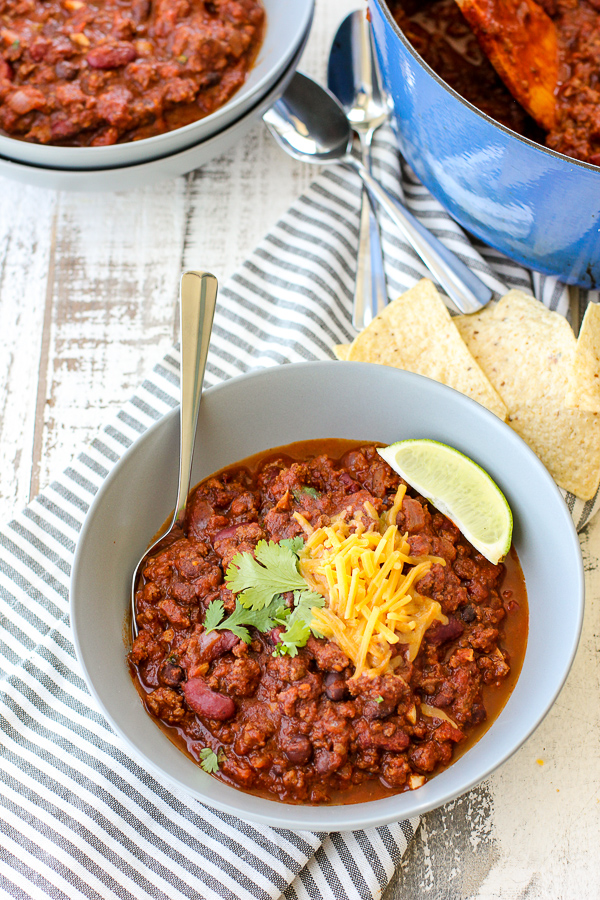 I have been in the kitchen cooking since I was a young girl. It's something I've always enjoyed. I was probably about 10 when I started making chili.
It was my mom's recipe and was pretty simple and didn't have a lot of ingredients. But even back then, I felt a need to tweak recipes and make them my own.
So I would try and jazz up her recipe with different spices. And as a 10 year old, there wasn't a lot of rhyme or reason to the spices I chose to put in.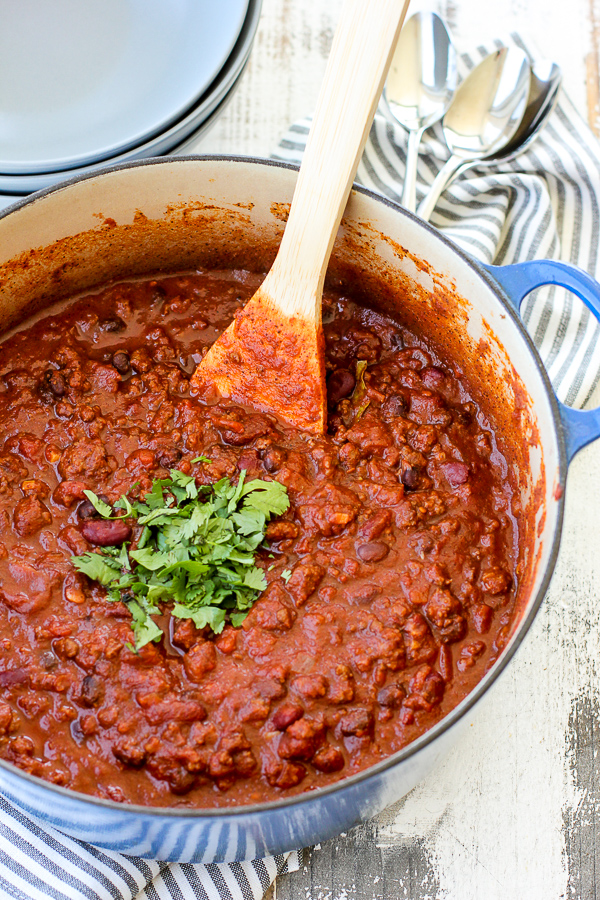 My most memorable batch of chili was one where things went totally awry. I was at the stove, stirring away, adding spices….and reading a book at the same time (I was a book worm). Well, the whole reading the book thing was NOT a good idea.
For some reason, I thought the chili needed celery salt and so I'm shaking away with the container….and not paying any attention (I had a good book, remember)….which was bad because the shaker top fell off and a whole PILE of celery salt went into the chili.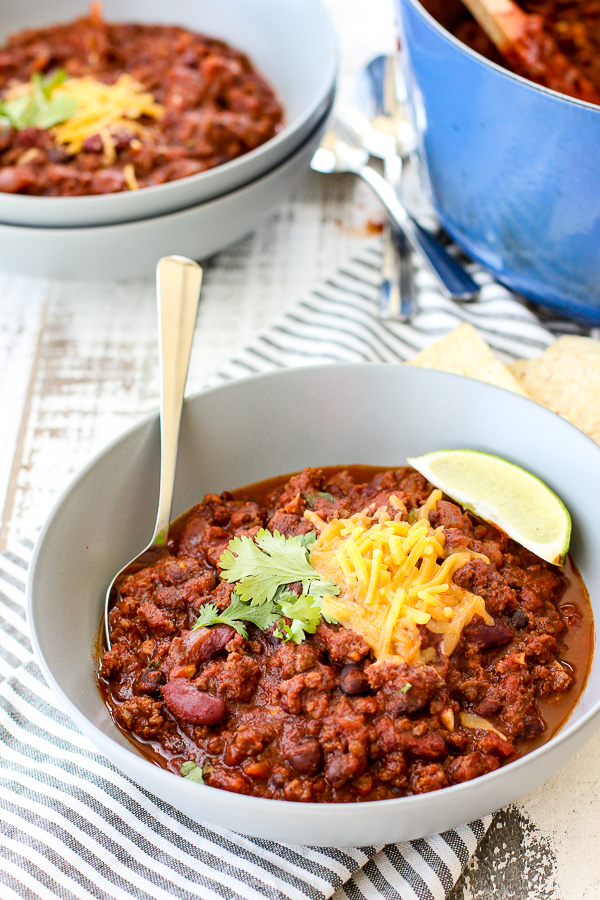 Since this was actually supposed to be my family's dinner, it was not a good thing. So my mom got involved at this point and we were both trying to scoop the celery salt out of the pot. But of course, I'd already stirred some of it in, since I wasn't actually watching what I was doing.
We did what we could, we tried to doctor it up so that it would be edible. Needless to say, it was awful! We definitely had to go to plan B for dinner that night.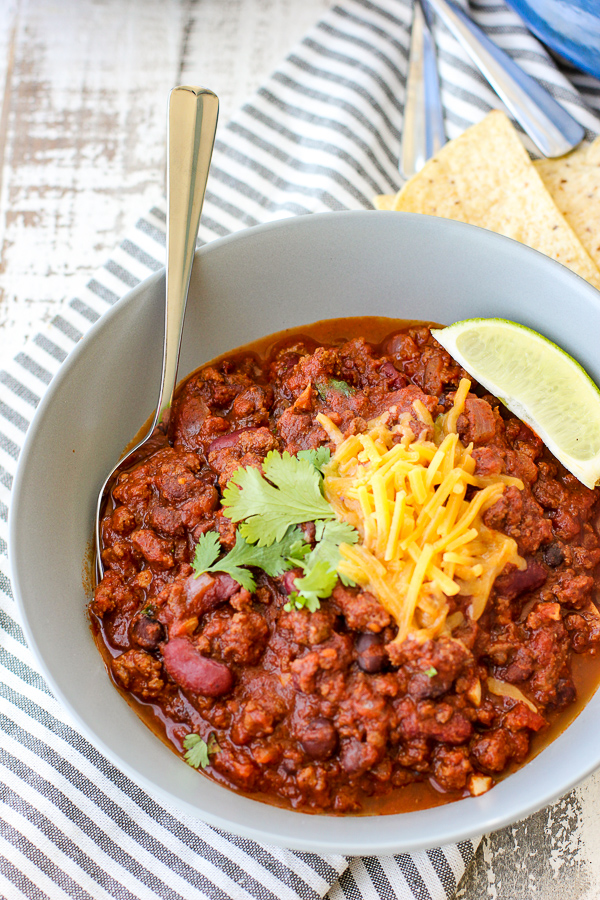 This easy two bean beef chili is based on that chili from long ago, but no celery salt and I've definitely learned not to read a book while cooking. Over the years I've added a few more ingredients to update the recipe, but it still reminds me of that long ago chili. It's definitely become a family favorite in my house. If I want to see my kids, all I need to do is let them know I'm making chili and they'll be over.
I also need to mention that this chili is so easy to make. It's ready in 30-ish minutes and it freezes really well. I will often make a double or triple batch and freeze some for another night. It also makes great leftovers for lunch.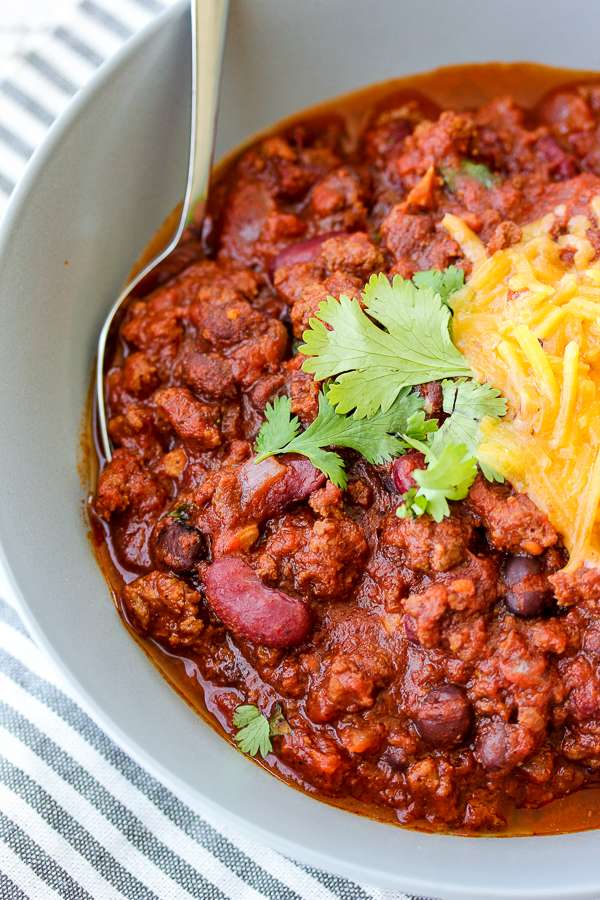 Yield: 6 servings
Easy Two Bean Beef Chili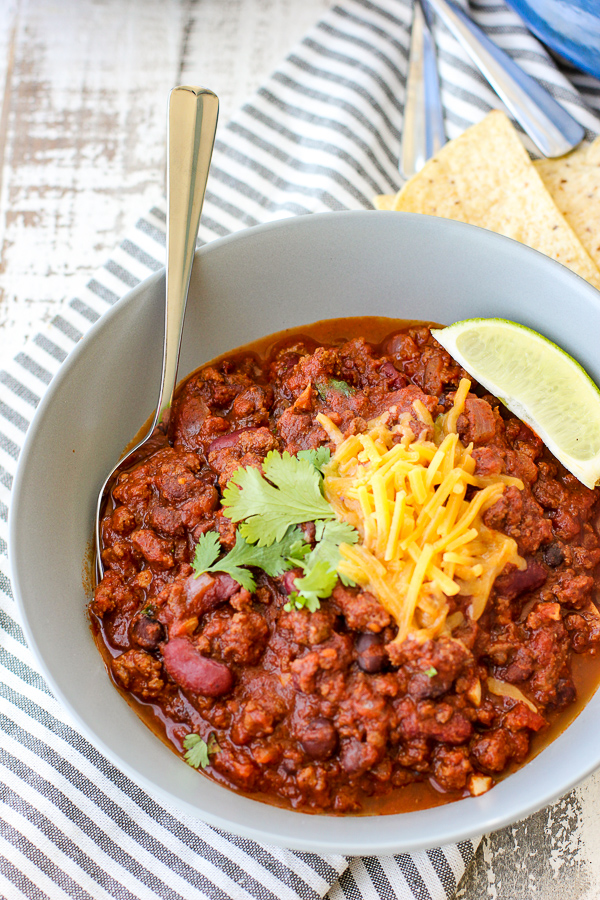 Easy two bean beef chili is a quick and easy recipe that your family will love. It's so hearty and is full of great Tex-Mex flavor.
Ingredients
1 medium onion, chopped
3 cloves garlic, minced
1 lb ground beef
1 tbsp olive oil
1 15 oz can chili beans, do not drain
1 15 oz can black beans, drained and rinsed
1 28 oz can crushed tomatoes
1 1/2 tsp salt
1/2 tsp black pepper
2 to 3 tbsp chili powder, depending on how spicy you want it to be
1 tbsp ground cumin
1/8 tsp cayenne pepper, more if you want it spicier
1 tsp dried oregano
sour cream, shredded cheese, chopped cilantro, sliced avocado – optional for garnish
Instructions
Heat oil in large skillet over medium high heat.

Once hot, add ground beef and start breaking it up with a spoon.

After the beef is broken up and is starting to brown, add the onion and garlic.

Continue cooking until beef is cooked through and the onion is soft and translucent.

Stir in both cans of beans and the crushed tomatoes.
Add salt, pepper and the spices, stirring until well combined.
Bring mixture to a bubble.
Reduce heat to low, c

over and simmer for at least 15 minutes to allow flavors to develop.

Serve with desired toppings.
Notes
Make sure you don't drain the chili beans, the sauce they are packed in has a lot of flavor.
If you don't have chili beans on hand, you can substitute a can of kidney beans that' been drained. You'll want to increase the amount of chili powder to taste, since the kidney bean aren't already seasoned.
Nutrition Information:
Yield:
6
Serving Size:
1
Amount Per Serving:
Calories:

527
Total Fat:

24g
Saturated Fat:

7g
Trans Fat:

1g
Unsaturated Fat:

13g
Cholesterol:

73mg
Sodium:

1913mg
Carbohydrates:

47g
Fiber:

16g
Sugar:

11g
Protein:

36g
ENJOY!
Shared at Everyday Mom's Meals on2/05/12.