Mexican two bean chicken chili is an incredibly quick and easy meal with amazing flavor that your whole family will love.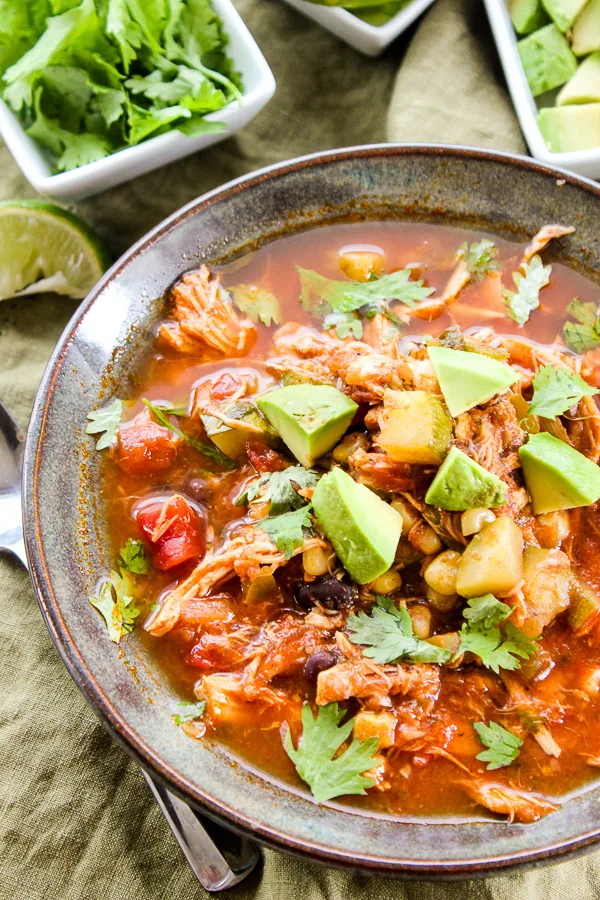 This chicken chili is a recipe that I used to make all the time when my kids were young and it was a go-to when I needed an easy meal for casual entertaining. But, for some reason, I totally forgot about the recipe and stopped making it. Then, a few years back, my daughter, Kelly asked me to make my chicken chili and I had NO idea what recipe she was talking about. I asked was it this? No. Was it this? No. I was completely stumped until I started going through some old cookbooks.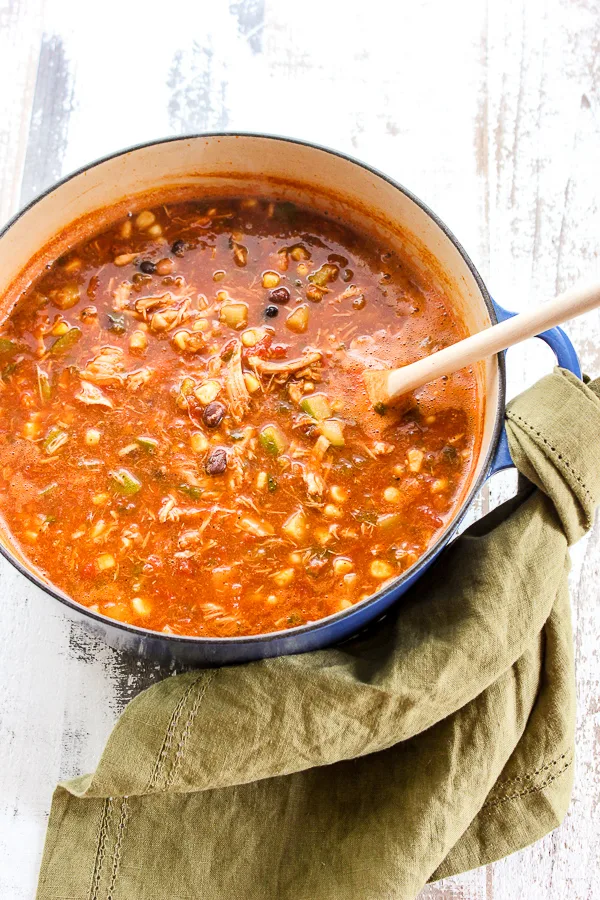 As I was looking through a Pampered Chef cookbook, it jumped right off the page at me! Mexican Two Bean Chicken Chili! Could this be the one? A couple of days later, I was with my other daughter, Nicole, and I was telling her about the recipe. She immediately knew, yeah mom, that's your chicken chili. Mystery solved.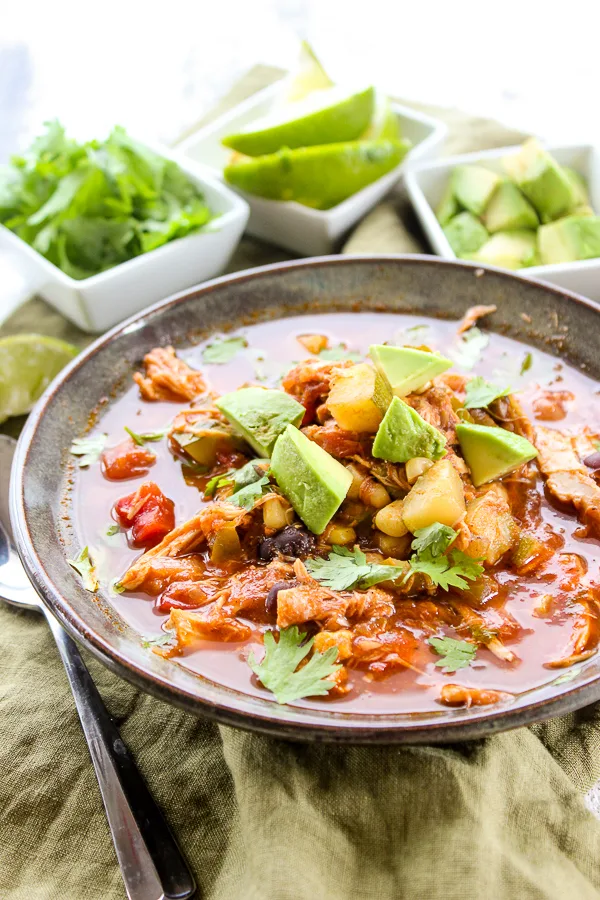 I'm so glad I rediscovered this chicken chili and have put it back on my meal rotation. It is incredibly easy to make and has such great flavor. What makes this chili so easy is that there's very little prep work involved. The only ingredients that need chopping are the zucchini and garlic. After quickly sautéing those two ingredients, all you need to do is add the rest of the ingredients and stir it all together, then let it simmer for a short time to let the flavors develop.
A rotisserie chicken also makes this easy and if you look for pre-shredded rotisserie chicken at the grocery store, it's even easier. Using a jar of salsa adds a lot of the flavor with no extra work. I use mild salsa in my chili, but if you like more heat go ahead and use medium or hot salsa.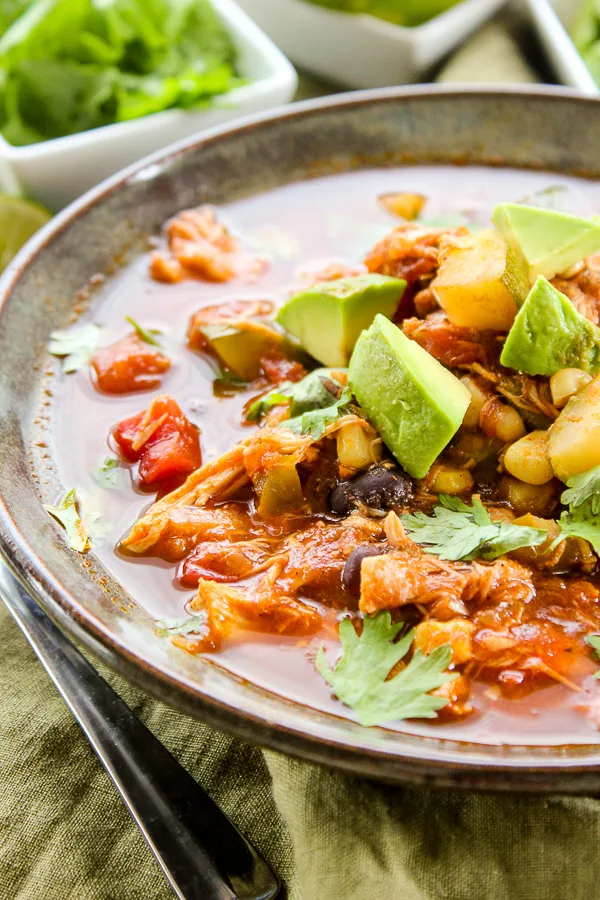 Yield: 6
Couldn't Be Easier Mexican Two Bean Chicken Chili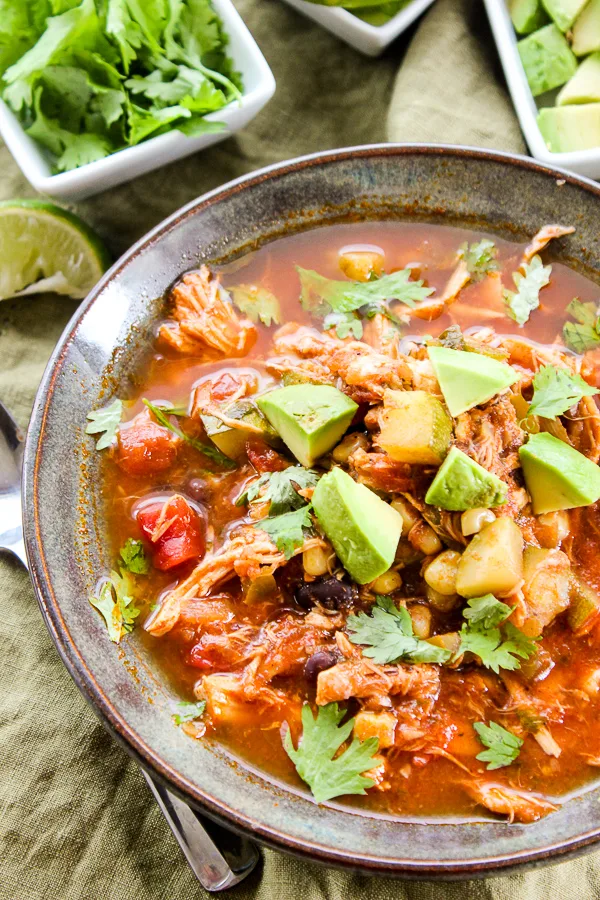 Ingredients
1 tbsp olive oil
1 medium zucchini, diced
2 cloves garlic, minced
1 (15 oz) can black beans, drained and rinsed
1 (15 oz) can pinto beans, drained and rinsed
1 (15 oz) can tomato sauce
1 (16 oz) jar salsa
2 tbsp chili powder
1 tsp ground cumin
1 1/2 tsp salt
1/2 tsp pepper
4 cups chicken stock
3 cups cooked chicken, shredded
l cup frozen corn, thawed
1/4 cup cilantro, chopped
your favorite chili toppings, avocado, cilantro leaves, lime wedges, sour cream, tortilla chips, etc.
Instructions
Heat olive oil in a 5 quart pot over medium heat.
Add zucchini and sauté a few minutes until zucchini is starting to brown.
Add garlic and sauté for 30 seconds more.
Stir in tomato sauce, salsa, chili powder, cumin, salt and pepper.
Stir in remaining ingredients.
Bring chili to a boil, reduce heat, cover and simmer for 20-30 minutes.
Serve with your favorite toppings.
Notes
This recipe was adapted from Pampered Chef Celebrate!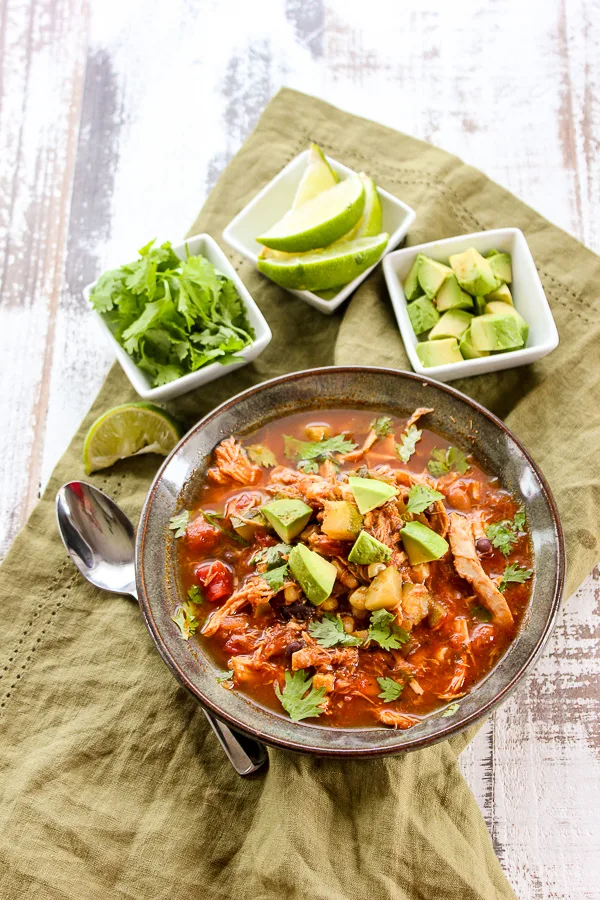 ENJOY!

SaveSave
SaveSave