Shrimp Scampi in Parchment is a company worthy meal that's quick and easy enough to serve to your family any night of the week.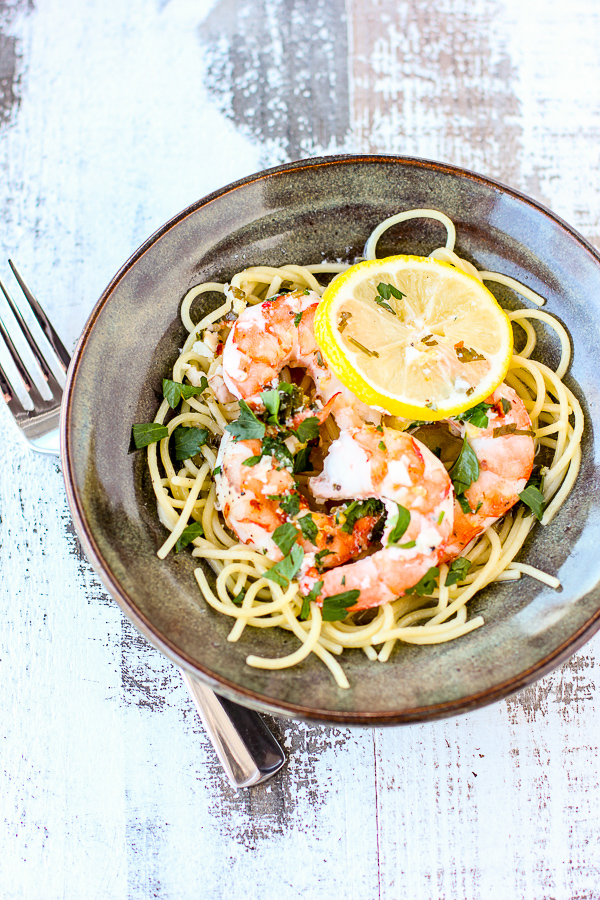 Baking seafood in parchment paper is an incredibly easy and fool-proof method of cooking. After you take a few minutes to assemble these packets of seafood and aromatics, along with a small amount of liquid and a little butter, the oven gently steams the ingredients to perfection and a delicious sauce develops.
For this post I decided to use shrimp and create a scampi style dish that's perfect served over pasta. This is a very flexible cooking method, though. You could also use fish fillets and add a vegetable, such as green beans or asparagus, use your imagination. The key is to not over-fill the packets and to make sure you add a few tablespoons of liquid, some aromatics (like garlic, lemon zest, onions, etc) and a little bit of a fat such as butter or olive oil. Then the oven does all of the work and creates a perfect dish!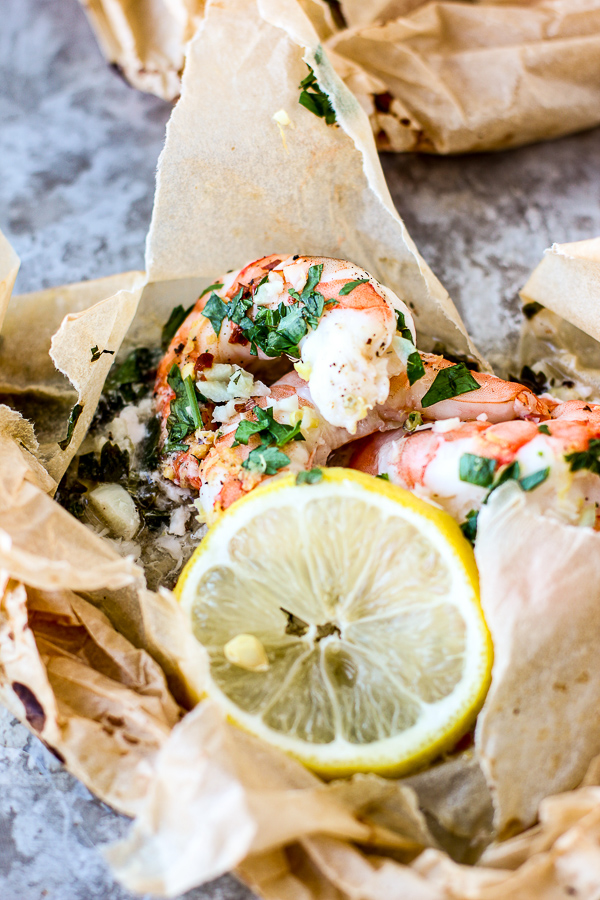 This method of cooking is also great for entertaining because you can prepare the packets ahead of time, refrigerate and then pop in the oven once your guests arrive. Clean up is easy too!!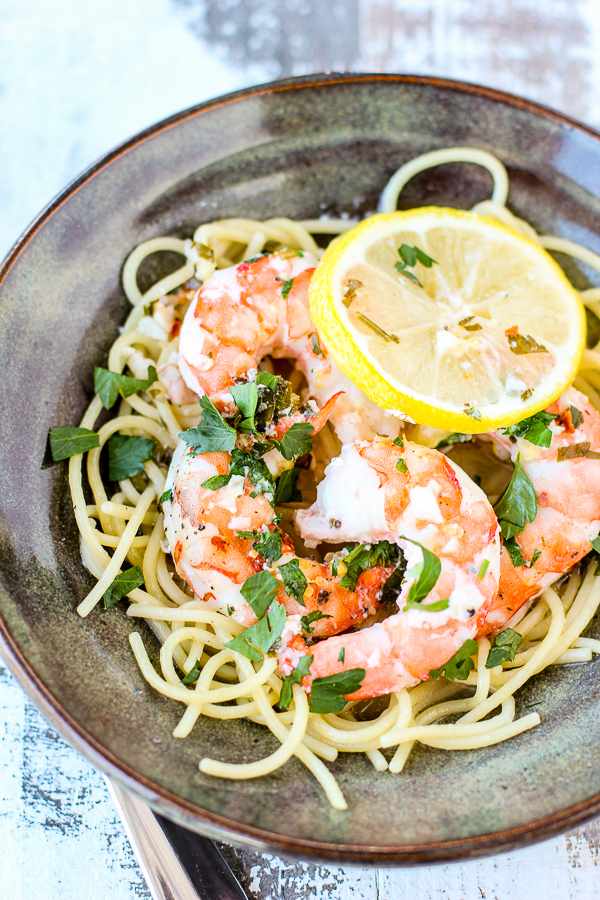 Yield: 4
Shrimp Scampi in Parchment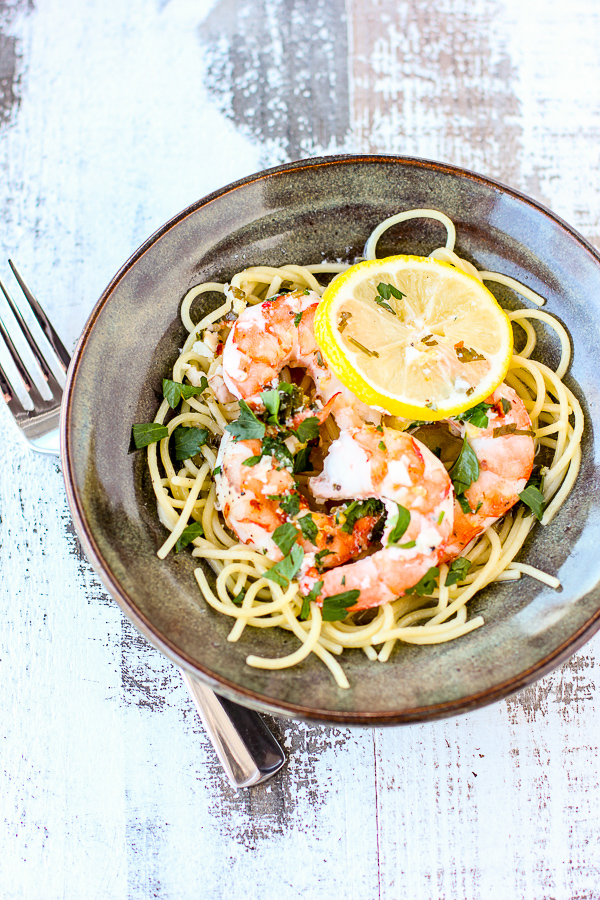 Prep Time 20 minutes

Cook Time 15 minutes

Total Time 35 minutes
Ingredients
1 lb large raw shrimp, peeled and deveined
salt and pepper
red pepper flakes
4 cloves garlic, minced
zest of one lemon
2 green onions, thinly sliced
1/4 fresh lemon juice
1/2 cup white wine
4 tsp butter
8 thin slices of lemon
1/4 cup parsley, finely chopped
cooked pasta, if desired
Instructions
Preheat oven to 350 degrees.
Lay 4 pieces of parchment paper out on the counter, about 12 inches long each.
Divide shrimp between the 4 pieces of parchment, placing in the middle of the paper.
Season each portion of shrimp with salt and pepper and a little sprinkle of red pepper flakes.
Top each portion with 1/4 of the garlic, lemon zest and green onions.
Top each portion with 2 tbsp white wine, 1 tbsp lemon juice, 1 tsp butter, broken into pieces and 2 lemon slices.
Fold paper over the fish and roll the edges up tightly to form a package.
Place on a baking sheet.
Bake in preheated oven for 15 minutes.
Serve as is or over hot, cooked pasta.
Notes
These can be assembled ahead of time and refrigerated until you're ready to bake them.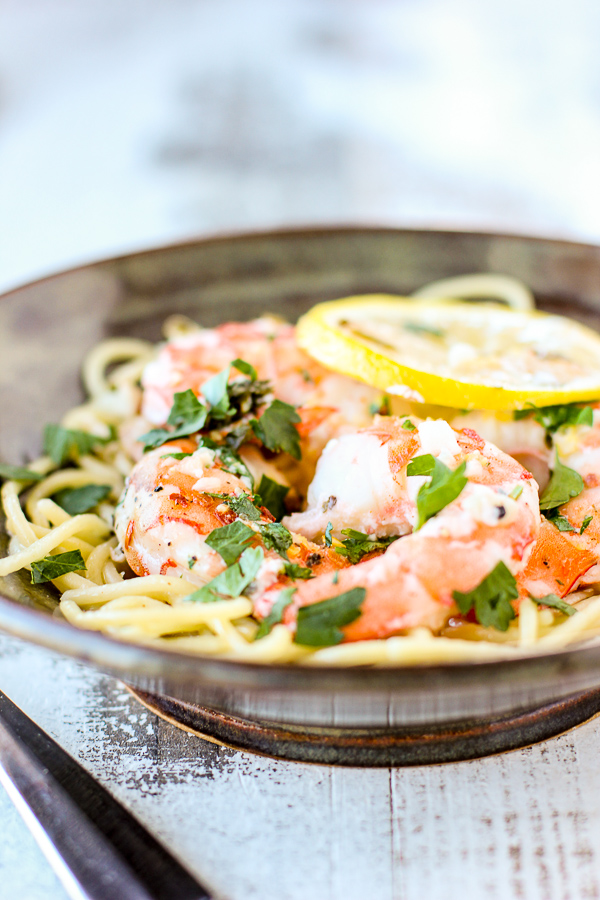 ENJOY!
SaveSave