Skillet Chicken with Creamy Mustard Sauce is a total one pan wonder. Tender chicken breasts are quickly seared before making an easy and scrumptious mustard cream pan sauce, all in just over 30 minutes.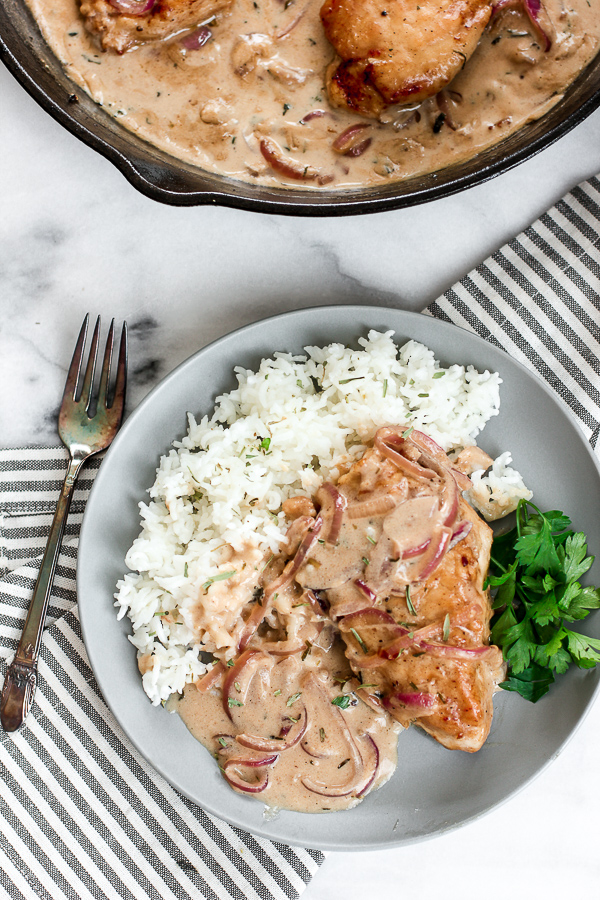 Do you struggle with coming up with creative ideas for those boneless chicken breasts that are sitting in your freezer? That definitely happens for me from time to time. Which is why I'm always trying to think of creative, delicious AND easy ways to make chicken breasts more interesting.
The great thing about chicken breasts is that they are very flexible. They can be grilled, pan seared or roasted. But what really elevates the humble chicken is the seasoning or sauce that accompanies it.
That's why I love this chicken with creamy mustard sauce so much. The sauce is so flavorful and creamy, plus everything cooks in the same skillet and it's ready in a little over 30 minutes. Served with rice and some steamed green beans or a green salad and you have a complete meal your family will love.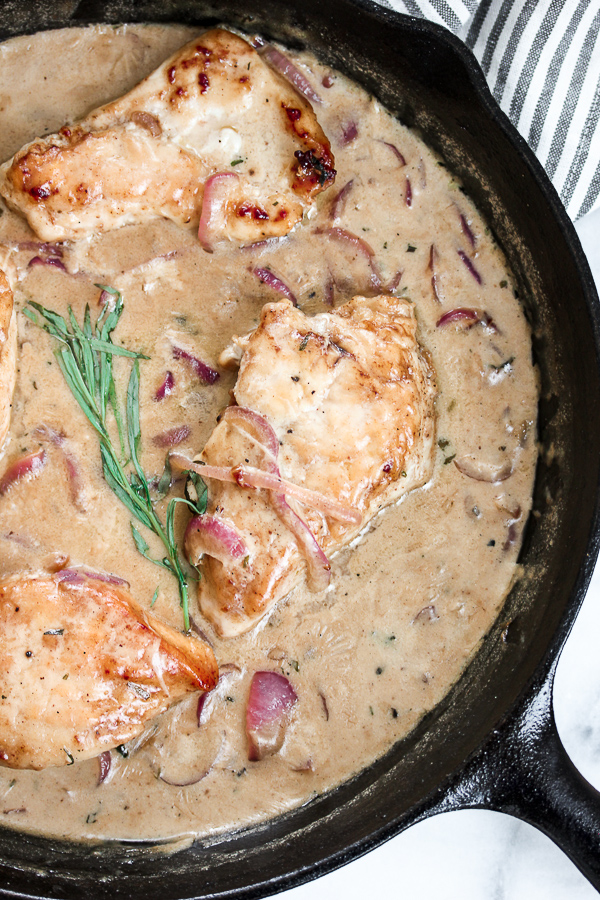 Let's talk a little more about that creamy, dreamy sauce. It starts with sautéing some thinly sliced onion and then adding in a little white wine, chicken stock and some tangy dijon mustard. To finish it off, a bit of heavy cream gets stirred in.
The results is a lusciously creamy, slightly tangy sauce that pairs with chicken so well. And it's even better on a bed of rice to soak up every last drop of this amazing sauce.
These are some of my other favorite chicken recipes: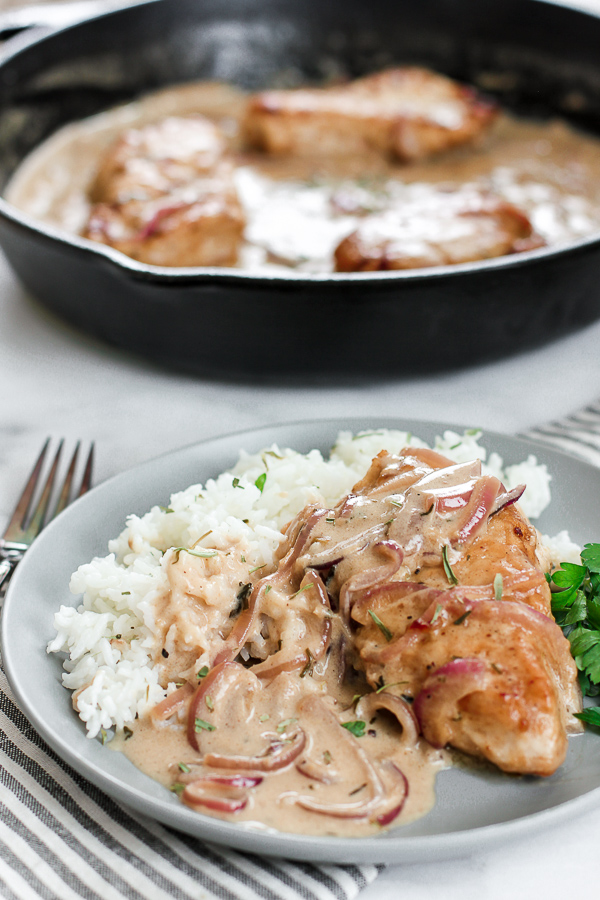 How do you make skillet chicken with creamy mustard sauce?
Start by pounding out your chicken breast until they're an even thickness, about one inch thick and dredge them in flour.
Sear the chicken until golden brown on each side and then remove from the pan.
Saute the onion until it's very soft.
Start building the sauce with flour, white wine, chicken stock mustard and cream.
Add the chicken back to the pan to simmer until cooked through.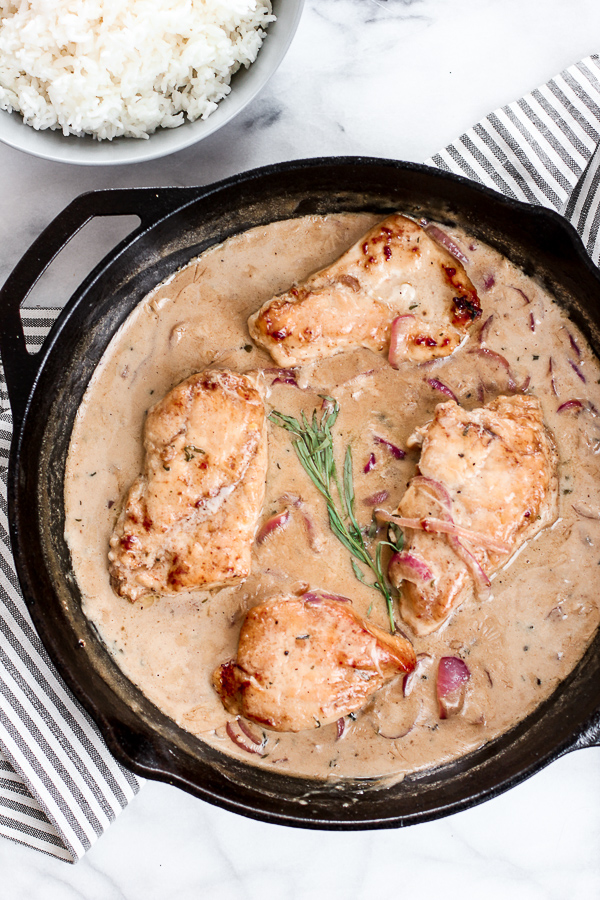 What substitutions can you make?
If you don't have heavy cream, you can substitute half and half. I have made the sauce both ways. I prefer the heavy cream because the flavor was a little richer. But it was still really good with half and half.
If you don't have dijon mustard, grainy brown mustard would be a good substitute. I wouldn't recommend yellow mustard.
If you don't have chicken breasts on hand, pork chops would be a delicious substitution. I would cook them in the same manner as the chicken.
A good substitution for the onion would be a shallot.
I used garlic powder in this recipe, because I was out of fresh garlic. But fresh garlic would work great in this recipe. Just sauté it along with the onions.
If you prefer not to use wine, add an extra half cup of chicken stock.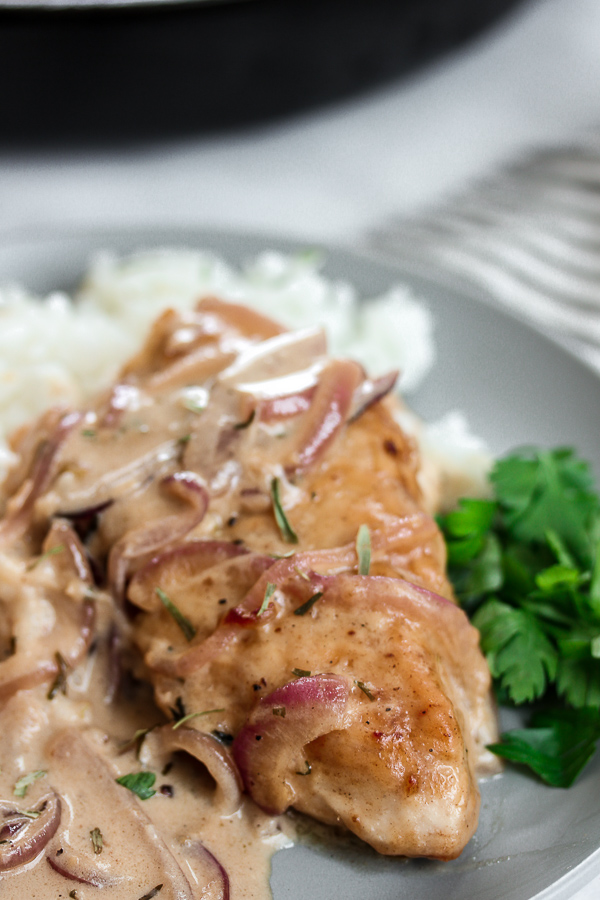 Yield: 4 servings
Skillet Chicken with Creamy Mustard Sauce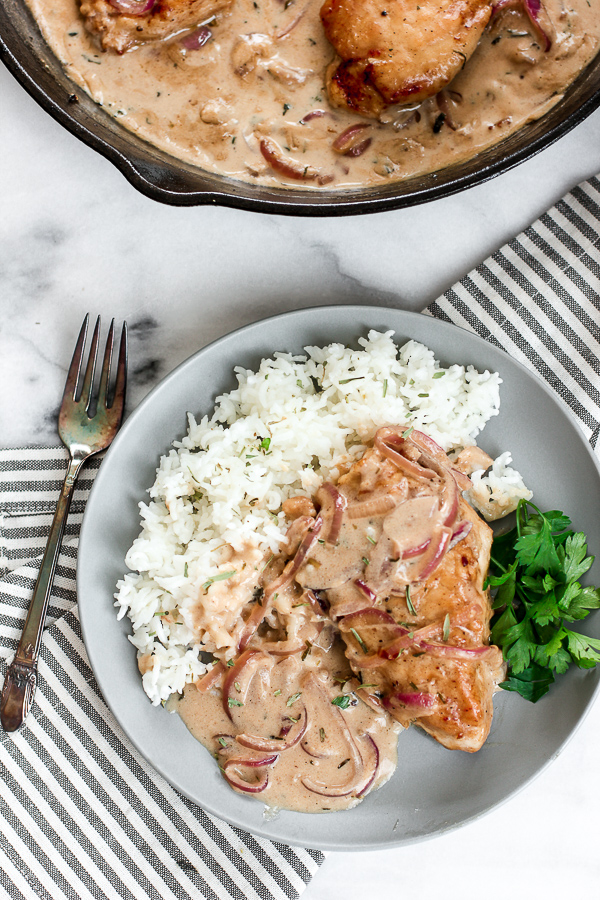 A quick creamy mustard sauce elevates boneless chicken breasts to something special. Plus it's easy enough to make any night of the week.
Ingredients
4 (6 oz) chicken breasts
1/2 onion, thinly sliced
2 tbsp olive oil
2 tbsp butter
1 tbsp flour, plus extra for dredging
1 tsp salt, divided
1/2 tsp pepper, divided
1/4 tsp garlic powder
1/2 cup white wine
1 cup chicken stock
2 tbsp dijon mustard
1/2 cup heavy cream
2 tsp fresh tarragon, finely chopped
Cooked rice
Instructions
Pound chicken breasts out until they're about 1/2-3/4 inches thick
Dredge chicken in 1/2 cup flour that's seasoned with 1/2 tsp salt and 1/4 tsp pepper
Heat oil and butter in a large skillet over medium high heat
Brown chicken in oil and butter mixture about 5 minutes per side, until golden brown.
Remove chicken from skillet and cover with foil.
In same pan, add sliced onion and saute until soft and starting to brown.
Season with galic powder.
Reduce heat to medium.
Spinkle onions with flour, stirring to coat.
Stir in wine and cook until until wine has thickened and reduced.
Add chicken stock and stir until well combined with wine/flour mixture and start to bubble.
Whisk in mustard until fully incorporated.
Whisk in half and half and bring to a bubble.
Cook until mixture has thickened slightly.
Stir in remaining 1/2 tsp salt, 1/4 tsp pepper and tarragon.
Return chicken along with any juices to the skillet, turning to coat.
Cover, reduce heat to medium low and cook for an additional 5 minutes, until chicken is cooked through.
Serve chicken and sauce over cooked rice.
Nutrition Information:
Yield:
4
Serving Size:
1
Amount Per Serving:
Calories:

265
Total Fat:

17g
Saturated Fat:

7g
Trans Fat:

0g
Unsaturated Fat:

9g
Cholesterol:

28mg
Sodium:

937mg
Carbohydrates:

19g
Fiber:

1g
Sugar:

3g
Protein:

4g