Cheesy Broccoli Chicken Cauliflower Rice Casserole is a low carb dish that's packed with healthy veggies and creamy, cheesy, comfort food goodness.
Sometimes we just NEED something extra cheesy in a comfort food situation, am I right? That's what this casserole is all about, but you don't need to feel guilty about this comfort food for at least two reasons. 1. It's packed with lots of veggies because we're using cauliflower rice instead of regular rice. 2. Since we're using cauliflower rice, it's low carb and lower in calories. So really, it's comfort food you feel good about eating and with winter quickly approaching, who doesn't need more of that in their life?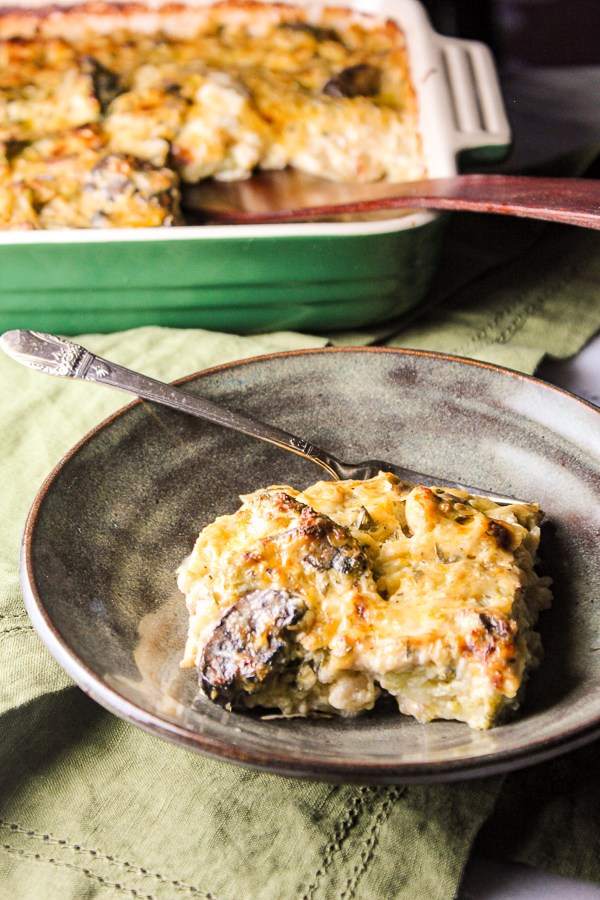 This isn't my first go around with cauliflower rice, Weeknight Spanish Cauliflower Rice was my first attempt and that's when I fell in love this veggie. It's a great , healthy substitute for regular rice, it's low calorie, low carb and full of good-for-you nutrition. It works perfectly in Cheesy Broccoli Chicken Cauliflower Rice Casserole, you don't even miss the white rice.
I've also discovered that packaged cauliflower rice is becoming much more readily available in grocery stores. I first discovered it at Trader Joe's, but I have now found it at several other grocery stores. I find that packaged cauliflower rice is so easy to work with and saves a lot of time, which is always a good thing, in my opinion.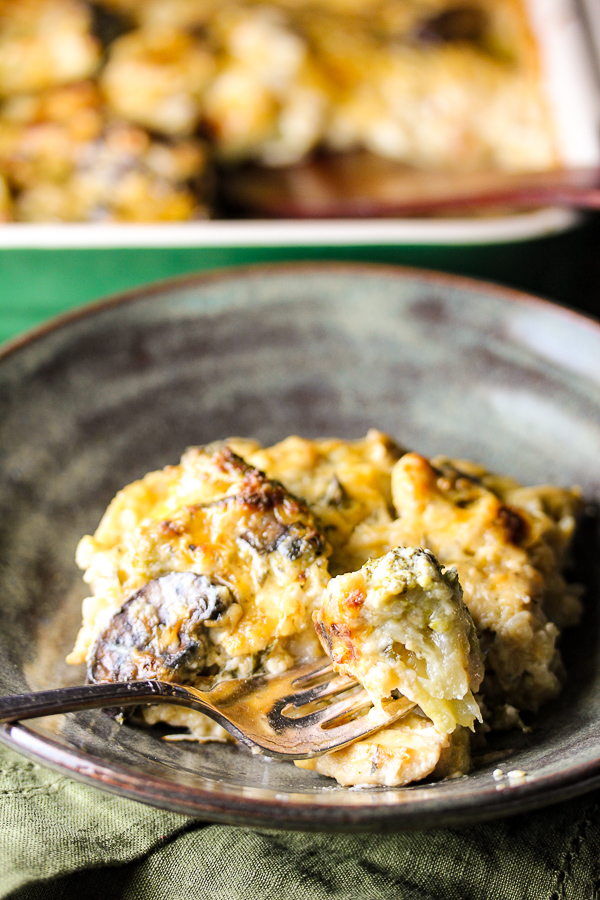 Yield: 8
Cheesy Broccoli Chicken Cauliflower Rice Casserole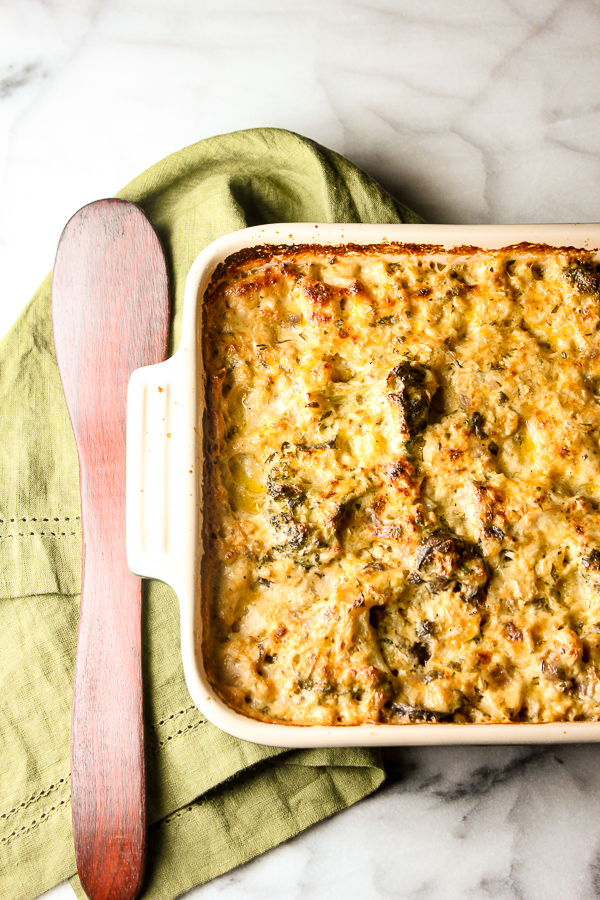 You can also divide the casserole between two 8x8 pans and freeze one to bake later. Just make sure you cover casserole tightly before freezing.
Ingredients
6 cups cauliflower rice, uncooked
5 tbsp butter, divided
1 small red onion, chopped
8 oz sliced cremini mushrooms
1 lb chicken breast, cut into chunks
1 (10 oz) pkg frozen broccoli florets, thawed slightly
1 cup sour cream
1 (8 oz) shredded sharp cheddar cheese
1/4 cup fresh parsley, finely chopped
3 cloves garlic, minced
3 tbsp flour
3 cups whole milk
1 1/2 tsp salt
1/2 tsp pepper
1 tbsp fresh thyme, minced
Instructions
Preheat oven to 350 degrees.
Pour cauliflower rice into a large mixing bowl and set aside.
Heat 2 tbsp butter in a skillet over medium heat.
Add onion and sauté for a a few minutes.
Add mushrooms and continue sautéing until onions are translucent and mushrooms start to turn golden brown.
Add onion mixture to the mixing bowl.
In the same skillet, add chicken and sauté until browned and no longer pink.
Add to the mixing bowl.
Add broccoli, sour cream, cheddar cheese and parsley to the mixing bowl.
Stir until mixture is well combined.
Melt remaining 3 tbsp butter in a saucepan over medium low heat.
Add garlic and cook for 1 minute.
Whisk in flour and cook for another minute.
Gradually whisk in milk.
Increase heat and bring mixture to a bubble.
Stir in salt, pepper and thyme.
Continue cooking, stirring frequently until sauce has thickened.
Cool slightly.
Pour sauce over cauliflower mixture, stirring until everything is well coated and combined.
Pour mixture into a 9x13 baking dish that's been coated with cooking spray.
Bake in preheated oven for 45 minutes, until casserole is browned and bubbly.



ENJOY!