Weeknight Spanish Cauliflower Rice is a healthy, low-carb version of the traditional dish. It's full of delicious flavor and is quick and easy, making it perfect for busy weeknights.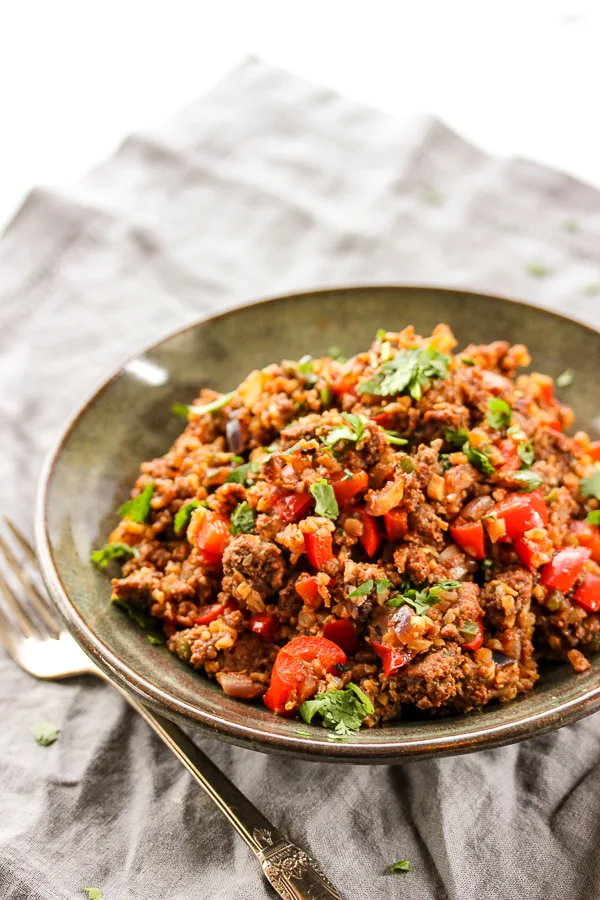 We had some crazy weather here in the Twin Cities last night! It started raining like crazy in the early evening and it just wouldn't quit and continued to rain for hours, I'd say at least 5 or 6 hours. At the end of it all, we got upwards of 10 inches in our suburb. Crazy, right??
That meant there was all kinds of flash flooding. They actually had to close the exit ramp we usually take from the freeway for some time because it was under water. I think we've met our quota of rain until next year!
Now, let's talk about cauliflower rice. Have you tried it? I have to say, I was skeptical at first. I'll be honest, cauliflower is not my most favorite vegetable.
But when it's cut up into tiny pieces and then roasted, it actually becomes very rice-like. The texture is very similar to rice and it really takes on the flavor of whatever dish you're using it in. The key is to not overcook it so it still retains some texture and doesn't get mushy.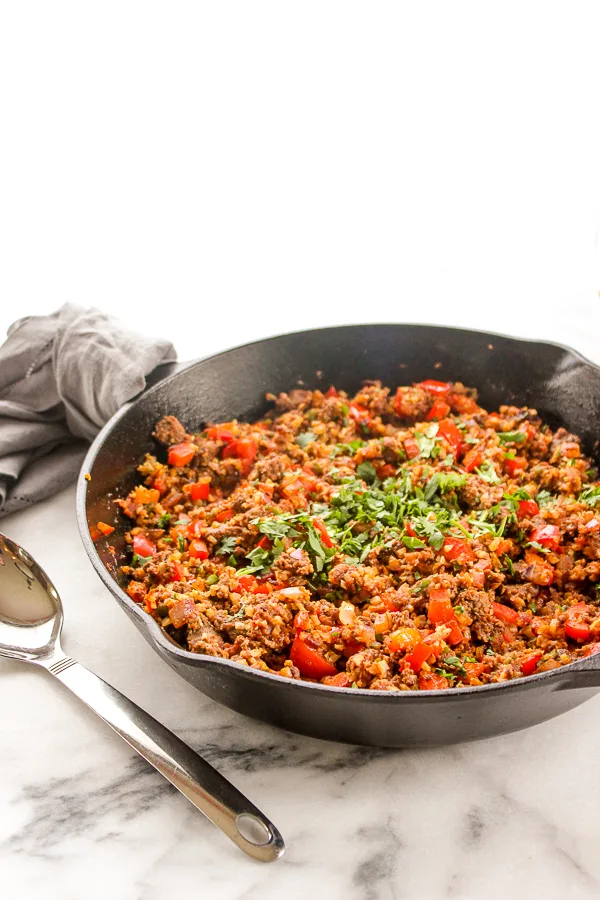 It's also very convenient. Not that long ago you had no choice but to make your own "rice" in the food processor, but now stores are starting to carry cauliflower rice in the produce section. I've found it at Trader Joe's and also one of the large grocery stores in our area.
That makes it super convenient to roast up a big batch and use it in place of rice in all your favorite dishes. I definitely recommend roasting the cauliflower before using it a recipe. Roasting it helps to give it a somewhat nutty flavor which is delicious!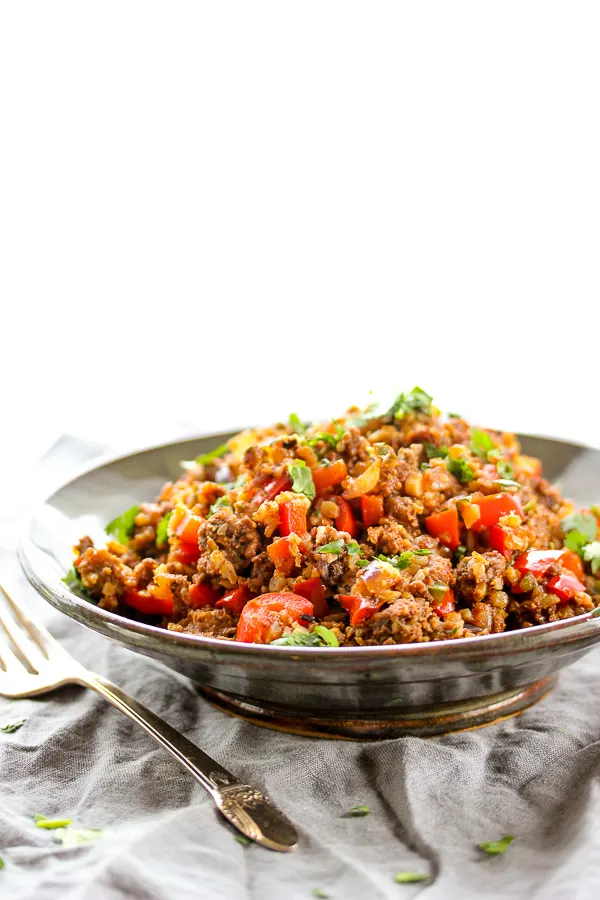 I decided to use cauliflower rice in place of rice in our favorite Spanish Rice recipe. It's a recipe that I've been making since I was first married.
Spanish rice is delicious in it's original form, but I really wanted to make something that was lighter, low-carb and packed with a little more veg. So, Spanish cauliflower rice was born and it did not disappoint.
Literally, I could have eaten the whole skillet and had to exhibit great restraint not to. I mean, eating the whole pan kind of defeats the purpose of a lighter, healthier dish, right?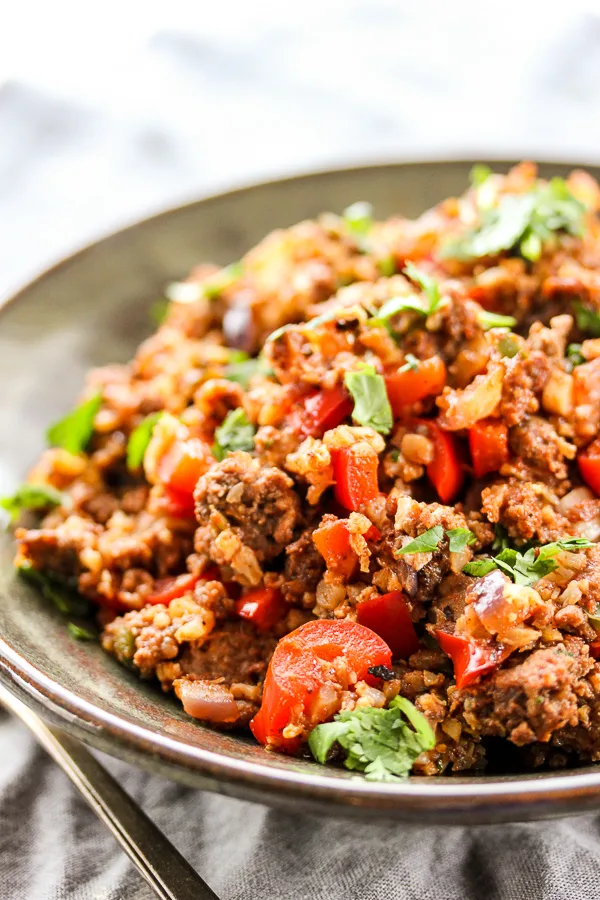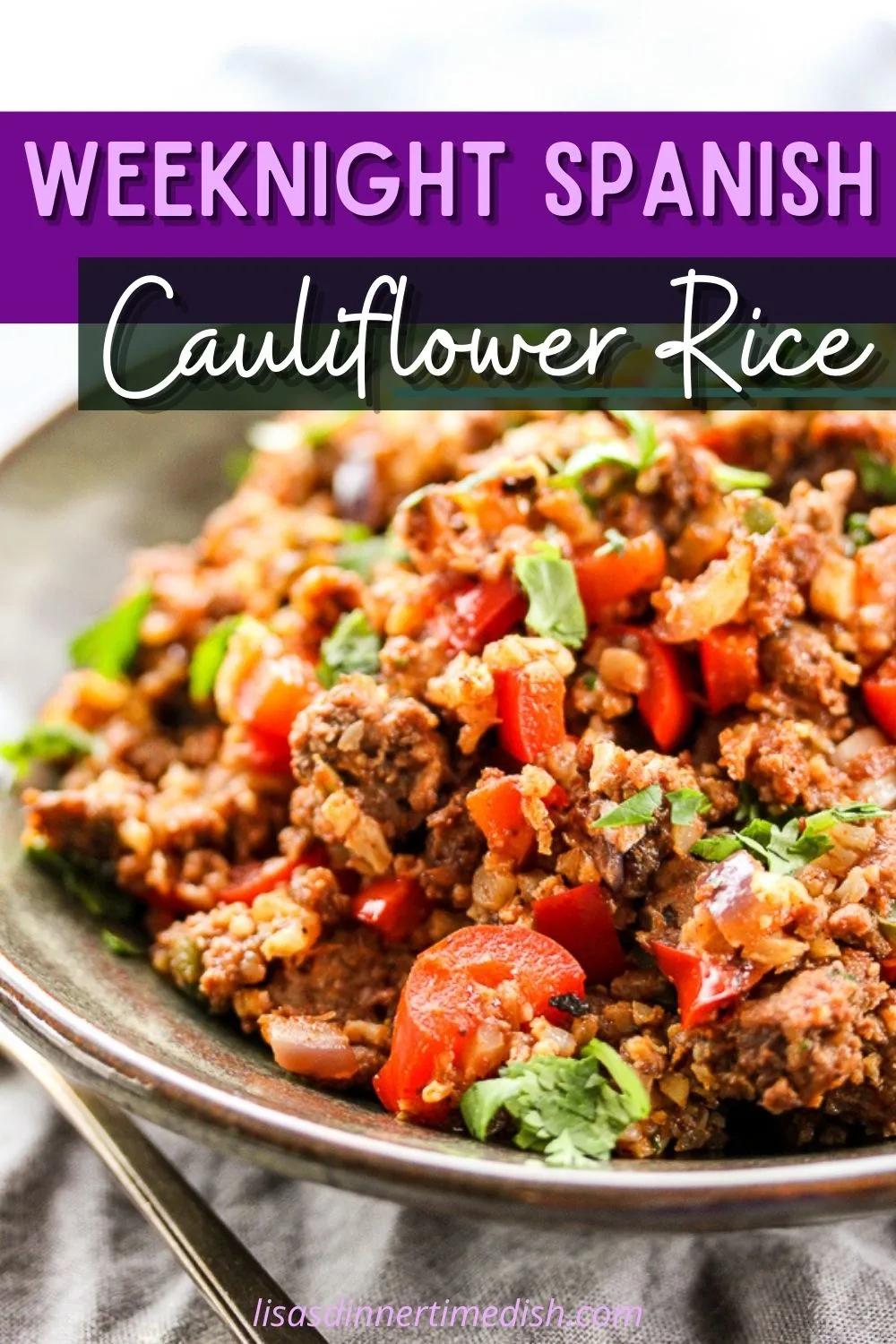 Yield: 4
Weeknight Spanish Cauliflower Rice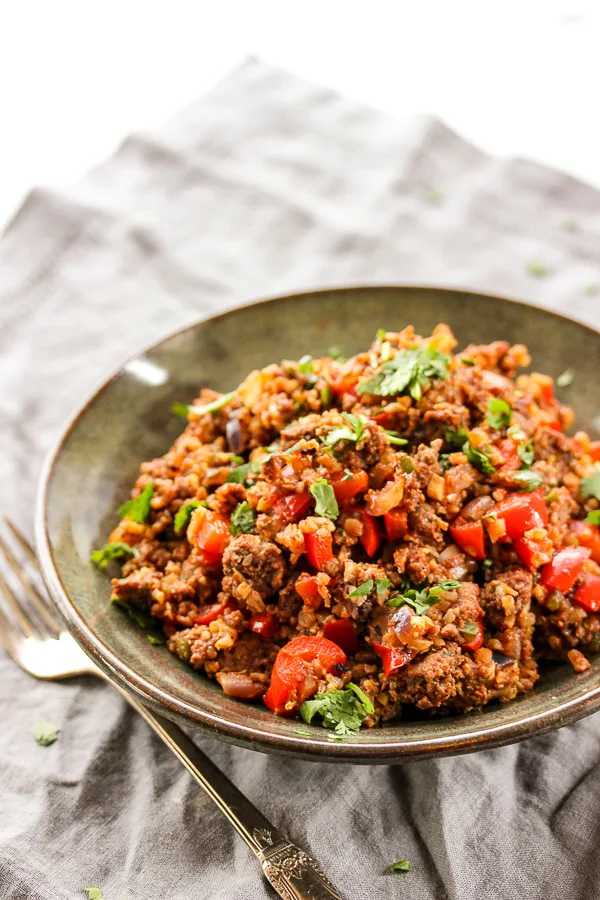 Weeknight Spanish Cauliflower Rice is a healthy, low-carb version of the traditional dish. It's full of delicious flavor and is quick and easy, making it perfect for busy weeknights.
Ingredients
1 (16 oz) pkg cauliflower rice
1 tbsp olive oil
1 lb ground beef, preferably grass-fed
1 small red onion, chopped
1 jalapeno pepper, seeded and finely chopped
1 bell pepper, seeded and chopped
1 clove garlic, minced
1 tsp salt
1/2 tsp pepper
1 tbsp chili powder
1 (8 oz) can tomato sauce
2 tbsp fresh cilantro, chopped
Instructions
Preheat oven to 425 degrees.
Toss cauliflower rice with olive oil and season lightly with salt and pepper.
Spread evenly on a baking sheet lined with parchment paper.
Roast for 8 minutes.
Remove pan from oven and stir cauliflower.
Roast for an additional 8-10 minutes, until cauliflower is starting to brown, making sure not to overcook it.
While cauliflower is roasting, chop the other veggies.
Once cauliflower is done, preheat a large skillet over medium high heat.
Add ground beef and break up with a spoon.
Once beef is starting to brown, add onion, jalapeño and bell pepper to skillet.
Cook, stirring frequently, until beef is cooked through and onions are translucent.
Stir in garlic and cauliflower.
Stir in salt, pepper and chili powder.
Add tomato sauce, stirring until ingredients are well coated.
Cook until heated through.
Stir in cilantro right before serving.
Nutrition Information:
Yield:
4
Serving Size:
1
Amount Per Serving:
Calories:

397
Total Fat:

24g
Saturated Fat:

8g
Trans Fat:

1g
Unsaturated Fat:

13g
Cholesterol:

101mg
Sodium:

1333mg
Carbohydrates:

13g
Fiber:

4g
Sugar:

7g
Protein:

33g
ENJOY!
This recipe has been shared at: