This Weeknight Winter Stew is comfort food that's ready for the table under an hour. It's full of flavor and will warm you up from the inside out.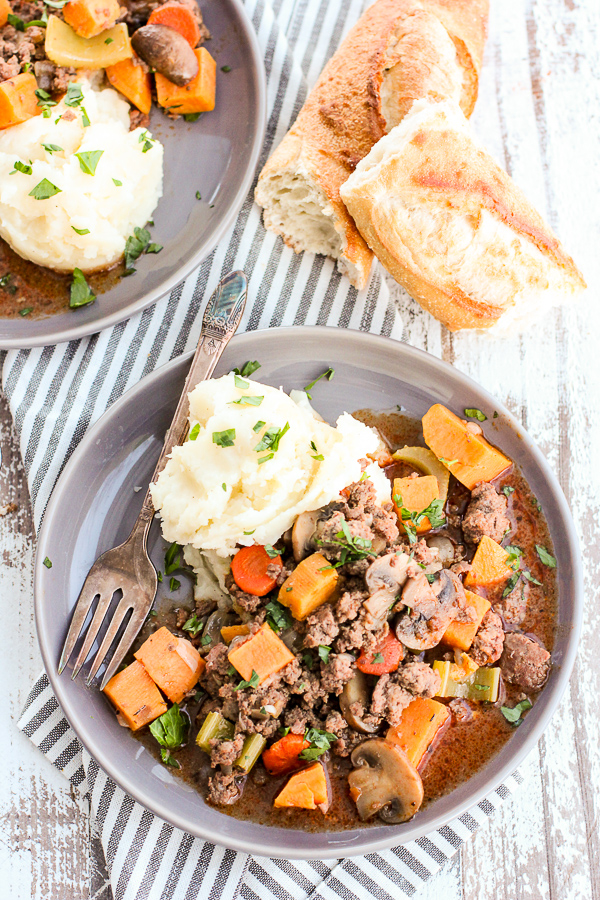 Life gets busy, right? So I like to have a few easy meals up my sleeve and this weeknight winter stew is squarely on that list. Not only is it easy, it's also hearty enough to warm you up from the inside out, perfect for chilly winter evenings.
I know the ingredient list looks long for this recipe, but it all comes together in less than an hour. It's actually more like 45 minutes and a good chunk of that time is hands off. Just an occasional stir.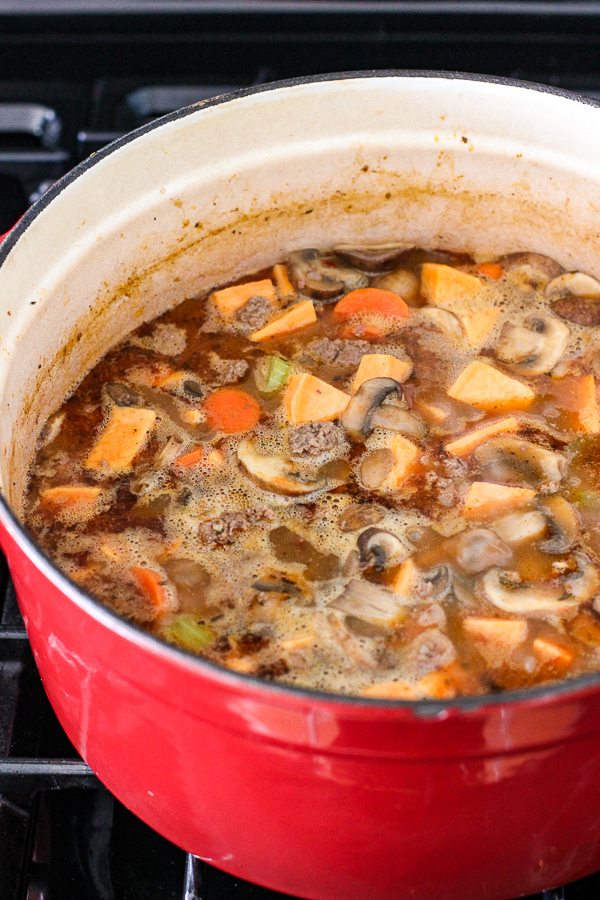 Seriously, if you're craving comfort food you need to make this, it's so good and so easy. If you're really pressed for time, you could even buy all of your veggies pre-cut at the grocery store. I bought the sweet potatoes and the mushrooms pre-cut, but chopped the rest myself.
After just a short simmer, this stew is bursting with amazing flavor. The earthiness of the mushrooms and the sweetness of the sweet potatoes balance each other out perfectly, while the hard cider adds a subtle apple flavor in the background.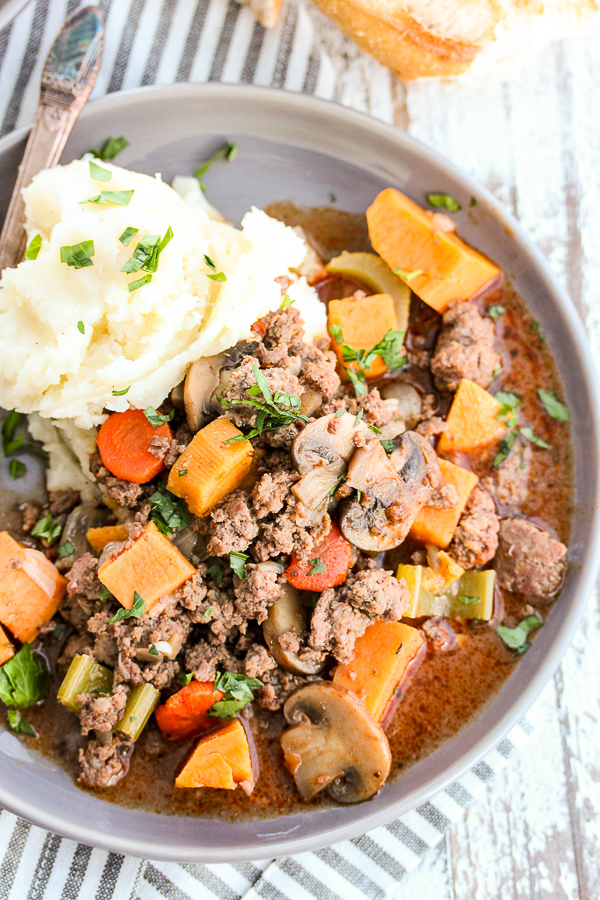 To really make this stew stick to your ribs, it's delicious over mashed potatoes. Since this is meant to be quick and easy, go ahead and buy the mashed potatoes from the deli.
This would also be delicious served over egg noodles or, if you're watching your carbs, cauliflower rice. No matter what you serve it over, this stew will be on the table in no time and will make your family very happy.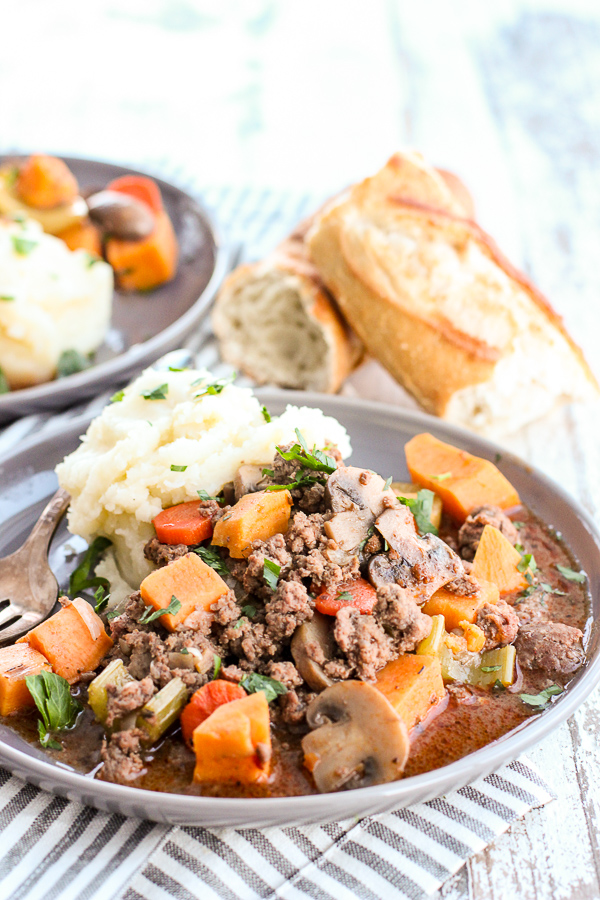 What do I need to know to make Easy Weeknight Winter Stew?
If you don't have hard apple cider on hand, try substituting regular apple cider or a bottle of your favorite beer.
Not a fan of sweet potatoes? You can substitute red or russet potatoes.
Not a fan of mushrooms? Use another veggie that you do like. Maybe red bell pepper?
This stew can definitely simmer longer than 20 minutes, if you have time. Just make sure you cover after 20 minutes. The flavor will only get better.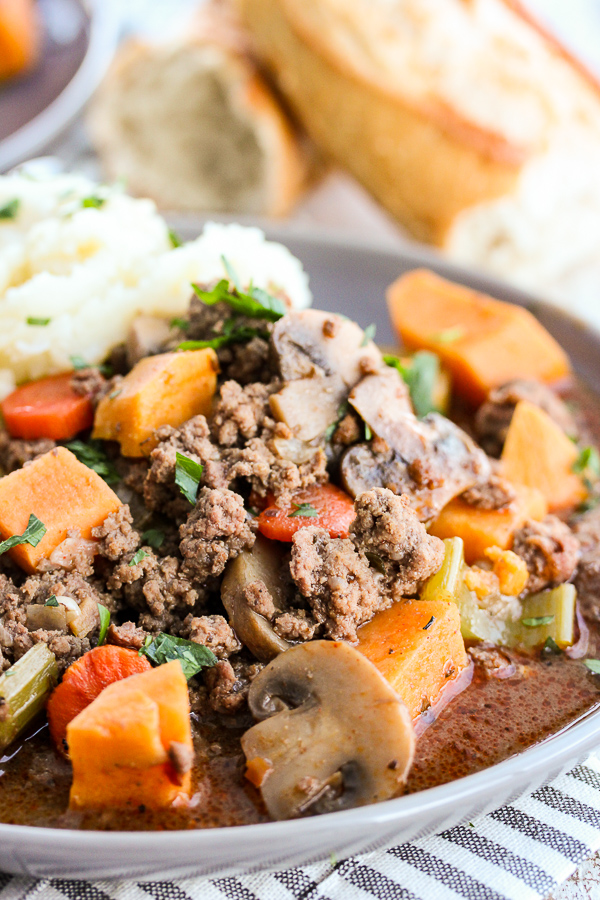 Yield: 6-8
Easy Weeknight Autumn Stew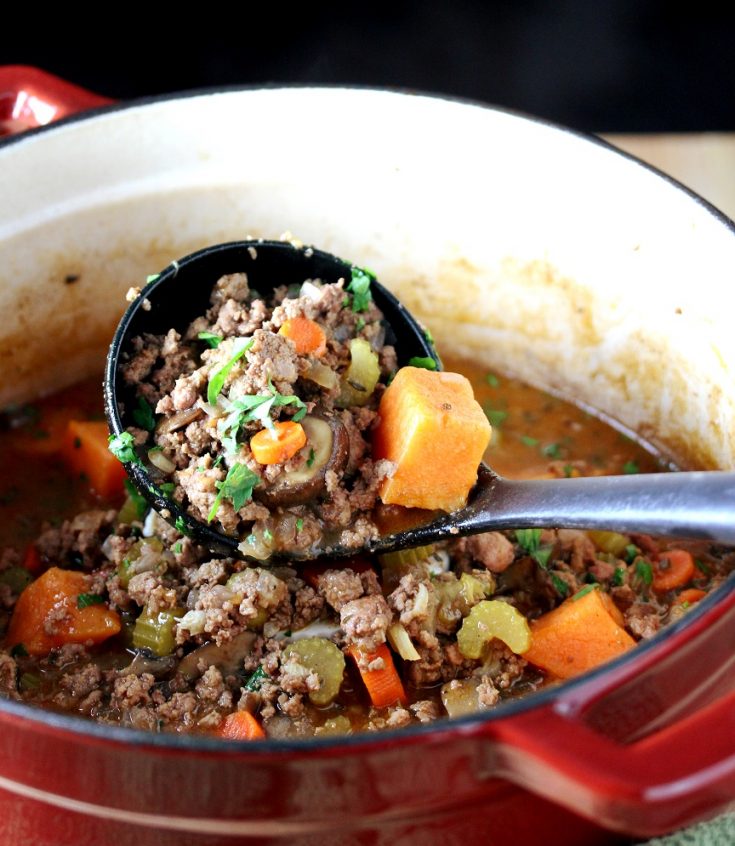 Ingredients
1 tbsp olive oil
2 lbs lean ground beef
1 medium onion, chopped
2 medium carrots, peeled and sliced
2 ribs celery, sliced
8 oz sliced cremini mushrooms
3 cloves garlic, minced
2 tbsp fresh sage, minced
2 tsp smoked paprika
2 tsp salt
1 tsp black pepper
1 tsp cumin
1/4 tsp crushed red pepper
1/4 cup flour
1 (12 oz) bottle hard cider (you could substitute apple cider)
3 cups low sodium beef stock
1 tbsp fresh thyme, minced (or 1 tsp dried)
1 (8 oz) sweet potato, cut into a medium dice
1/4 cup fresh parsley, finely chopped
Hot mashed potatoes or cooked egg noodles (optional, but recommended)
Instructions
Heat olive oil in a large pot over medium high heat.
Add ground beef and break up with a spoon.
Once beef is broken up and starting to brown, add onion, carrots celery, mushrooms and garlic.
Cook, stirring frequently, until beef is no longer pink and veggies are tender, about 10 minutes.
Stir in sage, smoked paprika, salt, pepper, cumin and crushed red pepper.
Sprinkle mixture with flour and stir to coat.
Slowly stir in hard cider and let reduce for about 2 minutes.
Stir in beef stock and bring to a boil.
Once sauce has thickened, reduce heat to simmer and stir in thyme and sweet potatoes.
Simmer uncovered for 15-20 minutes, until sweet potatoes are tender.
At this point, the stew is ready to eat, or you can cover and continue simmering to let flavors further develop. Make sure stew stays at a low bubble.
Stir in parsley right before serving.
Serve over mashed potatoes or egg noodle, if desired.
ENJOY!