With a bacon, cheese and onion topping along with a super creamy, silky texture, you won't even miss the carbs in this delicious, easy loaded cauliflower soup.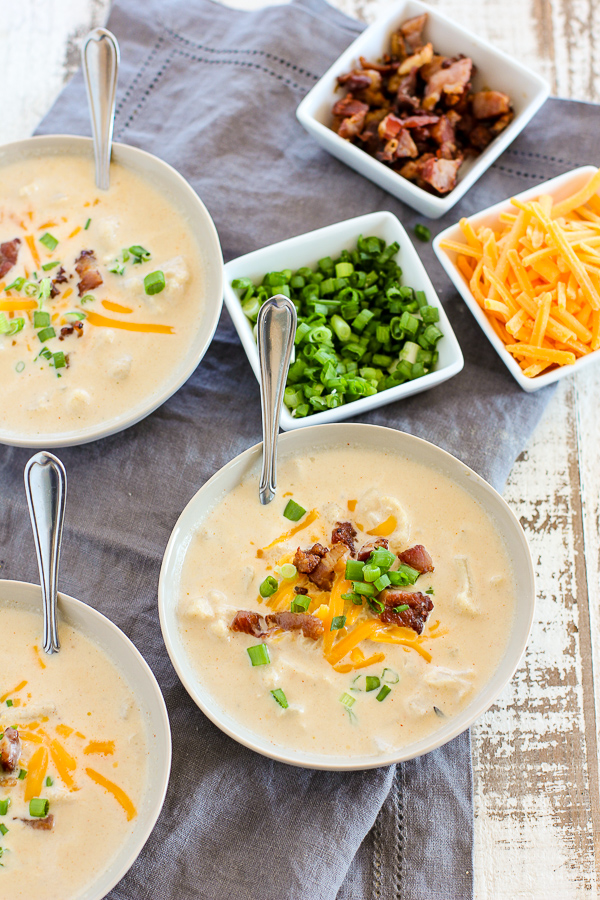 If you're watching your carbs, have I got a recipe for you. You will absolutely love this loaded cauliflower soup. It's got all the wonderful flavor and texture of a classic potato soup, but only a fraction of the carbs. Pretty awesome, huh?!
The secret to the creamy texture in this super easy soup is heavy cream and pureeing the soup with half of the cauliflower. Then to mimic the chunks of potato, bite size pieces of cauliflower are added and simmered until they're nice and tender.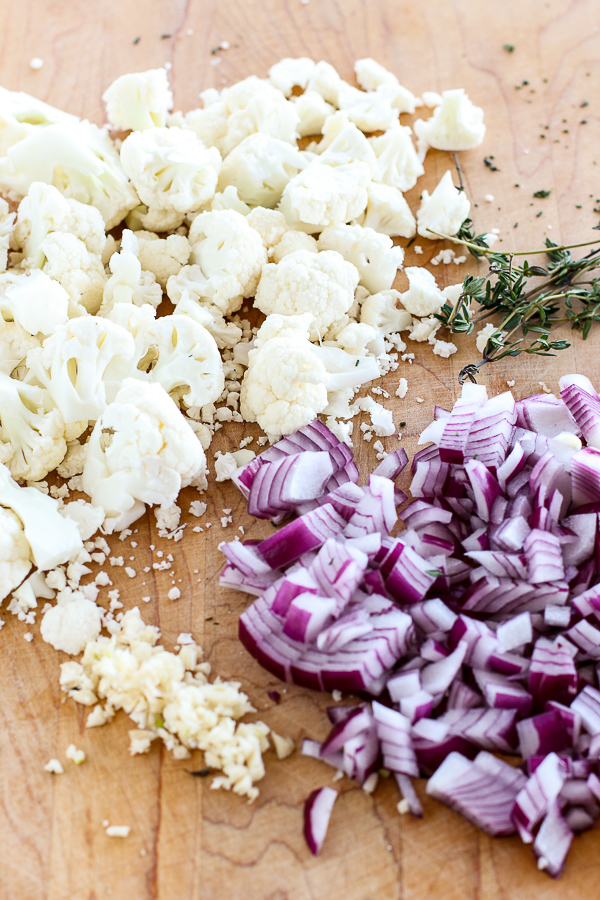 Did I mention this soup EASY? It only takes one pot and it's ready in 30-ish minutes. And let's talk about the "loaded" part of the soup. You can't forget the toppings because that's what really makes this soup over-the-top good.
The bacon adds a wonderful smoky, salty flavor and a little bit of crispiness. Cheddar cheese gets all melty on top and keeps the flavor from being too mild by adding just a little sharpness and green onion adds some brightness. All in all a wonderful flavor combo along with that silky, rich soup.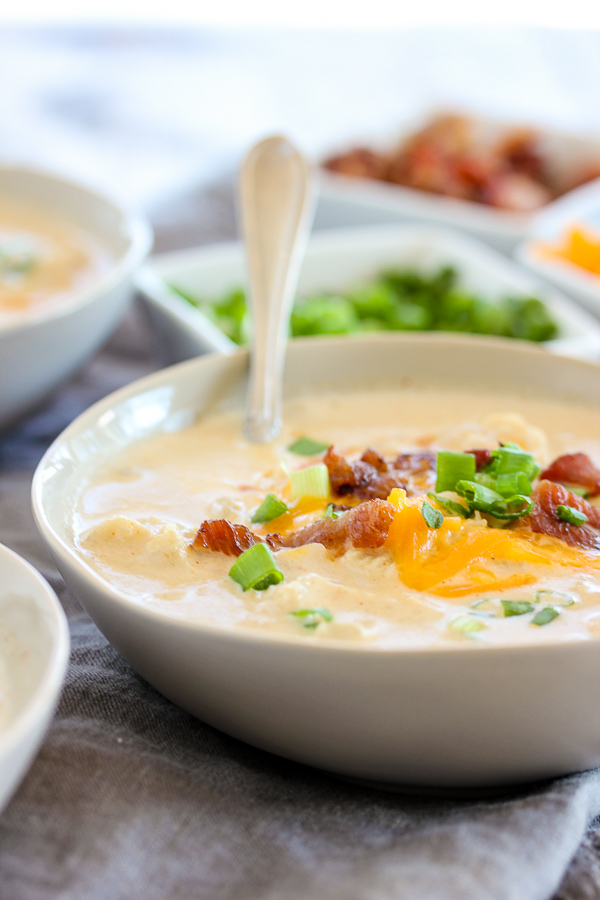 You'll also see in the recipe that the veggies are sautéed in a combination of bacon fat and olive oil. Do.not.skip. the.bacon.fat. It imparts a lovely smokiness in the soup along with a little bit of smoked paprika. So make sure you save the fat after you cook the bacon crumbles for the topping.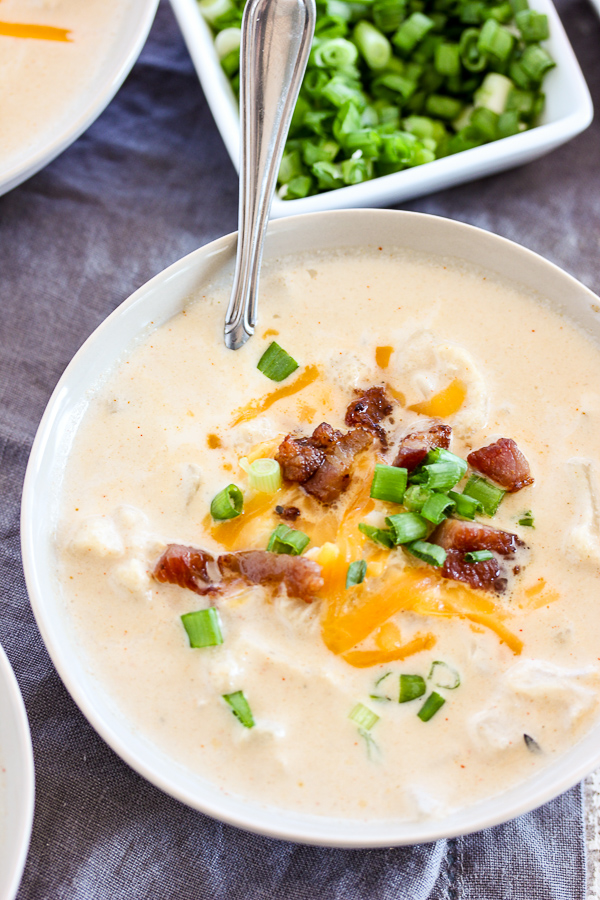 What ingredients do I need for this soup?
Fresh cauliflower. I recommend a head of cauliflower rather than a package of florets. I think it's easier to chop it into the right size pieces.
red onion
bacon fat – do not leave out!
garlic
smoked paprika
fresh thyme
chicken stock
heavy cream
bacon crumbles
shredded cheddar cheese
green onion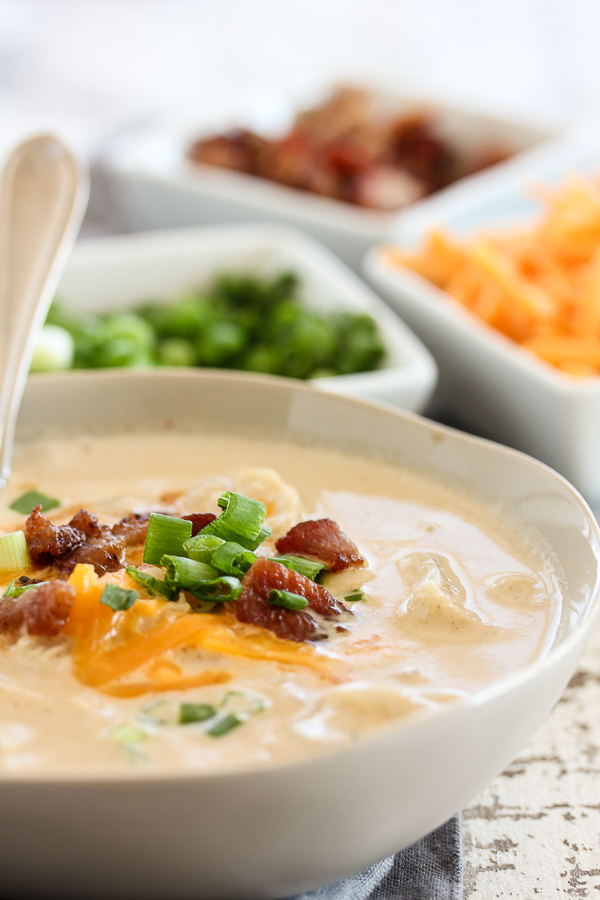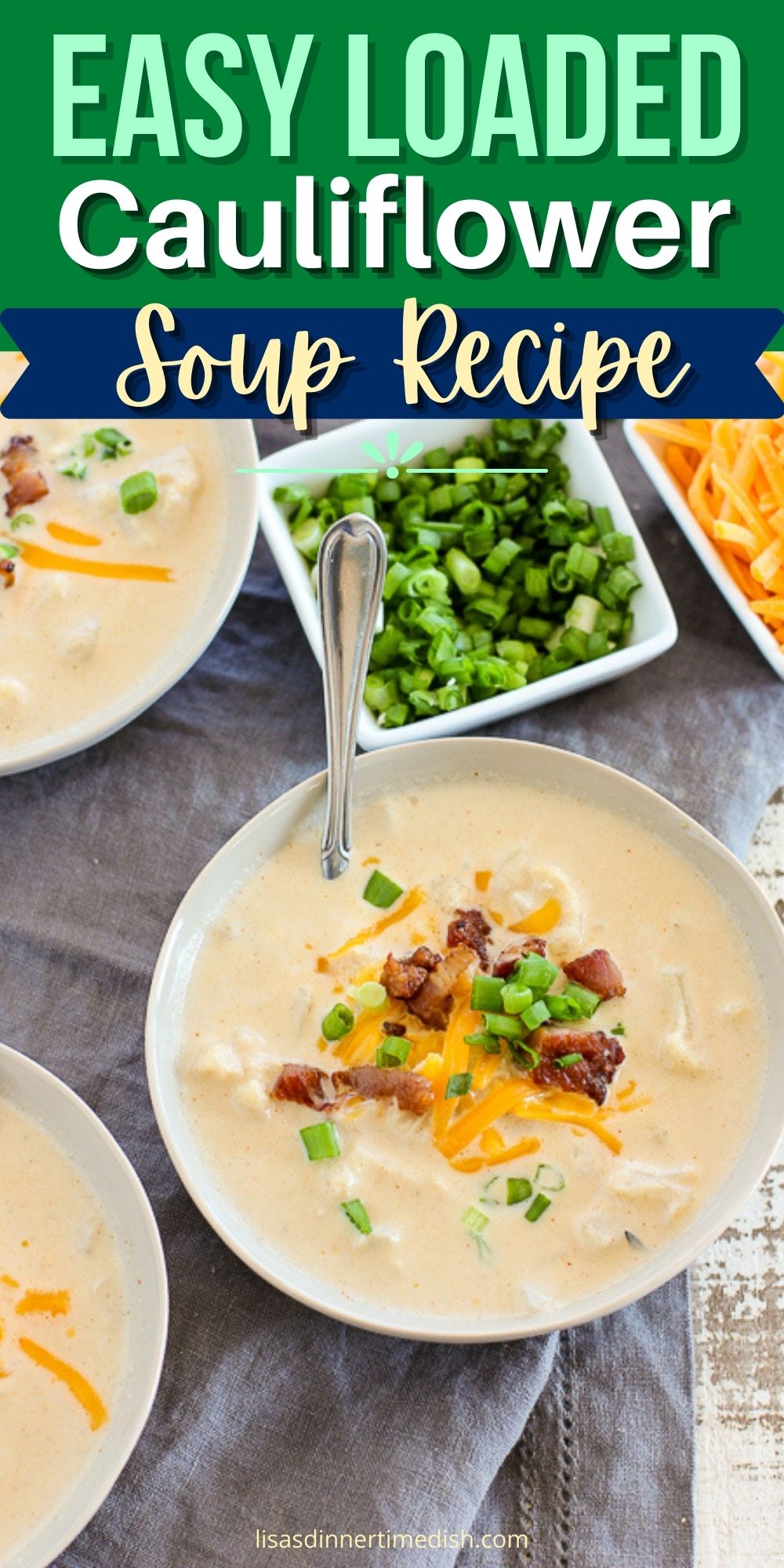 Yield: 4 servings
Loaded Cauliflower Soup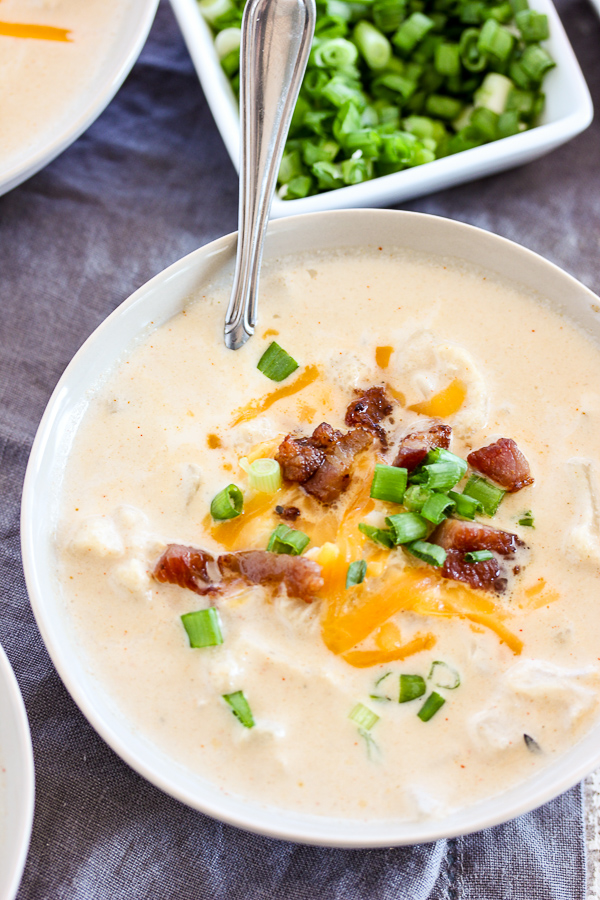 Ingredients
1 head cauliflower, chopped into bite size florets
1 red onion, chopped
2 cloves garlic, minced
1 tbsp bacon fat
1 tbsp olive oil
1 tsp salt
1/2 tsp pepper
1/2 tsp smoked paprika
1 tbsp fresh thyme
4 cups chicken stock
1 cup heavy cream
cooked, crumbled bacon
sliced green onion
shredded cheddar cheese
Instructions
Preheat bacon fat and olive oil in a soup pot over medium heat.
Sauté onion until translucent, about 5 minutes.
Add garlic and sauté for 30 seconds.
Add 1/2 of the chopped cauliflower and sauté another minute.
Season with salt, pepper, smoked paprika and thyme, stirring until veggies are coated.
Add chicken stock and bring to a boil.
Reduce heat to low, cover and simmer for 10 minutes, until cauliflower is very tender.
Puree mixture with an immersion blender or transfer to a regular blender or food processor to puree.
Return mixture to pot, if you transferred it.
Add remaining cauliflower and simmer, covered, for an additional 10 minutes.
Stir in cream and bring to a simmer.
Serve soup topped with bacon crumbles, green onions and cheese.