Southwestern Coleslaw has a tangy, mayo free dressing that's bursting with mouthwatering flavor. It's a perfect side dish for any backyard barbecue.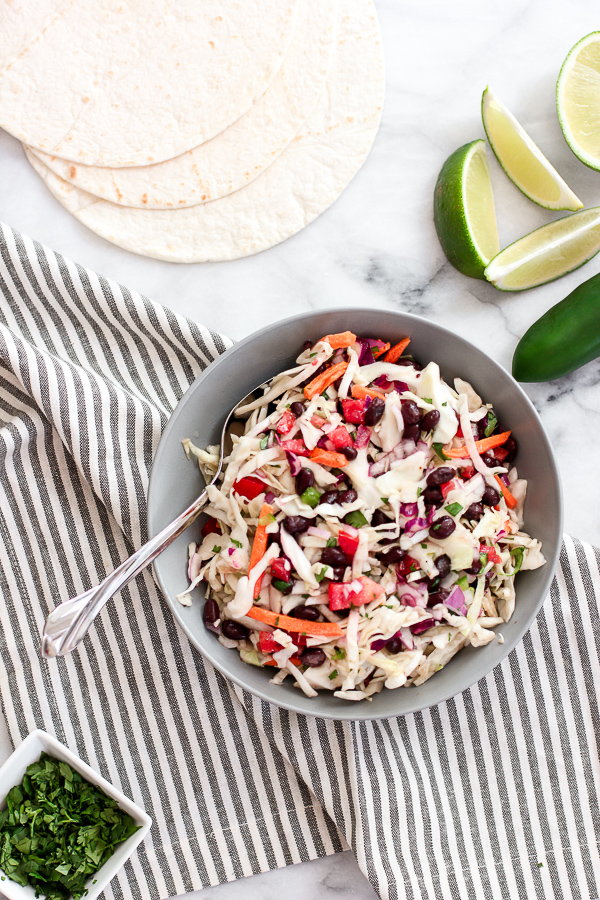 I have to tell you, my family typically is not a fan of coleslaw, except for me. I love it and the creamier it is the better.
But the rest of my family is not crazy about mayo based dressings. So if I want to serve coleslaw, I have to come up with mayo free dressings, like this Coleslaw Minus the Mayo.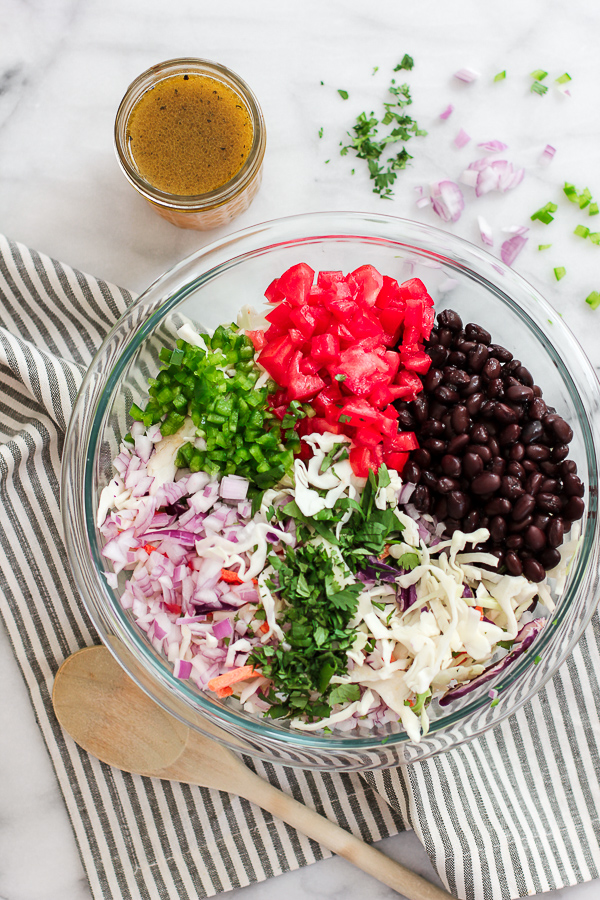 This southwestern coleslaw is another one that's mayo free and it knocks it out of the park. It's got a fantastic combination of flavors.
A bagged coleslaw mix gives this slaw it's great crunch, jalapeno adds little bit of heat and lime juice makes the dressing nice and tangy. For extra flavor and texture, there's a can of black beans. Which may sound odd, but it really makes the salad.
In addition, there's a little red onion for a little bit of a bite, fresh tomato, honey for a touch of sweetness and a slightly smoky flavor with the addition of cumin.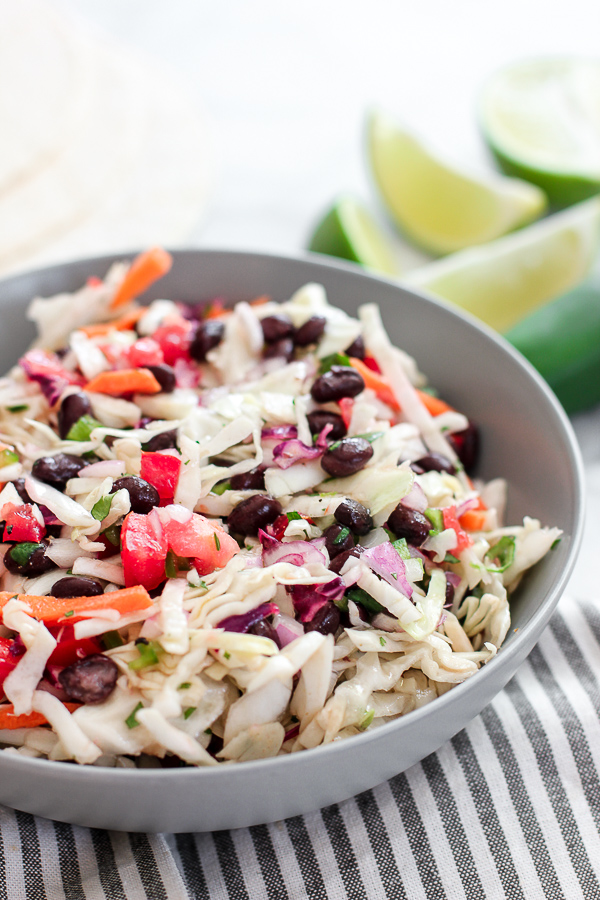 I love to serve this as a side dish with will grilled meat or fish. It's absolutely delicious with barbecue chicken, bratwurst and hotdogs. It will definitely be a hit at your next summer gathering.
Another great thing about this slaw is that you can make it ahead of time. As it sits, the flavor actually gets better!
My most favorite way to serve this slaw salad is on grilled fish tacos. The slaw adds a lovely crunch to the tacos and the tangy lime dressing compliments the grilled fish perfectly. In my experience, these tacos disappear quickly.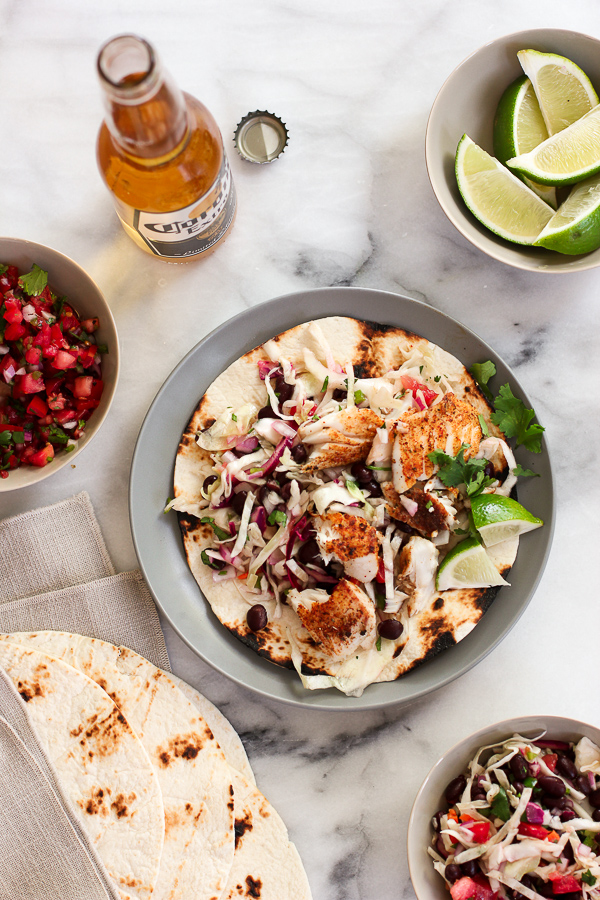 How is Southwestern Coleslaw made?
For ease, start with a bagged coleslaw mix, one that has green and red cabbage along with shredded carrots.
Chop the tomatoes. My preference for this recipe is roma tomatoes because they don't tend to be overly juicy.
Finely chop the onion and jalapeno pepper. By finely chopping them, the flavor will be equally distributed in the salad and you won't bite down on a big chunk of pepper or onion.
Make sure the black beans are rinsed and well drained.
Whisk together the lime juice, honey, oil, vinegar, cumin, salt and pepper.
Mix everything together in a large bowl and let it hang out for a bit to let the flavors develop.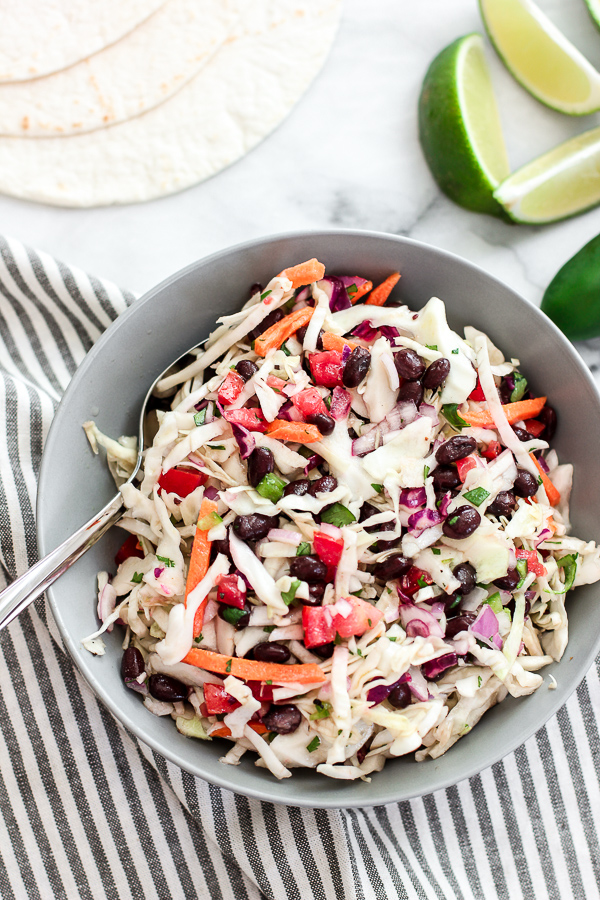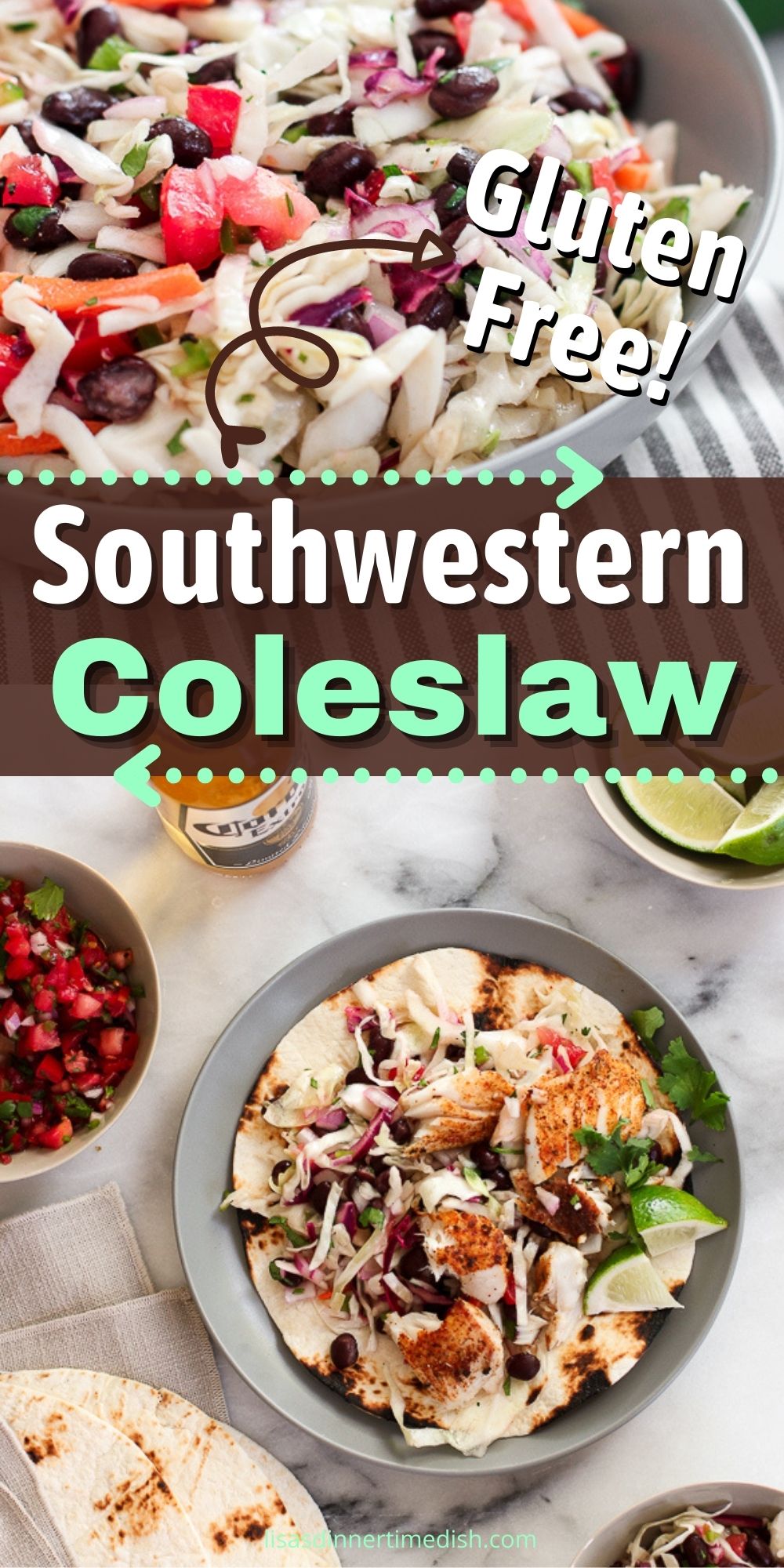 Yield: 6
Southwestern Coleslaw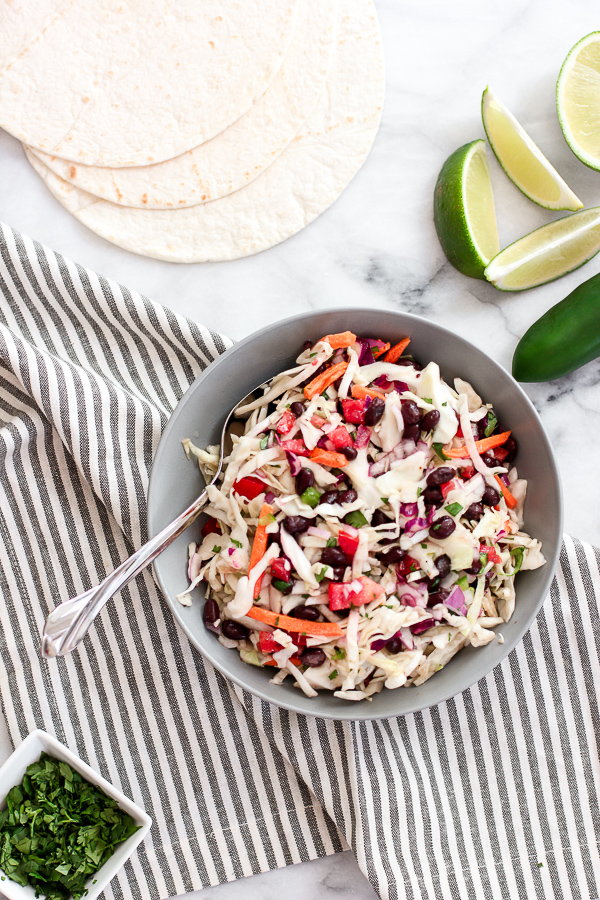 Southwestern Coleslaw has a tangy, mayo free dreassing and is bursting with mouthwatering flavor. It's a perfect side dish for any backyard barbecue.

Prep Time 20 minutes

Total Time 20 minutes
Ingredients
1 (14-oz) package coleslaw mix
1 (14-oz) can black beans, rinsed and drained
1/4 cup chopped fresh cilantro
1 medium tomato, seeded and diced
1 small red onion, finely chopped
1 jalapeno, seeded and finely chopped
1/2 cup fresh lime juice (about 2 or 3 limes)
2 tbsp honey
2 tbsp rice vinegar
2 tbsp olive oil
1/2 tsp cumin
1/2 tsp salt
1/4 tsp pepper
Instructions
In a large bowl, combine first 6 ingredients, through the jalapeño.
To make dressing, whisk together remaining ingredients in a small bowl, until well combined.
Pour dressing over salad ingredients and toss gently to combine.
Refrigerate for at least 30 minutes to allow flavors to develop.
Nutrition Information:
Yield:
6
Serving Size:
1
Amount Per Serving: Calories: 170Total Fat: 7gSaturated Fat: 1gTrans Fat: 0gUnsaturated Fat: 6gCholesterol: 1mgSodium: 509mgCarbohydrates: 24gFiber: 6gSugar: 9gProtein: 5g


This recipe was originally posted on 02/23/2015. It was updated to improve user experience and reposted on 06/3/20.
ENJOY!