Southwestern Soup is bursting with great flavor and is ready in just 30 minutes. It makes a large pot so you'll have plenty for dinner tonight and lunch tomorrow.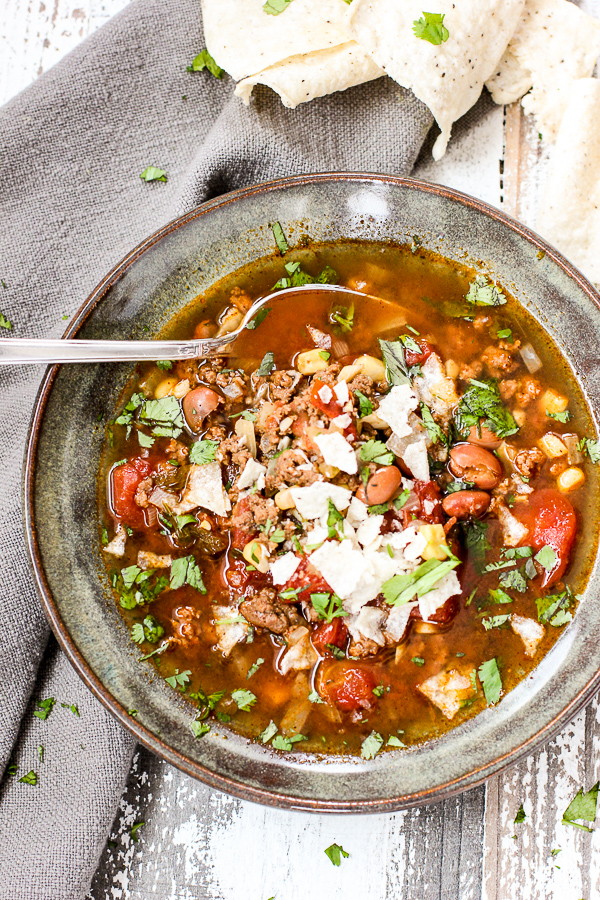 Since winter just won't seem to go away hear in Minnesota, I'm still craving a hot bowl of delicious soup. But really, who am I kidding, I don't care if it's 95 degrees outside, I still love a good bowl of soup! But I especially crave it when it's chilly and snowy outside.
Aside from loving the flavor of soup, it's also a great make-ahead dish because it almost always freezes beautifully. And there's nothing better than having homemade soup ready to defrost when you feel the need for a big steaming bowl.
This southwestern soup is particularly great for your weekly meal prep. It makes a really large pot, so you'll have plenty for dinner with enough left over for lunch the rest of the week. You'll get some good bang for your buck.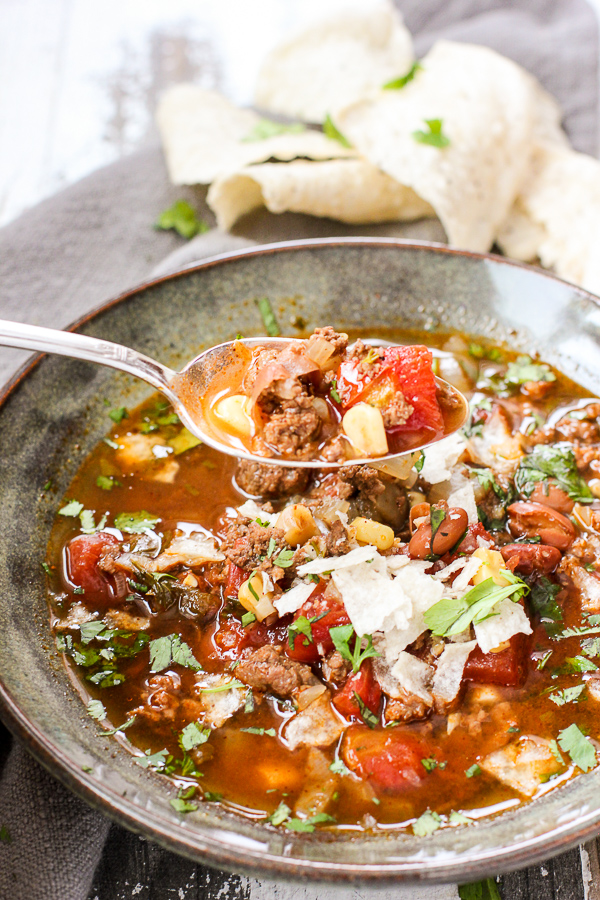 But how about flavor? Well let me tell you, it tastes fabulous. It has all the flavors of a taco and when you top it with some tortilla chips you get all that amazing flavor along with a little bit of crunch….absolute perfection!
This soup is also "souper" (sorry…I couldn't resist) easy to make. Once you brown the hamburger, onion and garlic you add the rest of the ingredients in and let it simmer for a few minutes. Dinner will seriously be ready in 30 minutes. It doesn't get much easier than this.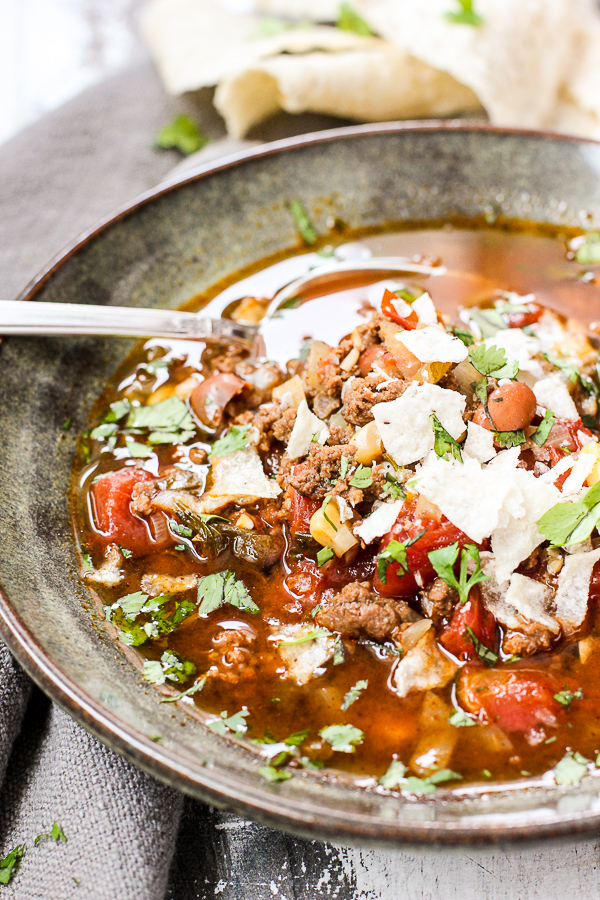 Yield: 8-10
Southwestern Soup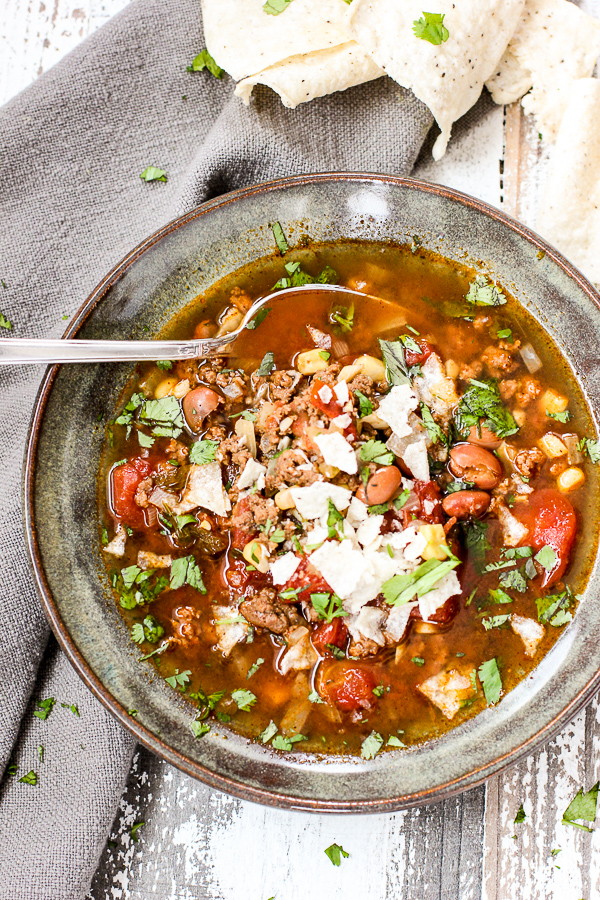 Prep Time 5 minutes

Cook Time 20 minutes

Total Time 25 minutes
Ingredients
2 lbs ground beef (I use 90% lean)
1 tsp olive oil
1 onion, chopped
4 cloves garlic, chopped
2 (15 oz) cans diced tomatoes, undrained
2 (15 oz) cans chili beans
2 tbsp chili powder
1 tbsp cumin
2 tsp dried oregano
2 tsp salt
1 tsp pepper
2 bay leaves
1 quart chicken stock
1 quart beef stock
1 cup frozen corn
1/2 cup fresh cilantro, finely chopped
crushed tortilla chips for garnish (0ptional)
Instructions
Heat olive oil in a large soup pot over medium high heat.
Add ground beef and break up with a spoon.
Once beef starts to brown, add onion and garlic, continue cooking until beef is no longer pink.
Add tomatoes, beans, chili powder, cumin, oregano, salt, pepper and bay leaves, stirring to combine.
Stir in chicken and beef stock.
Bring mixture to a boil, reduce heat to a simmer.
Stir in corn and cilantro.
Simmer for at least 10 minutes to allow flavors to develop.
Garnish with crushed tortilla chips, if desired.
Notes
Chili beans are the beans that are packed in chili sauce. You can find them with the rest of the beans at the grocery store.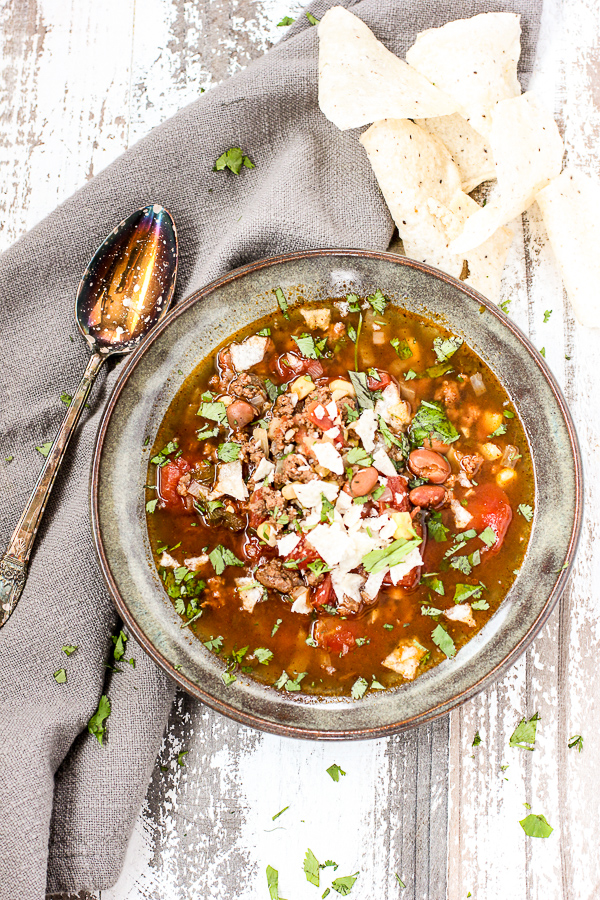 ENJOY!