If you've never made bread before, this No Knead English Muffin Bread is the one to try. It's incredibly easy to make and tastes amazing.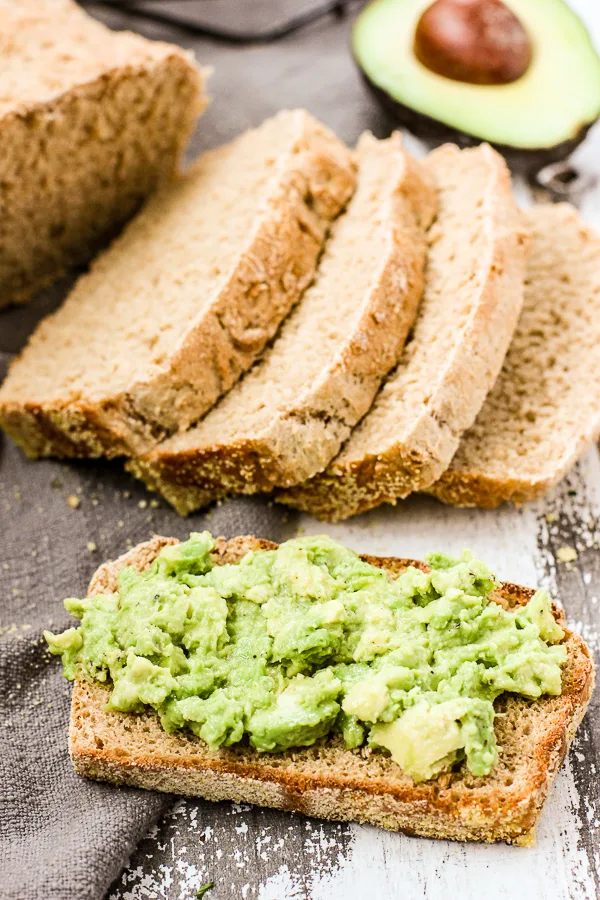 No knead English muffin bread is probably the easiest yeast bread that I have ever made. I discovered the recipe over at Lark's Country Heart a while back and I've been making it ever since.
As the name suggests, there is no kneading at all. Just mix the ingredients together, put it in the pans and let it rise for an hour. I use my mixer, but you can just as easily stir it together with a spoon. How easy does that sound?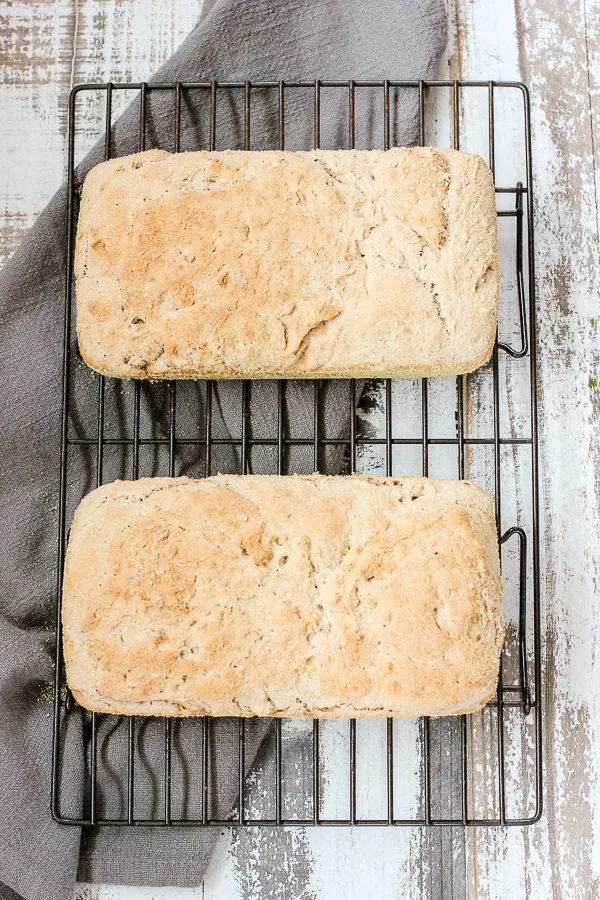 The one change that I made to the original recipe was to replace most of the white flour with white whole wheat flour. I like to use white whole wheat flour rather that regular whole wheat because a think it has a milder flavor and the texture is smoother.
Along with the texture and taste being great, white whole wheat flour has about 4 times as much fiber and about 30% more protein that regular white flour. So when I made this recipe, I replaced about 2/3 of the all-purpose flour with the white whole wheat and the result was great.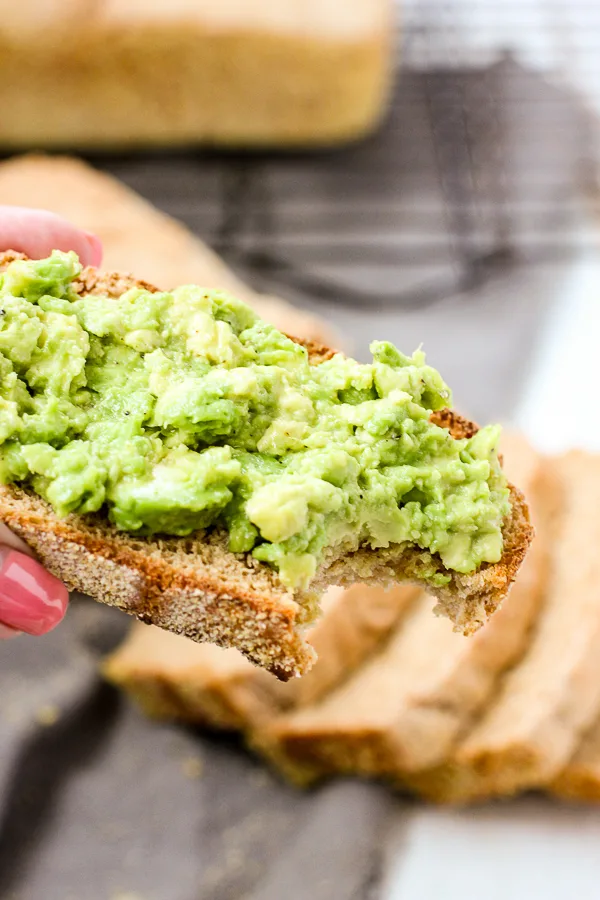 As you'll see, the ingredient list is fairly short and the recipe makes two loaves. You can enjoy one now and freeze one for later.
This bread toasts up beautifully, just like an English Muffin. We love it slathered with jam or almond butter and I especially love it topped with avocado. It also makes a great breakfast sandwich. So what are you waiting for? Give this bread a try and see for yourself how easy and scrumptious it really is!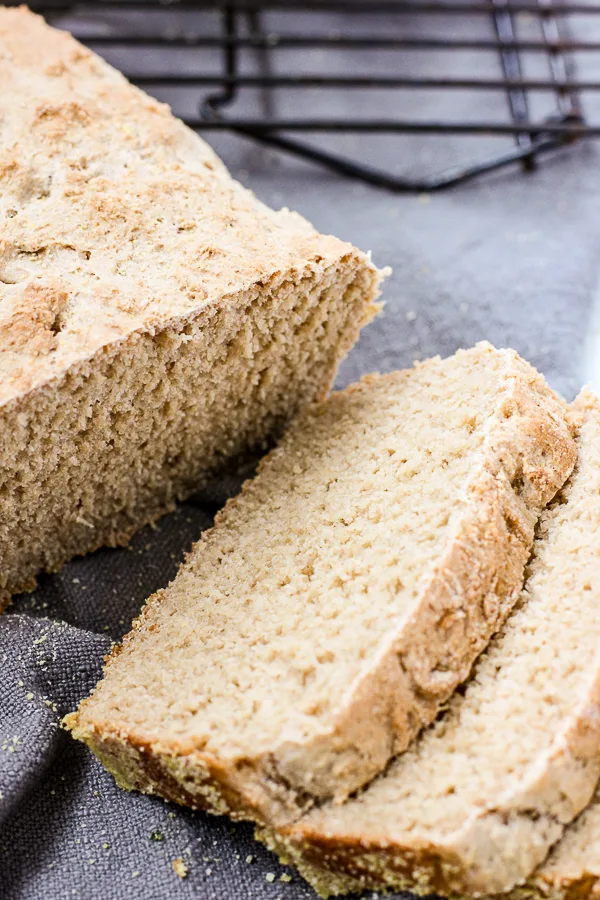 Yield: 2 loaves
No Knead English Muffin Bread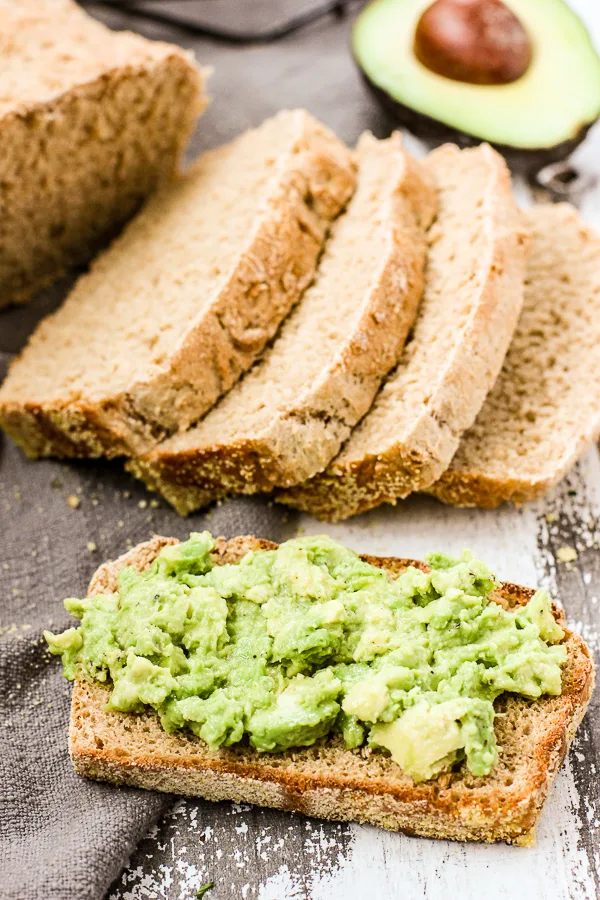 Prep Time
1 hour
55 minutes
Total Time
2 hours
30 minutes
Ingredients
3 cups warm water
1 1/2 tbsp yeast
1/4 cup sugar, divided
4 cups white whole wheat flour (I used Trader Joe"s)
2 cup all purpose white flour
1 tbsp salt
cornmeal to dust pans
Instructions
Grease 2 loaf pans and coat with cormeal.
Set aside.
In a glass bowl, combine warm water, yeast and 1 tbsp sugar.
Let it sit for 5 minutes.
Combine flours, remaining 3 tbsp sugar and salt in a large mixing bowl.
Make a well in the flour mixture and pour in yeast mixture.
With a mixer with a dough hook or a wooden spoon, slowly mix together until everything is combined and a ball forms, the mixture will be very sticky.
Divide dough between the 2 prepared loaf pans.
Cover with a kitchen towel or paper towel, put in a warm place and let rise for 1 hour.
If you have a proof function on your oven this is the perfect time to use it, otherwise any warm place is fine.
Bake in a 350 degree oven for 30 to 35 minutes, until golden brown. Cool in pans for 15 minutes then remove from pans and finish cooling on a wire rack.
Once completely cooled, slice and serve.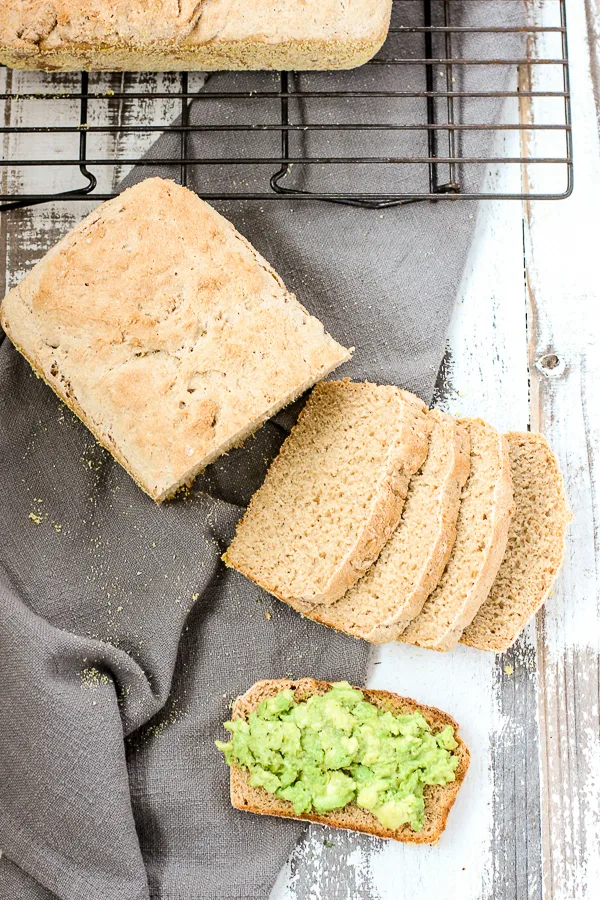 ENJOY!
SaveSaveSaveSaveSaveSaveSaveSave
SaveSave
SaveSave
SaveSave
SaveSave