An easy sun-dried tomato pesto gives this beef crostini incredibly rich flavor. I guarantee it will disappear quickly at any party.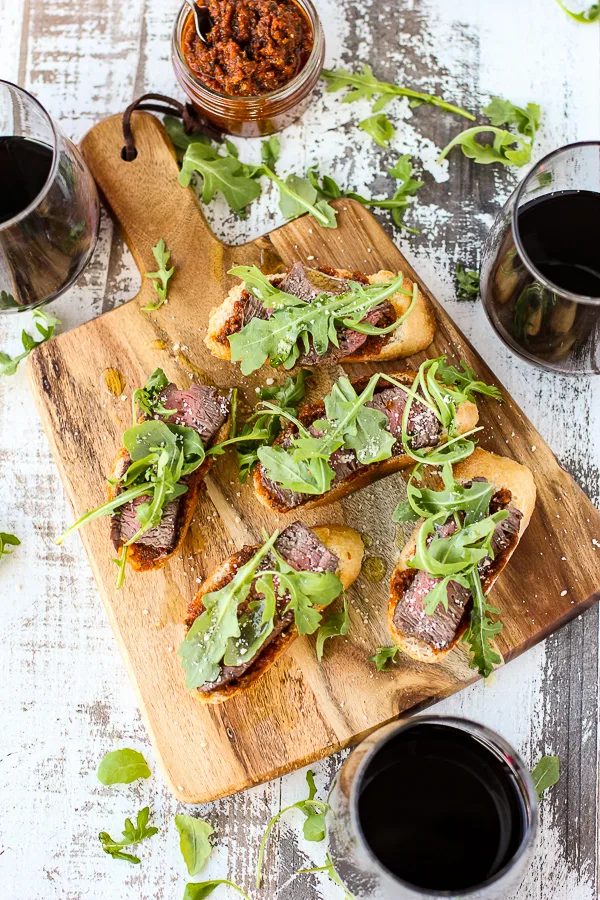 I hope you all had a wonderful Christmas, I know we did. On Christmas Eve, all of our kids, as well as my brother's family were over for our traditional dinner. Then on Christmas Day we had brunch with the kids and spent the rest of the day with Steve's family. As always, there was lots of food and lots of fun.
Today we need to get our house back in order and get ready for a couple of days out of town and then New Year's Eve. Which leads me to this amazing beef crostini. It's such an elegant appetizer, but it really is a snap to make and most of the work can be done ahead of time.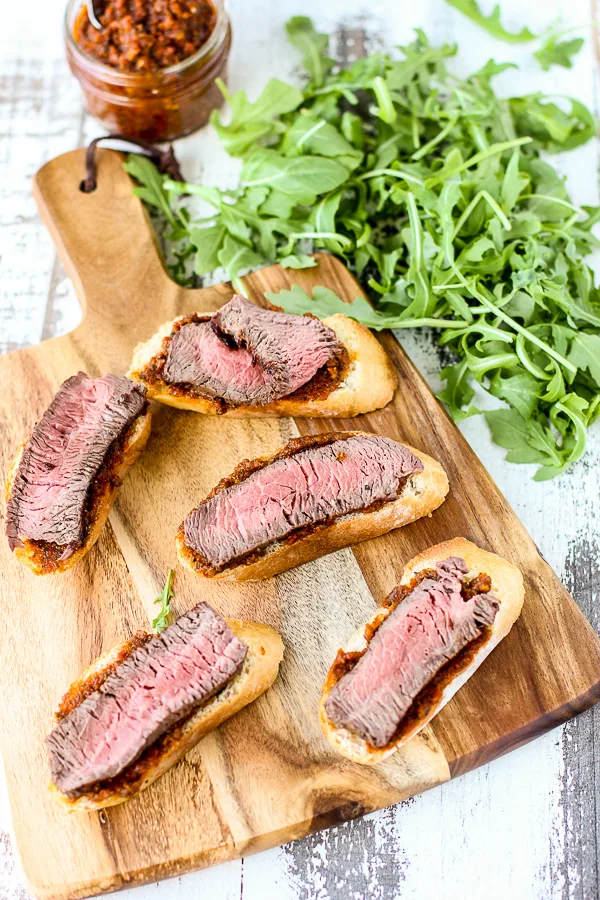 Whether you're having a few friends over on New Year's Eve or going to a big party and need an appetizer, this is the one for you. What really makes this beef crostini special, is the sun-dried tomato pesto. It only takes a few minutes to whip up and it has the most incredibly rich flavor. It pairs with the beef so well. Then to finish things off, I top it all with a little arugula for some peppery flavor, a little drizzle of olive oil and a sprinkle of parmesan. It.is.so.YUMMY.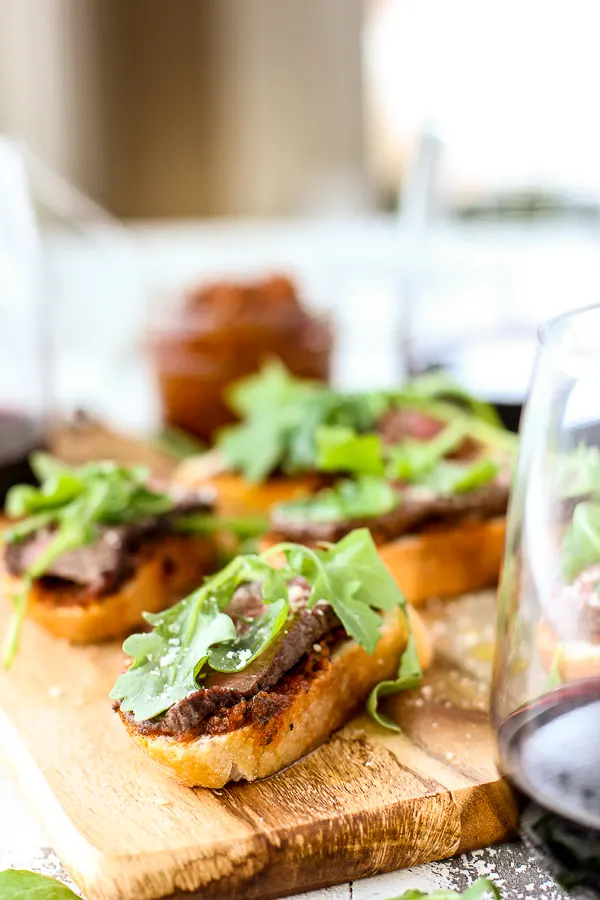 I like to prepare all of the components of this crostini ahead of time, other than toasting the bread. Then shortly before I'm ready to serve it, I will toast the bread and assemble the crostini. Once the party starts, watch them disappear!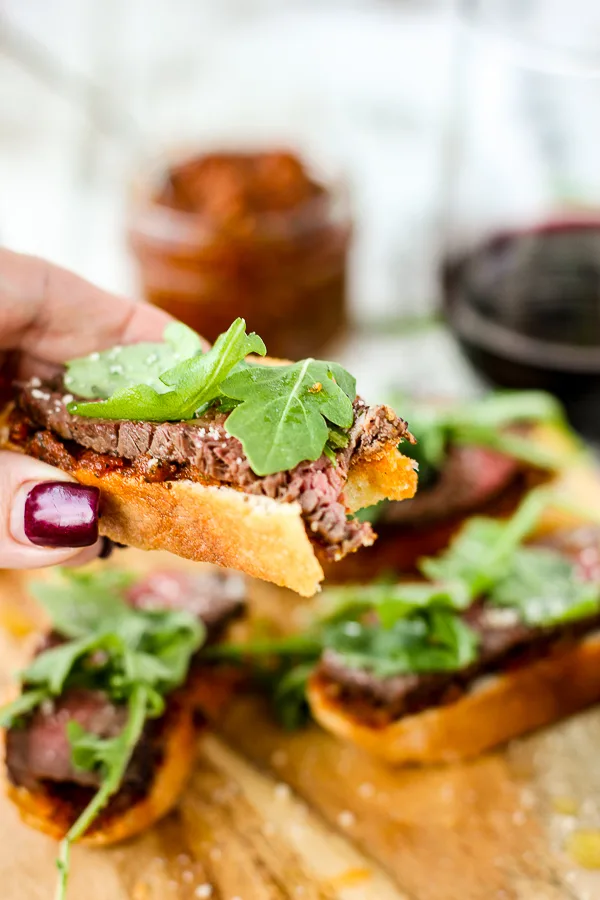 Yield: 6-8
Sun-dried Tomato Pesto Beef Crostini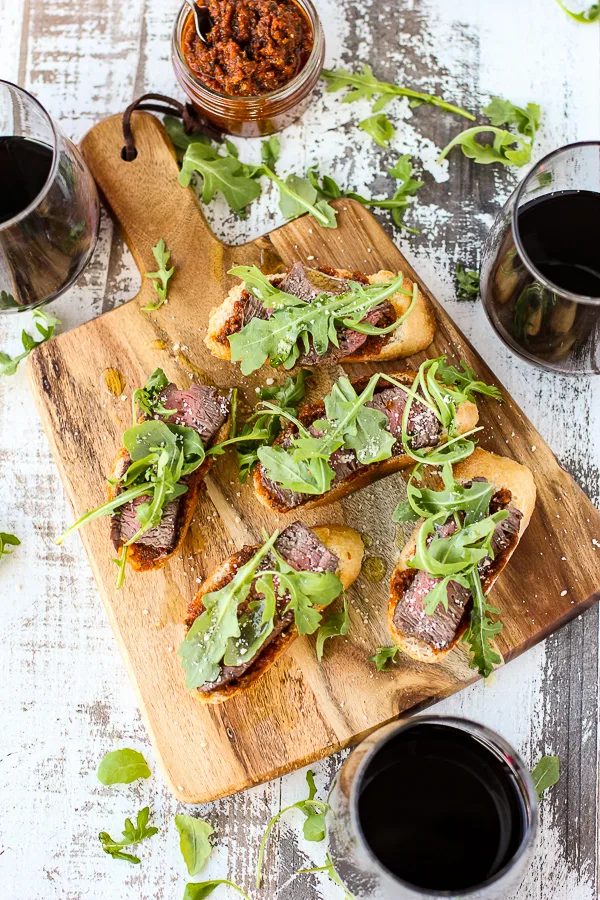 Ingredients
1 (7oz) jar sun-dried tomatoes packed in oil
1/2 cup fresh basil leaves, packed
1/4 cup parmesan cheese
1/2 tsp dry Italian seasoning
pinch red pepper flakes
1/2 tsp salt
1/4 tsp black pepper
1/2 cup olive oil plus more
1/2 lb beef tenderloin filet, 1-1 1/3 inch thick
1 baguette
1 pkg arugula
Instructions
For the pesto:
Add sun-dried tomatoes, including the oil they're packed in along with the basil, parmesan cheese, Italian seasoning, red pepper flakes, salt and pepper to a blender of food processor.
Process mixture until pureed.
While machine is running, slowly drizzle in 1/2 cup olive oil.
Keep processing until oil is well incorporated.
For the beef:
Preheat oven to 350 degrees.
Season beef on both sided with salt and pepper.
Heat 1 tbsp olive oil in an oven-safe skillet over medium high heat.
Sear beef for 2 minutes on each side.
Transfer beef in the skillet to preheated oven.
Bake for 10 minutes for medium rare or 12-13 minutes for medium.
Remove beef from oven, cover loosely with foil and allow to rest for 10 minutes.
Thinly slice beef across the grain.
For the crostini:
Cut baguette on a diagonal into 1/2 inch thick slices and place on a baking sheet.
Drizzle both sides of bread with olive oil.
Bake in a 350 degree oven for about 10 minutes, until bread is toasted.
To assemble crostini:
Spread about 1 tsp of pesto on each slice of bread.
Top with a slice of beef and a little arugula.
Drizzle the crostini with a little olive oil and sprinkle with salt and pepper.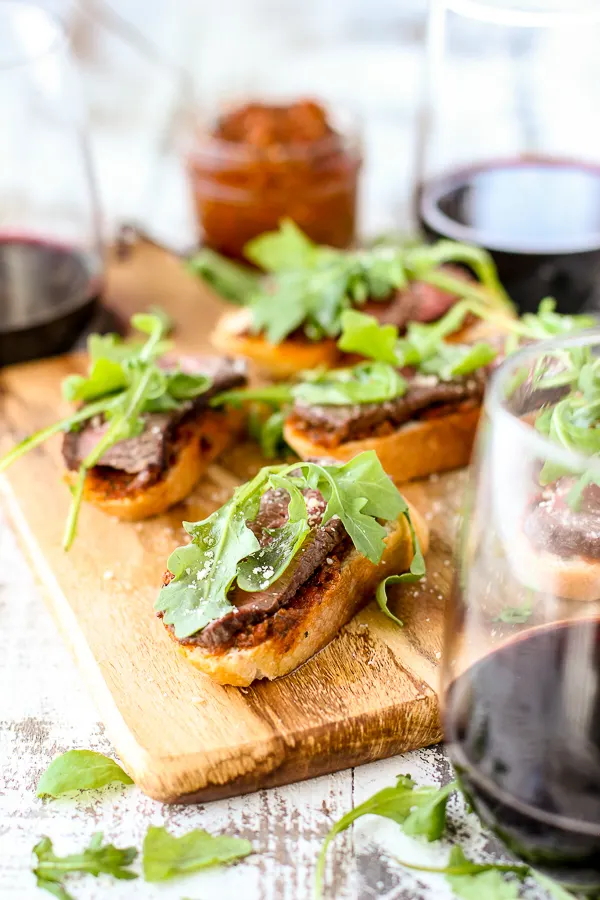 ENJOY!