Gently steamed in parchment, halibut en papillote is an easy, healthy meal with a delicious sesame ginger sauce. It's a perfect meal for easy entertaining.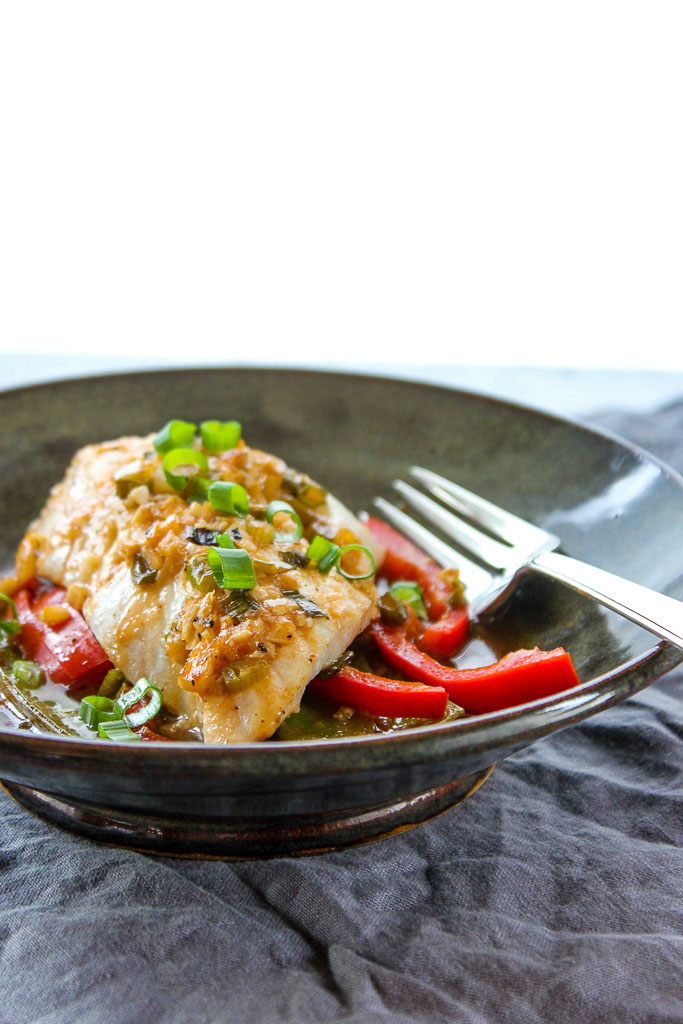 I know, I know, halibut en papillote sounds difficult and complicated, but trust me it's not. It's is one of the easiest ways to cook delicious fish that turns out perfectly every time. Basically, you're wrapping the fish in a parchment paper packet and then steaming it in the oven. Which makes this method perfect for adding veggies to the mix, which gives you a full meal in one little packet. Can you say easy clean up?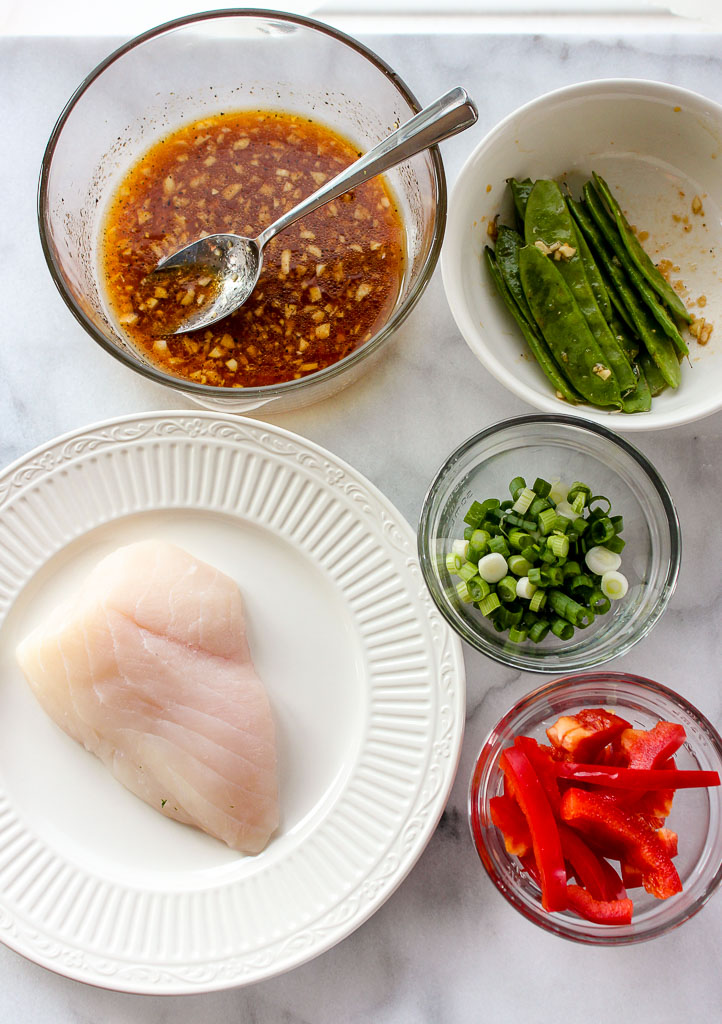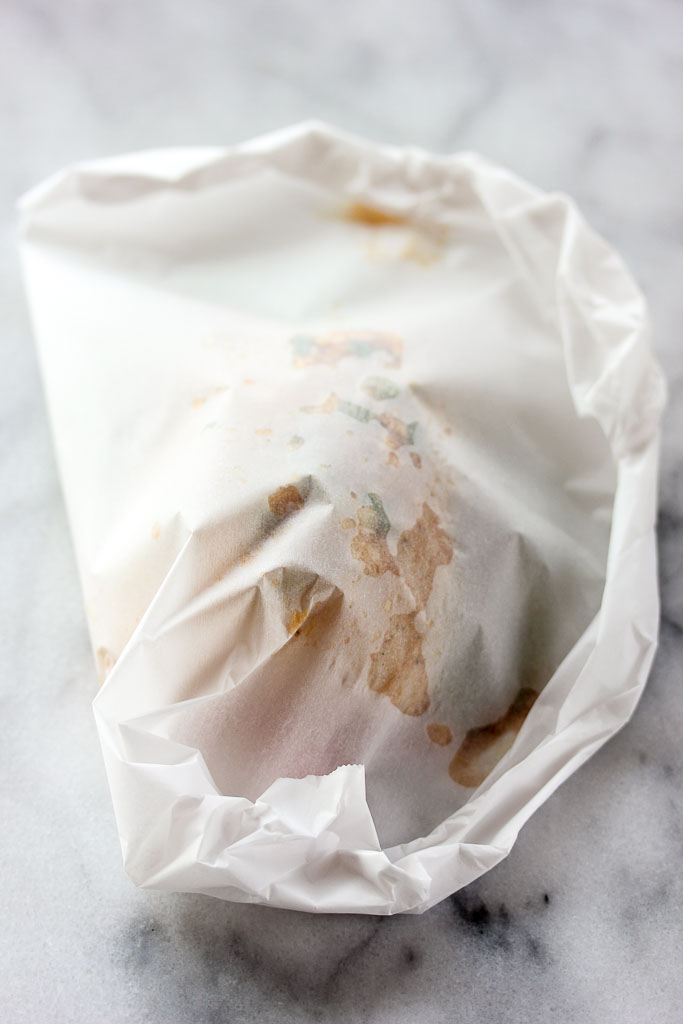 The presentation of this fish is so impressive that it makes a perfect meal for entertaining. You can actually prepare the parchment packets a couple hours ahead of time and keep refrigerated. Once your guests arrive, all you have to do is put them in the oven and dinner's ready in 20 minutes.
By cooking the fish in parchment, this meal is also very healthy, but definitely NOT lacking in flavor. The quick and easy sauce that gets drizzled over the fish before cooking is amazing. It's got just a little hint of heat from the sriracha and the flavors from the ginger and the sesame oil shine through.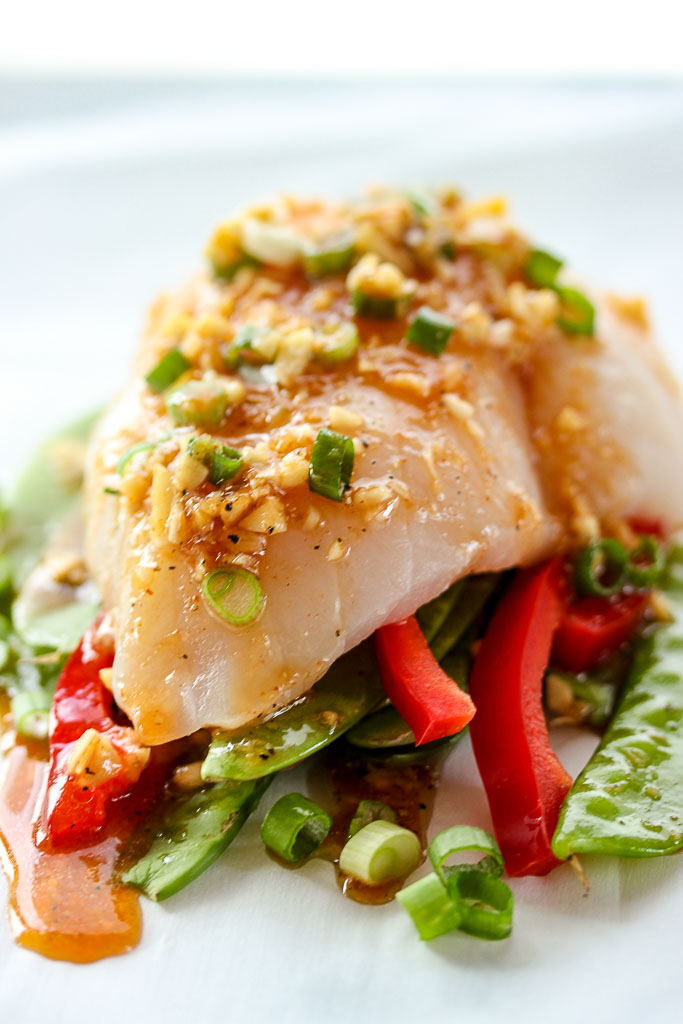 I know that halibut can sometimes be on the pricey side. If you can't find halibut at a good price, tilapia or cod would make excellent substitutions. You can also feel free to us whatever combination of veggies that you like, I think zucchini or green beans would also be delicious.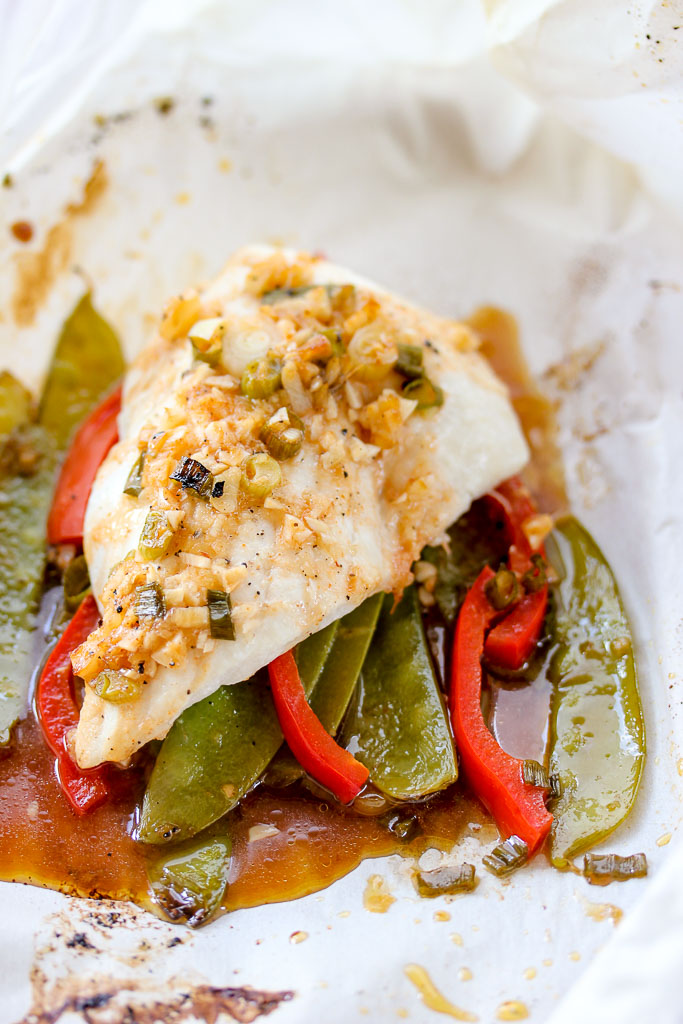 Yield: 2
Halibut en papillote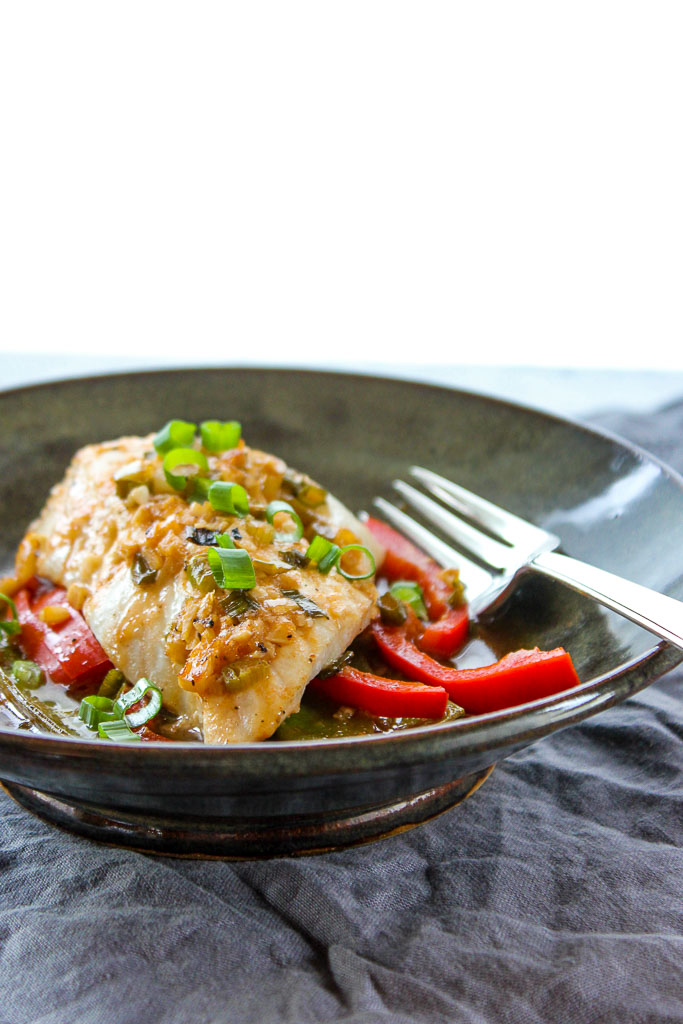 Prep Time 15 minutes

Cook Time 20 minutes

Total Time 35 minutes
Ingredients
juice of 1/2 lime
2 tsp reduced sodium soy sauce
1 tsp ginger paste
1 tsp sriracha
1 tbsp sesame oil
1 tsp vegetable oil
1/4 tsp black pepper
2 cloves garlic, minced
2 green onions, thinly sliced
1/2 red bell pepper, thinly sliced
1 cup snow peas
2 (6 oz) halibut fillets, about 1 inch thick
2 tbsp cilantro, minced
Instructions
Preheat oven to 400 degrees.
Whisk together first 8 ingredients, through garlic, in a small bowl.
Toss snow peas with 2 tbsp of the sauce mixture.
Divide snow peas between 2 pieces parchment paper, placing them just to the center.
Top each with 1/2 the red pepper slices.
Then top each with a piece of fish.
Sprinkle each piece of fish with 1/2 the green onions.
Drizzle half the remaining sauce mixture over each piece of fish.
Fold parchment paper over the fish and roll edges to seal.
Place on a baking sheet and bake in preheated oven for 20 minutes.
Sprinkle with cilantro before serving.
Notes
The parchment packets can be prepared up to 2 hours ahead of time and refrigerated until ready to bake.
This recipe can easily be doubled or even tripled, just increase the ingredients accordingly.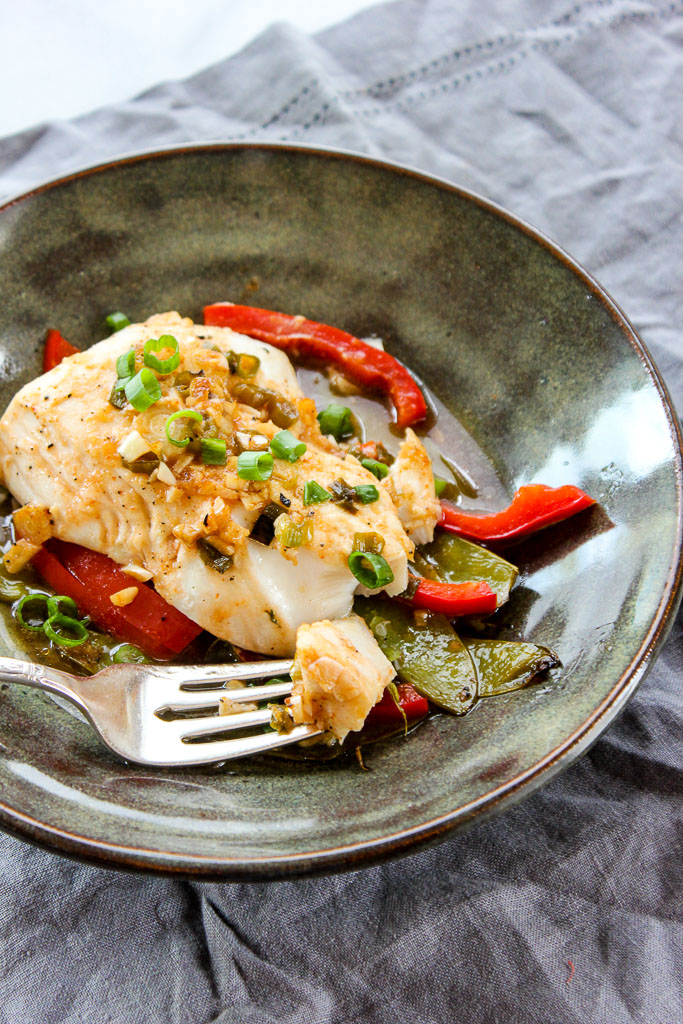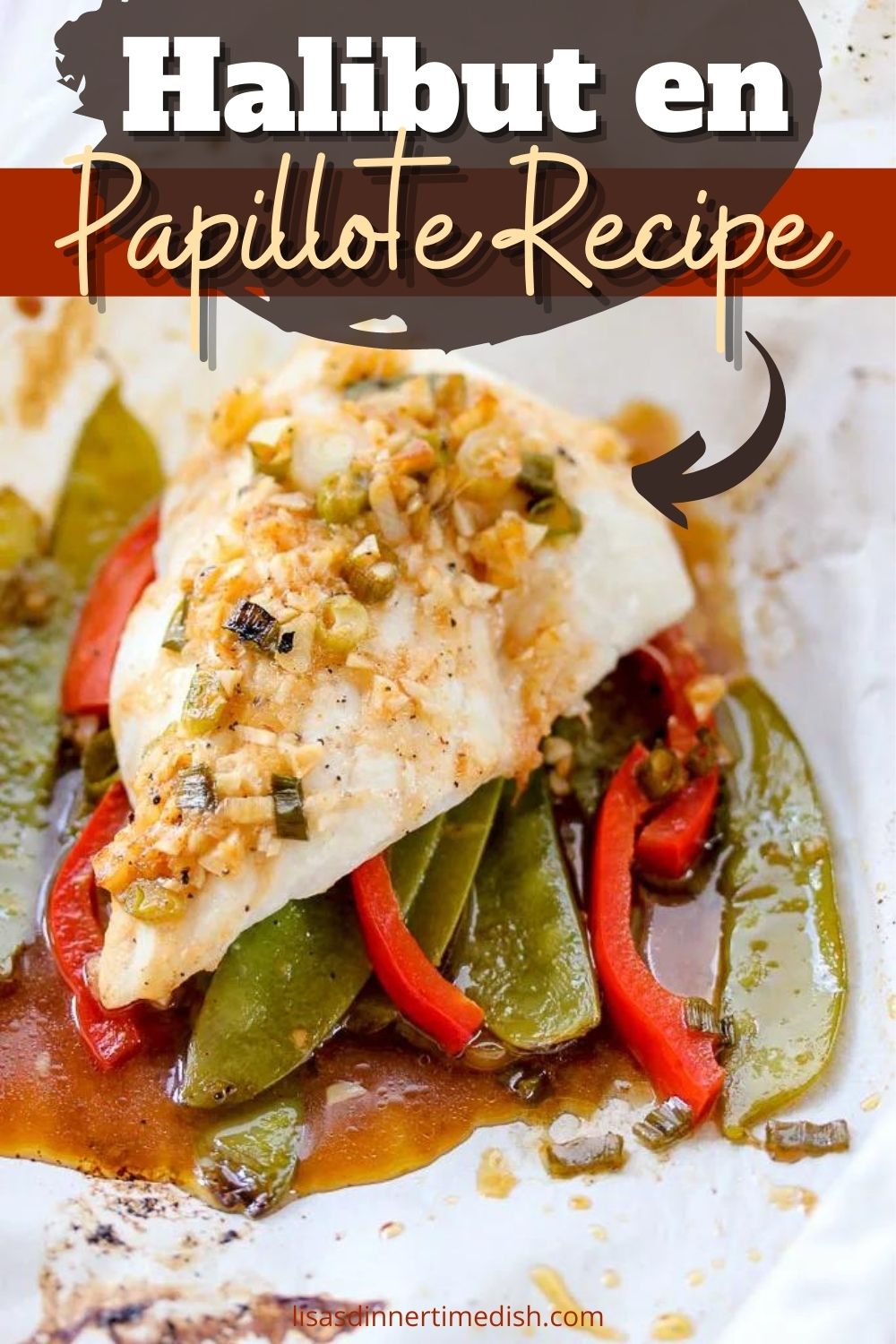 ENJOY!
Shared at:
SaveSave
SaveSave