French onion cheese toasts have all the rich flavors of French onion soup in an easy yet elegant appetizer. It's perfect for all your holiday entertaining.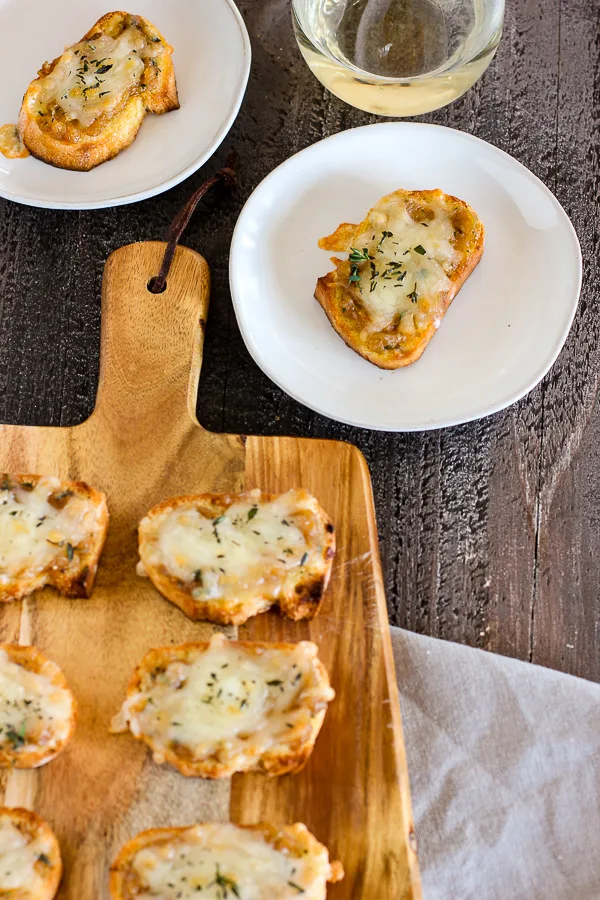 Do you love caramelized onions as much as I do? They have such a wonderful flavor. It's a sweet and savory flavor all at the same time and it tastes wonderful in so many different dishes.
The problem with caramelized onions, though, is that they take a long time to properly make. And not only do they take a long time, it's mostly hands on time. They require almost constant stirring so that they don't burn.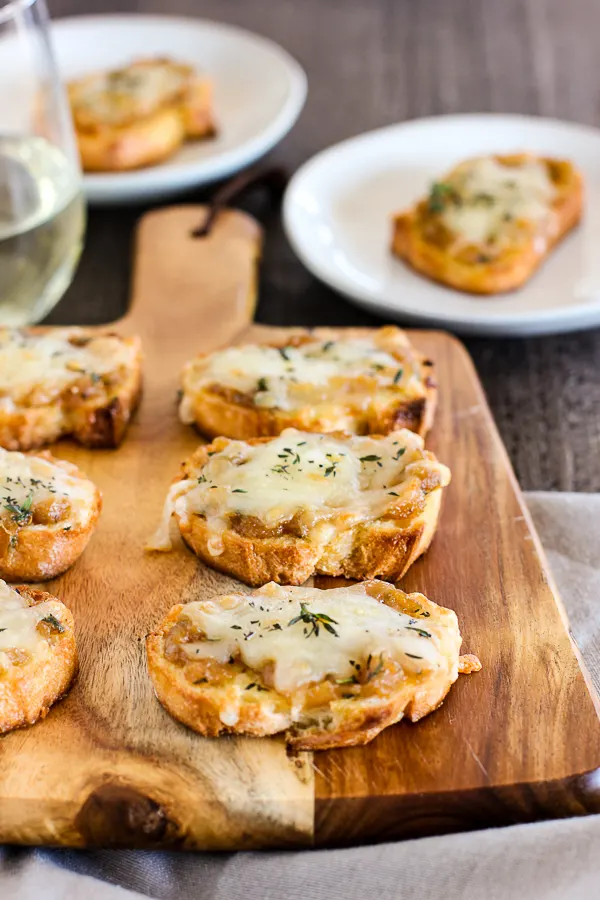 But don't worry, I have a solution for you that makes caramelized onions easy peasy. You can easily make them in your Instant Pot or your slow cooker. Other than slicing the onions, either appliance will do all of the work for you. This makes it so easy to have caramelized onions on hand at all times. And the other great thing is that they freeze beautifully.
If you already have caramelized onions on hand, these French onion cheese toasts are a quick and easy appetizer that comes together in no time. They are also soooo delicious. They're especially perfect for holiday entertaining.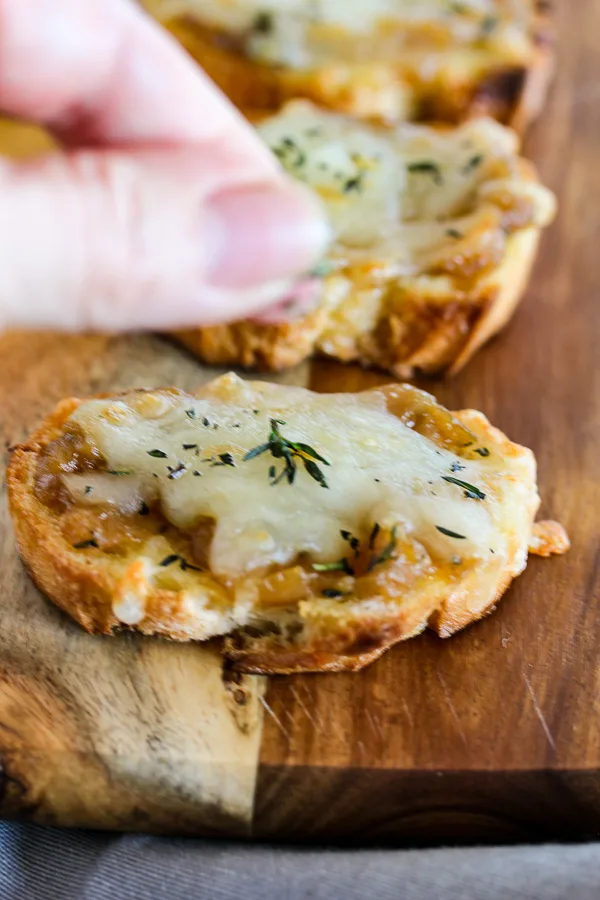 These delicious little bites have all the flavors of French onion soup in a cute little toast, all crispy, warm and cheesy. It's a recipe that would be very easy to double or triple, depending on how many people you're serving. They come together in no time, so they're perfect for whipping up if friends or family stop over unexpectedly.
The rest of the ingredients for these cheese toasts are pretty simple and easy to have on hand. All you need is a baguette, shredded cheese, garlic and fresh or dried thyme.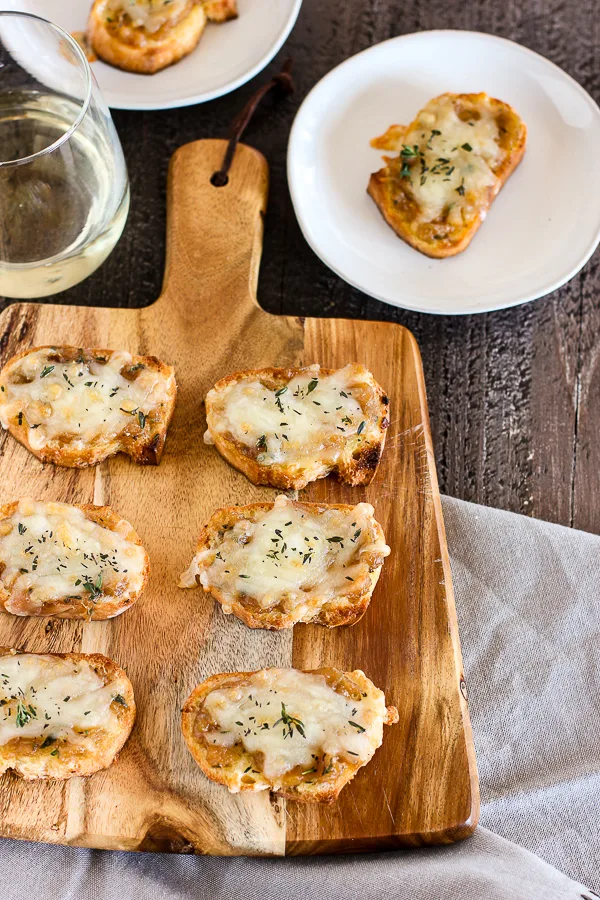 So what are you waiting for? Make yourself a big batch of caramelized onions so you can always be prepared to make these wonderful appetizer toasts.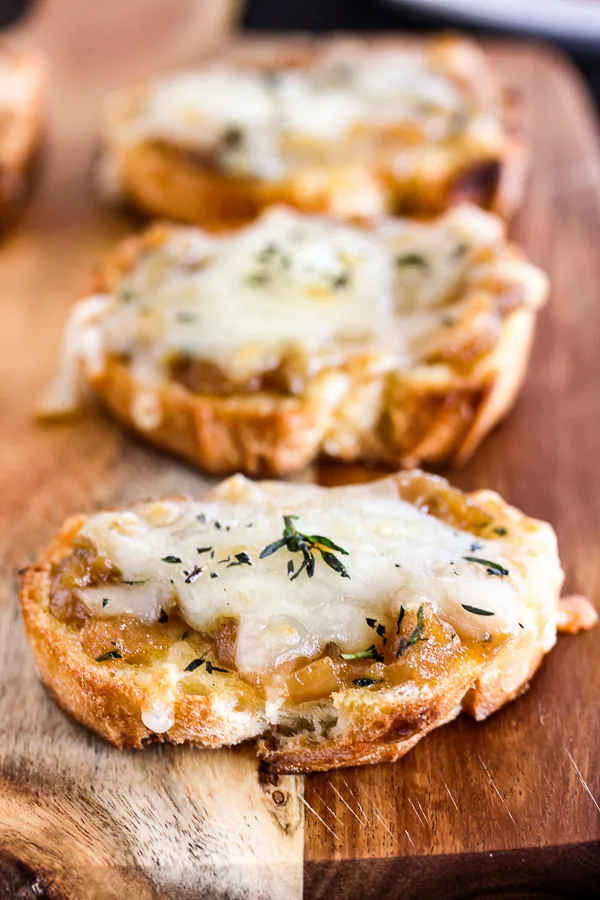 Yield: 12 pieces
French Onion Cheese Toasts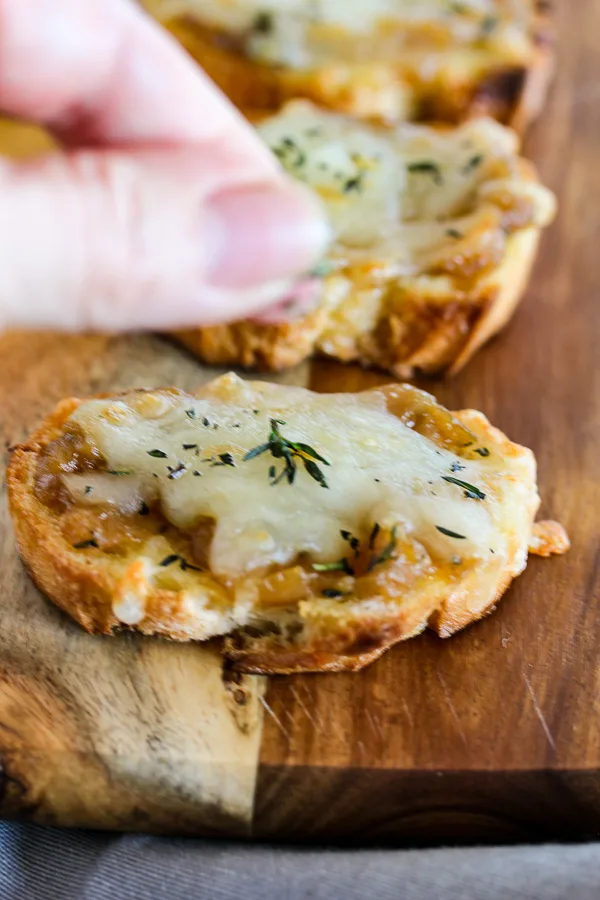 All the flavors of French onion soup in a quick and easy appetizer.
Ingredients
1 baguette
olive oil
1 clove garlic, peeled and slice in half
1 cup caramelized onions
1 tsp fresh thyme, minced
1/4 tsp salt
1/4 tsp pepper
1/2 cup shredded gruyere or swiss cheese
Instructions
Preheat broiler.
Cut 12 (1/2 inch) slices from baguette.
Place bread slices on a baking sheet and drizzle each side with olive oil.
Place baking sheet under the broiler and toast each side of the bread.
Once bread is toasted, rub top side of bread with cut side of garlic.
Combine caramelized onions, thyme, salt and pepper in a small skillet.
Heat over medium low to medium heat, until onions are warm and any liquid has evaporated (you don't want the toasts to be soggy).
Top each toast with 1 tsp caramelized onions and 1 tsp shredded cheese.

Return to broiler until cheese is melted and bubbly.
ENJOY!

Shared at these great blogs: