French onion soup has never been so easy. Caramelized onions cooked in the Instant Pot turn this classic soup into a 20 minute meal.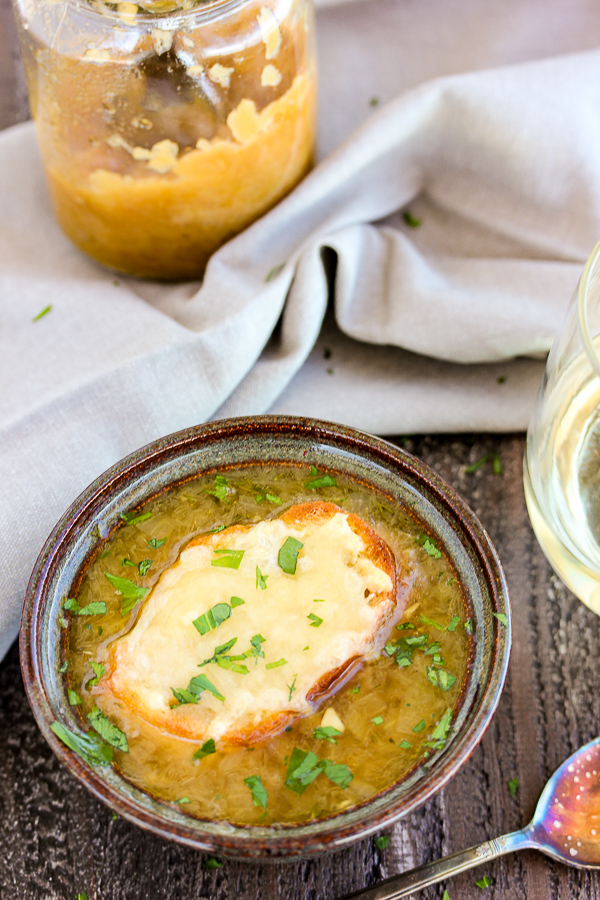 I love French onion soup, but I don't always like to take the time to caramelize the onions. To properly caramelize onions it needs to be low and slow and can take 45 minutes to an hour to get them perfectly golden. But then I discovered that you can caramelize onions in the Instant Pot….that's right, in the Instant Pot. Find out here how easy they are to make.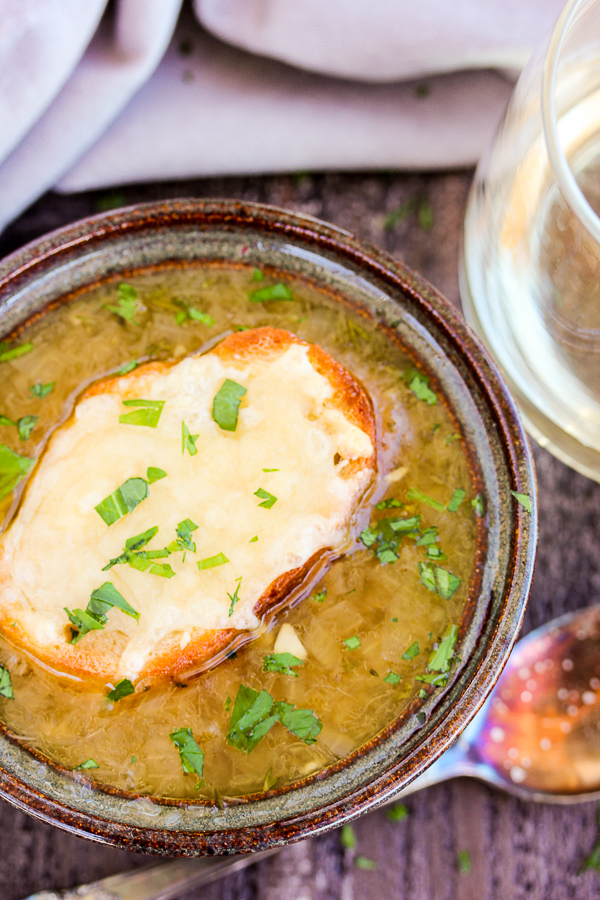 It's so incredibly easy. You just slice up a bunch of onions, add a little olive oil and let the Instant Pot work it's magic. Click here for the exact recipe. They turn out golden and wonderfully sweet, just like caramelized onions are supposed to be.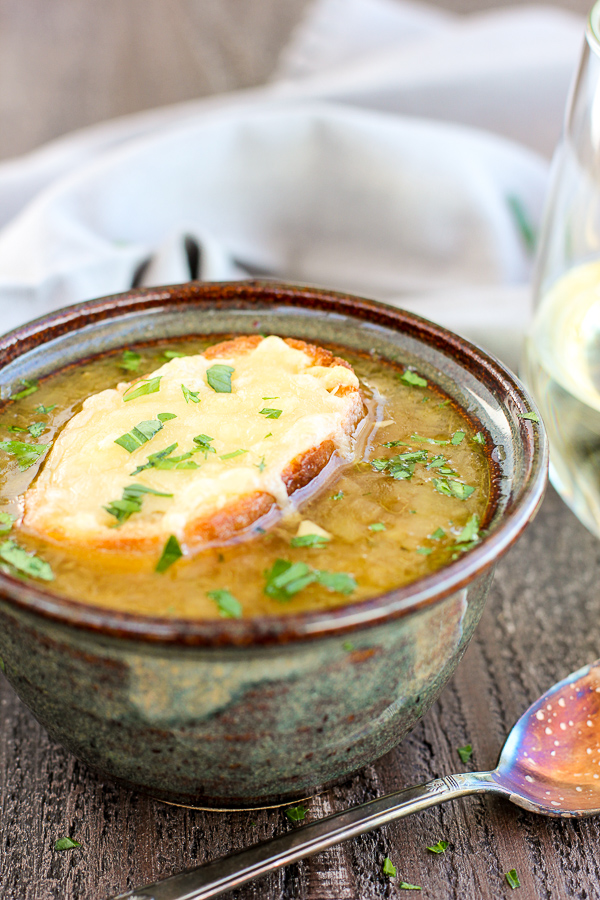 Having these caramelized onions on hand makes this French onion soup so quick and easy. You can easily whip this soup up any night of the week, it literally takes minutes to make! I had homemade stock on hand, but you could totally make it with store bought stock.
And, of course, French onion soup needs some cheesy croutons to go on top of it. They are so easy to make. Just melt some cheese on top of sliced baguette. Gruyere is my favorite cheese to use, but swiss or Monterey jack cheese would also be delicious.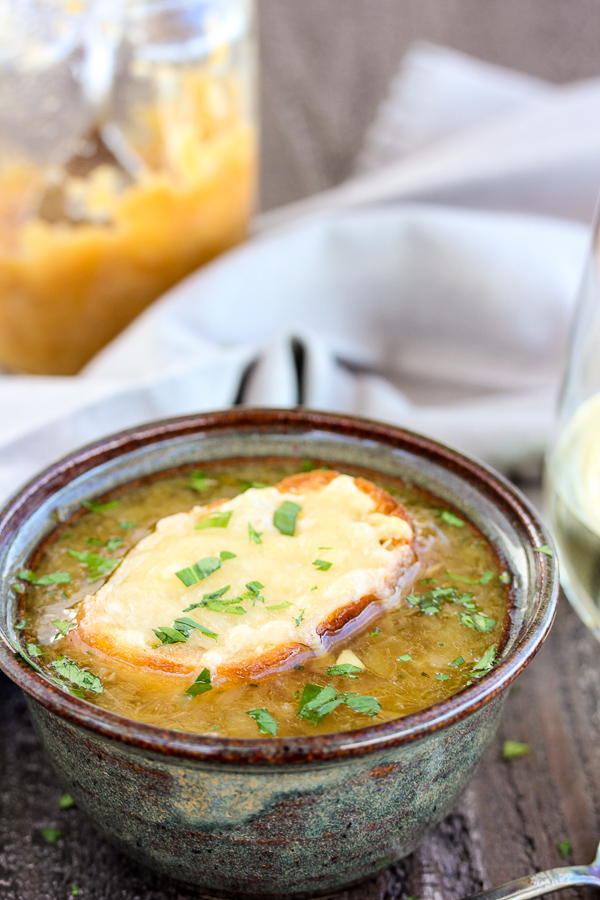 This soup is great as a first course or perfect for lunch or a light dinner. So make some caramelized onions in your slow cooker and give this recipe a try. You won't be disappointed!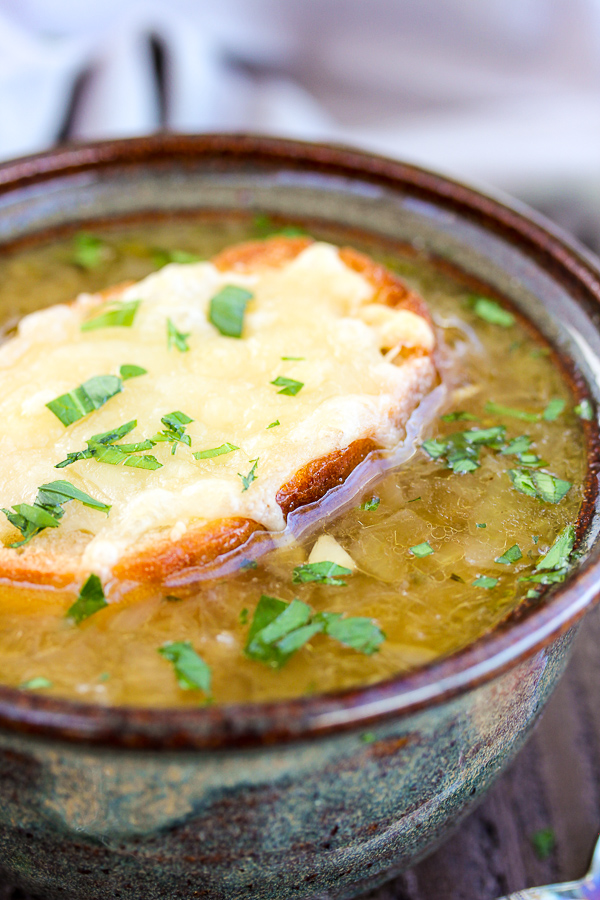 Yield: 2-4 servings
World's Easiest French Onion Soup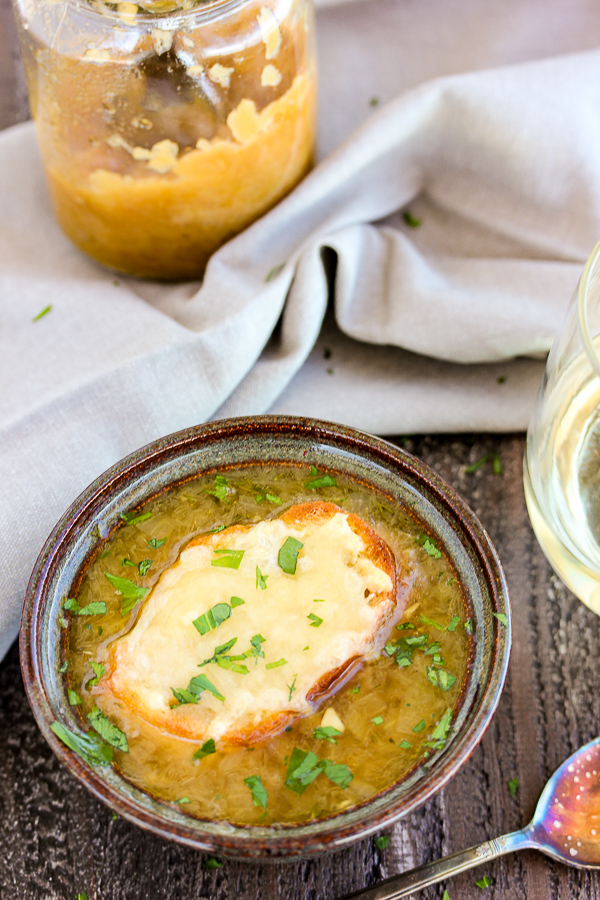 French onion soup has never been so easy. Caramelized onions cooked in the Instant Pot turn this classic soup into a 20 minute meal.
Ingredients
2 tbsp butter
1 clove garlic, minced
2 cups caramelized onions
1 tbsp cognac
1/2 cup white wine
1 tbsp fresh thyme, chopped
1 cup beef stock
2 cups chicken stock
1 tsp salt
1/2 tsp pepper
1 demi baguette, cut into thin slices
olive oil
about 1 cup shredded gruyere or swiss cheese
chopped fresh parsley for garnish
Instructions
Melt butter in a soup pot over medium heat.
Add garlic and saute for about 1 minute.
Add caramelized onions, stirring to coat with butter.
Add cognac to deglaze the pan, cooking for about 2 minutes to cook out the alcohol.
Stir in the wine and the thyme and cook for an additional minute.
Add both beef and chicken stocks, salt and pepper.
Bring to a boil and then reduce to a simmer.
While soup simmers, preheat the broiler and prepare the cheese croutons.
Place bread slices on a cookie sheet and brush each piece with a little olive oil.
Put bread under the broiler until lightly toasted.
Turn bread pieces over and top with cheese.
Return to broiler until cheese is melted and bubbly.
Ladle soup into 4 bowls for a first course or two bowls for a main course and top with one or two cheese croutons.
Serve any extra croutons on the side.
Notes
I use this recipe to make caramalized onions in the Instant Pot.
ENJOY!
Shared at these great blogs:
Chocolate, Chocolate and More Chocolate