You are going to love these Easy Weeknight Chicken Fajitas. A quick marinade creates amazing flavor and you can have them on the table in no time.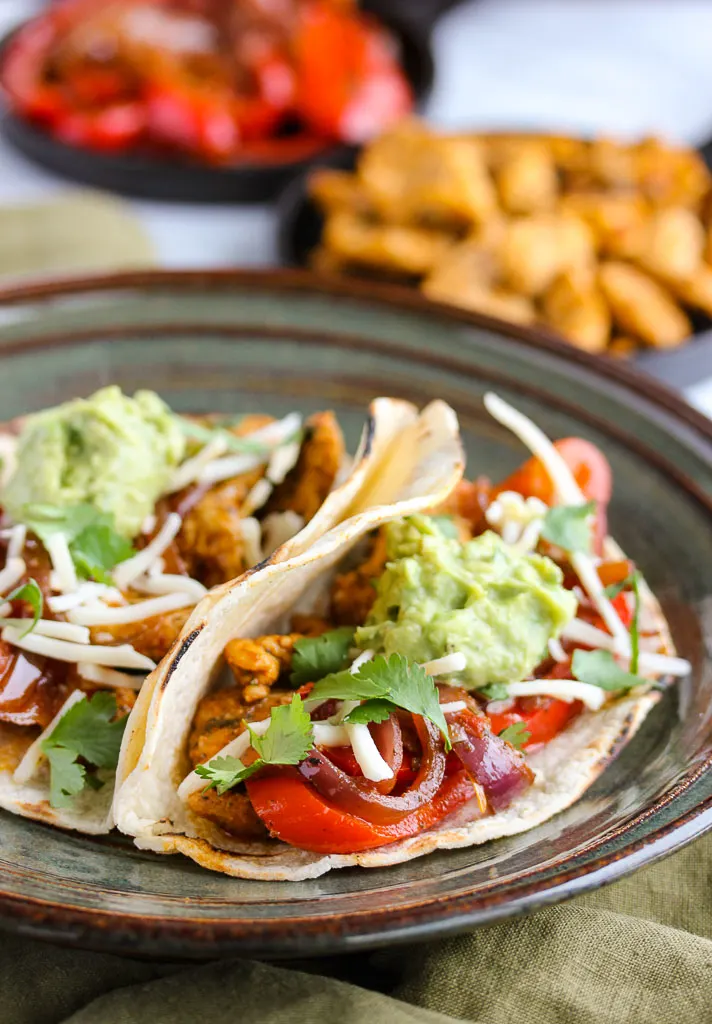 Before I get into more of the yummy details for these fajitas, I must digress. You may have noticed that I've been gone for awhile and that's because I spent 10 glorious days on a cruise with my husband. We had the most amazing time, so I thought I'd share a few pics with you to show you what we were up to.
We went to several islands and saw some incredible Caribbean views. This picture was taken on the island of St. Kitts, on our way to the beach. Isn't it breathtaking? I would go back to this beautiful island in a heartbeat!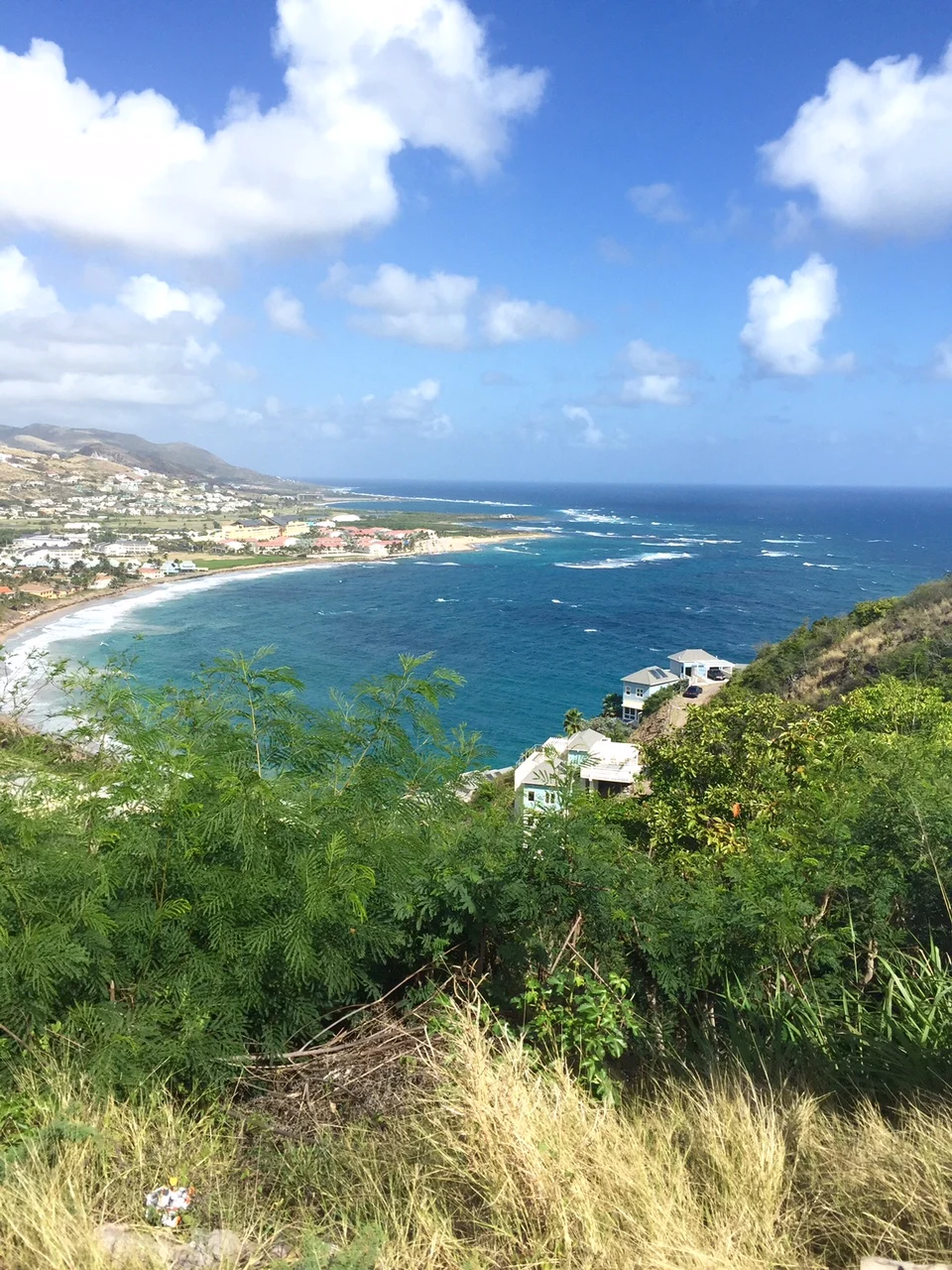 St. Kitts was not our only beach excursion, we also took a catamaran to a beautiful beach on St. Thomas. We had a great time here, but it did get off to a bit of a rocky start. It started with me forgetting my I.D. in our room. I literally ran all the way down the dock and back to our room, which was on deck 8 (yes, I even ran up the stairs) to grab it. Thankfully the kind tour operator had the boat wait to leave until we got there. Whew! Then on our way to the island a rainstorm hit and the wind picked up, so when we got to the island they couldn't anchor the boat to the shore, so we had to wait out the storm. Eventually the rain stopped and we had a great time walking on the beach, as well as hanging out with some new friends.
After that everything was smooth sailing, so to speak, for the rest of the trip. There was lot's of time spent relaxing, enjoying the warm weather and enjoying all the fun the ship had to offer.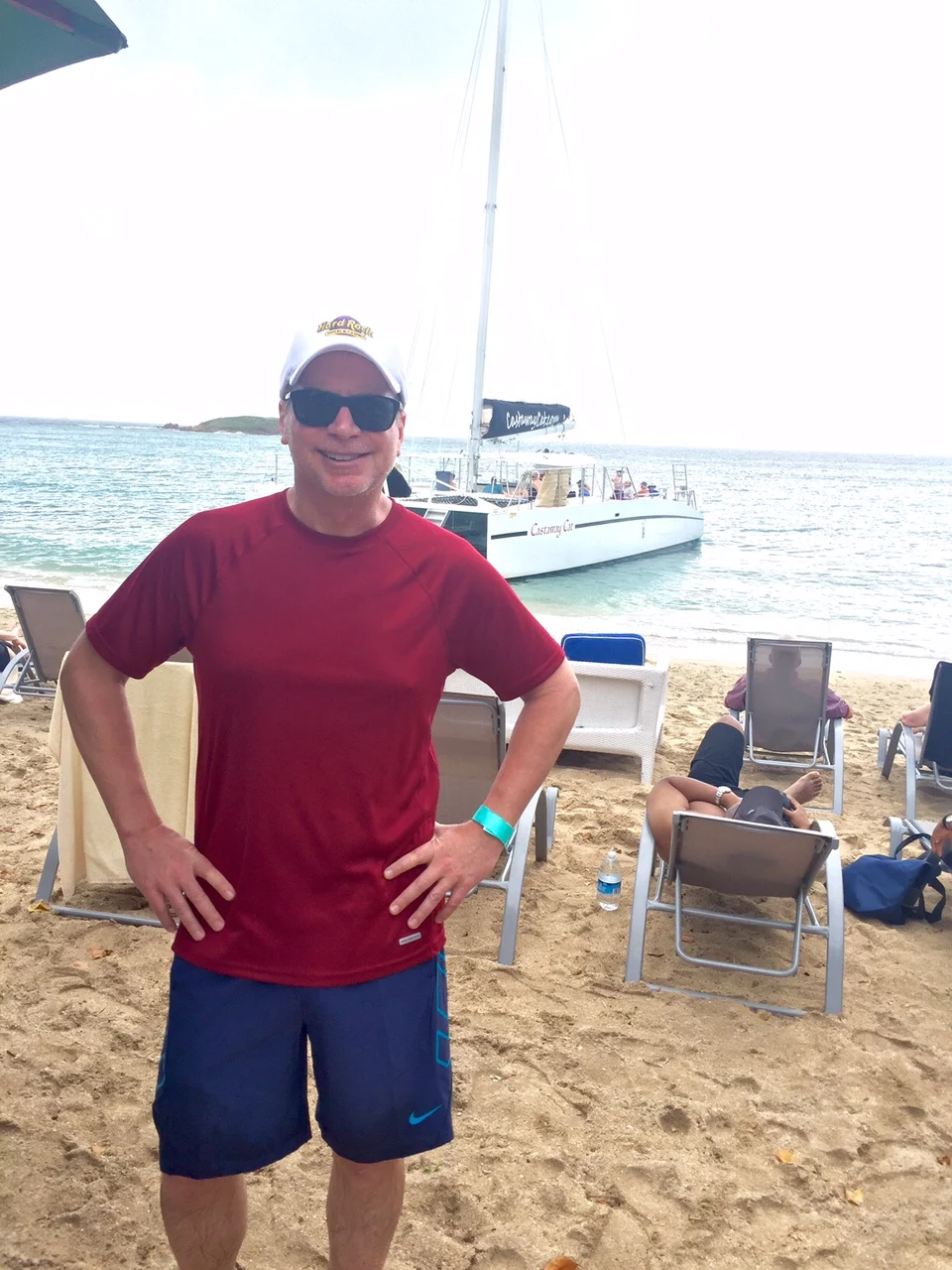 We really enjoyed the nightlife on the ship, the shows were great and we looked forward to dinner every night. The food was amazing! After dinner there was no shortage of things to do either with more shows, live music, dancing and just wandering around the many bars. Our age group was definitely their target demographic, because the music was great. We heard lots of our favorites (lots of 70s and 80s).
I'm already longing for our next vacation…..sigh.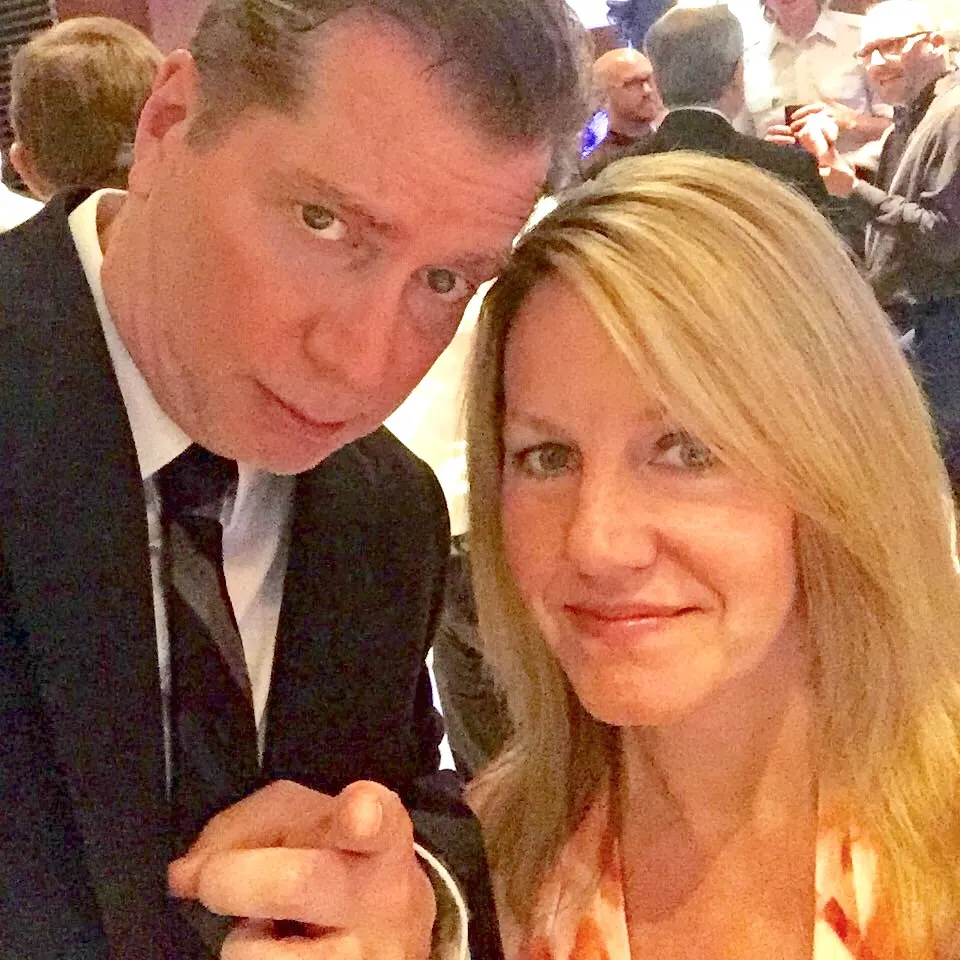 But now, back to easy weeknight chicken fajitas. These are something to get excited about. After you mix up a quick marinade, you let the chicken hang out for a short time to soak up all that yummy flavor. While the chicken is doing its thing, cut up the peppers and onions and heat up the tortillas. You can keep them warm wrapped in foil in the oven.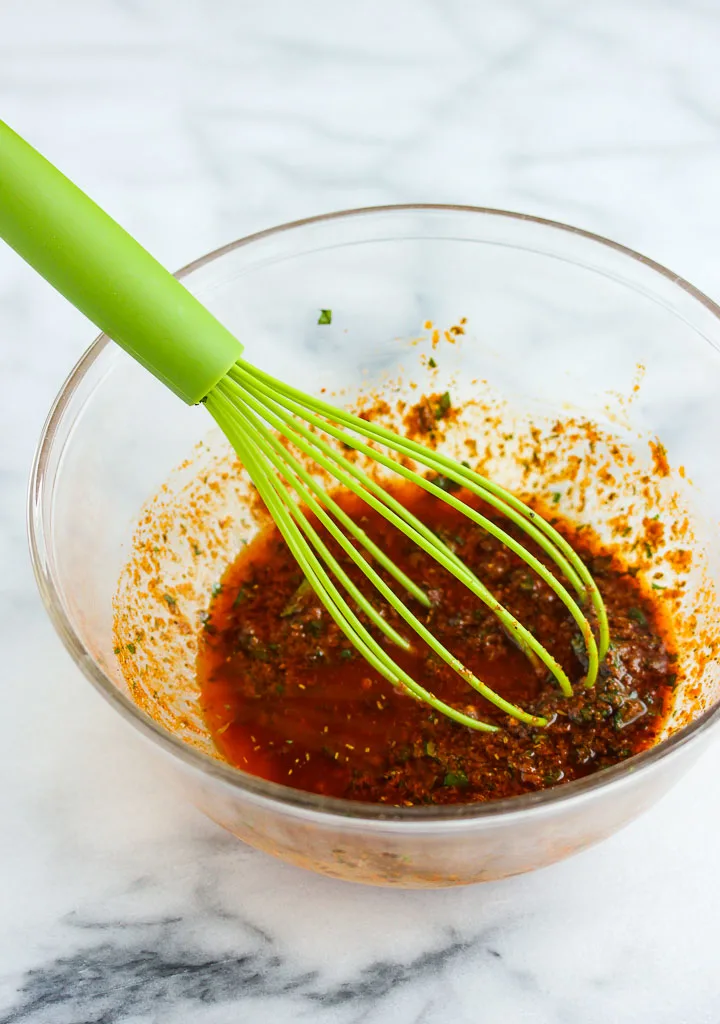 Once everything is ready, get a pan, preferably a cast iron skillet, screaming hot and the chicken, peppers and onions cook up in no time.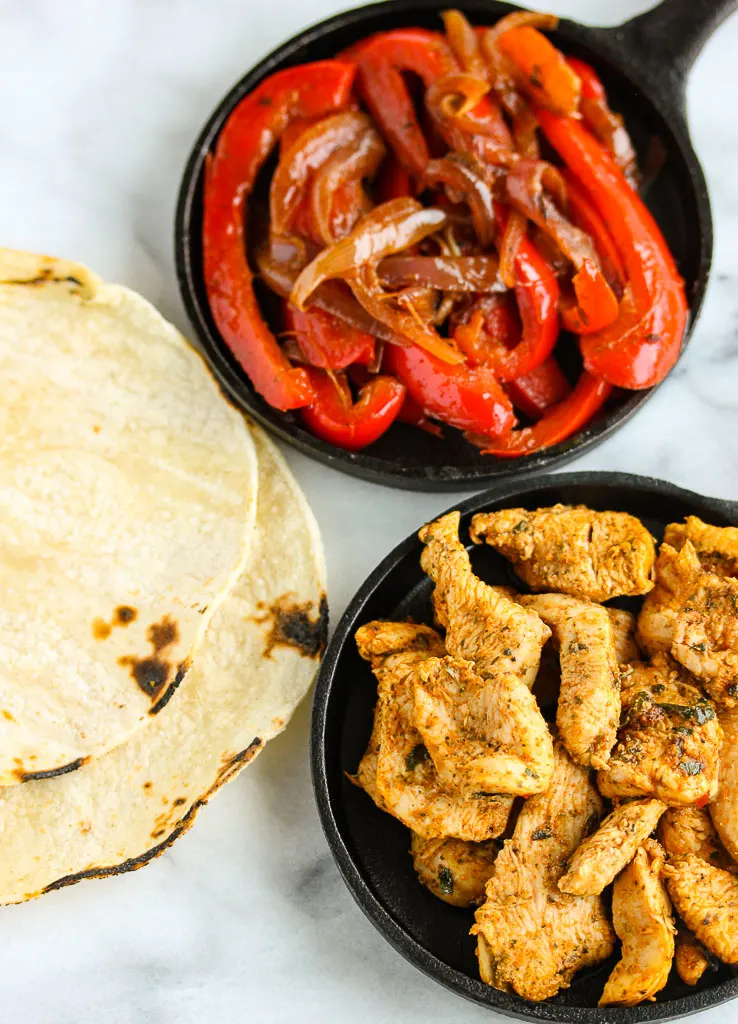 Once everything is ready, you'll want to serve these fajitas with your favorite toppings. My favorites are cheese, guacamole and salsa. Not too shabby for a weeknight.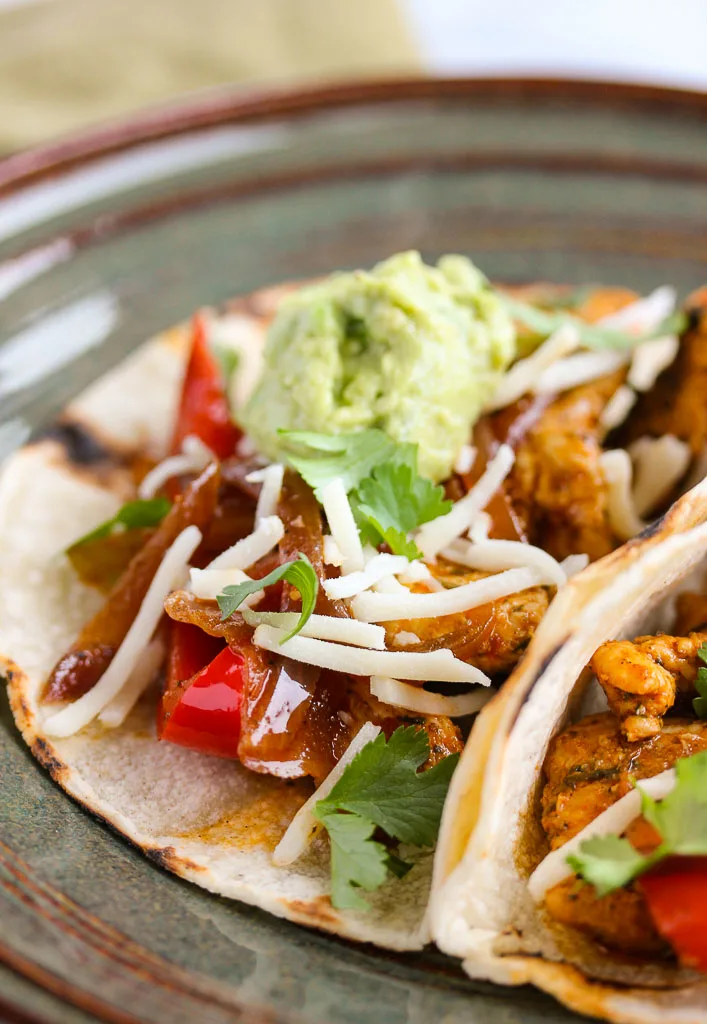 Yield: 6 servings
Easy Chicken Fajitas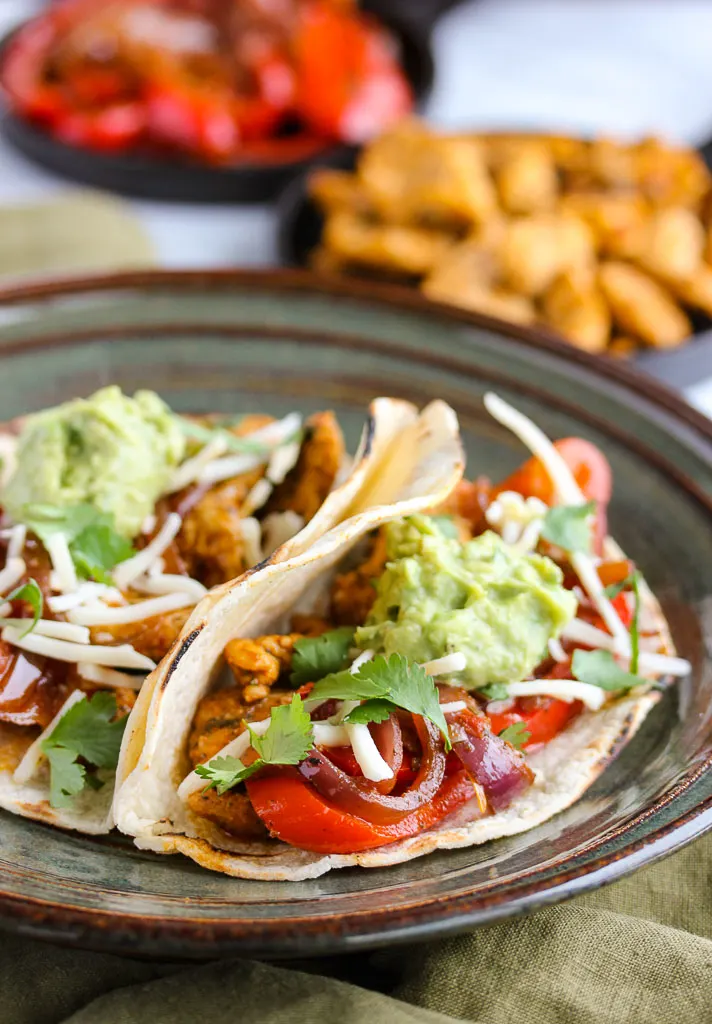 You are going to love these Easy Weeknight Chicken Fajitas. A quick marinade creates amazing flavor and you can have them on the table in no time.
Ingredients
2 lbs boneless skinless chicken breasts, thinly sliced
juice of 1 lime
3 cloves garlic, grated
2 tsp Mexican or Southwestern seasoning blend
1 1/2 tsp smoked paprika
1 tsp cumin
1/4 tsp crushed red pepper
1 tsp salt
1/2 tsp pepper
1/3 cup olive oil
1/4 cup fresh cilantro, finely chopped
2 red peppers, sliced
1 large red onion, thinly sliced
12 small corn or flour tortillas (I used corn), warmed
shredded monterey jack cheese
other toppings such as guacamole, salsa, sour cream, etc.
Instructions
In a mixing bowl, combine lime juice, garlic, Mexican or southwesteren seasoning, smoked paprika, cumin, crushed red pepper, salt and pepper.
Whisk in olive oil and then stir in cilantro.
Add chicken to bowl and stir to coat.
Allow to marinate for at least 10 minutes in the refrigerator.
Heat a large skillet (preferably cast iron) over high heat.
Add chicken in a single layer and sauté until browned and cooked through.
Remove from pan and cover with foil to keep warm.
Add peppers and onions to skillet, tossing to coat with the oil.
Sauté, stirring frequently, until veggies are tender and slightly charred, about 5 minutes.
Serve immediately with tortillas, cheese and your favorite toppings.
Notes
If you have a gas stove, a quick and easy way to heat up your tortillas, is to put them directly on the burner for about 20-30 seconds per side. Just make sure you watch them very closely, they'll go from warm and slightly charred to burned in a big hurry!
Nutrition Information:
Yield:
6
Serving Size:
1
Amount Per Serving:
Calories:

611
Total Fat:

23g
Saturated Fat:

5g
Trans Fat:

0g
Unsaturated Fat:

16g
Cholesterol:

134mg
Sodium:

1143mg
Carbohydrates:

49g
Fiber:

6g
Sugar:

11g
Protein:

56g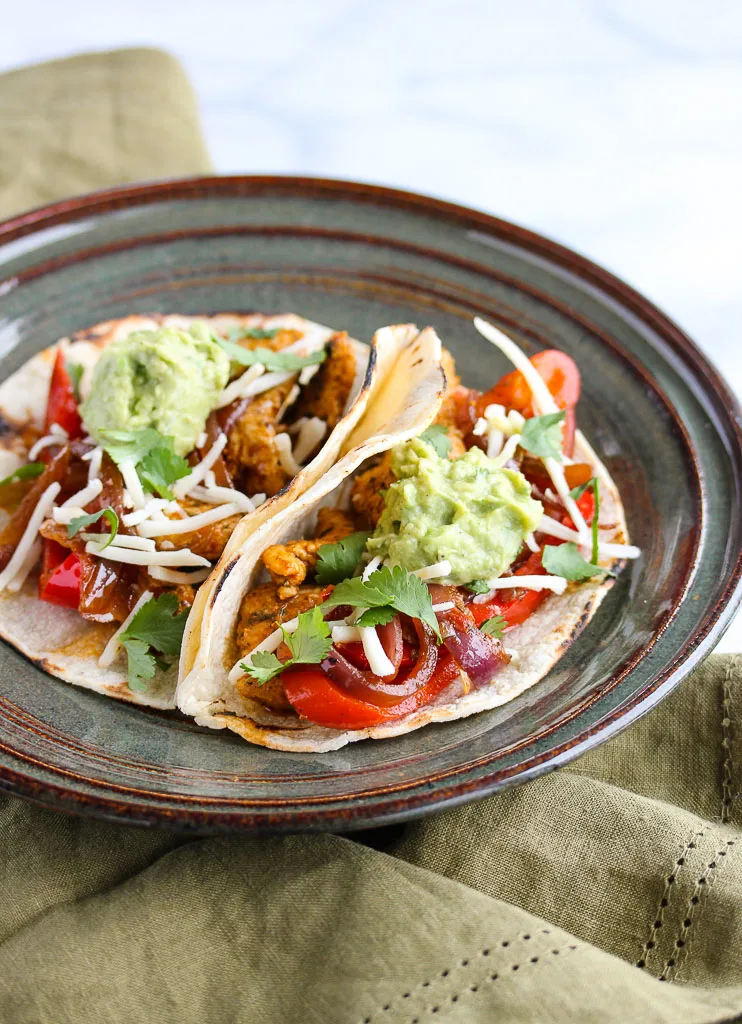 ENJOY!
Shared at: