Thanks to Klement's for sponsoring these delicious cheddar puff pastry bratwurst bites. As always, all opinions are my own.
Klement's cheddar bratwurst combines with puff pastry along with an easy dipping sauce to create these scrumptious cheddar puff pastry bratwurst bites.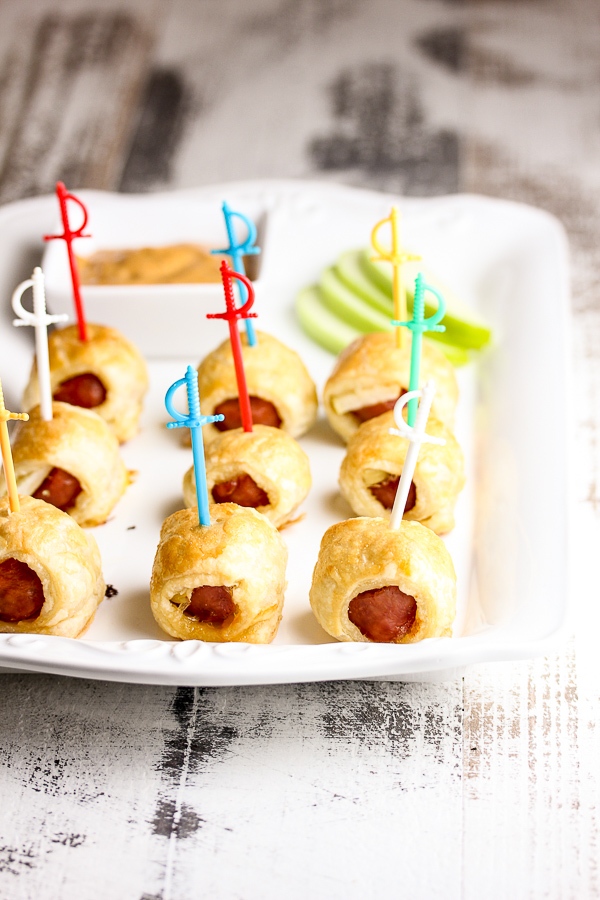 Spring is finally here and in my house that means one thing, birthday season. Yep, we have a ton of birthdays to celebrate every spring. On Steve's side, there are three birthdays, his dad, our niece and our brother-in-law. Plus Steve's birthday and our daughter, Kelly's birthday.
Quite a few years ago we started celebrating all of Steve's family's birthdays on Easter, since we knew we'd all be together. My mother-in-law traditionally would make each birthday person a dessert of their choice to make them feel special. Then last year Kelly took over that tradition. Let's just say by the end of dessert, we're all in a bit of a sugar coma.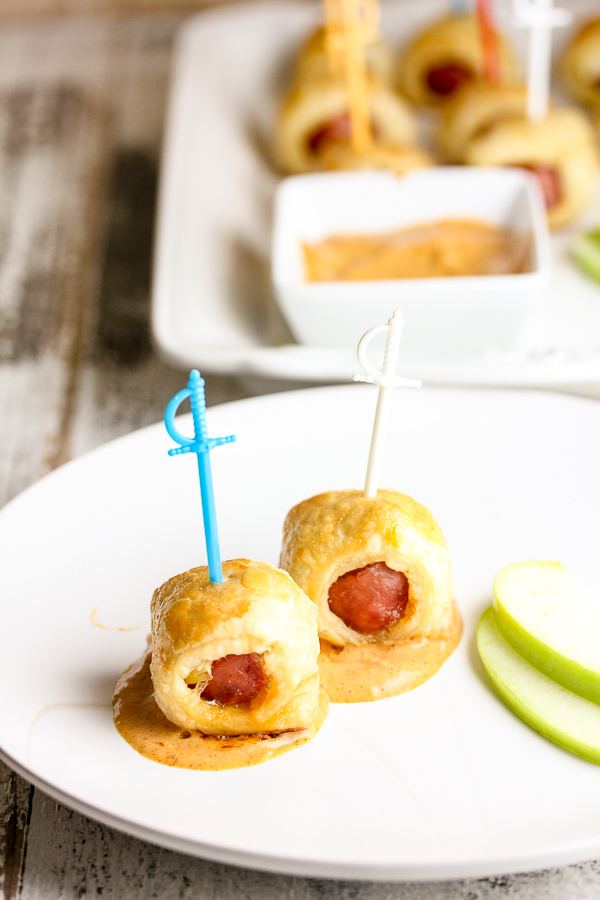 But wait, that's not enough celebrating. On top of the big Easter celebration, we also celebrate Steve's and Kelly's birthday with just our family. Sometimes we celebrate them together and sometimes separately, depending on what the birthday people want to do. Oh and I almost forgot, Steve's cousin, whom he's very close to, also has a spring birthday, so we often get together with him and his wife for dinner. WHEW! That's a lot of celebrating.
Sometimes for our family celebration we'll go out somewhere for dinner, but often we make a special dinner at home. I usually go all out with appetizers, main dish and dessert(s). That's where these scrumptious little cheddar puff pastry bratwurst bites come into play. They are incredibly easy to make and taste absolutely fantastic! Which makes them a perfect party appetizer.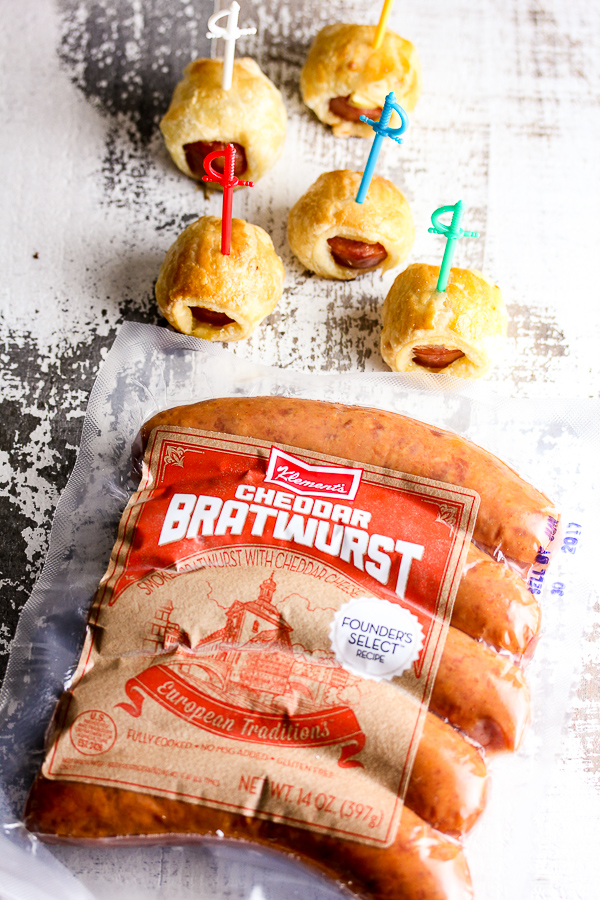 These tasty little bites start with Klement's cheddar bratwurst. They are smoked, fully cooked and made with all natural ingredients, which makes them so convenient and delicious. I love using their products because I know I can trust the quality. Their sausages are made in small batches using old world recipes and the result is top notch. It's sausage that links people together.
After cutting the bratwurst crosswise into pieces, I top each one with a slice of green apple and then roll it in puff pastry and brush it with a little egg wash. They then go into the oven for a quick 10-12 minutes. What comes out of the oven is absolute perfection. The cheddar and the apple go together perfectly and the bratwurst is smoky and so full of flavor.
But wait, that's not all, every good appetizer bite needs a good dip. Am I right? These scrumptious cheddar puff pastry bratwurst bites taste even better with this creamy dipping sauce. And let me tell you, it's so easy to make, it takes like 2 minutes to whip up. All it is, is mayo, spicy brown mustard, a little barbecue sauce, smoked paprika and for a little heat, a few dashes of tabasco.
So run to your store and pick up some Klement's cheddar bratwurst so that you can have these delicious little bites at your next celebration, you won't regret it, I promise!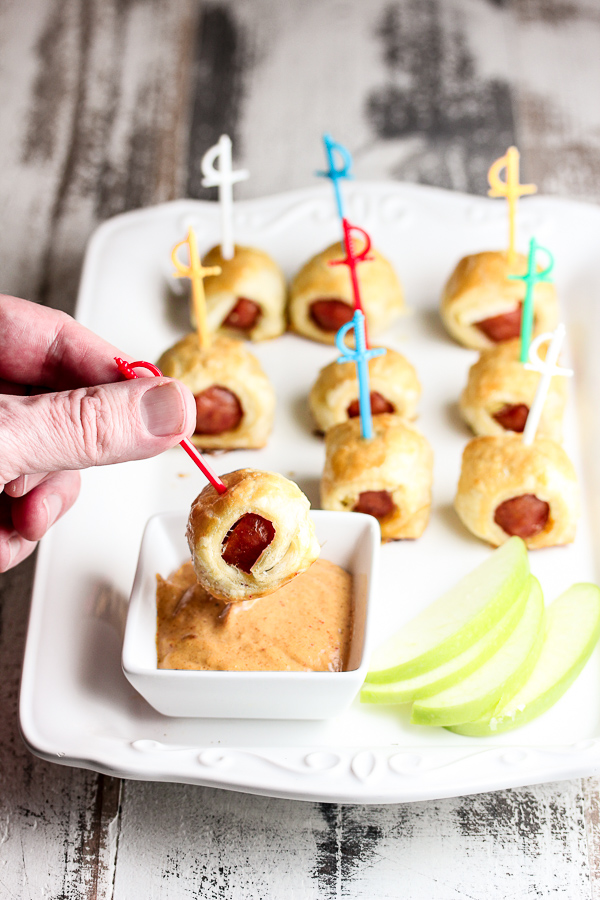 Yield: 8
Puff Pastry Sausage Bites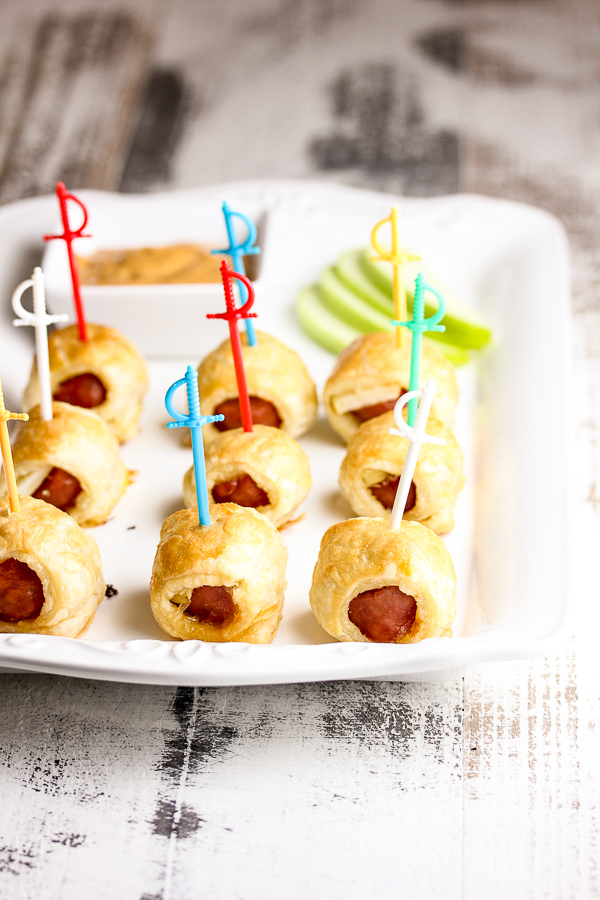 Prep Time 15 minutes

Cook Time 12 minutes

Total Time 27 minutes
Ingredients
1 sheet puff pastry, thawed
1 green apple
1 egg
1/4 cup mayo
1/4 cup spicy brown mustard
1 tbsp barbecue sauce
1/2 tsp smoked paprika
few dashes hot sauce (I used Tabasco)
Instructions
Preheat oven to 400 degrees.
Cut bratwurst links crosswise into 1/2 inch slices.
Cut apple into 1/4 inch slices and then cut each slice into thirds.
Set a piece of apple on top of each bratwurst slice.
Roll out puff pastry sheet slightly on a lightly floured surface.
Cut lengthwise into strips about 1 1/2 inches wide and then crosswise into 3 inch strips. A pizza cutter works well for this.
Roll the strips of puff pastry around each of the apple bratwurst pieces.
Place on a baking sheet lined with parchment paper.
Whisk egg together with a splash of water.
Brush a little bit of the egg wash on each of the bites.
Bake in preheated oven for 10-12 minutes until golden brown.
Serve with dipping sauce
Notes
These can be prepared ahead of time, through the egg wash step. Cover prepared bites with plastic wrap and store in the fridge until ready to bake. When ready to bake, remove plastic wrap and bake according to instructions.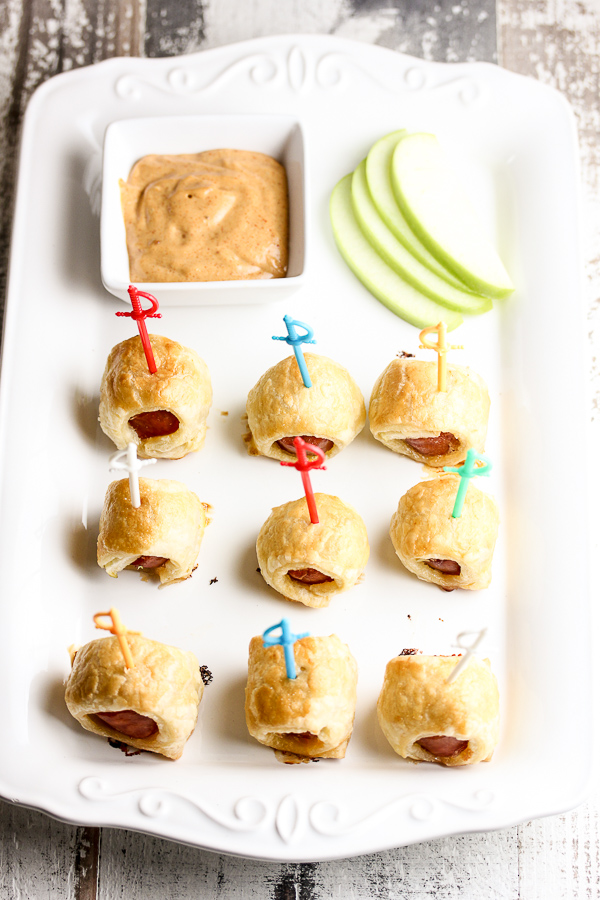 ENJOY!

This recipe has been shared at: