Klement's sausage and white beans combine with traditional bruschetta ingredients to create this mouthwatering Italian sausage and white bean bruschetta.
Thanks to Klement's for sponsoring this delicious post. As always, all opinions are my own.
During the summer, everything for my husband and me centers around spending time at our cabin. From Memorial Day to Labor Day, we try to get up there as often as we can. Probably our favorite thing to do while we're at the cabin, is to spend time out on the lake on our pontoon. We also love paddle boarding, taking long walks, sitting by a bonfire or just relaxing on our deck.
We love sharing our cabin with family and friends, so we love when we have visitors. Which means that I'm always looking for easy and delicious food ideas to serve to hungry people after an afternoon on the lake. Along with all of our outdoor activities, we love to eat at the cabin!
Around 4:00 in the afternoon, everyone's usually ready to hang out on the deck and enjoy some appetizers, listen to some music and have some conversation. Since it's cabin time, which for me is all about being laid back, quick and easy recipes or recipes that can be made ahead are always best.
Enter Italian sausage and white bean bruschetta. Not only is it quick and easy, it can also be made ahead of time. I made this a day ahead of time and by the second day the flavors were even better. If you make this ahead of time I recommend letting it come to room temperature before serving. That way the flavors will shine through.
Now let's talk about the sausage. I love Klement's pre-cooked dinner links. Since they're pre-cooked, they're so quick and easy to use in recipes and they taste fantastic. They're made in small batches from a recipe from the Old World that Klement's has been using for over 60 years. The dinner links come in so many delicious flavors, like Jalapeño Smoked Sausage, Cheddar Bratwurst, Smoked Bratwurst and probably my favorite, Italian Sausage.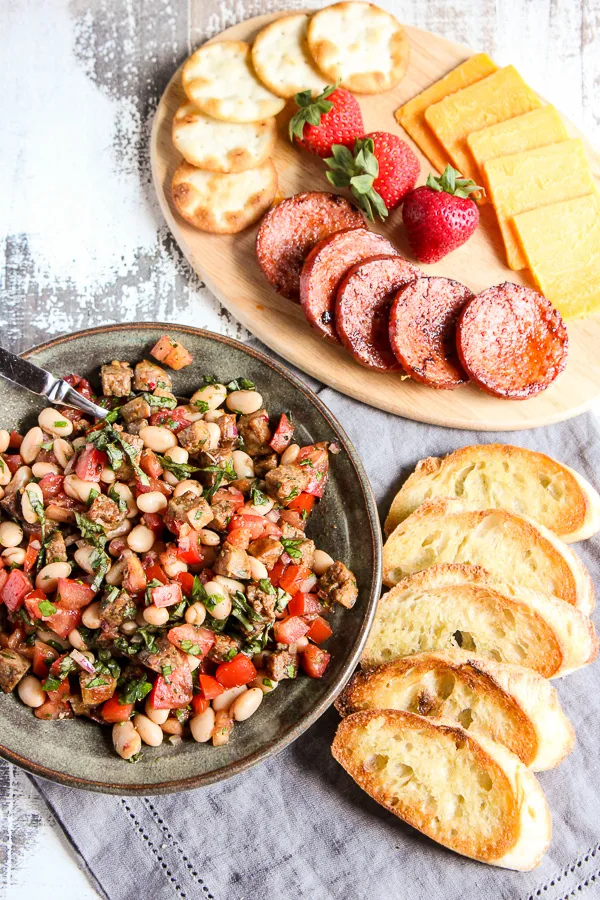 We also love Klement's handcrafted, small batch Summer Sausage. It's made with 100% quality meats and it's shelf stable, so it's great for taking along when you're on the go. The summer sausage tastes amazing just as it is, but I like to take the Garlic Summer Sausage, slice it, season it with some smoked paprika and then sauté just until it's warmed through and is slightly browned. It's delicious served with cheese and crackers.
The Italian sausage and white bean bruschetta tastes great on toasted baguette and pairs great with the garlic summer sausage sautéed with smoked paprika, along with cheese and crackers. It's a tasty and satisfying array of appetizers after a fun-filled day at the cabin.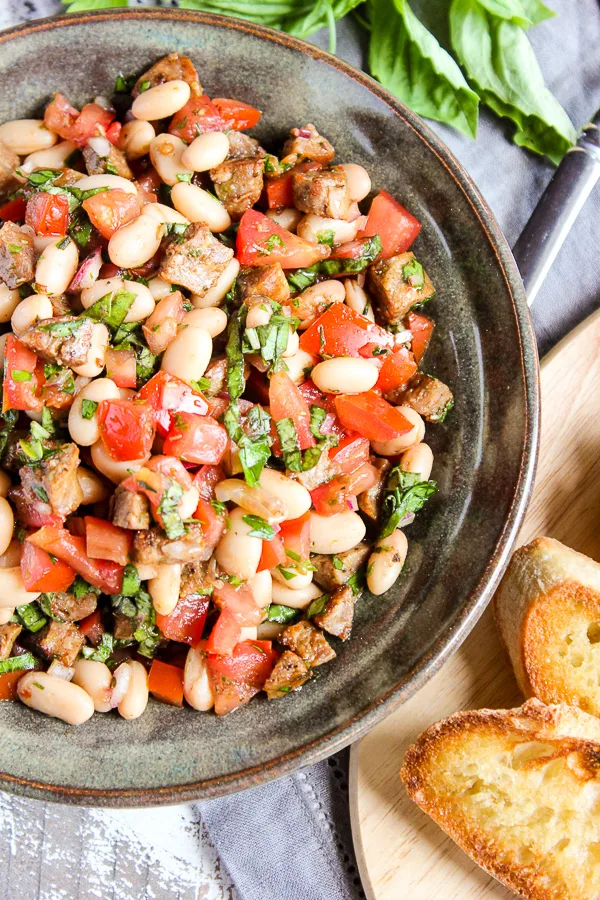 Yield: 6-8
Italian Sausage and White Bean Bruschetta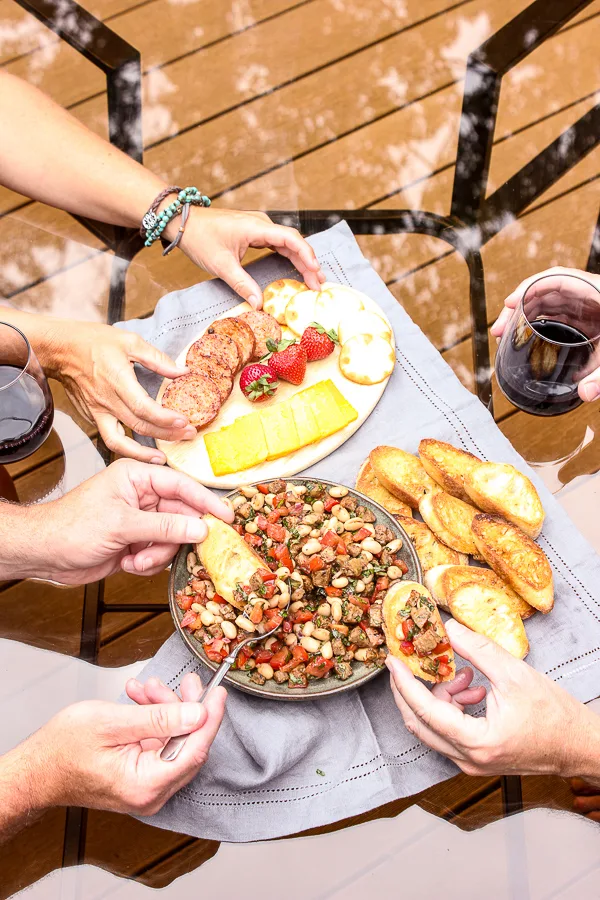 Ingredients
2 Klement's Italian sausage links, casings removed and diced
3 tbsp olive oil, divided
3 roma tomatoes, seeded and chopped
1/4 cup red onion, minced
1 (14 oz) can great northern white beans, rinsed and drained
2 tbsp balsamic vinegar
1 clove garlic, grated
2 tbsp parsley, finely chopped
2 tbsp fresh basil, finely chopped
1 tsp dried Italian seasoning
1/2 tsp salt
1/2 tsp pepper
Thinly sliced toasted baguette
Instructions
Heat 1 tbsp olive oil in a skillet.
Add diced Italian sausage and sauté until sausage is browned.
Remove from heat and let cool.
Combine tomatoes, onion, beans and sausage (once it's cooled) in a mixing bowl.
In a small bowl, whisk together balsamic vinegar, remaining 2 tbsp olive oil, garlic, parsley, basil, Italian seasoning, salt and pepper.
Pour over sausage mixture and stir until ingredients are well coated.
Serve with toasted baguette.
ENJOY!