All the flavors of a classic Chinese takeout dish in these easy, baked General Tso's Cauliflower Bites. No need to feel guilty indulging in this crowd pleaser.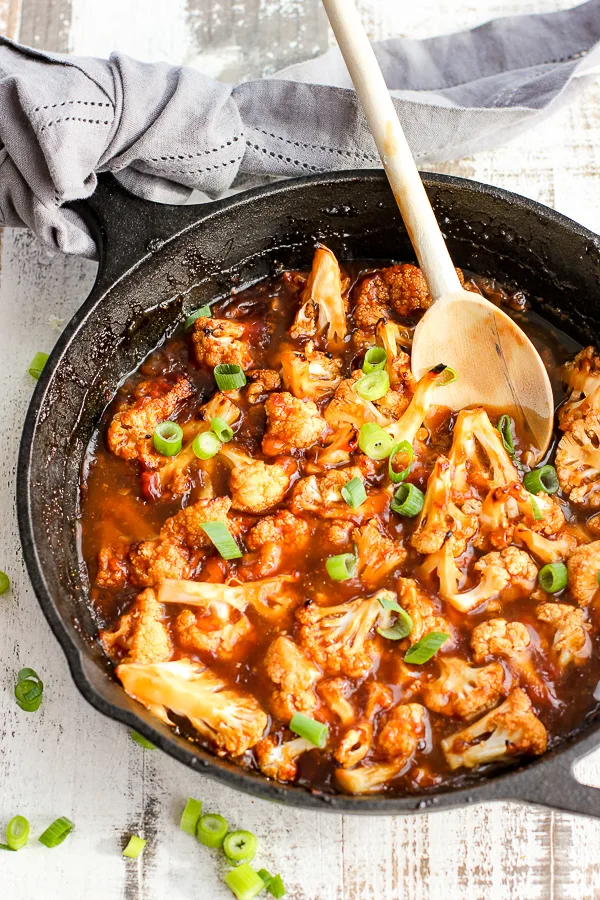 Well, we all made it through the holidays and now it's already almost mid-January. Where does the time go? Even though it's January, which for many of us means lots of short, cold days, our entertaining possibilities are NOT over.
There's still playoff football games, basketball, hockey and of course, the Super Bowl. All of these games are an opportunity to invite friends and family over and, yeah, watch the game (blah, blah, blah). But more importantly, it's an opportunity to get together and enjoy some yummy appetizers.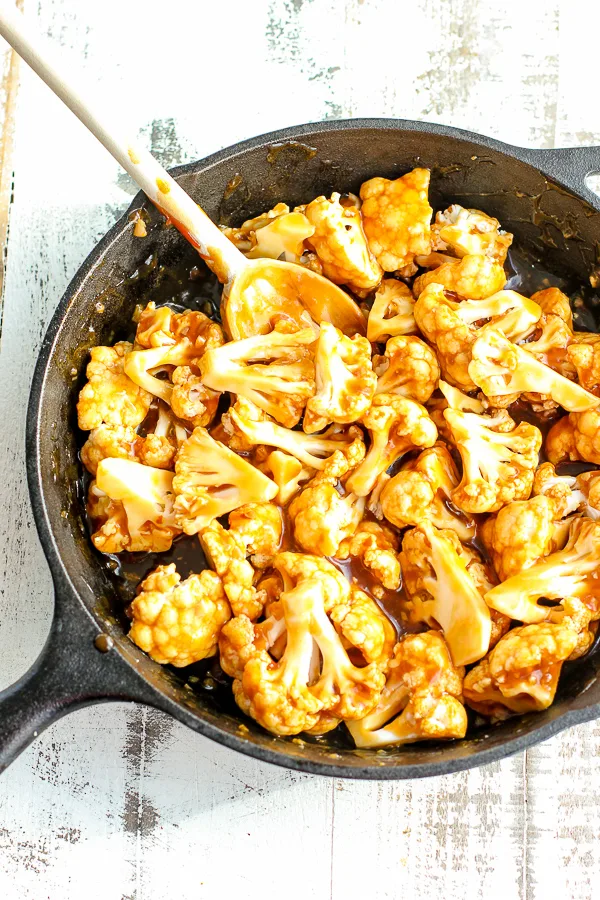 Since we all probably did our fair share of indulging over the holidays, I think some lighter, healthier appetizers are in order. And don't worry, just because it's healthier doesn't have to mean it's any less tastier.
Enter General Tso's cauliflower bites. They're a healthier baked version of the traditional Chinese takeout, General Tso's chicken. But just because they're healthier doesn't mean these bites are lacking in flavor.
If you like Chinese takeout makeovers you may like these recipes too: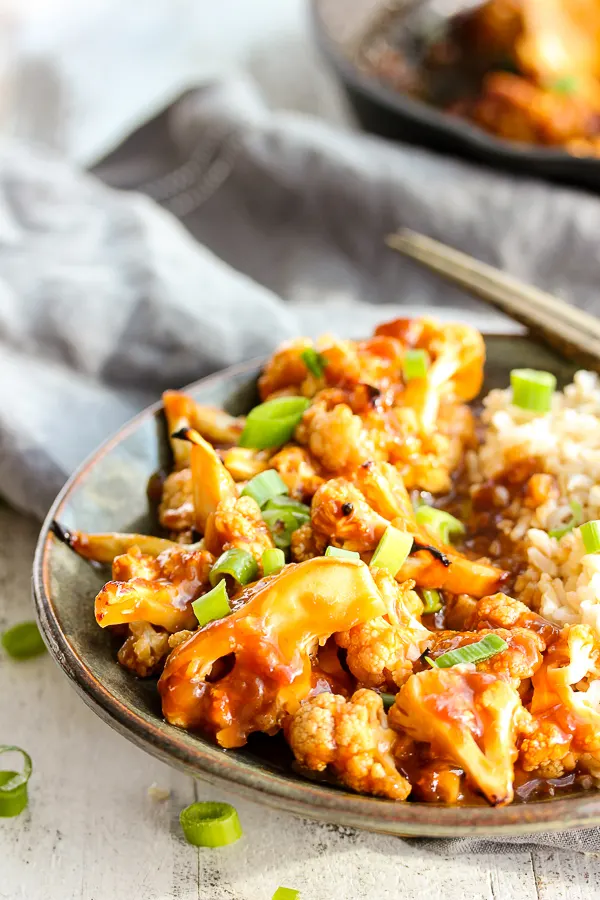 Far from it, these delightful bites have a bold, sweet and spicy sauce that will satisfy your Chinese takeout craving. And since cauliflower is super low in calories, you can pretty much eat your weight in them.
The recipe as written here is not vegetarian or vegan, but with a couple of simple swaps you can easily adapt it. For vegetarian, just swap out the chicken stock for vegetable stock. If you want the vegan option, you'll also want to swap out the honey for agave nectar. Easy peasy.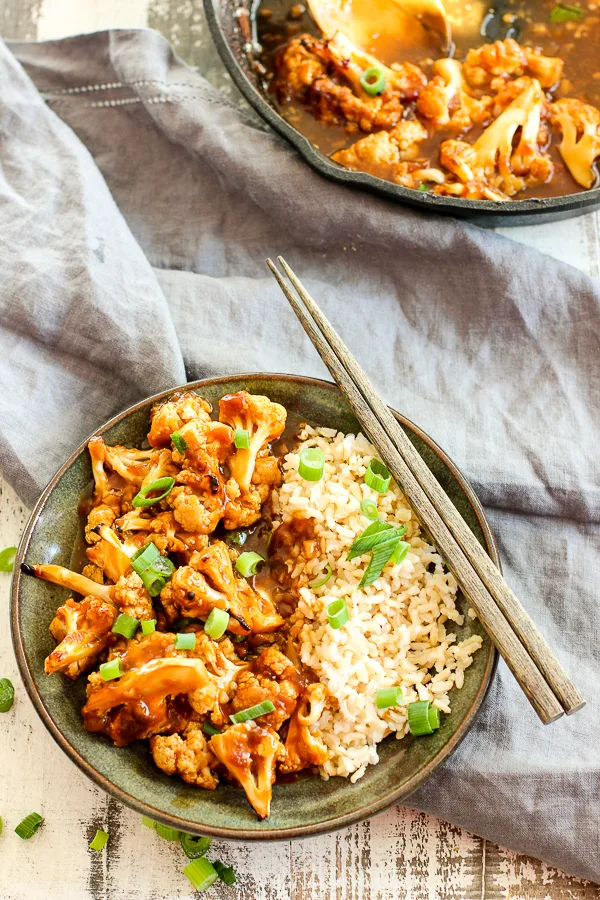 What do I need to know to make General Tso's cauliflower bites?
I used pre-chopped cauliflower that I cut down into bite size pieces, but a whole head of cauliflower is fine to use.
I highly recommend using reduced sodium soy sauce otherwise the sauce will tend to be too salty
You can easily turn these cauliflower bites into a meatless main dish, just serve over hot, cooked rice. My preference would be brown rice which will add a nice nutty flavor.
Don't over cook the cauliflower. You want it to be tender but not mushy. Check it right at 15 minutes and if it's not tender, check every 2 minutes.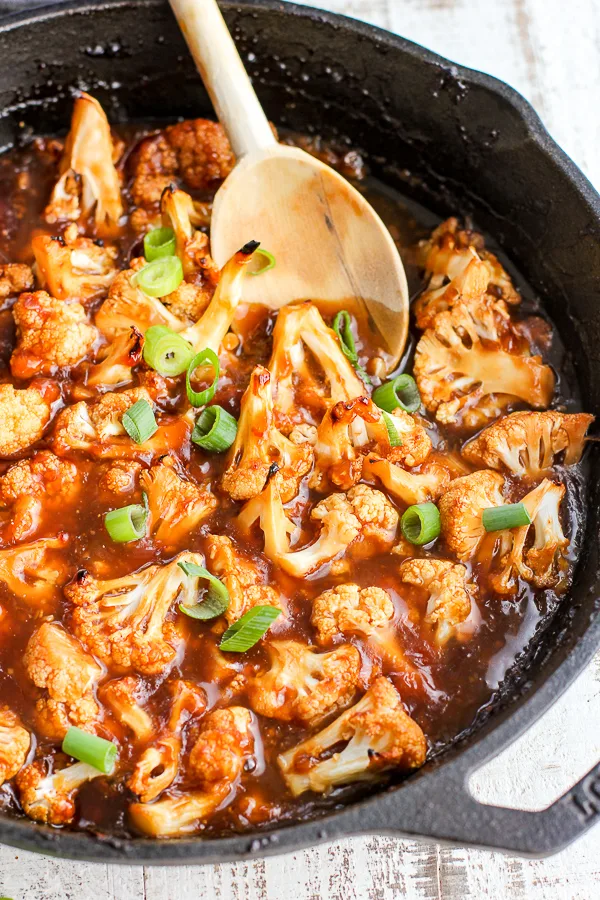 Yield: 4-6
General Tso Cauliflower Bites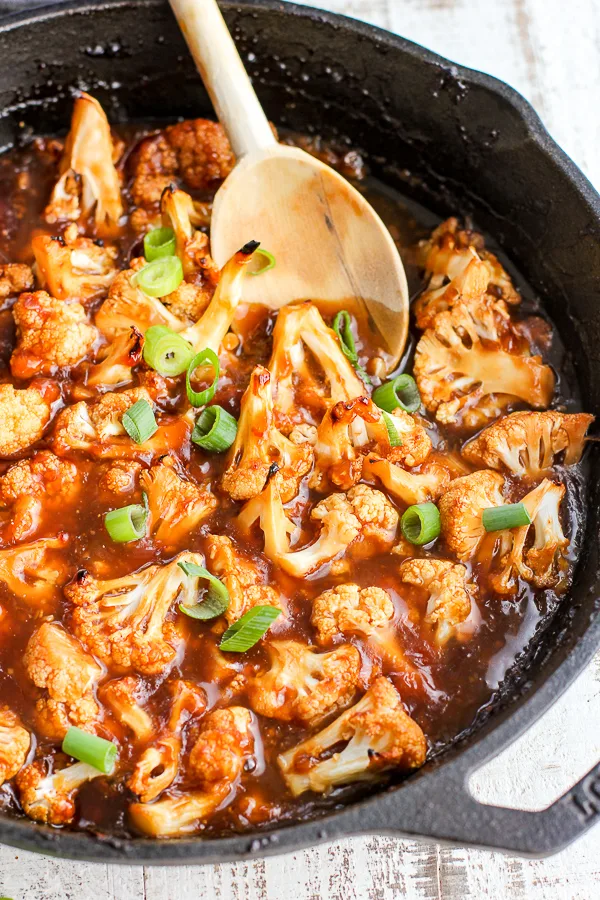 All the flavors of a classic Chinese takeout dish in these easy, baked General Tso's Cauliflower Bites. No need to feel guilty indulging in this crowd pleaser.
Ingredients
1 lb cauliflower, cut into bite size pieces
2 tsp peanut oil
3 cloves garlic, minced
2 tsp ginger paste
1/2 tsp red pepper flakes
1/2 cup chicken broth
1 tbsp sesame oil
1/3 cup reduce sodium soy sauce
1/3 cup rice wine vinegar
3 tbsp honey
2 tbsp ketchup
2 tbsp cornstarch dissolved in 2 tbsp water
Instructions
Preheat oven to 400 degrees.

Heat peanut oil in a saucepan over medium low heat.

Add garlic and sauté until garlic becomes fragrant, about 2 minutes.

Stir in ginger paste and red pepper flakes and cook for 30 seconds more.

Stir in chicken broth, sesame oil, soy sauce, rice wine vinegar, honey and ketchup.

Bring mixture to a boil

Stir in cornstarch mixture.

Reduce heat and simmer, uncovered for 20minutes, stirring occasionally.

Put cauliflower florets in a shallow baking dish or cast iron skillet.

Pour sauce over cauliflower, stirring to coat.

Bake in preheated oven for 15 minutes, until cauliflower is fork tender.

Serve immediately.
Notes
To make this dish vegan, substitute vegetable stock for chicken stock and agave nectar for honey.
Turn this appetizer into an entree by serving over hot, cooked rice.