I love going out for Indian food, but since we moved, we haven't found an Indian restaurant that's close by, so it's been a long time since I've had a good lamb curry (my absolute favorite) or chicken tikka masala. So when I saw a recipe for chicken tikka masala in Everyday with Rachael Ray, I knew there was going to be some Indian food in my future.
A lot of Indian recipes that I've seen before tend to be fairly time consuming and long cooking. What drew me to this recipe was how little cooking time it required. So I went to work and adapted the recipe to suit my taste and to make use of ingredients that I already had on hand.
The result was definitely a winner. It was very quick and easy to make and the result was a rich and creamy sauce with just the right amount of spice for my palate. I served it over brown basmati rice ( Trader Joe's has a great one that cooks in 15 minutes), but it would be equally delicious over white basmati rice, if that's what you prefer.
Quick Chicken Tikka Masala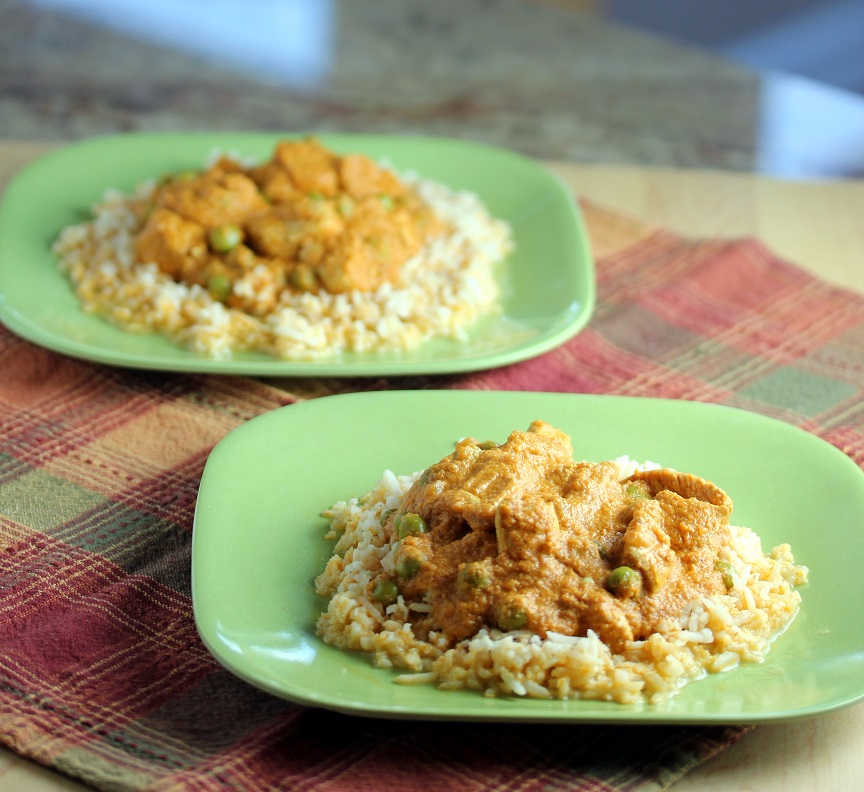 2 tbsp olive oil
6 cloves garlic, minced
1 (1 inch) piece ginger, peeled and minced
1 small red onion, chopped
1 tsp garam masala
2 tsp curry powder
1/2 tsp smoked paprika
1/2 tsp salt
1/2 tsp pepper
2 (15 oz) cans diced tomatoes with green chilies
2/3 cup heavy cream
1 1/2 lb boneless, skinless chicken breasts, cut into 1 inch pieces
1 cup frozen peas
cooked basmati rice
Heat oil in a large skillet over medium heat.
Add garlic, ginger and red onion, saute for about 5 minutes, until onion is tender.
Stir in the garam masala, curry powder, smoked paprika, salt and pepper, cook for an additional 30 seconds.
Stir the tomatoes into the mixture.
Puree tomato mixture with an immersion blender, until smooth, or transfer to a blender to puree. If using a blender, return tomato mixture to pan once it's been pureed.
Stir cream into the sauce and bring mixture to a boil.
Add chicken, reduce heat and simmer, covered, for about 15 minutes, until chicken is cooked through.
Stir in peas and cook for an additional 5 minutes.
Serve with the rice.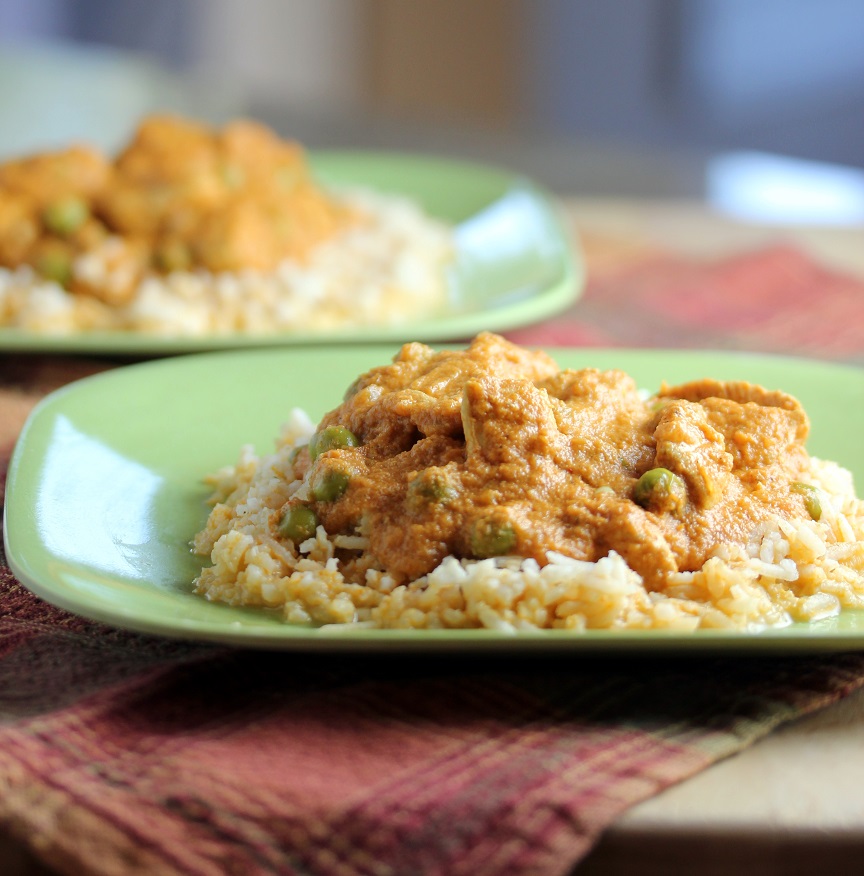 ENJOY!

Share at these great blogs: