Low Carb Smoky Mac and Cheese is creamy, extra cheesy and a little smoky. If you're watching your carbs this is a perfect dish to satisfy your pasta cravings.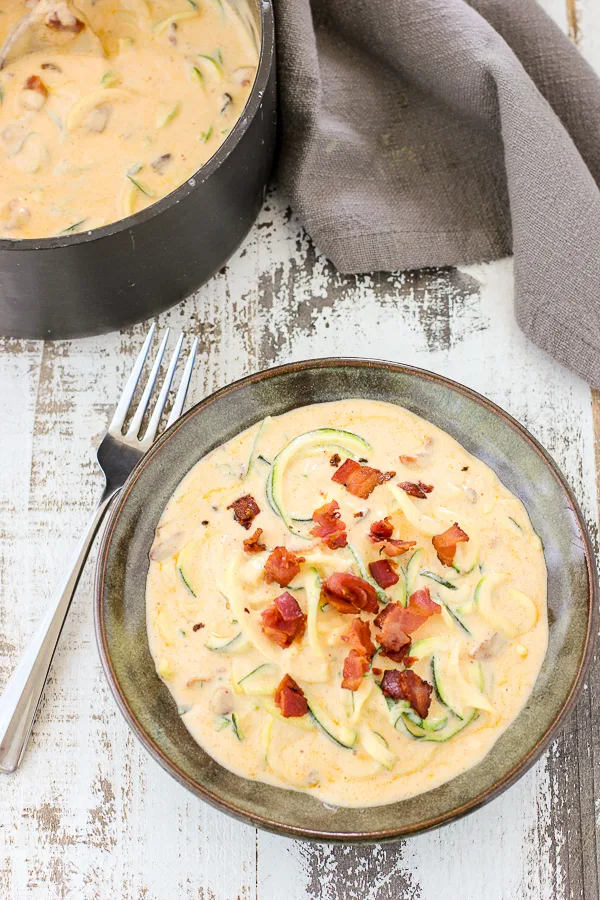 I have been on the low carb/keto train for a couple of months, and overall I like this way of eating. I've lost a few pounds and for the most part don't miss the carbs. I do, however, still crave some of my favorites from time to time, like bread, potatoes and pasta.
When I'm craving pasta dishes, I've discovered that zucchini noodles are a great substitution. They're mild in flavor and the texture is very similar to pasta. I love that all you need to to do to prepare them is run them through a spiralizer. Then they're ready to toss into whatever sauce you like.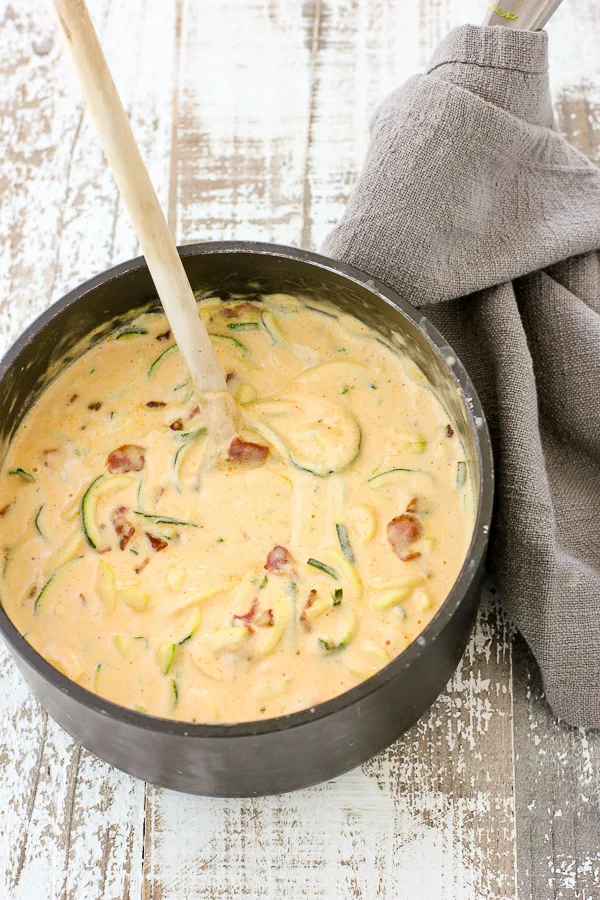 In this case, the sauce is a rich and creamy cheese sauce. To make this low carb smoky mac and cheese, I had to make a few adjustments to the sauce. Traditionally, the cheese sauce starts with milk that's been thickened with flour.
Since milk and flour are both high in carbs, I substituted half and half. Half and half is thicker than milk, so I was able to omit the flour. The sauce is slightly thinner than the traditional, but it's still very rich and creamy.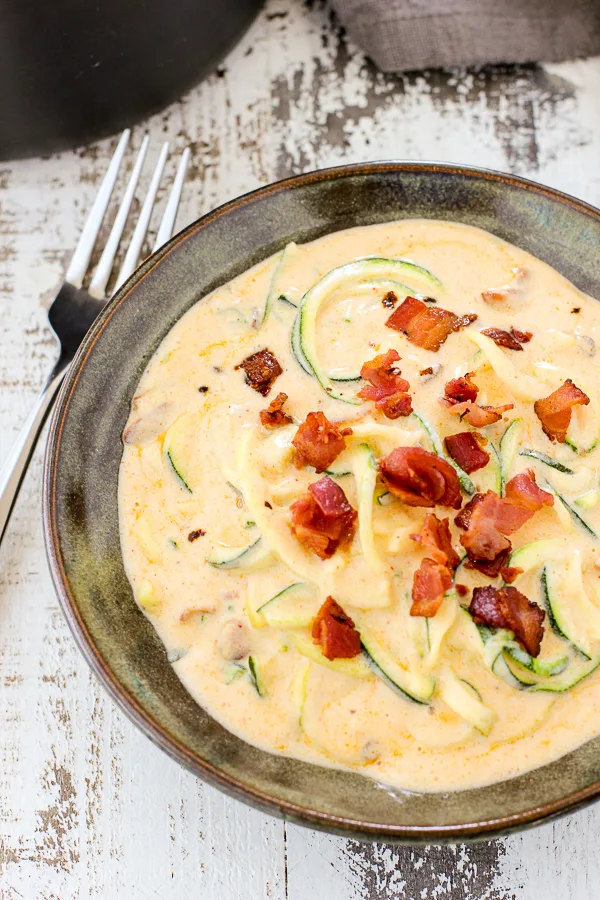 To give this mac and cheese it's smokiness, I added some bacon to the mix. Then to further enhance that flavor, I sautéed some garlic in the bacon fat and added a little smoked paprika. The result was absolutely scrumptious!
If you're not eating low carb, here are a few fully carb loaded versions you might want to try:
Easy Stove Top Macaroni and Cheese
Grown Up Gruyere Mac and Cheese
Three Cheese Slow Cooker Macaroni and Cheese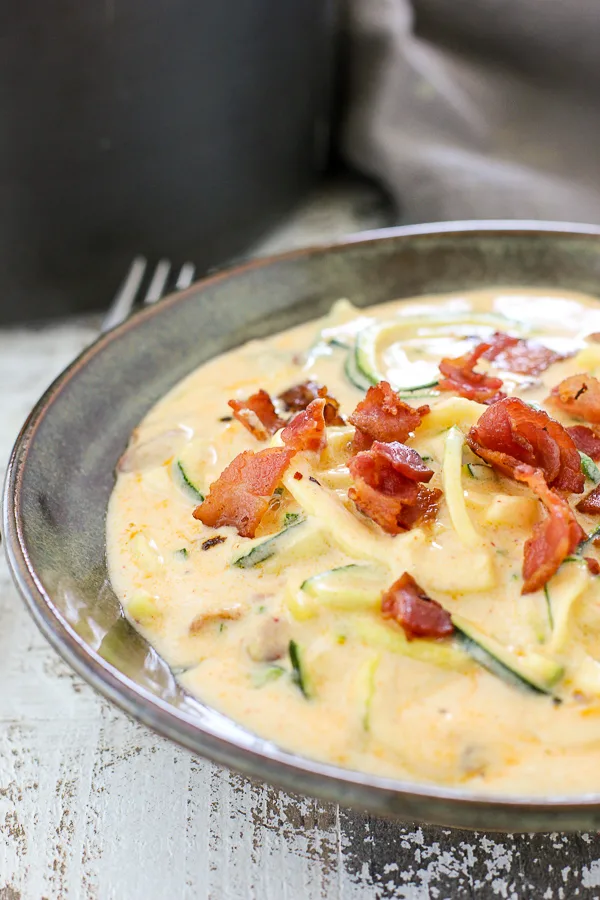 Yield: 6
Low Carb Smoky Mac and Cheese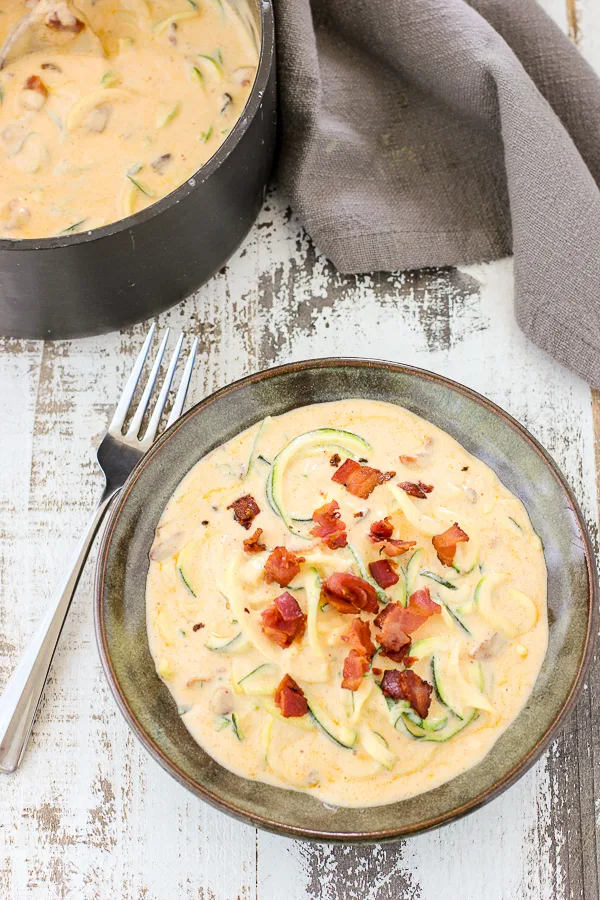 Ingredients
8 slices bacon
2 tbsp bacon fat
1 clove garlic
1/2 tsp ground mustard
1 tsp smoked paprika
3 cups half and half
1 1/4 cups shredded sharp cheddar cheese
1 1/2 cups shredded swiss
1 tsp salt
4 medium zucchini, spiralized or shredded
Instructions
Cut bacon crosswise into 1/2 inch strips
In a medium skillet, fry bacon until crispy.
Remove bacon from skillet and reserve 2 tsp bacon fat.
Spoon bacon fat into a 3 quart saucepan.
Add garlic and sauté over medium low heat for about 1 minute, until garlic is fragrant.
Whisk ground mustard and smoked paprika into the pan.
Add half and half and bring to a simmer over medium heat.
Turn heat off and remove pan from burner.
Gradually whisk in cheeses a little at a time, allowing each addition to melt.
Stir in salt.
Stir in zucchini and half of the bacon.
Serve immediately topped with the remaining bacon.
ENJOY!