Thai Peanut Chicken Skewers with Crunchy Slaw Salad are fresh, healthy and full of rich flavor that comes from a spicy peanut sauce and a tangy lime vinaigrette.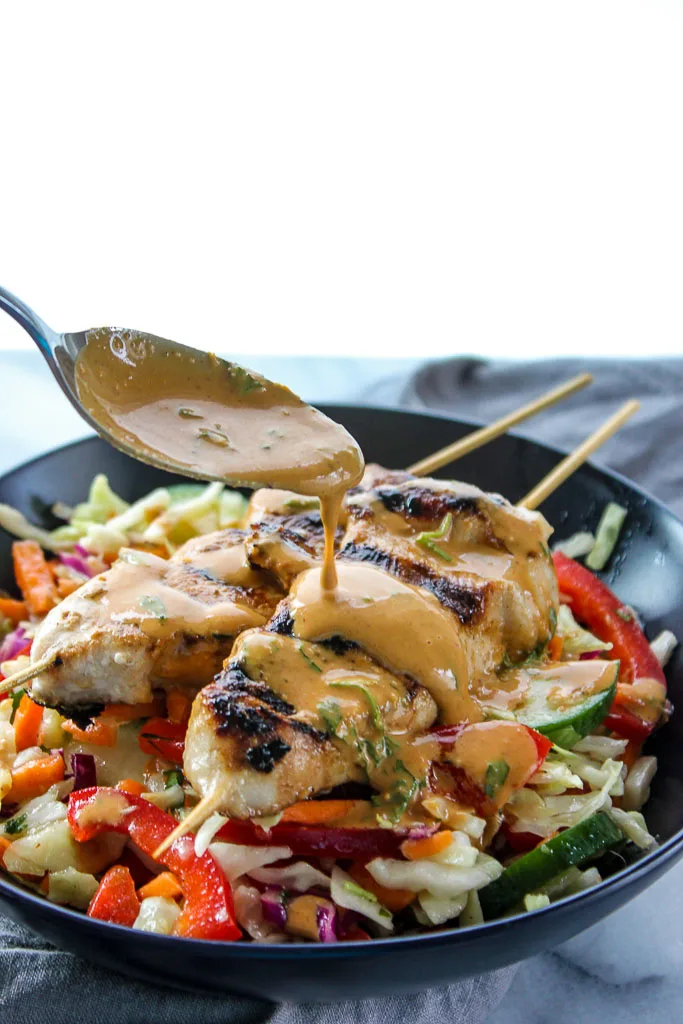 Easy, fresh, delicious, healthy, a little spicy, crunchy…..yep…..that pretty much sums up these Thai chicken skewers with crunchy slaw salad. This chicken definitely has it going on and it's a meal that's easy enough to make any night of the week. And trust me, you're going to want to make this one often.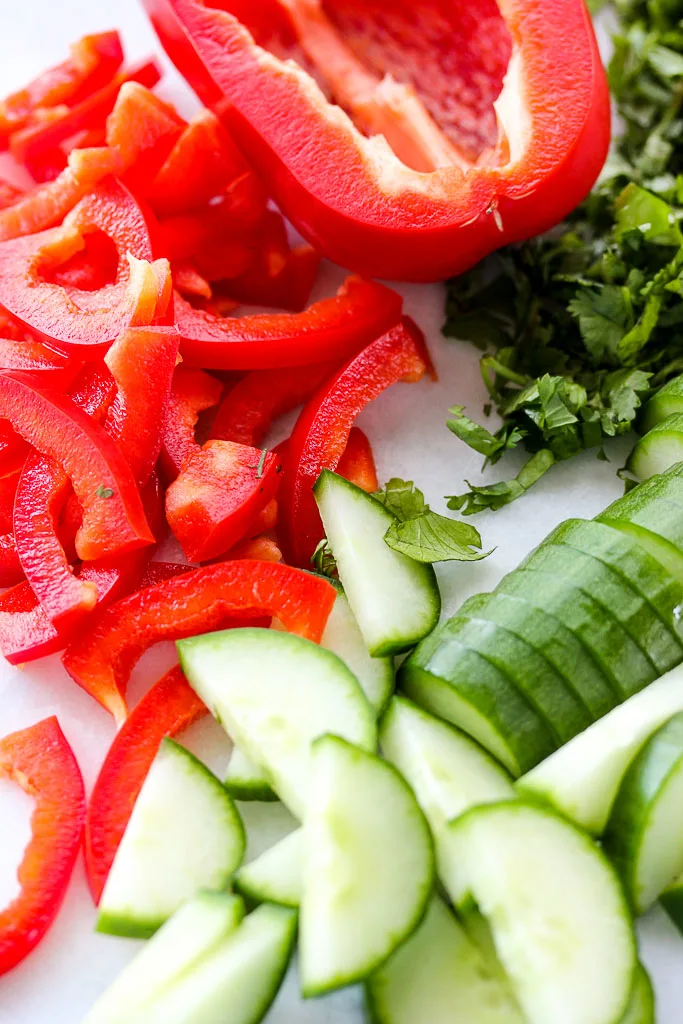 This meal starts with a simple lime vinaigrette. The chicken gets a quick soak in a bit of the vinaigrette and the rest goes to dress the slaw salad. You'll see in the ingredient list that there's a tiny bit of fish sauce in the vinaigrette. Don't be afraid afraid of it (I definitely used to be). I know it doesn't seem to be the most appealing ingredient, but it adds a wonderful depth of flavor to the dressing. It really doesn't add a fishy flavor, I promise.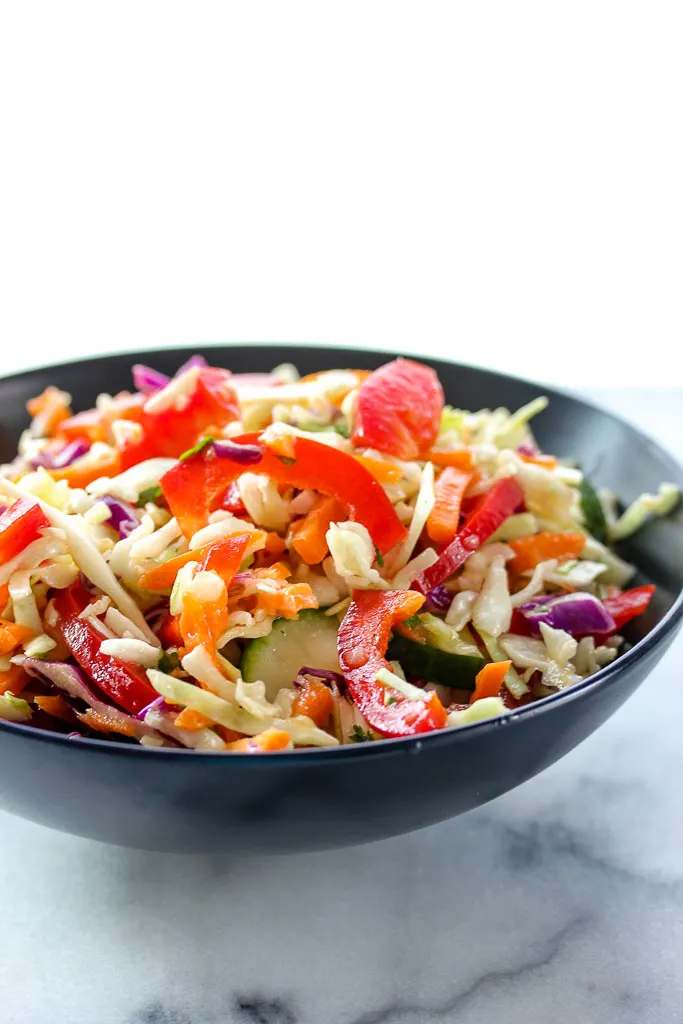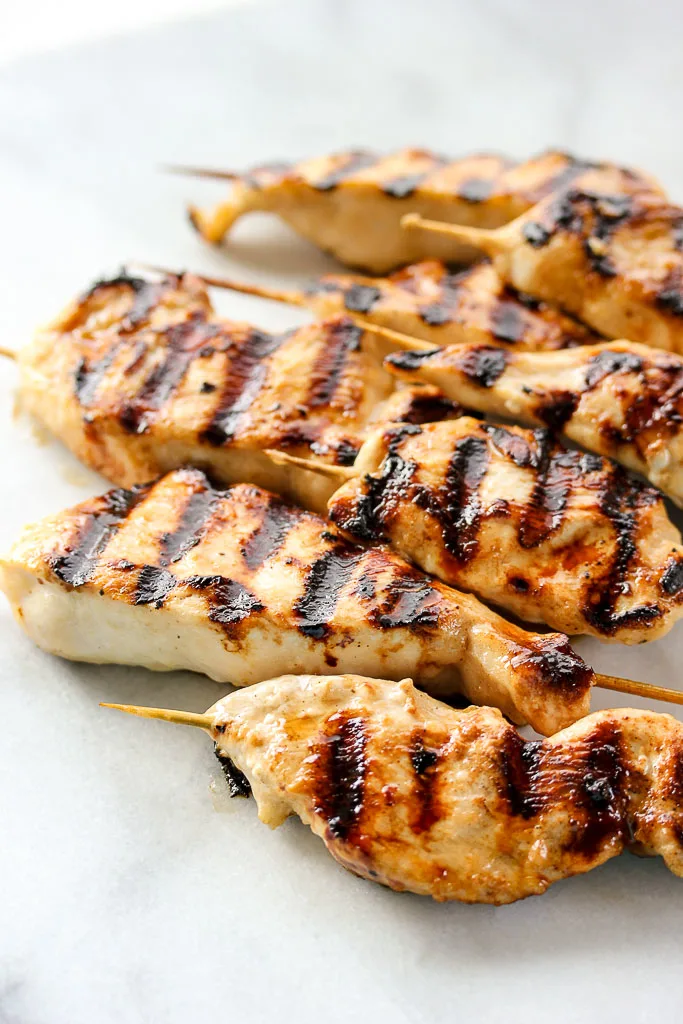 After the chicken gets a chance to hang out in that delicious vinaigrette, it gets grilled up in no time. Then you're going to want to generously drizzle the chicken skewers and the slaw salad with the spicy peanut sauce. It takes almost no time to make this flavorful sauce and it's really what sends this meal over the top, it's.so.good.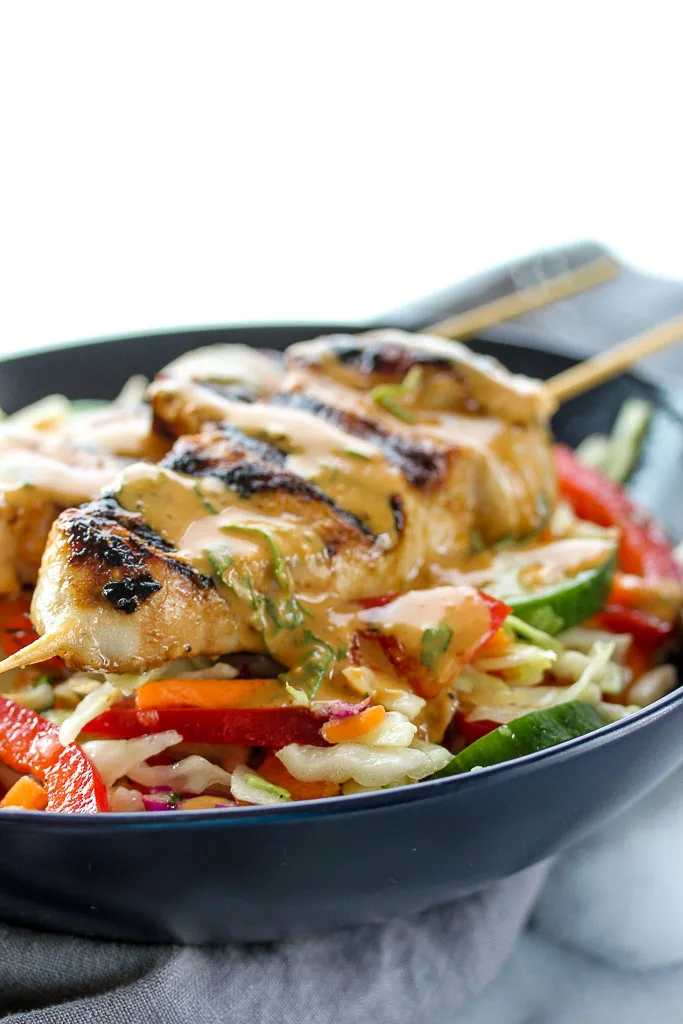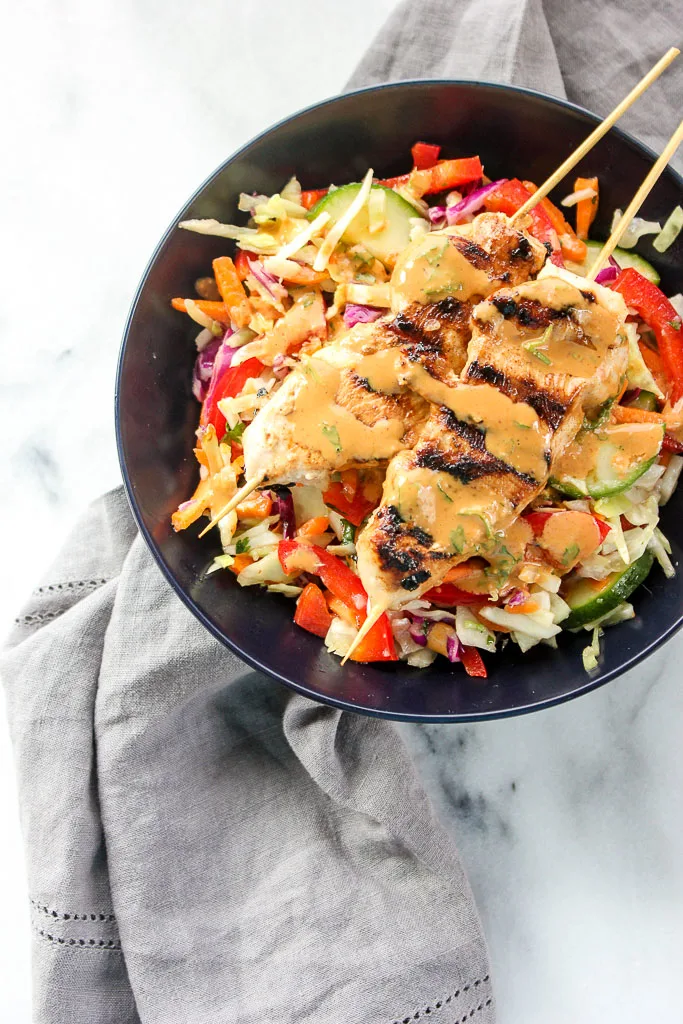 Yield: 4
Thai Peanut Chicken Skewers with Crunchy Slaw Salad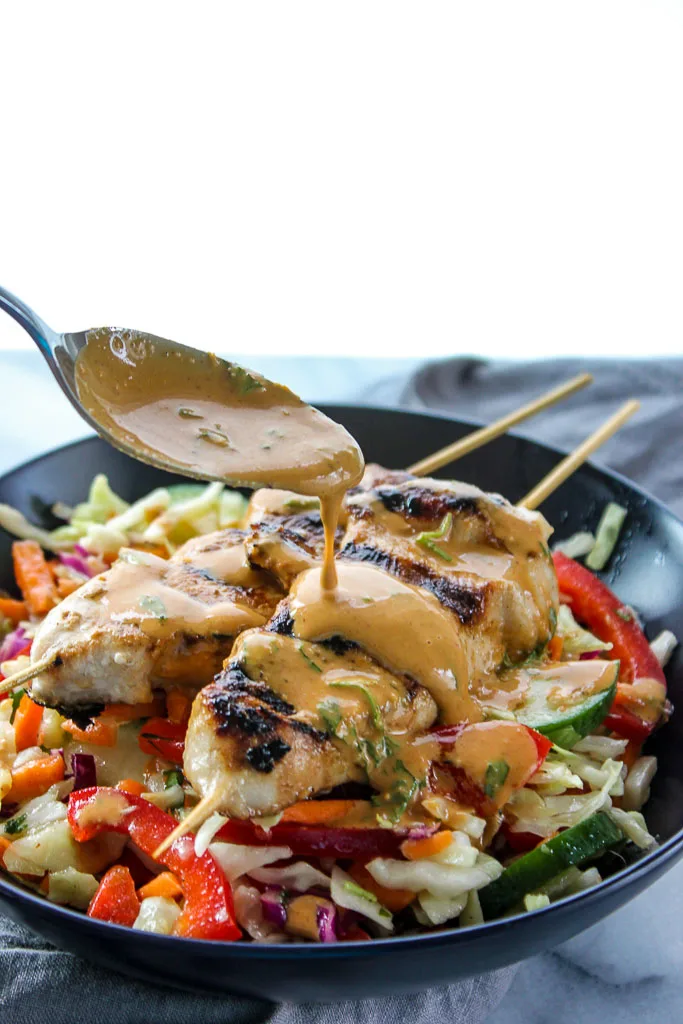 Ingredients
1/4 cup fresh squeezed lime juice (about 1 1/2 juicy limes) plus juice from an additional lime, divided
1 tbsp ginger paste
4 tbsp low sodium soy sauce, divided
1 tsp honey
2 cloves garlic, grated, divided
3/4 tsp black pepper, divided
1/2 cup peanut oil (can sub vegetable oil)
1 lb boneless chicken breasts
1 (14oz) package cole slaw mix (no dressing)
1 red bell pepper, thinly sliced
1/3 large English cucumber, cut lengthwise and then into half moon slices
3 tbsp cilantro, finely chopped, divided
1/4 cup peanut butter (I recommend natural, sugar free)
1 tbsp sriracha
wood skewers
Instructions
Whisk together 1/4 cup lime juice, ginger paste, 1 tbsp soy sauce, honey, 1 grated garlic clove, set aside.
Slowly whisk in peanut oil until fully incorporated.
Remove 1/2 cup dressing and set aside.
Slice chicken breasts lengthwise into strips.
Place chicken in a bowl or ziplock bag and cover with 1/2 cup of the lime vinaigrette.
Refrigerate chicken and let it marinate while you prepare the salad an the peanut sauce.
In a large bowl, combine cole slaw mix, red pepper, cucumber and 1 tbsp cilantro.
Toss with remaining lime vinaigrette.
In a small bowl, whisk together peanut butter, juice from remaining lime, 3 tbsp soy sauce, sriracha, 1 clove grated garlic, 1/4 tsp pepper and remaining cilantro.
Heat a grill pan (or the outdoor grill) over medium high heat.
Meanwhile, skewer each chicken strip lengthwise.
Grill chicken for 3-4 minutes per side, until cooked through.
Serve chicken on top of slaw salad and drizzle with peanut sauce.
Notes
A 1/2 cup of the dressing is enough to marinade up to 2 lbs of chicken if you want to increase the quantity of this recipe.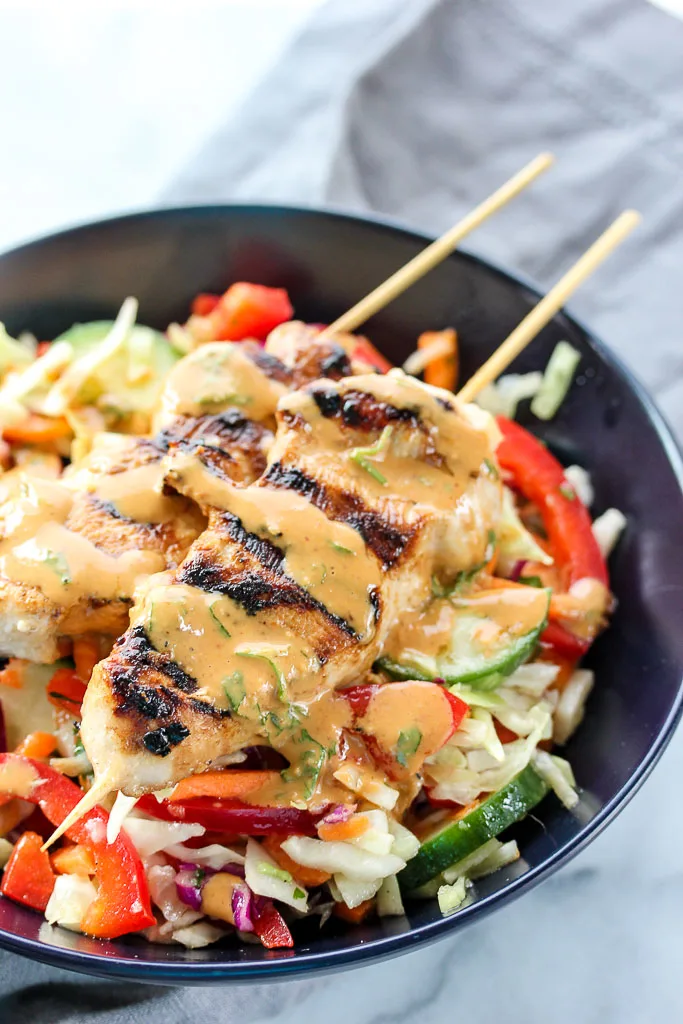 ENJOY!
Shared at: