Both low carb and gluten free, as well as full of delicious, tangy flavor, makes this Pistachio Crusted Baked Chicken with Lemon Dill Vinaigrette a winner, winner chicken dinner.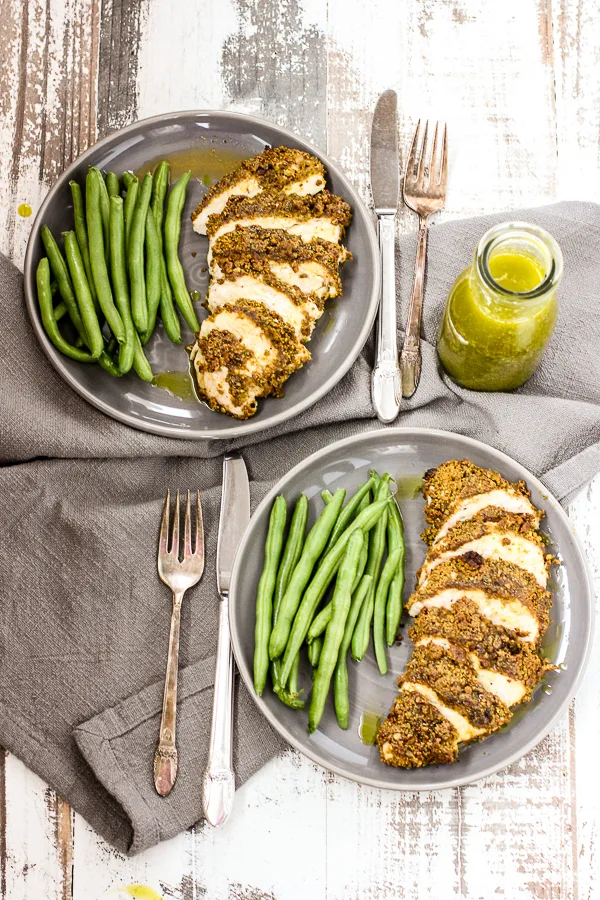 Pistachios are a newly discovered snack for me. It's not that I didn't like them, it's just not a food that I've given a lot of thought to. Then one day, while doing a Costco run, they were sampling shelled pistachios and of course I had to give them a try.
As soon as I tried them, I thought to myself, "why have pistachios not been in my life?!" I quickly picked up a bag and threw it in my cart. I've been happily snacking my way through the bag ever since.
But of course, I couldn't just leave it at that. If pistachios are great for snacking, they must also be great for cooking, right? So my wheels started turning. Since we're doing the low carb thing at my house, using them as a "breading" seemed like a great idea.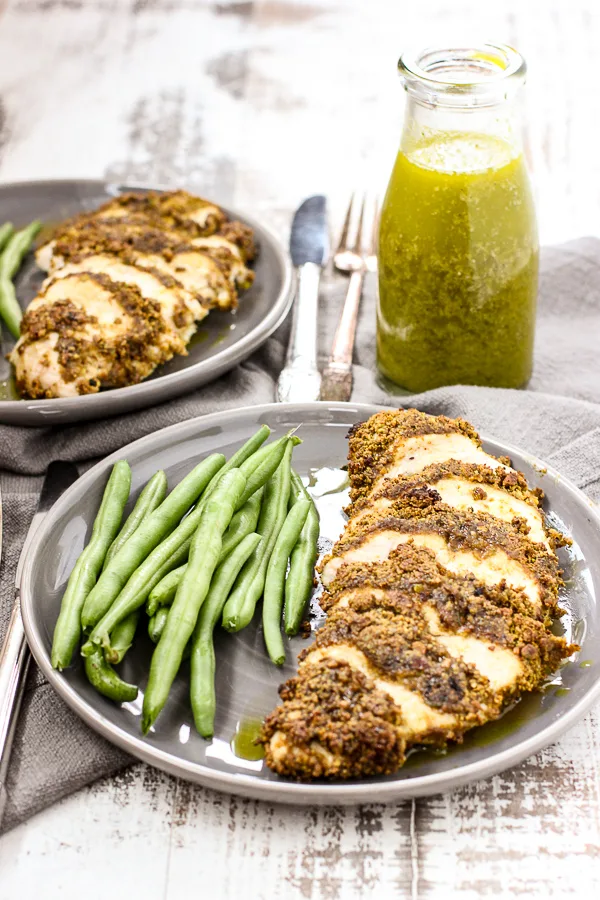 Which led me to pistachio crusted baked chicken, because breaded chicken is awesome. Why not grind up some pistachios, along with herbs and lemon zest to create a wonderful low carb, gluten free "breading"? Then to keep things extra healthy, they're baked. But don't worry, they're still full of amazing flavor.
The chicken stays nice and juicy and the pistachios form a nice crispy crust. But I couldn't leave it there. The chicken was begging for some kind of sauce to drizzle over the top. So I whipped up a super quick (like 1 minute) lemon dill vinaigrette. It compliments the lemon zest and dill in the coating perfectly and elevates this chicken to a company worthy meal.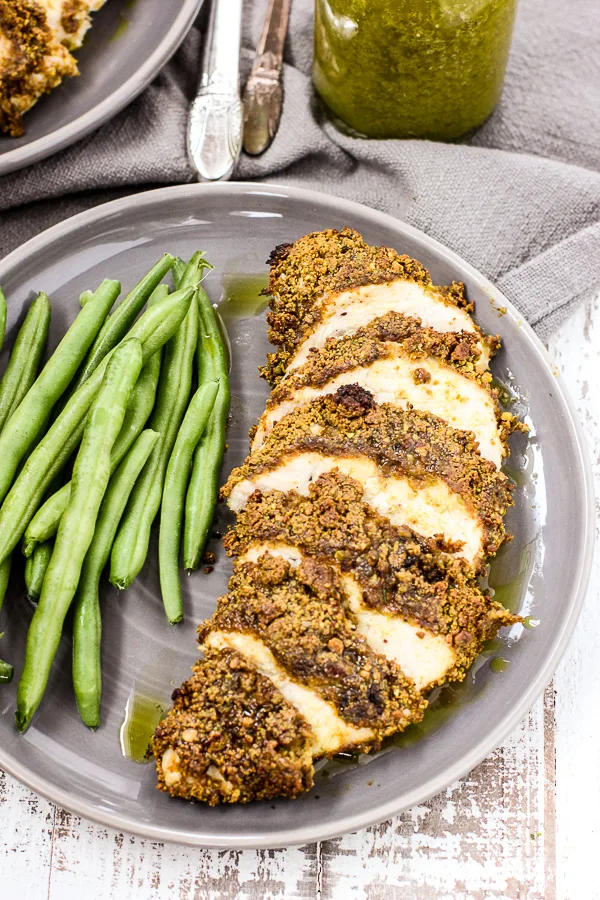 Yield: 4
Pistachio Crusted Baked Chicken with Lemon Dill Vinaigrette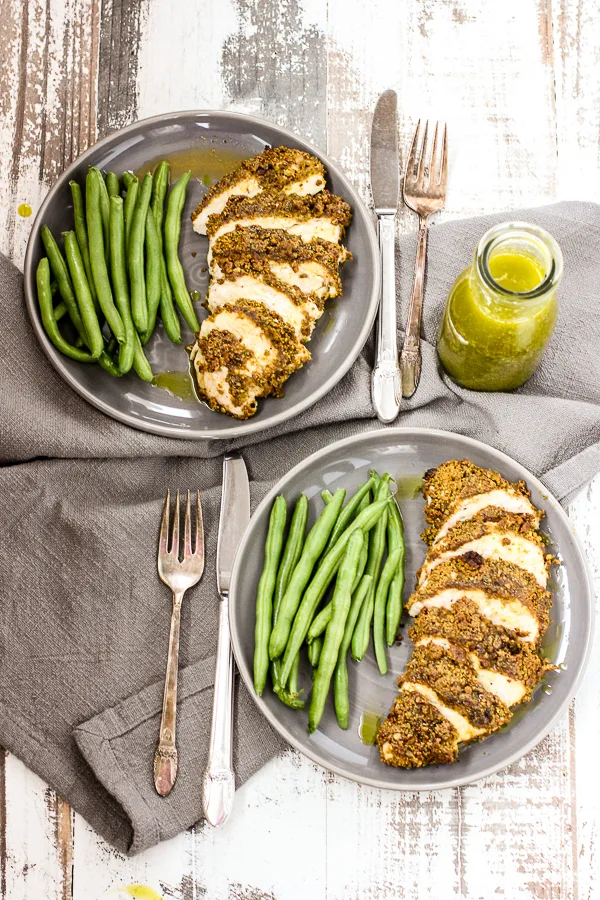 Ingredients
For chicken:
1 cup shelled salted pistachios
1 tbsp fresh dill
1 tbsp fresh parsley
zest of 1/2 lemon
1 egg
splash of water or milk
4 boneless chicken breasts
For vinaigrette:
juice of 1 lemon
3/4 cup olive oil
2 tbsp fresh dill
2 tbsp fresh parsley
1/2 tsp salt
1/4 tsp pepper
Instructions
For chicken:
Preheat oven to 425.
Combine pistachios,1 tbsp dill, 1 tbsp parsley and lemon zest in a food processer or blender.
Blend until pistachios are finely ground.
Transfer mixture to a shallow dish.
Whisk egg and water or milk together in a shallow dish.
Dip each chicken breast in the egg mixture and then the pistachio mixture, pressing to make sure the mixture adheres to the chicken.
Place chicken on a baking sheet lined with parchment paper.
Bake chicken for 30 minutes, until no longer pink.
For vinaigrette:
Combine lemon juice, olive oil, 2 tbsp dill, 2 tbsp parsley, salt and pepper in a blender.
Blend until mixture has emulsified.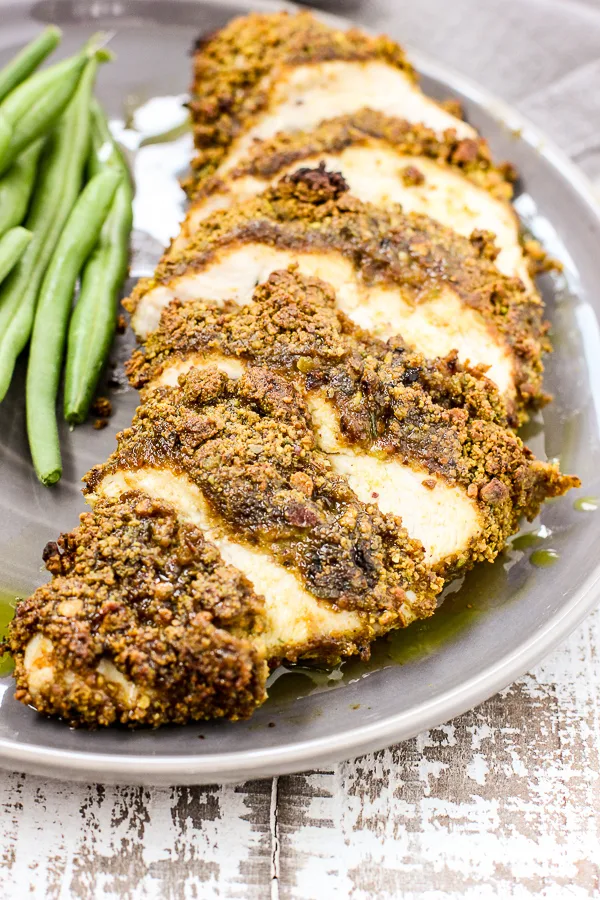 ENJOY!
SaveSave
SaveSave
SaveSave