Shredded beef green chile enchiladas have to be one of my favorite styles of enchiladas. The shredded beef, melted cheese, flour tortillas all seem to make each other better. The green chiles have a bit of spice but don't overwhelm you with heat.
When you get right down to it… Shredded beef green chile enchiladas are Mexican comfort food. Easy to make and eternally tasty, shredded beef green chile enchiladas truly hit the spot.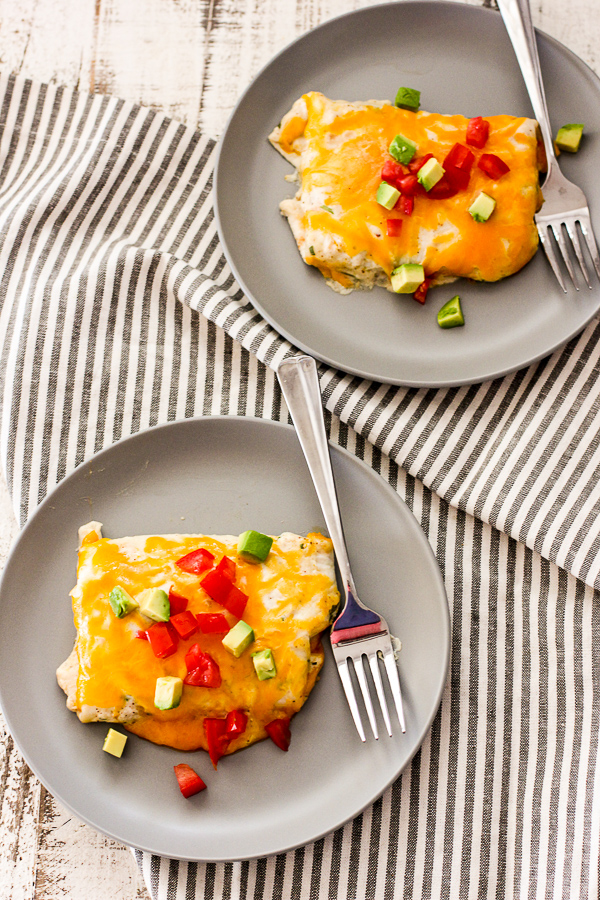 Shredded Beef Green Chile Enchiladas, The Mexican Comfort Food
The shredded pot roast style beef combines with some green chopped up chiles a creamy green chile sauce and shredded cheddar cheese, then you roll that into flour tortillas. Put some cheese and more creamy enchilada sauce over the top to dress it up. .
Bake them until the cheese bakes to a golden brown on top – similar to putting cheese on top of a lasagna to bake a nice cheesy crust over the top. Let the color of the cheese on top be your guide to when everything is ready.
If the cheese browns a bit, but not burns, then you are set to serve!
Since the beef is already cooked, this heats up ready to eat fast. Better yet, you can cool it down plenty fast and freeze it for later. They taste great on the reheated side of the equation!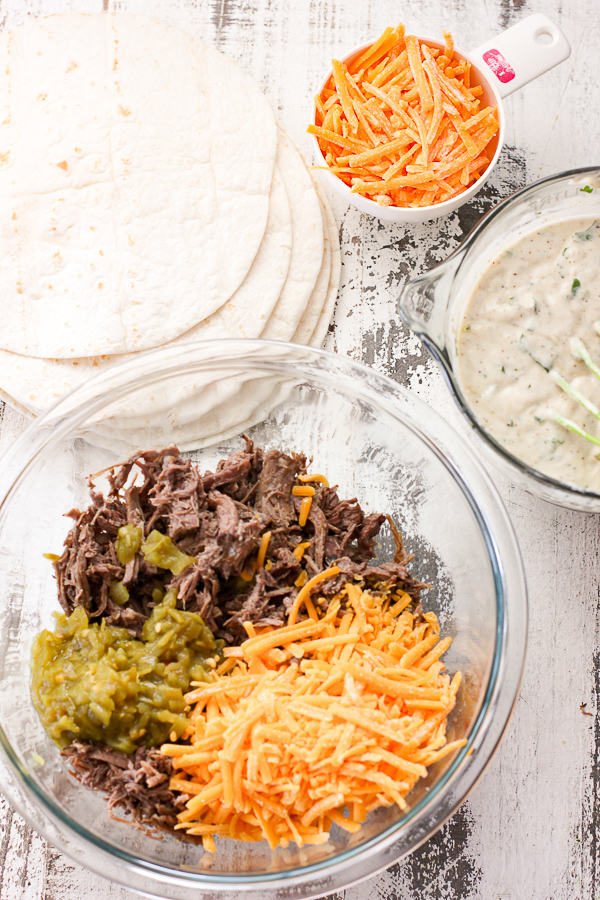 Making shredded beef
The good news is the types of cuts you use for shredded beef also happen to be the cheaper cuts. The reason for this? The cheaper cuts like brisket, round roast, rump roast, and chuck roast all have longer muscle fibers.
Now those cuts tend to be tough and fibrous, but cooked long enough you can break them up with a fork. Those long shreds work the best for shredded beef green chili enchiladas!
When it comes to preparing the beef, you can either slow roast in a pan, use a crock pot, or a pressure cooker like a Quick Pot. Obviously that goes the fastest but the other options work great too.
Just make sure to use some liquids in a pot if you go with oven roasting the beef. You don't want the beef to dry out when you cook it. You want the fats to liquify and add flavor. You also want the connective tissues to break down.
When is the beef ready to shred?
When the meat is tender enough to break it down with a fork easily, it is ready to go!
Also, feel free to season the meat when you roast, slow cook, or pressure cook it. You can add a lot of flavor to the meat itself by using some carrots, celery, onions, garlic, and even some chili peppers to season the meat.
Well seasoned meat will add another depth of flavor and will also help keep the meat more tender as it cooks.
I sometimes us a can of beer or some beef or mushroom stock to use for liquids for the meat to cook in.
Handy tip… don't just toss out your liquids from cooking the meat. You can strain the fat off and use the remaining liquids for a stock or to make a hearty beef gravy with for another meal.
If you have extra shredded beef then be sure to freeze it in a good airtight container. It will keep for a few weeks until you are ready to use it in another batch of shredded beef green chili enchiladas or any other shredded beef recipes.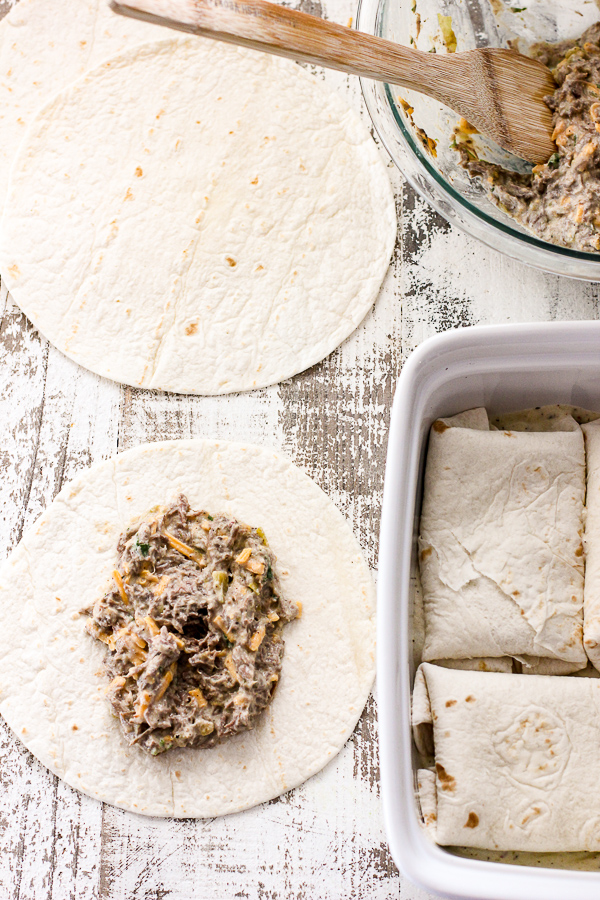 What type of green chilis to use?
There are a few types of canned green chilies to use. Understanding the difference is important because they have various heat levels. Knowing the difference makes all the difference between having a five alarm fire and having a tasty bite with a bit of bite to it.
Hatch chilies tend to be the best for most palates. These are the most popular chilies for use in Tex-Mex style cuisine. Hatch are very popular in New Mexico and you can find them pretty easily these days in cans or fresh in the produce section.
Canned green chilis tend to be Anaheim or Hatch Chilies
One reason hatch chilies and or green chilies work great is they have heat but not too much. It kind of feels like they are going to get too hot. But, right at that critical turning point where it is too much the heat dies down.
You won't be afraid to take the next bite!
Other than that, the most popular canned green chilis are jalapenos. These are way hotter than the more mild canned green chilies.
I suggest offering the best of both worlds so people have a choice. Cook with the more mild canned green chilies, but set the jalapenos on the side. Let people that want more heat add those themselves on top.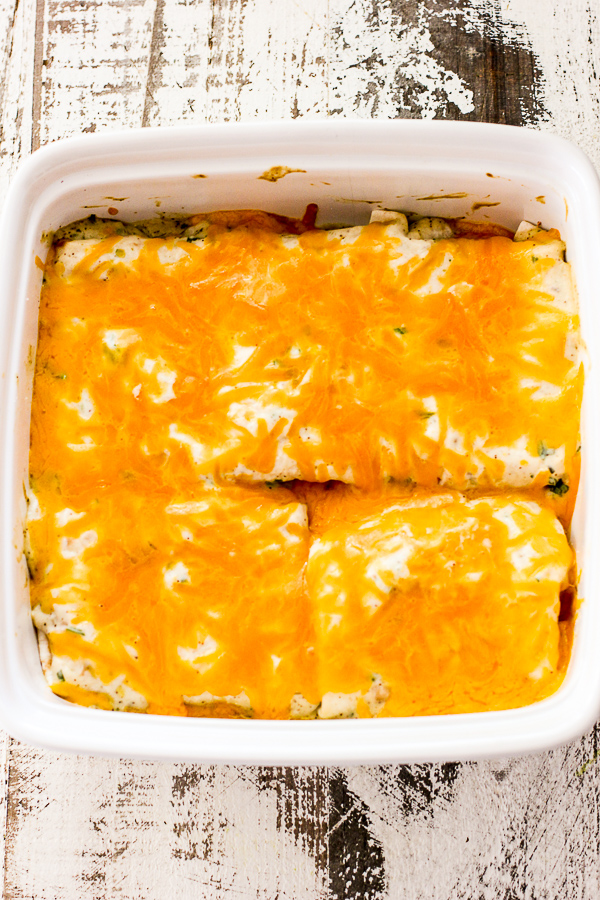 What other enchilada recipes do you have?
I love enchiladas and have a couple other recipes you can enjoy. Try some other versions of this classic Tex-Mex dish!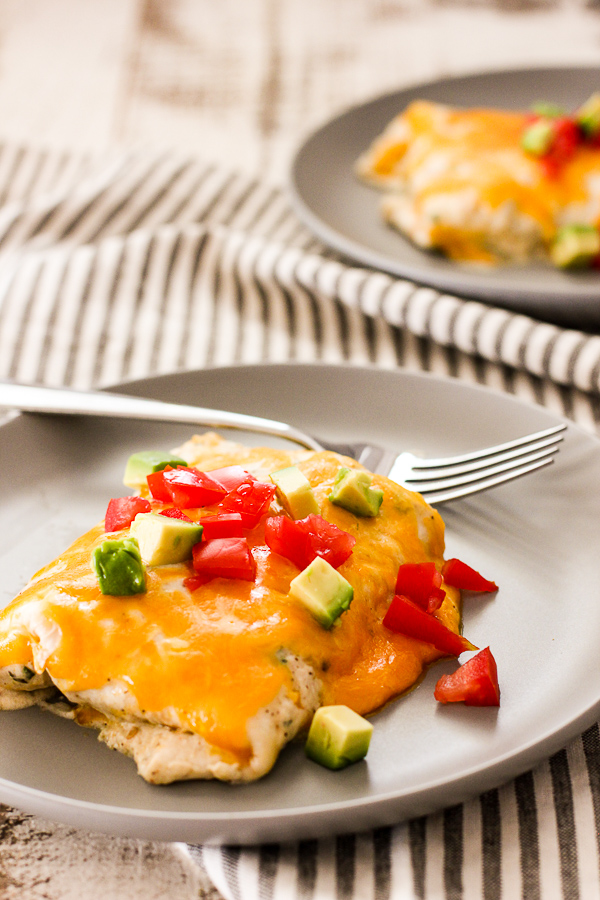 Enjoy your shredded beef green chili enchiladas!
I hope you like this recipe. You can also serve with some side condiments like hot sauce, sour cream, chopped onions, and salsa.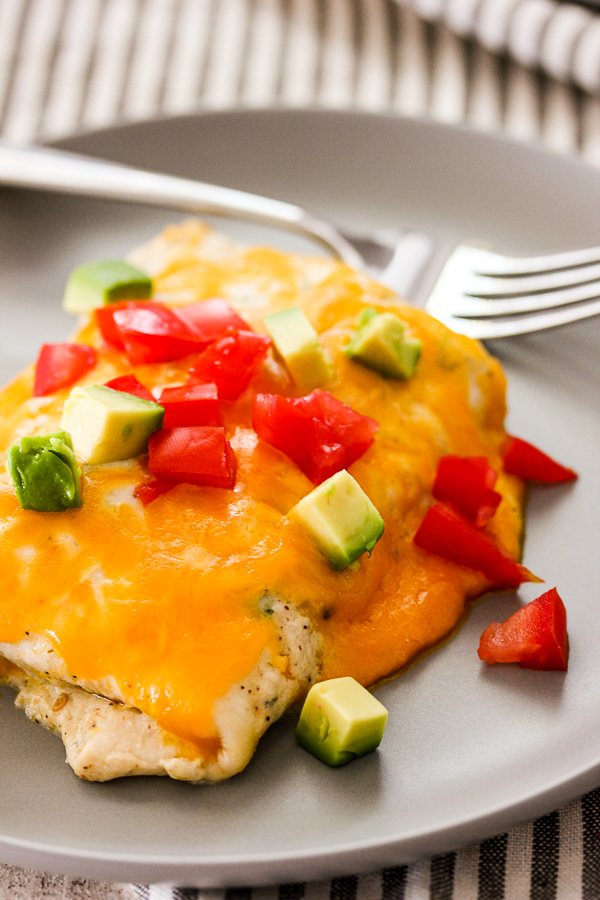 Yield: 10 servings
Shredded Beef Green Chile Enchiladas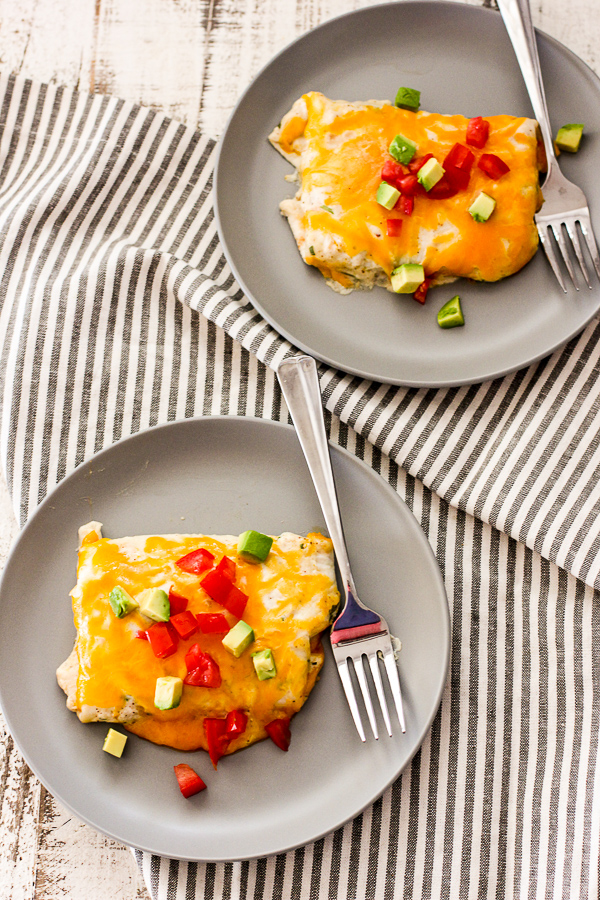 Shredded beef green chile enchiladas, a wonderful Mexican inspired comfort food that combines shredded beef and green chiles with easy to roll tortillas.
Total Time
6 hours
45 minutes
Ingredients
1 (3lb) chuck roast
1 pkg taco seasoning
1 cup beer
2 (10 oz) cans green enchilada sauce
3/4 tsp garlic powder
1/2 tbsp chili powder
1/2 tsp black pepper
1/4 tsp salt
8 oz sour cream
1 (4 oz) can green chilies
2 cups shredded sharp cheddar cheese, divided
10 (8 inch) flour tortillas
Optional toppings, diced tomatoes, green onion, avocado, additional sour cream
Instructions
Generously sprinkle roast on both sides with taco seasoning.
Place is slow cooker and pour beer over the top.
Cook on high for 5-6 hours until very tender.
Once tender, shred beef with two fork, right in the slow cooker so that it mixes in with the liquid.
Preheat oven to 350 degrees.
In a medium mixing bowl, combine enchilada sauce, garlic powder, chili powder, black pepper, salt and sour cream.
Remove half of the sauce to another mixing bowl and stir in the shredded beef, green chilies and 1 cup of the cheese.
Take half of the remaining sauce mixture and spread in the bottom of a 9×13 inch baking dish that's been coated with cooking spray.
Divide chicken mixture between the tortillas, about half a cup in each, spread down the middle.
Wrap each tortilla up by folding in the sides and then rolling up. Set each seam side down in baking dish.
Spread remaining sauce over the top of the tortillas and sprinkle the remaining 1 cup of cheese on top.
Cover tightly with foil and bake in preheated over for 30 minutes.
Top with desired toppings and serve
Notes
These enchiladas can be assembled ahead of time and refrigerated for 2 days or frozen for up to 3 months. Bring to room temperature when ready to bake and bake accoding to instructions.
Nutrition Information:
Yield:
10
Serving Size:
1
Amount Per Serving:
Calories:

328
Total Fat:

25g
Saturated Fat:

12g
Trans Fat:

1g
Unsaturated Fat:

9g
Cholesterol:

69mg
Sodium:

481mg
Carbohydrates:

10g
Fiber:

2g
Sugar:

2g
Protein:

16g