I have been having a very….hmm….let's say interesting week. Last weekend we went up to our cabin for what we hoped would be a fun and relaxing weekend. And it was….until Sunday night. There had been a lot of rain in the area over the past week and I mean A LOT…something like 10 inches. So the ground had become extremely saturated and our basement started to flood. We discovered the problem about 9:00 Sunday evening. It started in the bathroom, moved into the bedrooms and by morning almost the entire basement had 1-2 inches of water.
First thing Monday morning we called Service Master and Steve started sucking up water as best he could with his little 8 gallon wet vac. We soon realized that we weren't going to be able to go home Monday evening as we had planned. So the kids went home and we stayed to deal with the mess. Since then, I've been doing countless loads of laundry to wash all of the bedding that had been downstairs and had gotten wet or damp and we've been waiting for the water to stop flowing in so that Service Master can come back and finish getting all of the water out and dried up.
So here we are on Wednesday and I'm still up at the cabin. I think we will finally be able to go home tonight, as long as nothing unexpected happens today.
Last night I was getting tired of all of the basement issues and I really just wanted to cook and I wanted to cook something blog worthy. I mean, I haven't written a post now since last week and I was really starting to miss that. So I did some thinking and decided to make a breaded chicken breast and basically top it with a caprese salad. I have to say, it was fabulous. Steve usually doesn't gush over food, I mean, he likes what I make, but he'll say it's good once and that's it. Well, I think he told me at least three times how much he liked this chicken. So I hope you'll give it a try, it's easy to make, too!
Caprese Chicken
2 boneless skinless chicken breast (about 8 oz each)
2 eggs
1/2 cup flour
1 1/2 to 2 cups Italian seasoned panko bread crumbs
3/4 cup balsamic vinegar
1 tbsp agave nectar (or sugar)
olive oil
1 tomato, cut into 8 thin slices
8 oz fresh mozzerella, cut into 8 thin slices
about 1/3 cup fresh basil, chopped
salt and pepper
Put balsamic and agave or sugar in a small saucepan over medium low heat. Let reduce down until it has thickened into a syrup. This will take about 20 minutes. Cut each chicken breast in half, lengthwise. Put in a gallon size ziploc bag or between two sheets of plastic wrap, two at a time. With a mallet or small fry pan, pound chicken out until it is a uniform thickness.
Take three shallow bowls or plates (I used disposable foam plates) and beat the eggs and put in one and the flour and breadcrumbs in the other two. Dip the chicken in the flour first, then the eggs and finally the breadcrumbs, making sure each piece is well coated with the breadcrumbs. Set aside on a plate.
Heat about 3 tbsp olive oil (enough to coat the bottom of the pan) in a large skillet over medium high heat. Saute the chicken for 2 to 3 minutes per side, until golden brown. It cooks up quickly because the chicken is so thin.
Put cooked chicken on a cookie sheet. Top each piece of chicken with 2 slices of tomato and 2 slices of cheese. Put under a hot broiler until cheese is melted and starting to brown. Watch carefully, it goes quickly!
Once cheese is melted, drizzle each chicken breast with olive oil and the balsamic reduction. Sprinkle with the chopped basil, salt and pepper. Serve immediately.
ENJOY!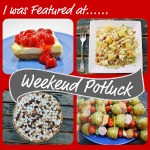 Shared at these great blogs: