I want to let you all know that I'll be taking a little blogging vacation, because for the next 10 days I'll be on a vacation with my family. We'll be flying out to Washington DC tomorrow for a few days and then we're taking the train up to New York City to spend the rest of our vacation seeing the sights there. We've got some really fun things planned, like a tour of the White House and tickets to a Broadway musical. I've never been to either city, so I'm really looking forward to seeing all the sights for the first time. And of course, I'm looking forward to some great food experiences!
When I get back from vacation, I'll be back into blogging….full speed ahead and I've already got some great things planned to share with you! My kitchen renovation is finally all finished, so I'll be sharing all the after photos with you, plus I have a book review, a delicious salad and some of the adventures from my trip.
Before I leave, I want to share this fabulous tilapia with spicy corn salsa. It's so quick and easy and it's a perfect light meal on a hot summer day. I happened to have some grilled corn leftover and this salsa was the perfect way to use it up and it took almost no time to put together. If you want to make this on a busy weeknight, I would suggest grilling up some corn on the weekend and make sure you make enough to have leftovers.
If you've never grilled corn before, it super easy. Just brush each ear with a little olive oil and grill over medium heat, turning frequently, until the corn starts to char. Then store the leftovers in the fridge until your ready to make the salsa.
Pan Seared Tilapia with Spicy Corn Salsa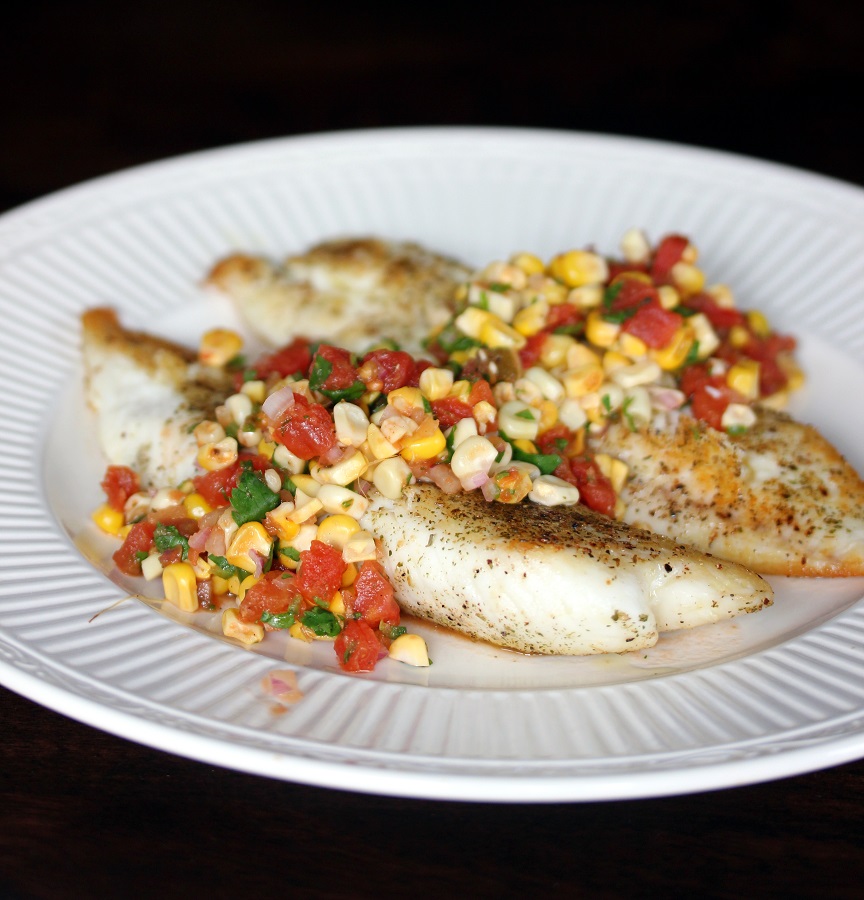 3 ears grilled corn
1/2 small red onion, finely chopped
1 jalapeno, ribs and seeds removed, finely chopped
1 can Red Gold petite diced tomatoes with cilantro and lime, well drained
1/4 cup fresh cilantro, chopped
juice of 1/2 lime
salt and pepper to taste
4 tilapia fillets
2 tbsp olive oil
Cut the corn off of the cobs. Combine in a bowl with onion, jalapeno, tomatoes and cilantro.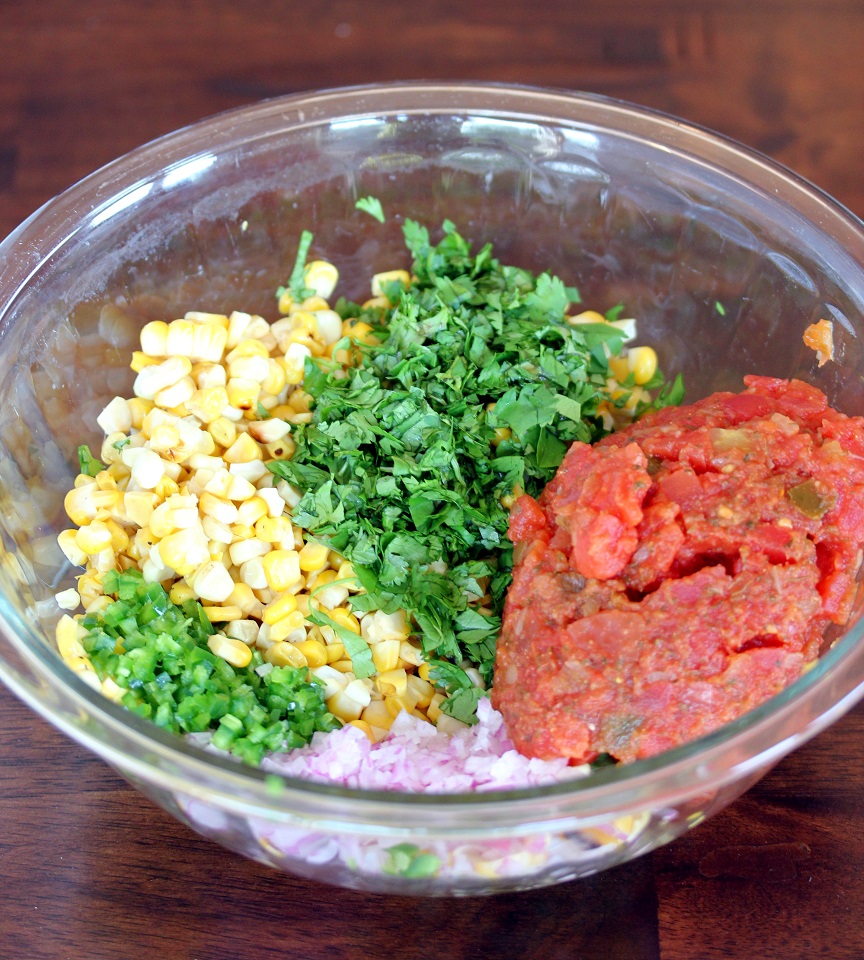 Stir until well combined.
Squeeze lime juice over mixture and sprinkle with salt and pepper to taste, mixing to combine.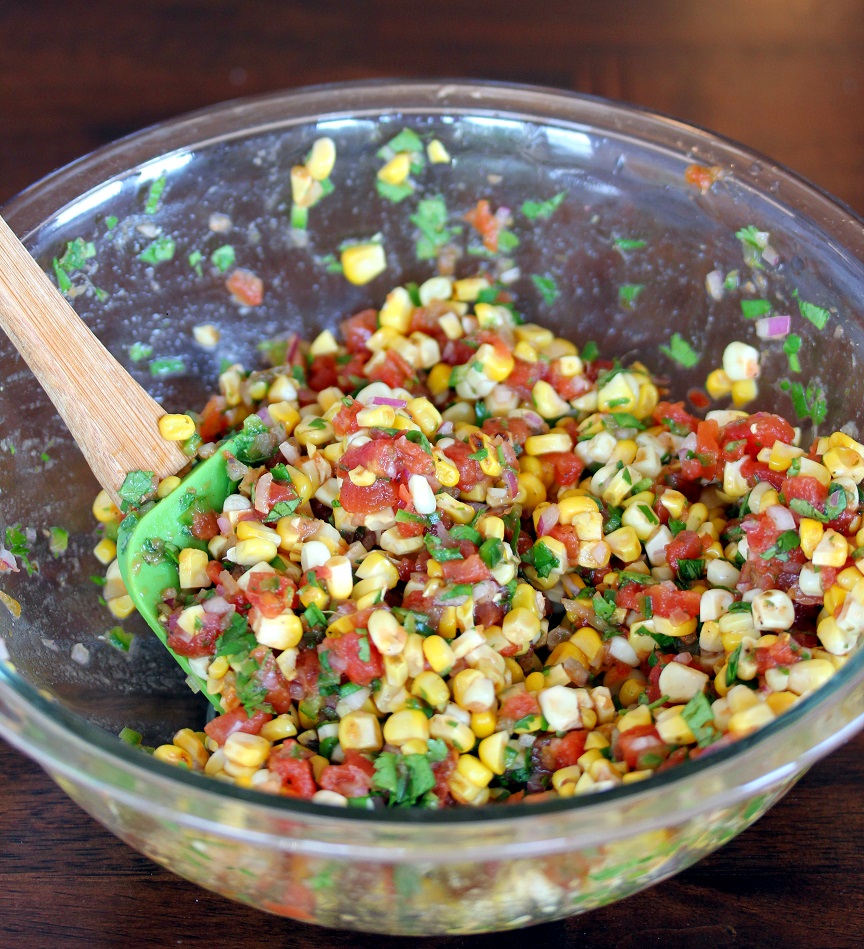 Heat oil in a large skillet over medium high heat.
Add tilapia fillets to the pan and cook for 2-3 minutes per side, until fish is flaky and cooked through.
Top fillets with salsa and serve immediately.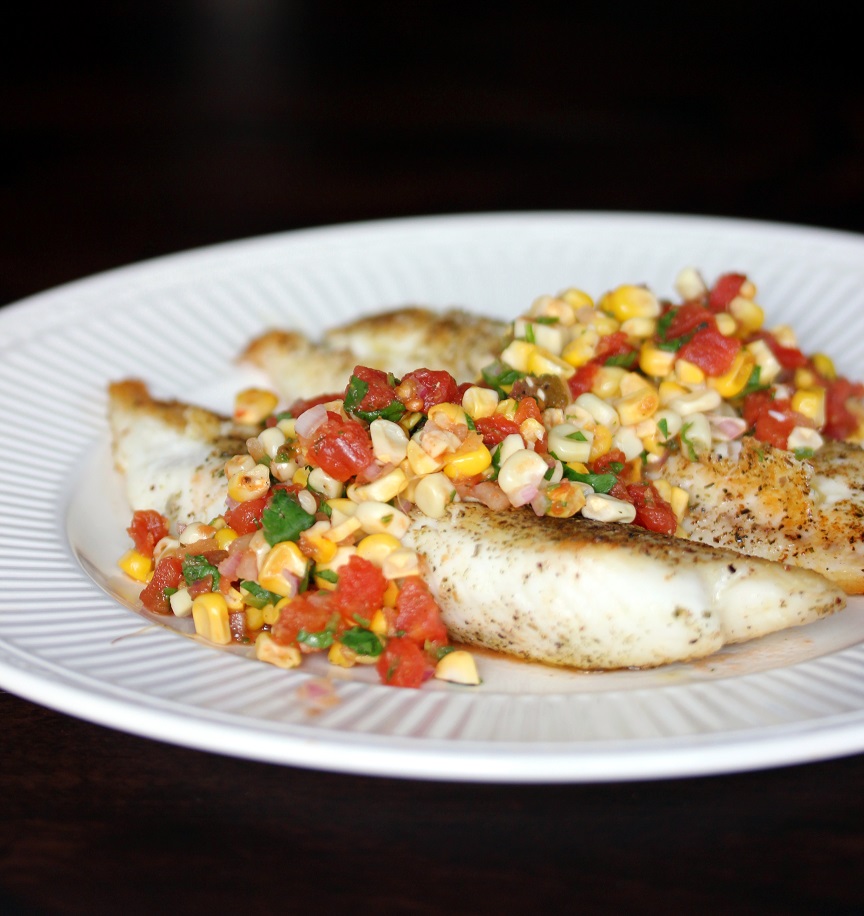 ENJOY!

Share at these great blogs: