Grilled fish taco bowls! They are amazing and I'm not even kidding. It's all the components of a fish taco in a healthy, hearty, dig in with a fork bowl.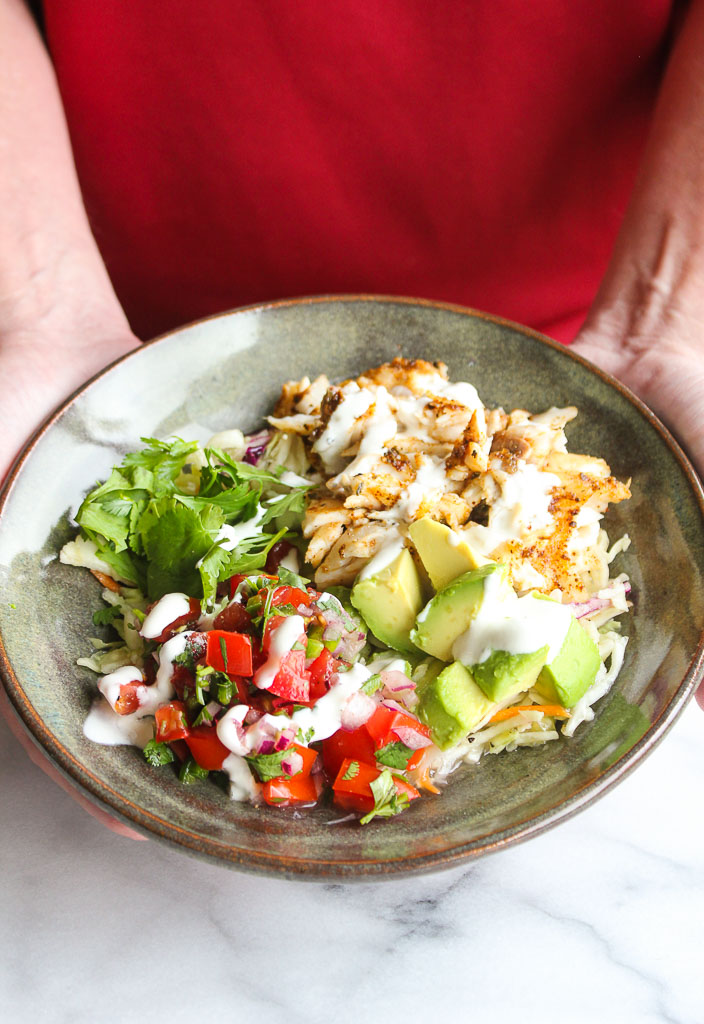 These grilled fish taco bowls start with a bed of shredded cabbage that's been lightly dressed with olive oil and lime juice. Then you put together a quick spice mix that gives the tilapia fillets amazing flavor.
And then there's the Pico de gallo. That's a big part of what make these fish taco bowls extra special.
It's gives the bowls a delicious freshness as well as a little kick from the jalapeño. Chunks of avocado, lots of fresh cilantro and a tangy sour cream sauce complete the package to make these grilled fish taco bowls out of this world.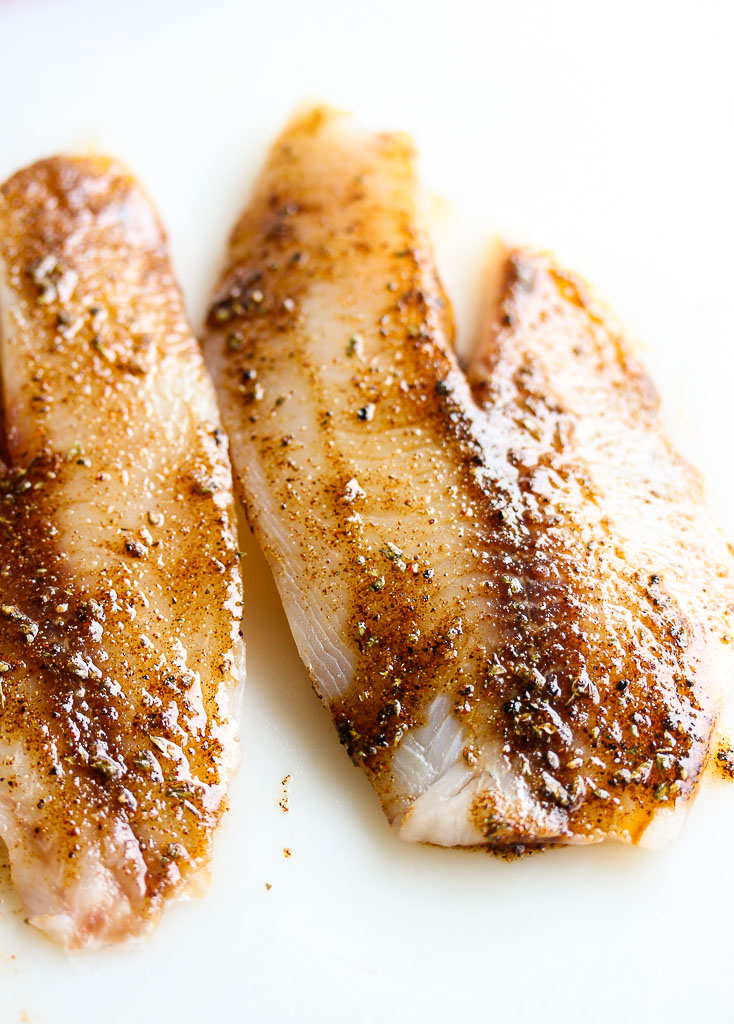 The fish cooks up in literally minutes, so it doesn't take long to get these beautiful bowls on the table. I used a grill pan on the stove, but a skillet would work just as well.
If the weather is cooperating, you can cook these on the outdoor grill. If you do cook them on the grill, I highly recommend that you cook the fish on foil, so it doesn't end up going through the grates if it starts to break up (tilapia is very delicate).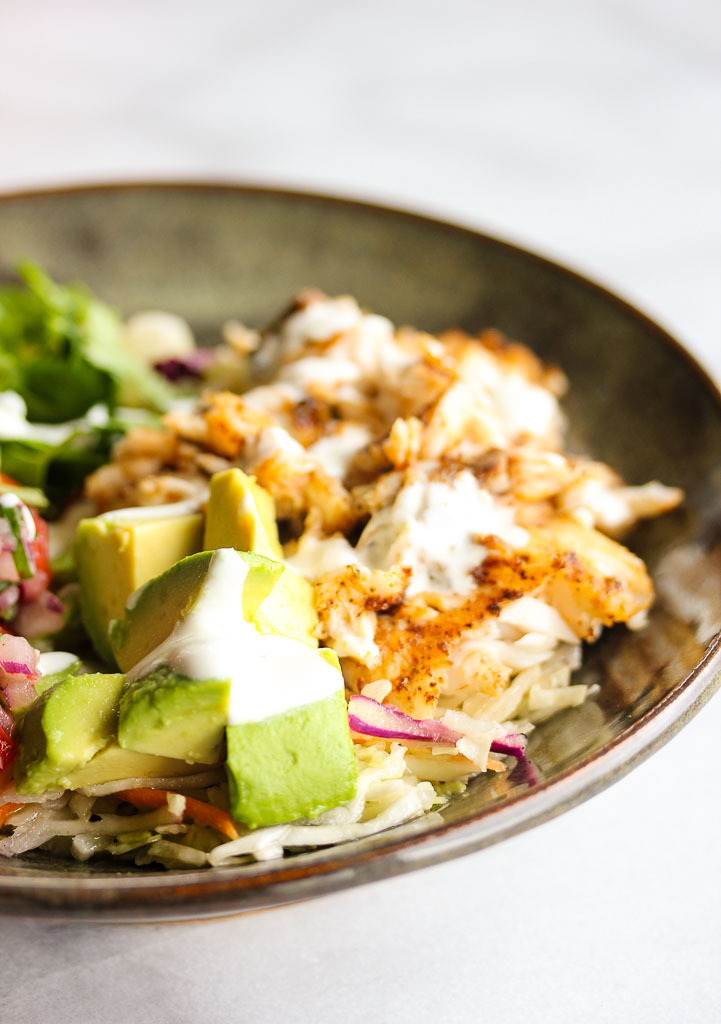 If you're really short on time, feel free to use store bought pico de gallo, although the homemade pico de gallo is so amazing and really isn't difficult to make. To save time, I used pre-shredded cabbage, which made these fish taco bowls all the more easy to get on the table.
The final delicious touch to these bowls is a generous drizzle of sour cream mixed with olive oil and little lime juice which adds just the right amount of creaminess and tang.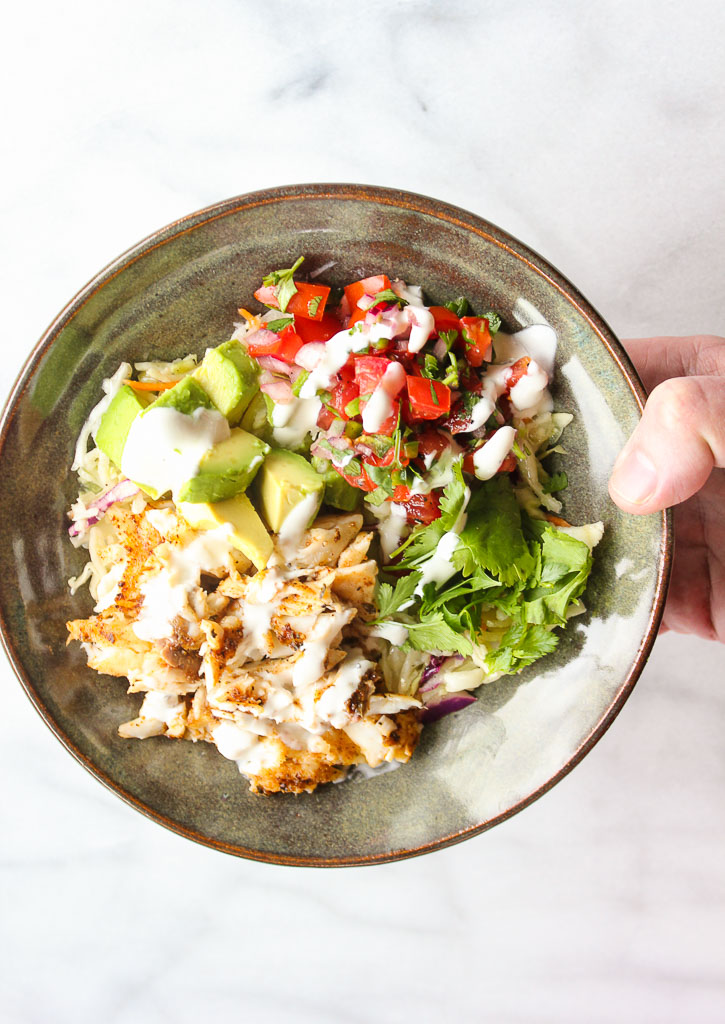 Yield: 4
Grilled Fish Taco Bowls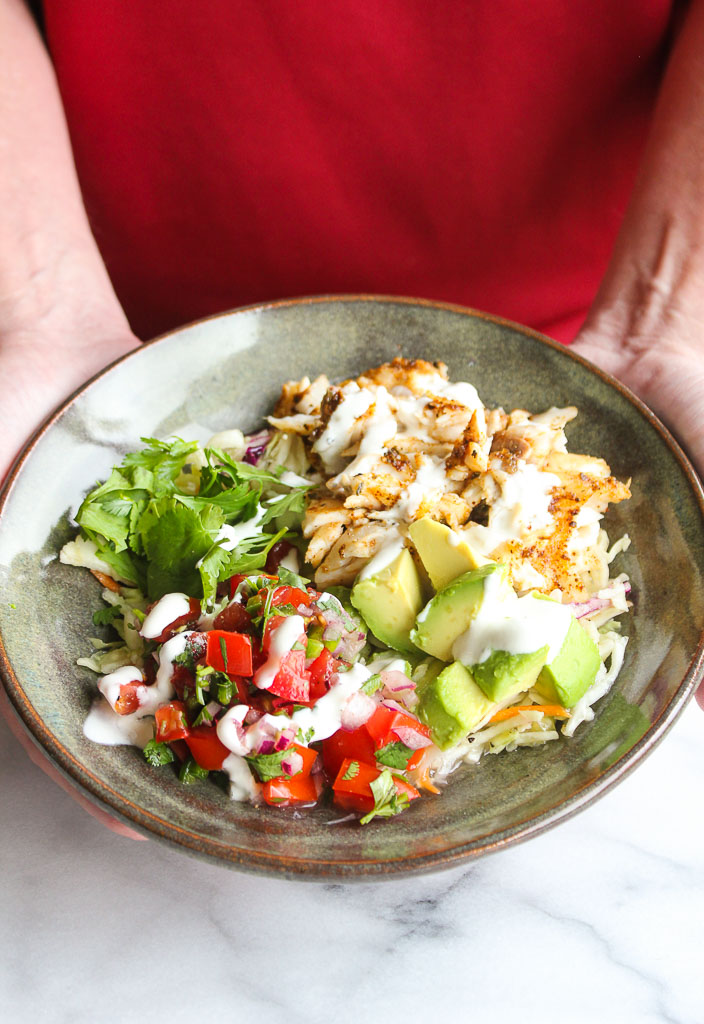 Grilled fish taco bowls! They are amazing and I'm not even kidding. It's all the components of a fish taco in a healthy, hearty, dig in with a fork bowl.

Prep Time 15 minutes

Cook Time 4 minutes

Total Time 19 minutes
Ingredients
6 cups shredded cabbage
5 tbsp olive oil, divided
juice from 1 1/2 limes, divided
1/2 cup sour cream
4 tilapia fillets, 3-4 oz each
1 tsp chili powder
1 tsp cumin
1 tsp dried oregano
1 tsp garlic powder
1/2 tsp salt
1/2 tsp black pepper
pinch of cayenne pepper
1 avocado, diced
cilantro leaves
pico de gallo
Instructions
In a large mixing bowl, combine cabbage with 2 tbsp olive oil and juice from 1 lime, stirring until well coated.
In a small bowl, whisk together sour cream, 1 tbsp olive oil and juice from 1/2 lime.
Combine all of the spices in a small bowl and stir in 2 tbsp olive oil.
Spread spice mixture on both sides of the fish.
Coat a grill pan with cooking spray or olive oil and heat over medium heat.
Grill fish for about 2 minutes per side, until opaque.
Shred fish into chunks with a fork.
Divide cabbage mixture between 4 bowls.
Top with fish, avocado, cilantro leaves and pico de gallo.
Drizzle bowls with sour cream sauce.
Notes
You can also cook the fish on the outdoor grill, but I suggest putting foil on the grill since the fish is pretty delicate and has a tendency to break up. If you want to cook it inside but don't have a grill pan, a skillet will work just fine.
Nutrition Information:
Yield:
4
Serving Size:
1
Amount Per Serving: Calories: 608Total Fat: 35gSaturated Fat: 8gTrans Fat: 0gUnsaturated Fat: 24gCholesterol: 114mgSodium: 531mgCarbohydrates: 31gFiber: 9gSugar: 16gProtein: 50g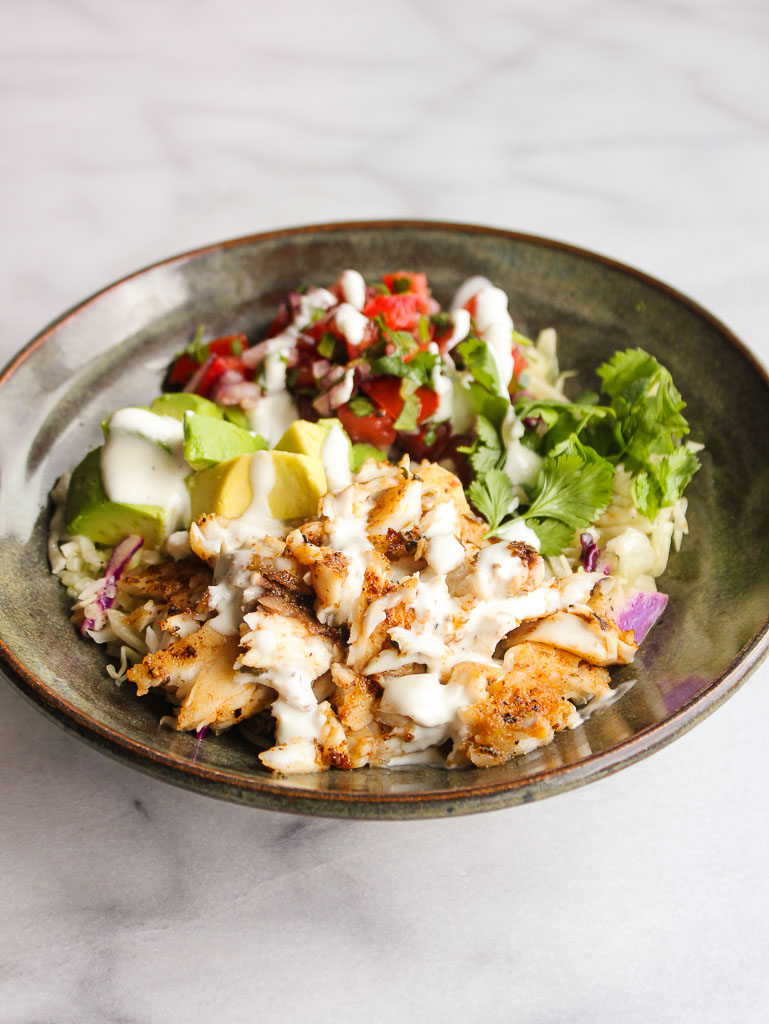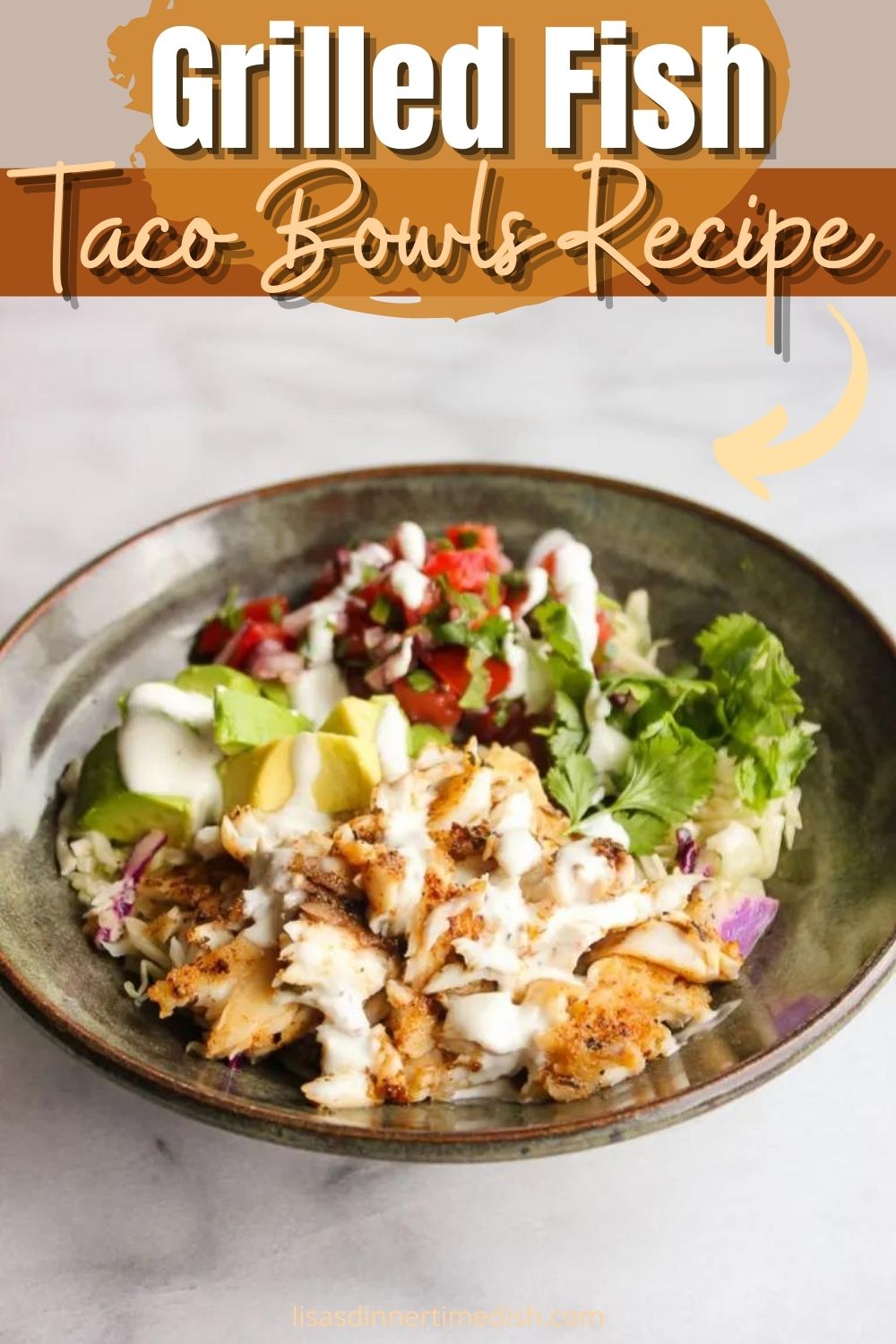 ENJOY!
SaveSave
SaveSave