Osso Buco Soup has all the amazing, rich flavors of traditional long cooking osso buco in a quick cooking dish that will have dinner on the table in under 45 minutes.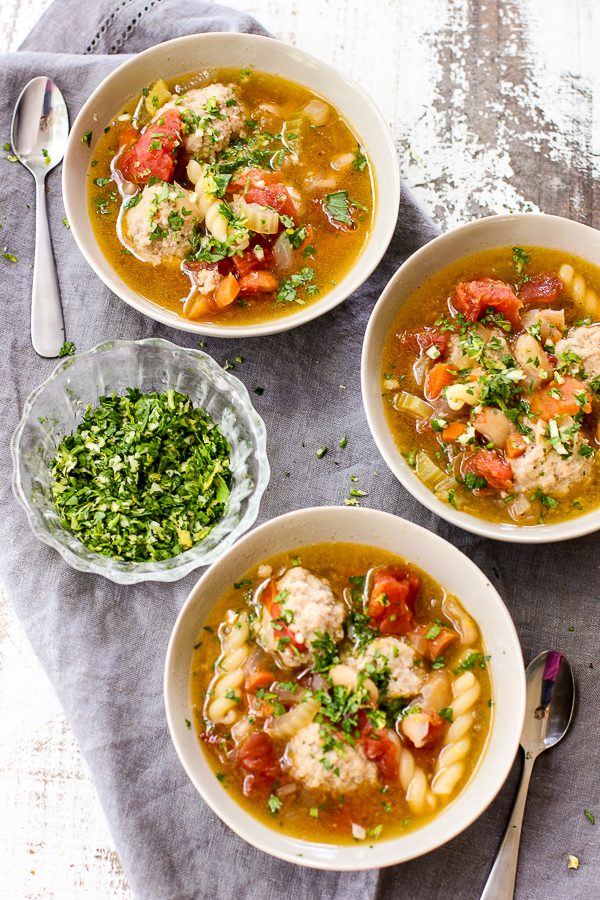 Osso Buco Soup has been a family favorite in my house for many years, but somehow it fell off of my meal rotation. Which is very sad because it's incredibly delicious and very easy to make.
I'm also a big fan of the slow cooked version of osso buco made with either veal shanks or lamb shanks. These are perfect dishes to make on a lazy Sunday afternoon, when you have plenty of time to let the shanks braised to tender perfection. When I'm more pressed for time during the week, I can experience all of the same great flavors in under 45 minutes with this soup.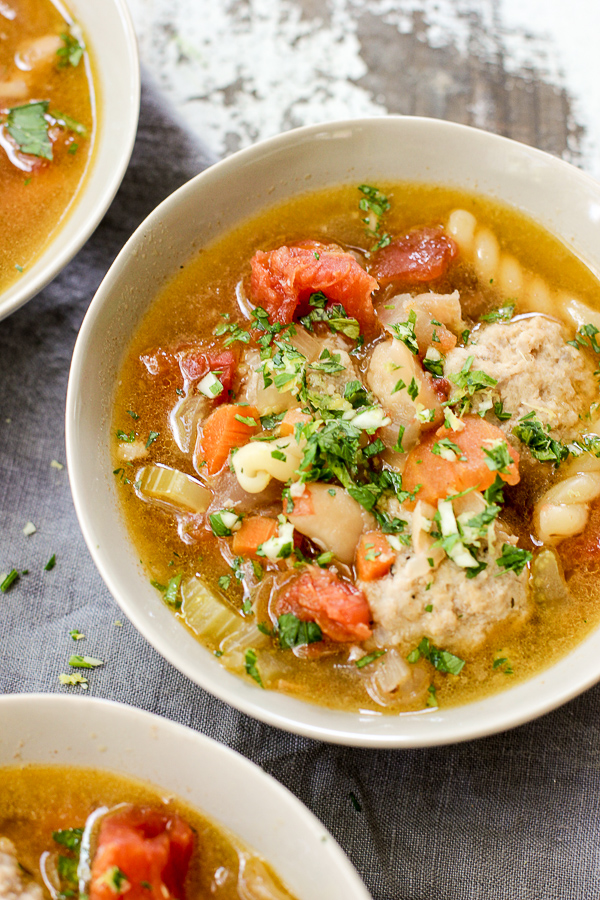 What makes osso buco soup so quick and easy, is that instead of using veal shanks, you make quick and easy veal meatballs that poach right in the broth. Short cut pasta and cannellini beans round the soup out making a hearty one pot wonder.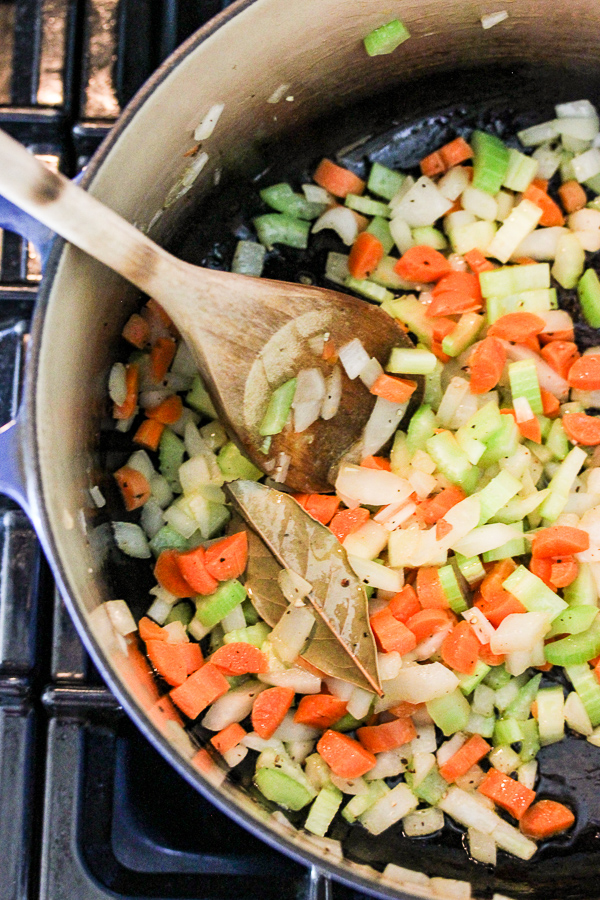 I found this recipe years ago in Rachael Ray's "Cooking 'Round the Clock" cookbook. It's a really quick and easy soup to make and it captures all of the delicious flavors of slow cooked osso buco.
If you're not familiar with osso buco, it's typically veal shanks or lamb shanks that have been braised in stock and wine along with tomatoes, carrots, celery and onion. It's then garnished with gremolata which is a mixture of garlic, parsley and lemon zest. It's one of my favorite dishes, so I love the fact that I can quickly make this soup and experience all of those great flavors.
I have to say that the gremolata is really what makes this soup over-the-top good, so if you make this dish, make sure you don't skip it. It takes little time to prepare it and gives the soup a wonderfully bright flavor.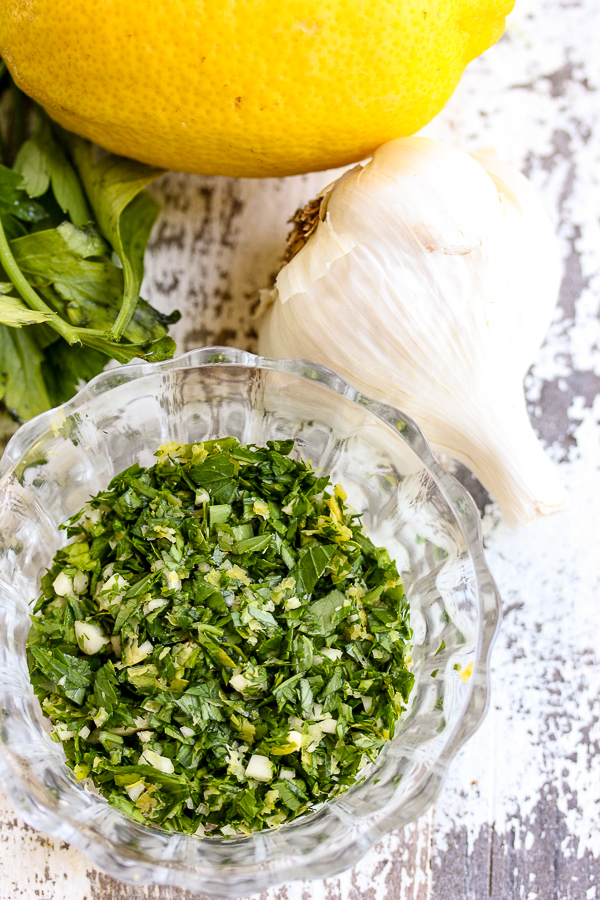 Finally, I have to say that the gremolata is really what makes this soup over-the-top good, so if you make this dish, make sure you don't skip it. It brightens up the flavor of the soup and gives it a big punch of flavor!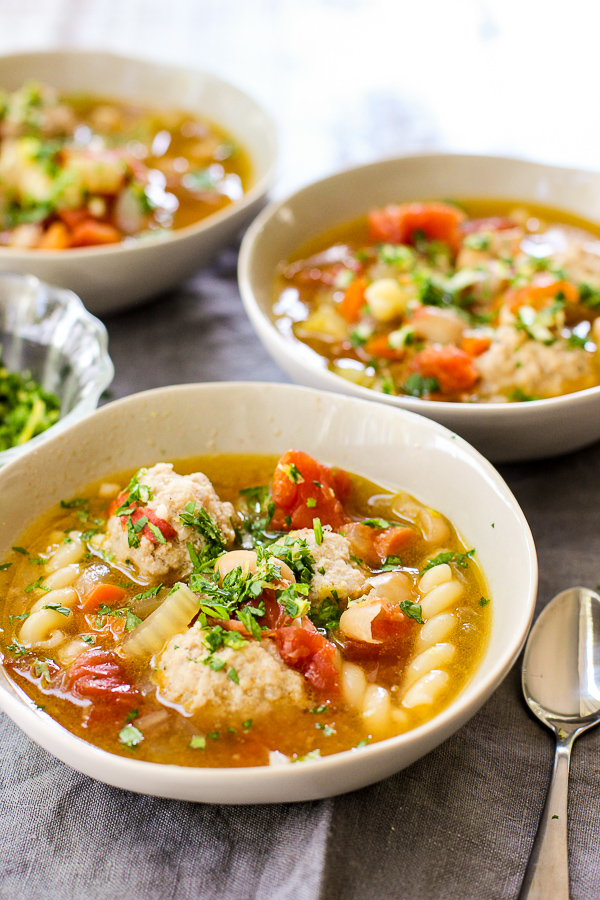 What do I need to know about making osso buco soup?
If you can't find ground veal or are not a fan of it, you can substitute, ground lamb, chicken or pork.
Don't skip the gremolata. It finishes off the soup perfectly giving it a bright, slightly garlicky flavor. It's what really makes this soup special.
Don't add the pasta to the soup until right before you're ready to eat. If the pasta cooks for too long, it will absorb too much of the broth and become mushy.
This soup will freeze well. If you're going to freeze it, under-cook the pasta by a couple of minutes. The pasta will continue to cook while the soup cools off.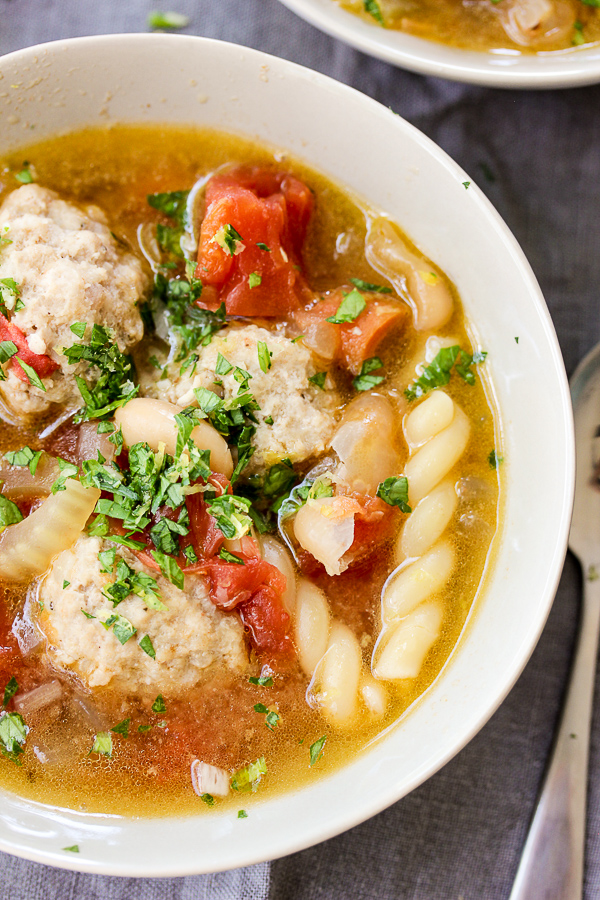 Yield: 4-6
Osso Buco Soup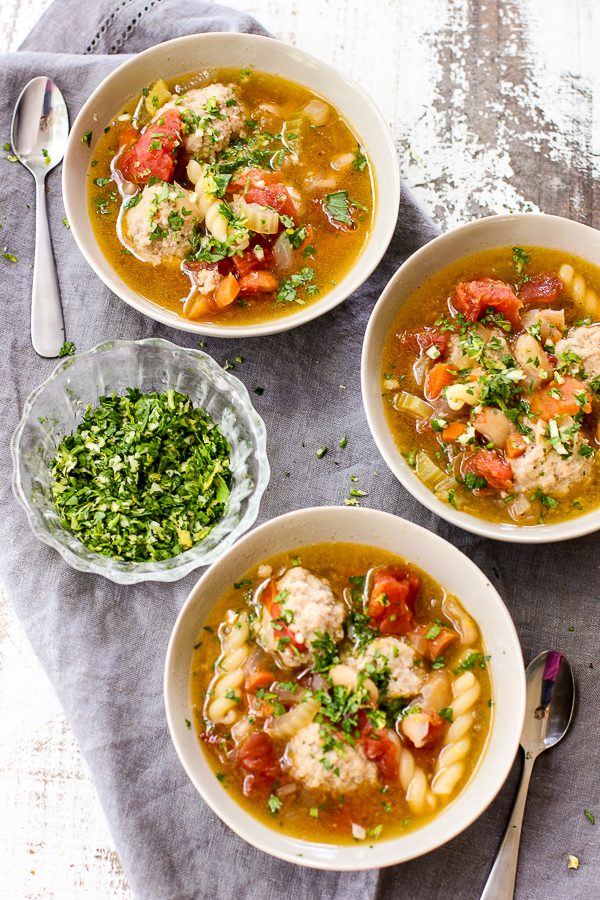 Prep Time 20 minutes

Cook Time 20 minutes

Total Time 40 minutes
Ingredients
1 lb ground veal
1 large egg
⅓ cup Italian style panko breadcrumbs
⅓ cup grated parmesan cheese
¼ tsp grated nutmeg
1¼ tsp salt, divided
¾ tsp pepper, divided
2 carrots, peeled and diced
2 ribs celery, diced
1 medium red onion, diced
1 tbsp olive oil
1 bay leaf
½ cup white wine
1 (15 oz) can cannellini beans, drained
1 (15 oz) can diced tomates, undrained
3 cups chicken stock
2 cups beef stock
1 cup short cut pasta
2 cloves garlic
¼ cup fresh Italian parsley
grated zest of 1 lemon
Instructions
Combine veal, egg, breadcrumbs, cheese, nutmeg, ¼ tsp salt and ¼ tsp pepper in a mixing.
Mix until ingredients are well combined.
Roll into 1 inch meatballs, set aside.
Heat olive oil in a large soup pot over medium heat.
Add carrots, celery, onion and bay leaf.
Sauté for about 5 minutes, until veggies start to soften.
Stir in wine and let reduce for a couple of minutes.
Stir in beans, tomatoes, chicken stock, beef stock and remaining 1 tsp salt and ½ tsp pepper. Increase heat, cover and bring to a boil.
Once soup has come to a boil, add meatballs and pasta.
Reduce heat to medium and cook, uncovered, for about 10 minutes, until pasta is tender and meatballs are cooked through.
While meatballs and pasta are cooking, prepare gremolata topping.
Rough chop garlic and parsley.
Combine with lemon zest and finely chop until well combined.
Serve soup immediately, topping with the gremolata.
Notes
If you can't find ground veal or don't care for it, you can substitute ground lamb, chicken or pork.



ENJOY!
Shared at these great blogs: