An enchilada casserole takes a deconstructed approach to making enchiladas so it is easier to make even than a regular pan of enchiladas.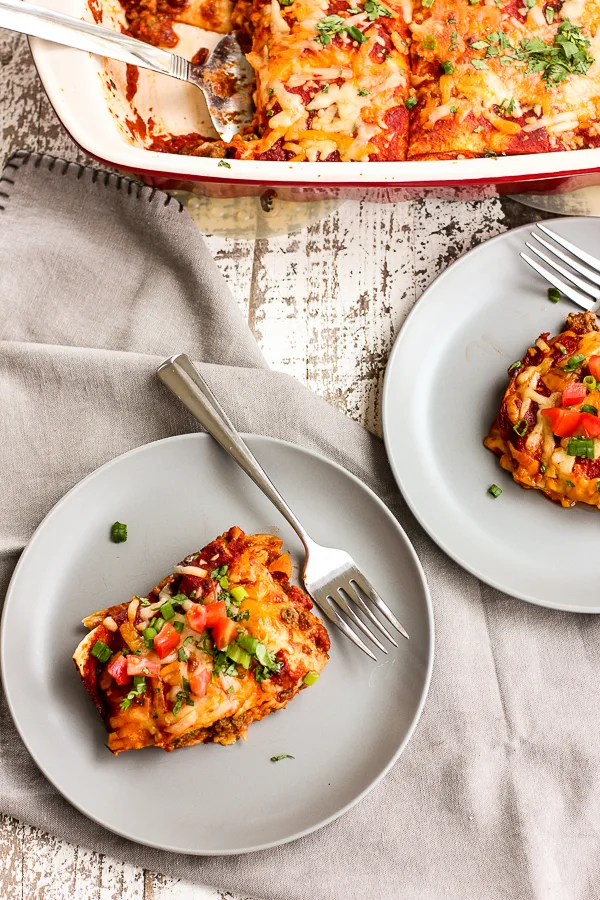 The idea of an enchilada casserole came to me in a moment of inspiration. As a food blogger and total food geek in general, I have recipe ideas floating through my head pretty much 24/7. Of course, not all of my ideas come to fruition and sometimes an idea that sounded good in my head turns out to only be so-so.
Easy and Quick Enchilada Casserole
With the enchilada casserole, I think I struck pure gold. It is super easy to make, inexpensive, quick to cook and freezes well for leftovers… what is not to like?
So… sometimes… on the lucky days… I follow through on an idea and I knock it out of the park. This enchilada casserole, my friends, is one of those ideas!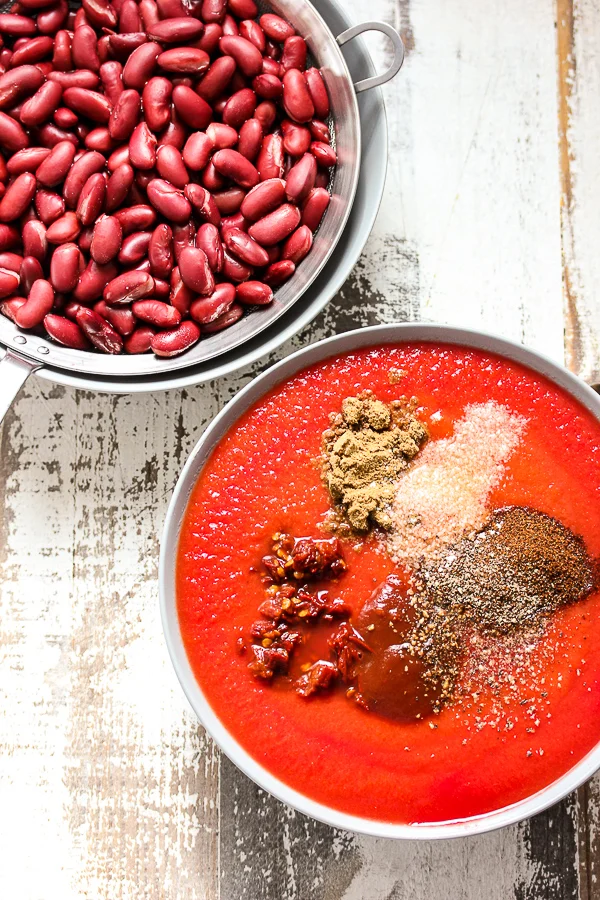 The Inspiration For Enchilada Casserole
It started out with me rummaging through my pantry and the freezer because I really didn't want to go to the grocery store. I found beans, ground beef, tomato sauce AND a can of chipotles in adobo. I was actually trying to figure out if I could make lasagna, you see, but I didn't have the key ingredients for it.
And looking at a can of chipotles in adobo is when the oven light bulb went off in my brain. I could do an enchilada casserole inspired by lasagna. In essence, instead of layering noodles, I layer tortillas. It doesn't require rolling up. All that is required is layering up the ingredients, then adding the cheese to bake on top.
Voila! An enchilada casserole appears! It has all the tasty aspects of typical enchiladas of course, but it is even easier to make.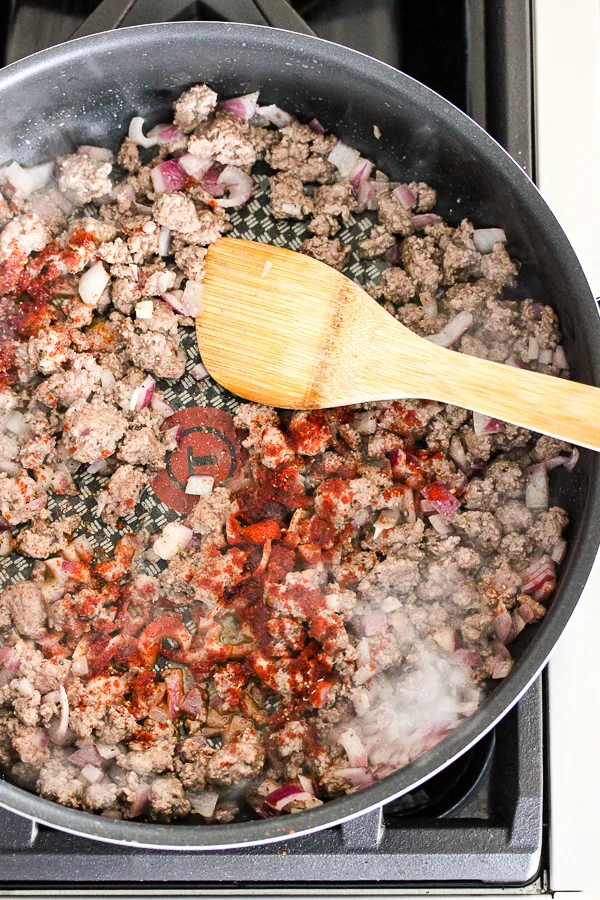 Chipotles Make Your Meal
In this case, finding those chipotles is when the angels sang and I knew what to do. I did end up having to go the grocery store, but my list was short and the end result was well worth the trip out of the house. At this point, I was on a mission.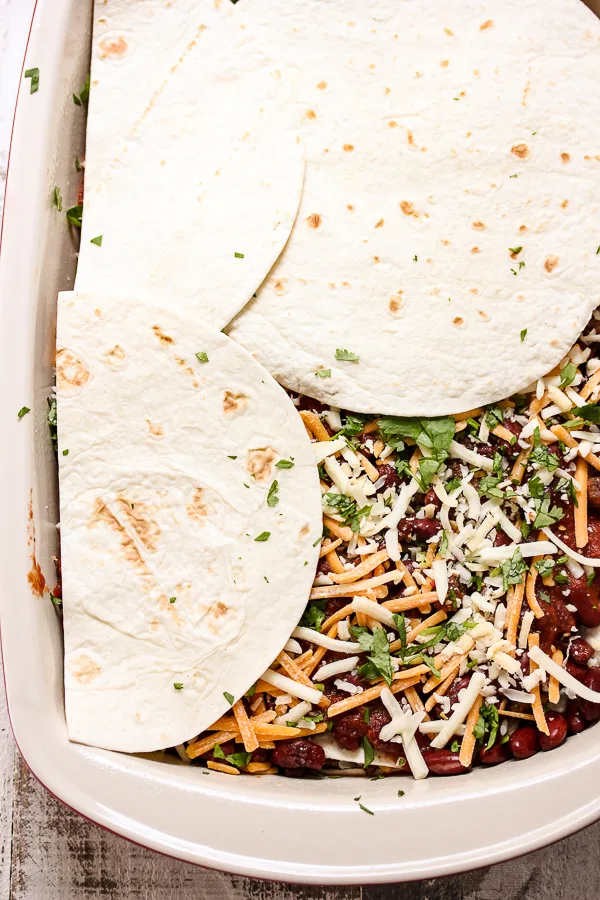 This casserole was really simple to put together, the sauce doesn't even need to be cooked, just mix some tasty ingredients together. Then brown some ground beef along with onions and garlic on the stove top and you are ready to assemble and bake. You could even assemble this earlier in the day and then bake it when you're ready.
If you only have corn tortillas, then go ahead and use them – they will work just as well. Some folks have corn allergies, though, so keep that in mind.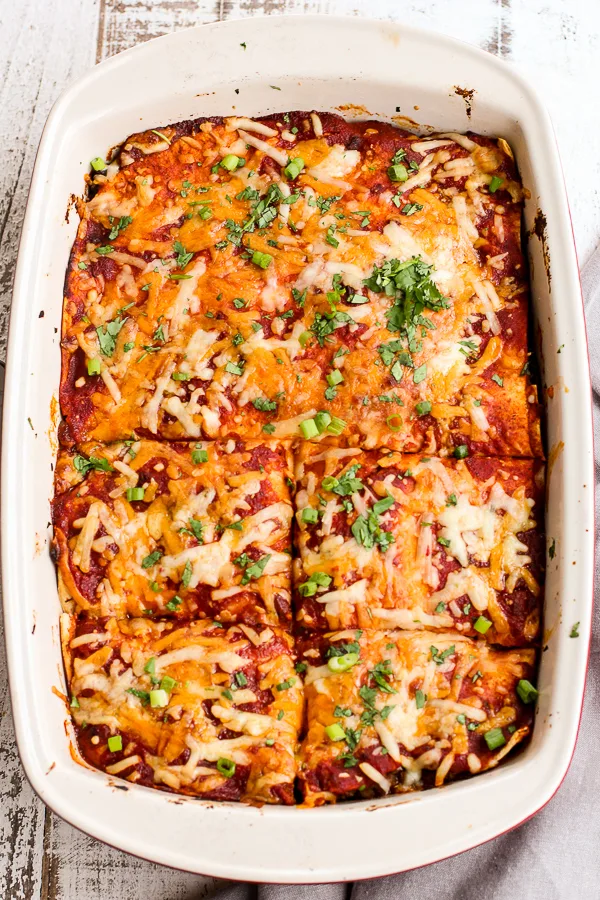 What comes out of the oven is nothing short of AMAZING! It's spicy without making your mouth feel on fire (of course, if you like your mouth on fire, just add more chipotles and adobo sauce) and it's super cheesy and…well…it tastes just like enchiladas. Top it off with guacamole, salsa and whatever else you like and it's absolute perfection on a plate.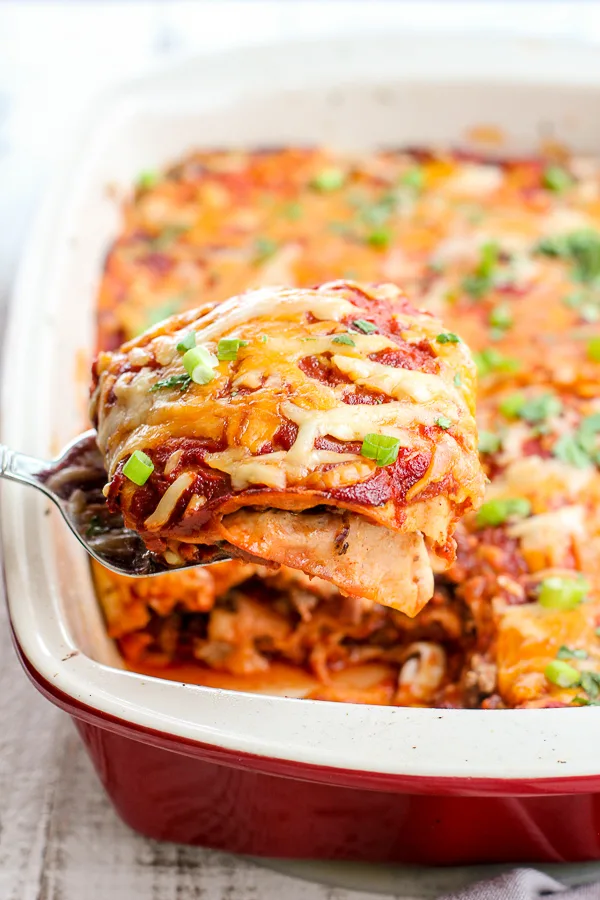 Other Enchilada Recipe Suggestions
If you love enchiladas as much as I do, then you might want to check out some of my other enchilada recipes
Yield: 8
Enchilada Casserole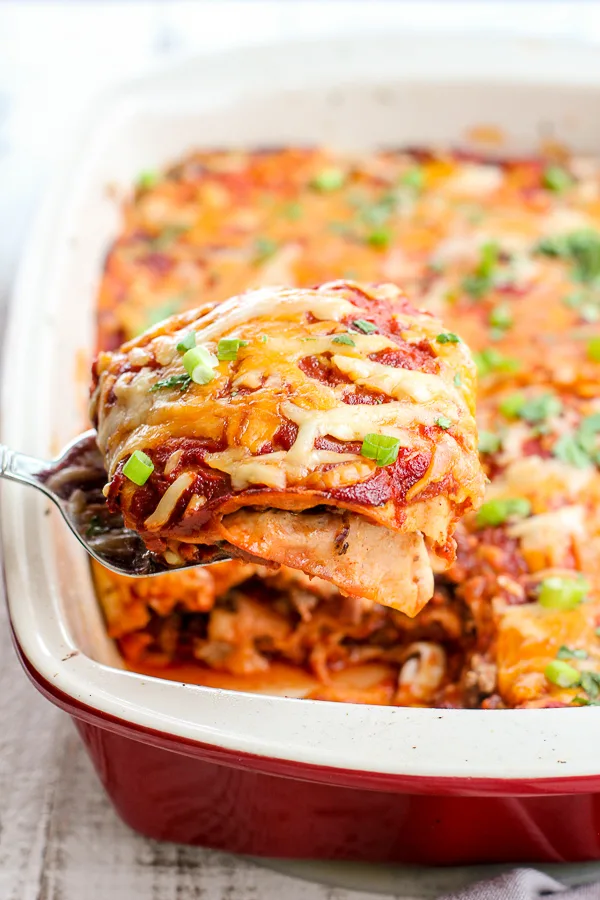 An enchilada casserole takes a deconstructed approach to making enchiladas so it is easier to make even than a regular pan of enchiladas.
Total Time
1 hour
10 minutes
Ingredients
2 (15 oz) cans tomato sauce
1 chipotle pepper from a can of chipotle in adobo, minced
2 tsp adobo sauce (from the same can)
1 tsp chili powder
1 tsp cumin
3/4 tsp salt, divided
3/4 tsp pepper, divided
1/4 cup plus 2 tbsp fresh cilantro, minced
2 tsp olive oil
1 lb ground beef (I like to use 90% lean)
1/2 onion, chopped
3 cloves garlic, minced
1/2 tsp dried oregano
1 (15 oz) can red beans, drained and rinsed
1 1/2 cups pepper jack cheese, shredded
1 1/2 cups sharp cheddar cheese, shredded
9 (8″) flour tortillas
salsa, sour cream, green onion and guacamole for serving, if desired
Instructions
In a mixing bowl, combine, tomato sauce, chipotle pepper, adobo sauce, chili powder, cumin, 1/2 tsp salt, 1/2 tsp pepper and 1/4 cup cilantro, stirring until well combined, set aside.
Heat olive oil in a skillet over medium high heat. Add ground beef and cook until no longer pink.
Once the beef is broken up and starting to brown, add onion, garlic, 1/4 tsp salt, 1/4 tsp pepper and oregano.
Saute, stirring frequently, until beef is cooked through and onion is transluscent.
To assemble casserole, spread 1/2 cup tomato sauce in the bottom of a 9×13 baking dish. Top with three tortillas, cutting one in half to fill in the pan.
Spread 1/2 of the meat mixture over tortillas, top with 1 cup of tomato sauce and then 1/2 cup of the cheddar and 1/2 cup of the pepper jack.
Layer on three more tortillas, the remaining meat mixture and the beans. Spread another 1 cup of the tomato sauce and another 1/2 cup each of the cheeses.
Layer on final three tortillas, remaining sauce and remaining cheeses.
Cover with foil and bake in an oven preheated to 350 degrees for 30 minutes. Remove foil and bake for an additional 10 minutes, until cheese is melted and casserole is bubbly.
Remove from oven, cover with foil and let sit for 10 minutes.
Sprinkle with remaining cilantro before serving with desired toppings.
Notes
This casserole can be assembled and frozen. When ready to serve it, defrost and bake according to instructions.
Nutrition Information:
Yield:
8
Serving Size:
1
Amount Per Serving:
Calories:

496
Total Fat:

34g
Saturated Fat:

17g
Trans Fat:

1g
Unsaturated Fat:

13g
Cholesterol:

114mg
Sodium:

849mg
Carbohydrates:

13g
Fiber:

3g
Sugar:

1g
Protein:

34g
Shared at these great blogs: