Chicken enchiladas hit the spot when I am looking to hit a dinner time home run. That means using easy and available ingredients. The dish must prep and cook with the shortest wait time possible. And the whole family has to love eating it no matter when I serve it! If I do chicken enchiladas, then it never fails to please.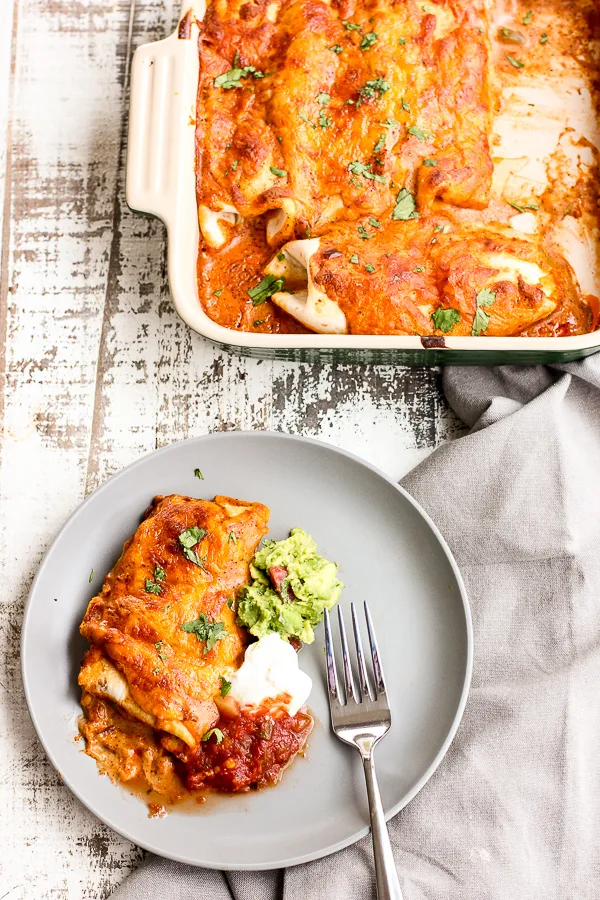 Homemade Chicken Enchiladas
Making homemade chicken enchiladas is a breeze. They taste every bit as good as what you might go out for and spend five times as much on. The ingredients for chicken enchiladas are easy to find in your local grocery store.
Chicken enchiladas are also a great make ahead dish. You can assemble them early in the day, refrigerate and then pop in the oven when you're ready to eat.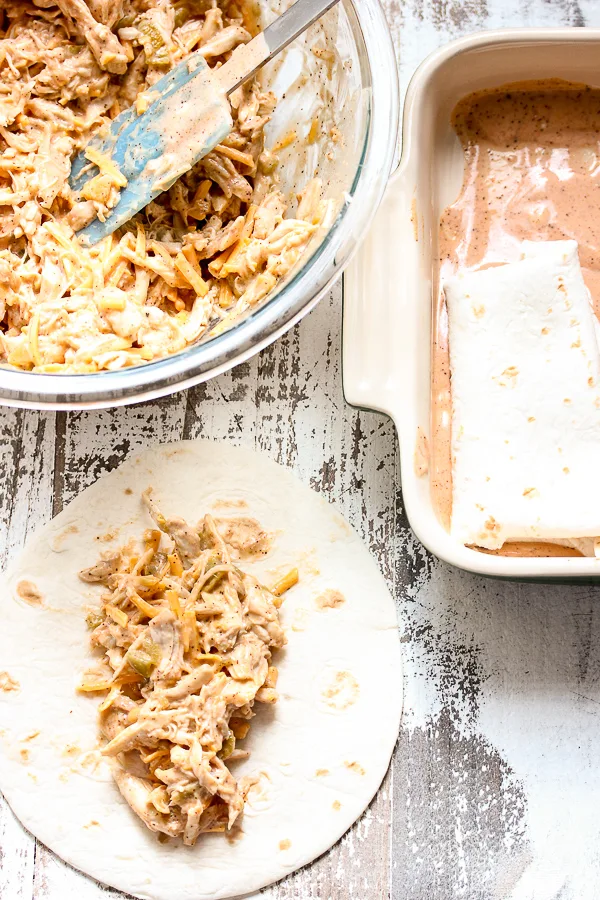 Shredding Chicken For Your Chicken Enchiladas
You can use dark or light meat for chicken enchiladas. I tend to favor the white breast meat. You can cook the chicken in a pan, a slow cooker, or an Instant Pot.
If you cook your chicken in a pan, then make sure you have plenty of liquid in there to keep the chicken from drying out. You want the chicken thoroughly cooked and moist. If you can easily shred it with a fork then you know it is ready.
A rotisserie is a great option as well, especially if you are looking to save time. Just pick one up at the grocery store, bring it home and it's ready to shred.
Season The Chicken Too
When you cook the chicken, then go ahead and season it too. The more flavor you pack into the chicken the better. For that reason, I like to saute some onions and green peppers and carrots and even a little bit of chipotle. I add the chicken in on top and cook it all together.
A lid comes in handy if you are cooking the chicken in frying pan so you can seal in the juices too. Cook it on low until the chicken is easy to shred.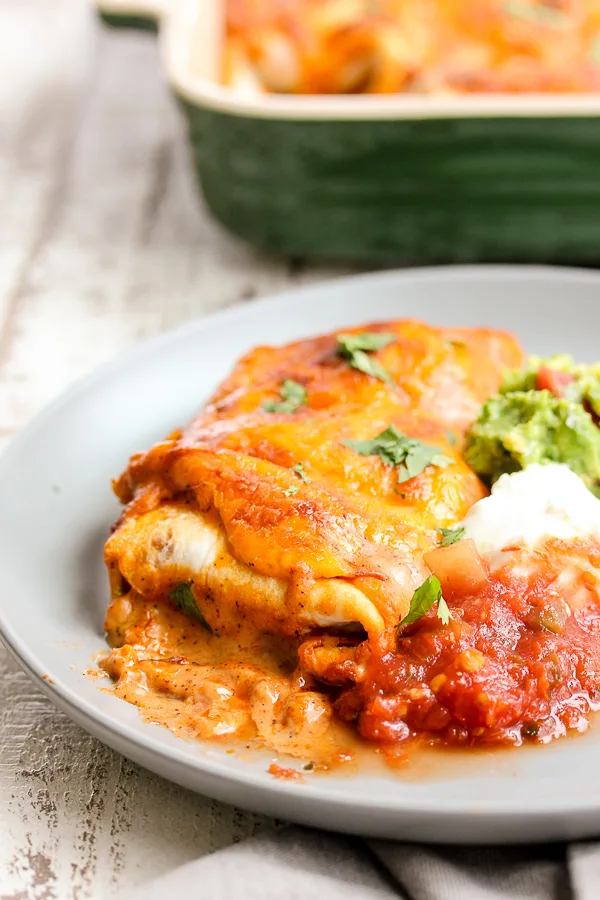 Be Sure To Make More Than You Need
The great thing about chicken enchiladas is the ones you don't eat. Sound crazy? Not at all. Since chicken enchiladas store very well in the freezer, you should make extra.
The flavors actually seem to only improve when you reheat them for serving again! You can't beat the convenience either of being able to bring out the frozen enchiladas for those nights you don't feel like cooking!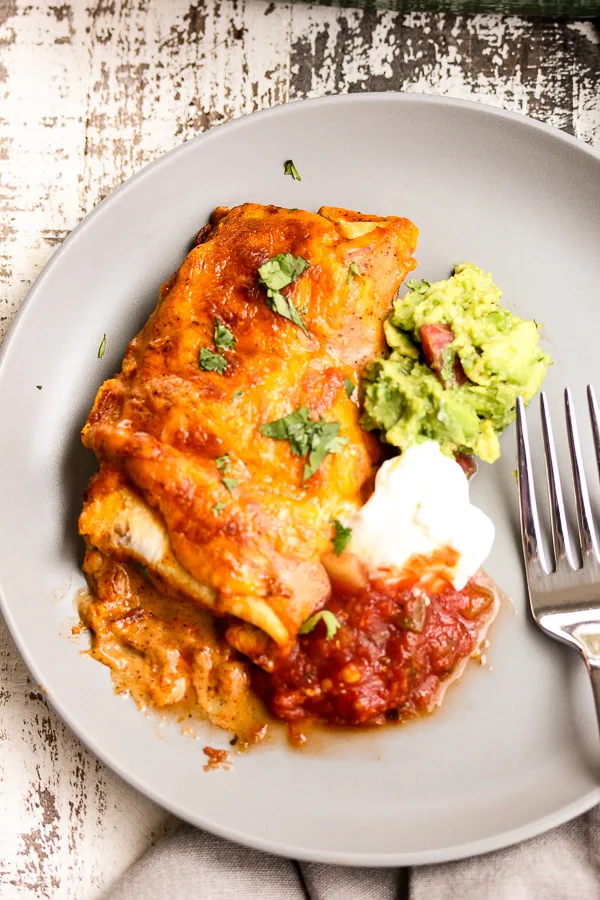 Since we usually only have two people for dinner, I like to make a regular recipe and divided it between two 8×8 pans and freeze one. If you know you're not going to have any time to make dinner, just put a frozen pan in the refrigerator in the morning to thaw and then pop it into the oven in the evening.
You will probably need to increase the cooking time by about 15 minutes if you do it this way.
Looking for more enchilada recipes?
Shredded Beef Green Chile Enchiladas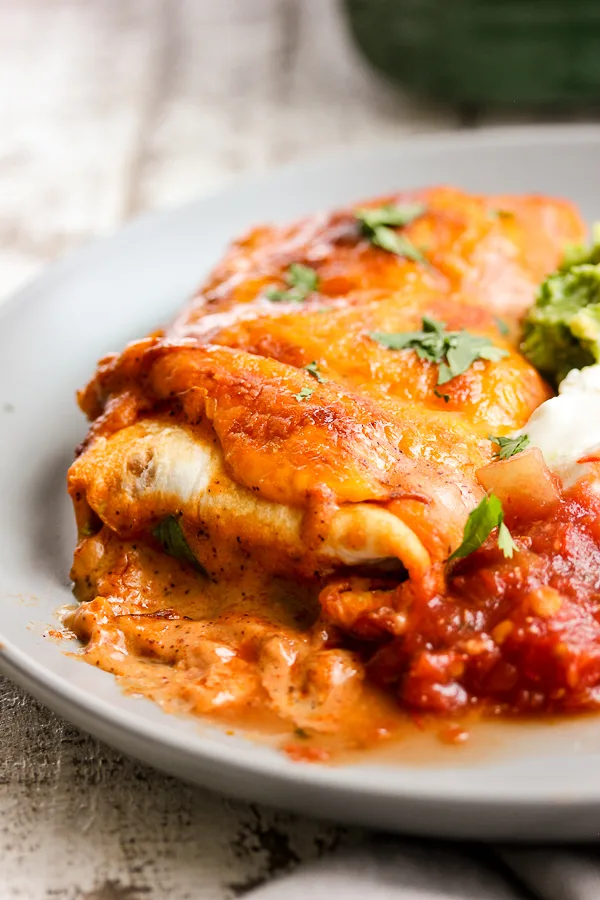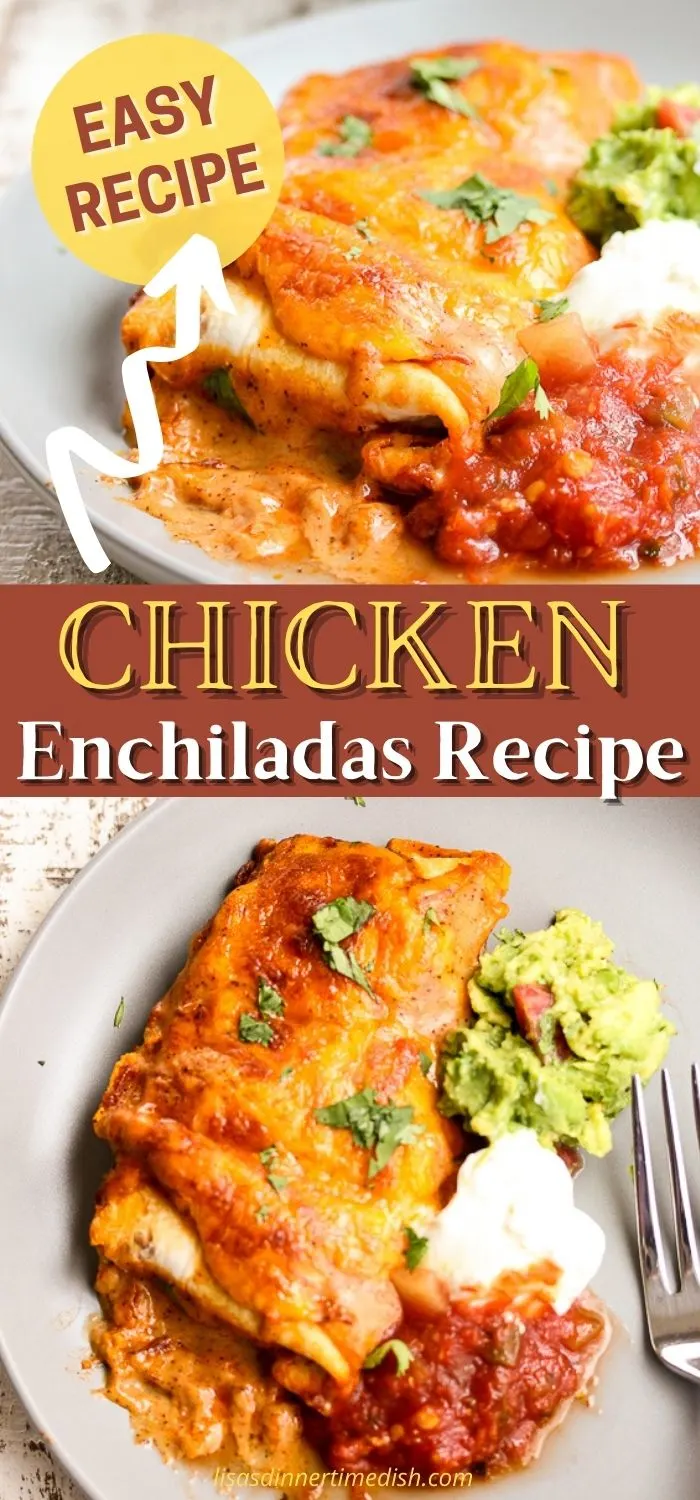 Perfect Toppings For Chicken Enchiladas
When you make chicken enchiladas, don't forget the options for toppings. You can let people dress up their own per their own preferences, or put dollops on the side or on top. Whatever works best for you works for me!
Here are some things you might want to have to go with your enchiladas:
Sour cream, regular or Mexican style sour cream
Shredded cheese like cheddar or Mexican style queso cheeses
Guacamole
salsa
pico de gallo (chopped onions, tomatoes, jalapeno, cilantro and optional garlic)
Yield: 10
Chicken Enchiladas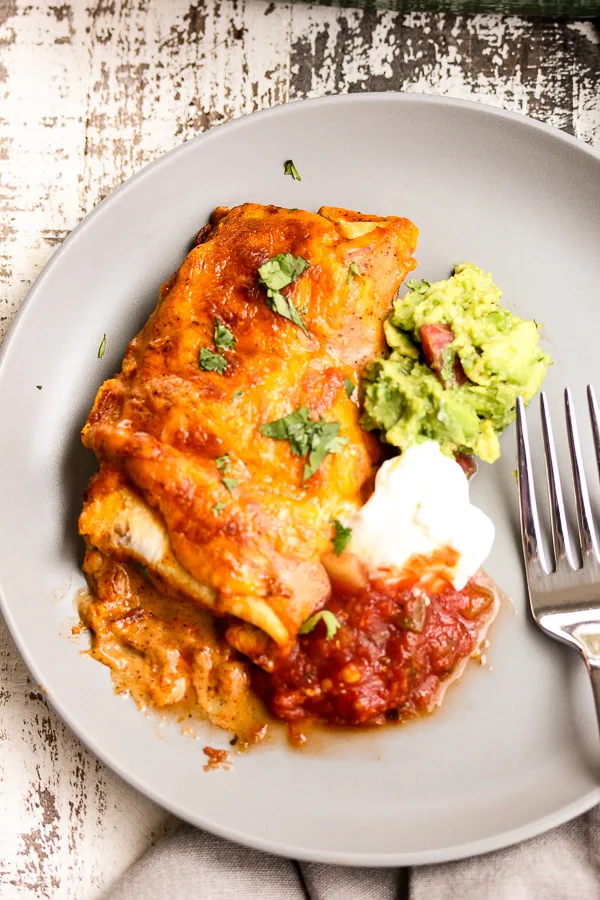 Chicken enchiladas are super easy to make and taste every bit as good as what you go out and order at your local Mexican restaurant.
Ingredients
3 cups shredded cooked chicken - a rotisserie chicken works great for this
2 (10 oz) can red enchilada sauce
3/4 tsp garlic powder
1/2 tsp chili powder
1/2 tsp black pepper
1/4 tsp salt
8 oz sour cream
1 (4 oz) can green chiles
2 cups shredded sharp cheddar cheese
10 (8 inch) flour tortillas
Instructions
Preheat oven to 350 degrees.
Combine enchilada sauce, garlic powder, chili powder, black pepper, salt and sour cream.
Take half of sauce mixture and combine with chicken, green chiles and 1 cup of the cheese.
Take half of the remaining sauce mixture and spread in the bottom of a 9x13 inxh baking dish that's been coated with cooking spray.
Divide chicken mixture between the tortillas, about half a cup in each, spread down the middle.
Roll the tortillas by folding in the sides and then rolling up.
Place tortillas in baking dish, seam side down.
Spread remaining sauce over the top of the tortillas and sprinkle the remaining 1 cup of cheese on top of that.
Cover with foil and bake in preheated oven for about 30 minutes, until cheese is melted and sauce is bubbly.
Serve with you favortie toppings, if desired.
Notes
Rotisserie chicken works great for this recipe.
The enchiladas can be assembled and then frozen in the pan. When you're ready to eat them, defrost and bake according to directions.
Nutrition Information:
Yield:
10
Serving Size:
1
Amount Per Serving:
Calories:

397
Total Fat:

28g
Saturated Fat:

13g
Trans Fat:

1g
Unsaturated Fat:

11g
Cholesterol:

125mg
Sodium:

570mg
Carbohydrates:

6g
Fiber:

0g
Sugar:

2g
Protein:

30g
Shared at these great blogs: