These easy, healthy Jerk Chicken Caribbean Bowls start with a flavorful spice blend and are finished with your favorite fresh toppings. They're family friendly and perfect for busy weeknights.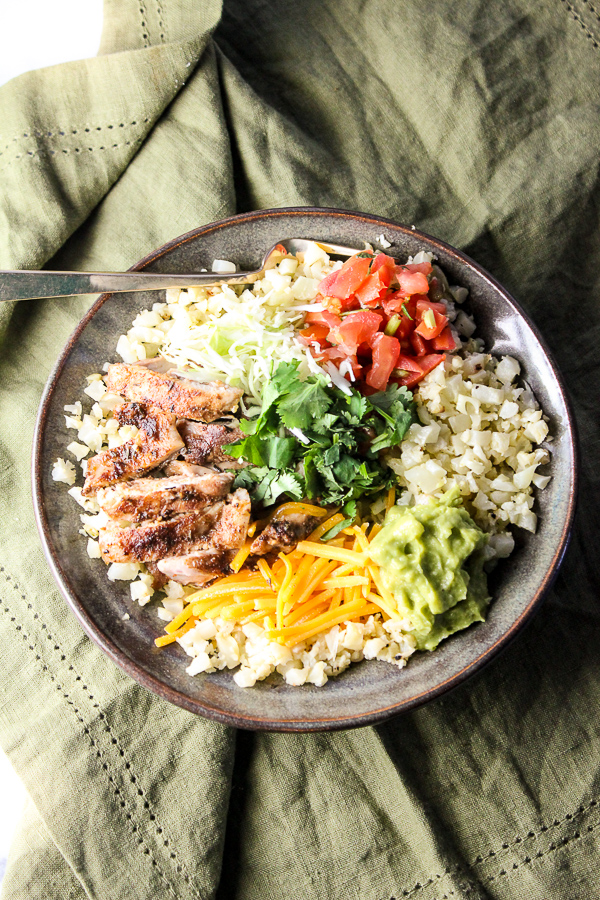 Last month, Steve and I spent a week in St. Maarten at an all inclusive resort. It was such a great time gave us some much needed relaxation. We've stayed at all inclusive resorts before and our experience has always been just OK when it comes to the food. Based on that experience, we didn't set our expectations very high for the food on this vacation. We figured it would be OK, but not great.
We ended up being pleasantly surprised by the quality and variety of the food. The restaurants changed up their menus everyday and for the most part, it tasted really good. The buffet would often have a station set up where they were grilling the meat right there and then serving it up.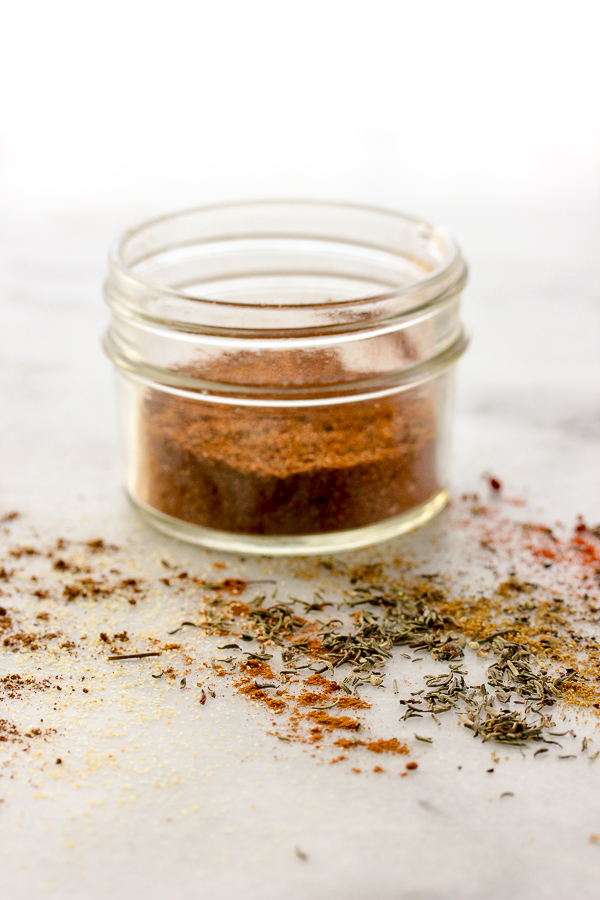 One day at lunch, this station was serving up jerk chicken on top of a fry bread. To finish the dish off, they had all kinds of fresh toppings, like tomato, lettuce, cheese, guacamole, cilantro, etc. It.Was.So.Good! I made a note of it in my phone right away knowing that I had to re-create a version of this when I got home.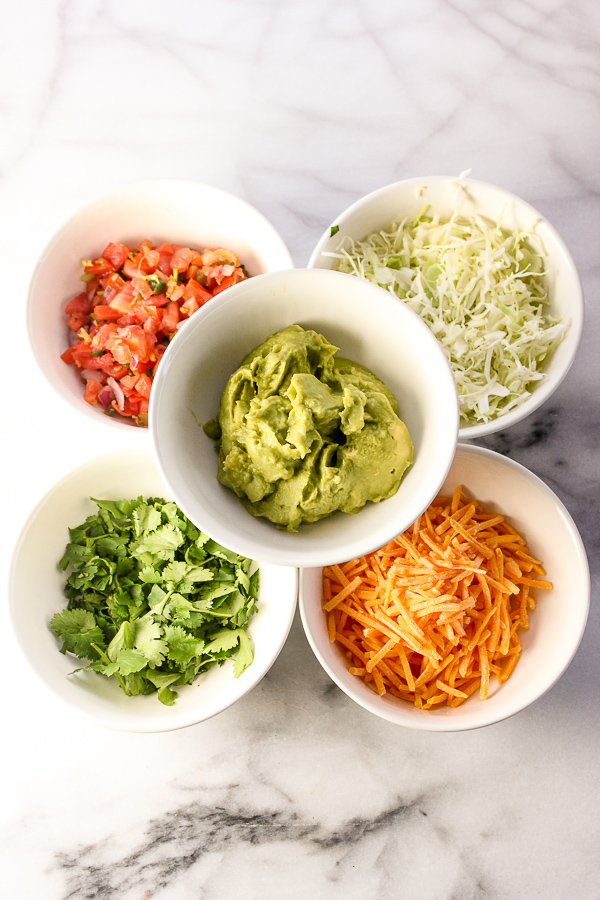 Once we were home, I started doing some research on jerk seasoning. I had never had jerk seasoning before and I was surprised that the spice didn't have a lot of heat. Jerk seasoning has a lot of bold flavor without having too much heat. It's a relatively long list of spices that are mixed together to make jerk seasoning, but don't worry, it only takes a few minutes to mix it all up.
Since we'd been eating with reckless abandon for an entire week, I knew I had to make my jerk chicken a little healthier and skip the fry bread. That's how the jerk chicken Caribbean bowls were born. Instead of fry bread, I put the chicken on a bed of roasted cauliflower rice and then got crazy with all kinds of fresh toppings. You could certainly use regular rice, if you prefer, and the toppings are completely flexible. Any of your favorite taco toppings will work perfectly.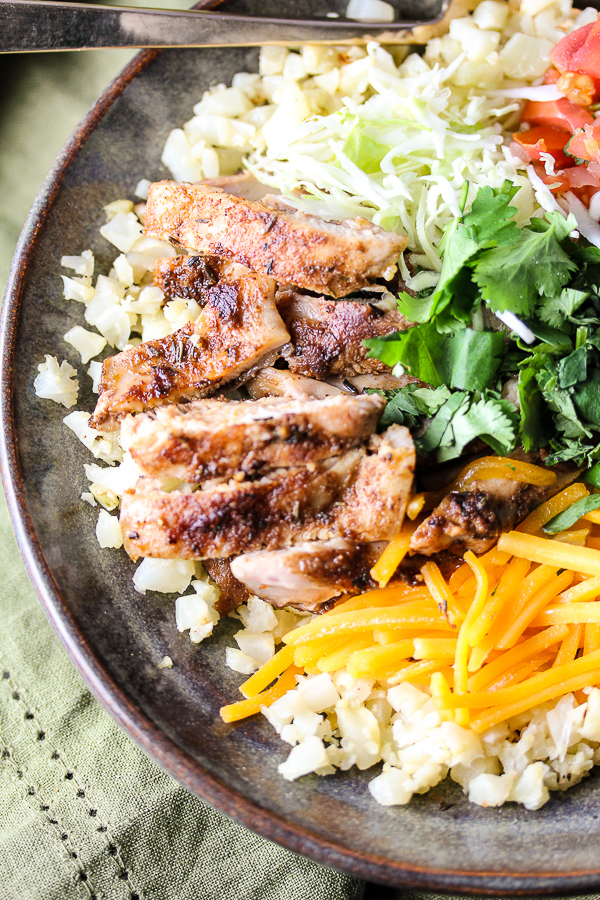 Yield: 4
Jerk Chicken Caribbean Bowls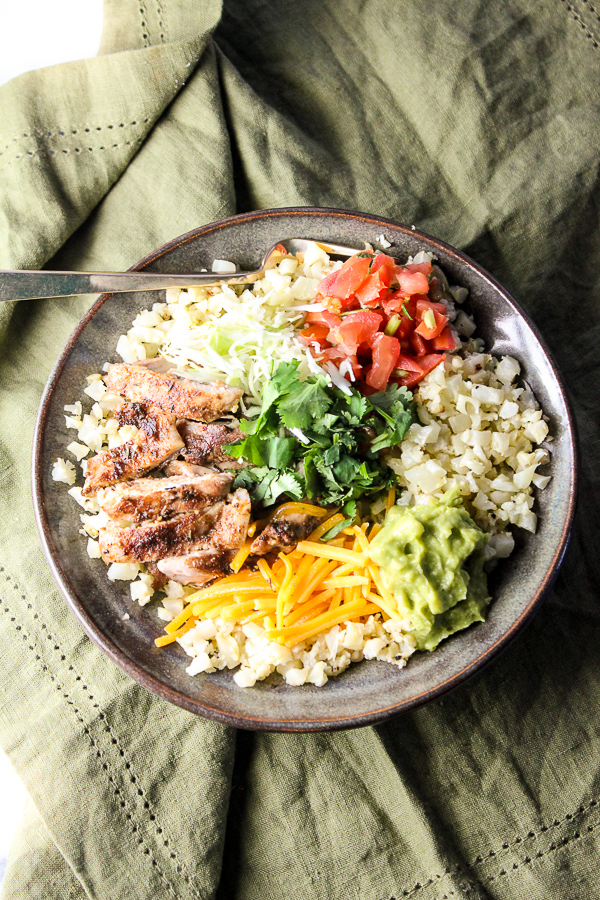 Ingredients
1 tsp cumin
1 tsp smoked paprika
1 tsp dried thyme
1 tsp allspice
1 tsp garlic powder
1/2 tsp onion powder
1/2 tsp cayenne
1/2 tsp cinnamon
1/2 tsp black pepper
1/4 tsp nutmeg
1 tbsp olive oil
1 lb boneless skinless chicken thighs
2 cups cooked cauliflower "rice" or conventional rice
shredded cabbage
chopped fresh tomato
shredded cheese
guacamole
chopped fresh cilantro
lime wedges
Instructions
Mix first 10 ingredients together, through nutmeg.
Combine 1 tbsp spice mixture with 1 tbsp olive oil.
Rub mixture onto both sides of the chicken.
Heat a grill pan to medium heat.
Grill chicken until cooked through, about 5-6 minutes per side.
Thinly slice chicken.
Divide rice between 4 bowls.
Top each bowl with 1/4 of the chicken and desired toppings.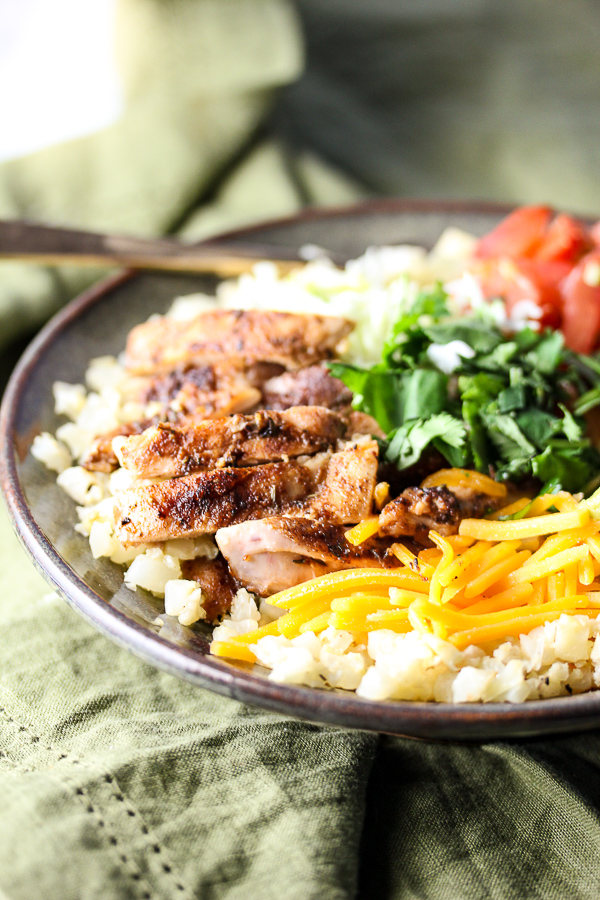 ENJOY!
This recipe's been shared at: