Sometimes I happen upon recipes in the most unexpected ways and this chili is one of those recipes. A couple of weeks ago my Mom ended up in the hospital, in need of surgery. The day after her surgery, she was in the ICU and my brother and I were there with her. She was still pretty out of it at this point, still coming off of the effects of anesthesia and on a lot of pain medication. So we were just chatting with her nurse, who was a really nice guy, while she slept.
Somehow, we got onto the subject of food, at which point my Mom wakes up and pipes up that I have a food blog (she's one of my biggest cheerleaders, even less than 24 hours post-op!). So her nurse, whose name is Don Toews, pulls the blog up on the computer in her room and takes a look. As he's looking, we're still chatting and he mentions that the hospital had a chili cook off and his recipe was the winner and had been published in the local paper. Oh and by the way, if I wanted the recipe, he just happened to have some recipe cards printed up in the break room. Well of course I did, so he grabbed one for me and I thought the recipe sounded delicious.
So that, my friends, is how I happened to find the recipe for this hearty and delicious cilantro lime and beef chili. I am also happy to report that my Mom is now home and doing much better than she was two weeks ago. I'm also happy that I have a big pot of this chili to eat!
So here is Don Toews recipe for his award winning chili.
Cilantro Lime and Beef Chili
2 tsp olive oil
2 tsp chipotle seasoning (I used Pampered Chef's Chipotle Rub)
24 oz top sirloin, cut into 1/2″ chunks
1 onion, chopped
1 4-5″ Anaheim pepper
4 cloves garlic, finely chopped
2 can black beans, drained and rinsed
1 can kidney beans, drained and rinsed
1 14.5 oz can diced tomatoes
1/2 chipotle in adobe, minced (a little goes a long way, but use more if you want it hotter)
1 tsp of the adobo sauce (again, use more if you want it hotter)
1/2 cup fresh cilantro
1 1/2 cup beef stock
1 can fat free refried beans
3 tbsp chili powder
3 tsp cumin
1 tsp salt
1/2 tsp black pepper
1/4 cup fresh squeezed lime juice
zest of 1 lime
Chop all of the veggies and set aside.
In a medium size mixing bowl, combine refried beans, 1/2 cup beef stock, chili powder, salt, pepper, cumin, lime juice and zest. Mix until well combined. If mixture seems too thick, add a little more beef stock. set aside.
Heat olive oil over medium high heat in a large dutch oven. Add beef and sprinkle with chipotle seasoning. Cook for about 5 to 7 minutes until meat is browned.
Remove meat from pan and set aside.
Reduce heat to medium. Add onion and Anaheim pepper to pan and saute for several minutes until onion starts to soften. Add garlic and saute for another minute.
Return beef to pan and add 1 cup beef stock, beans, tomatoes, chipotles in adobo, adobo sauce and cilantro. Mix to combine.
Add refried bean mixture, stirring to combine.
Reduce heat and simmer for 45 minutes to 1 hour, until beef is tender.
ENJOY!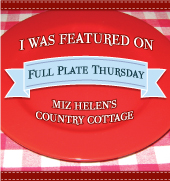 Shared at these great blogs: