Chicken Piccata Pasta Toss is an easy weeknight meal that will quickly become a family favorite. It has all the flavors of chicken piccata without all the fuss.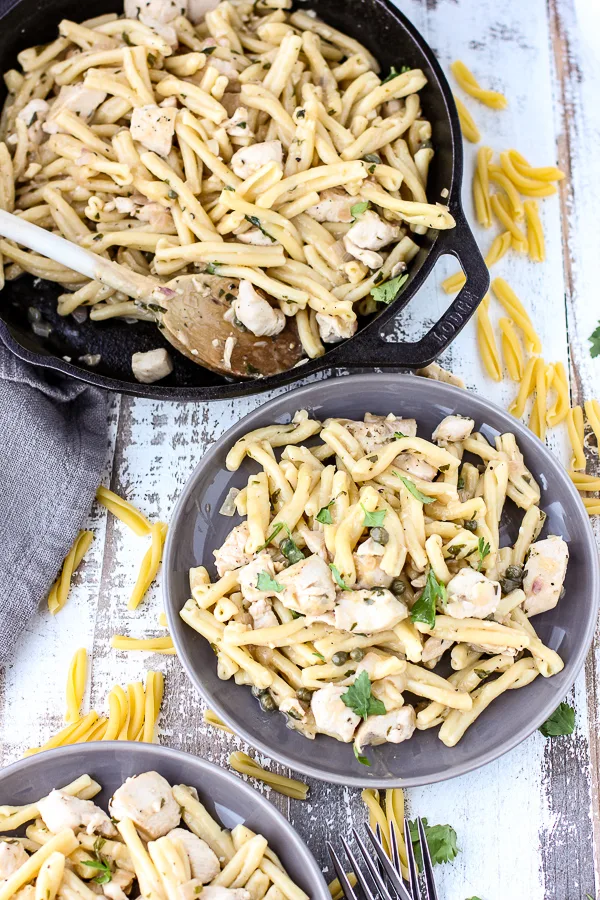 When it comes to Rachael Ray, it seems that people either love her or hate her. I happen to be in the camp that loves her (if you're in the other camp, please don't hate me!). Over the years, I've purchased many of her cookbooks and back in the day I watched countless hours of 30 Minute Meals.
What I've always loved about her is how accessible she makes cooking seem. She loves good food, but she doesn't use hard to find ingredients or hard to master techniques in her recipes.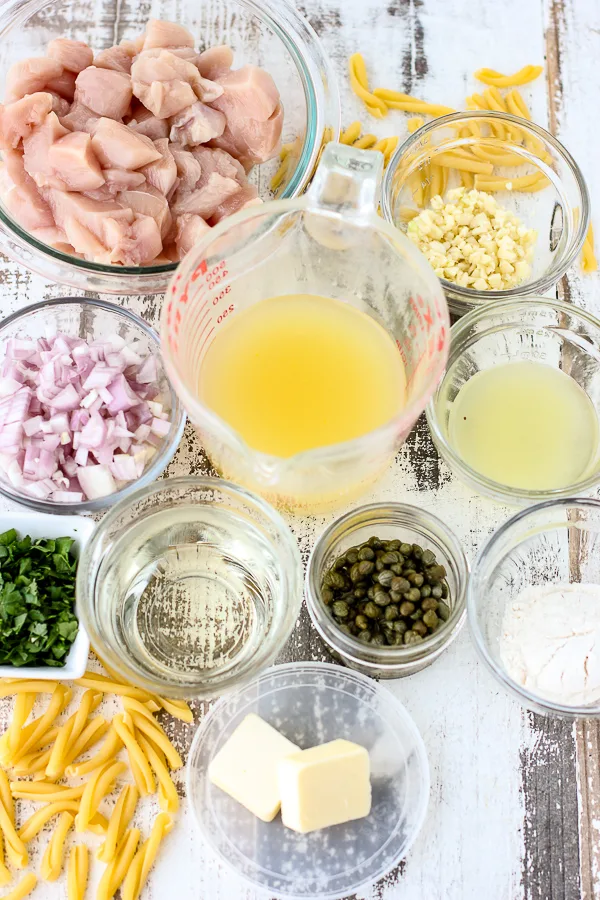 When I started watching 30 Minute Meals, my cooking skills were still evolving. But when I would watch an episode of her show, I would often be inspired to try something new.
In fact there was one day, quite a few years back, when I watched an episode with my daughters and she made chicken fried steak with potatoes, gravy, green beans AND a chocolate pie. It looked so good that we decided we would try and tackle that meal to see if we could do it in 30 minutes.
Between the three of us working as fast as we could, we got the meal on the table in roughly 30 minutes, but the kitchen was a COMPLETE disaster! I think it took us longer to clean up the mess than it did to make the meal, but dinner was delicious. But, by trying new things like that, my cooking skills rapidly improved.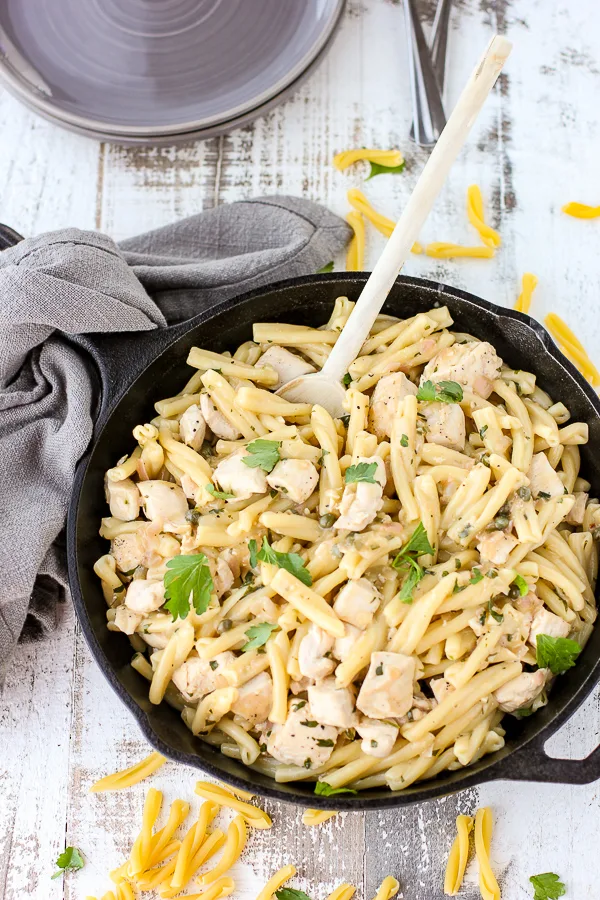 Over time I've gotten so that I rely less on recipes when I cook, but I do still have my favorite Rachael Ray recipes. Chicken piccata pasta toss is one of those and it's one that my family will often request. Unlike the chicken fried steak meal, it doesn't destroy the kitchen.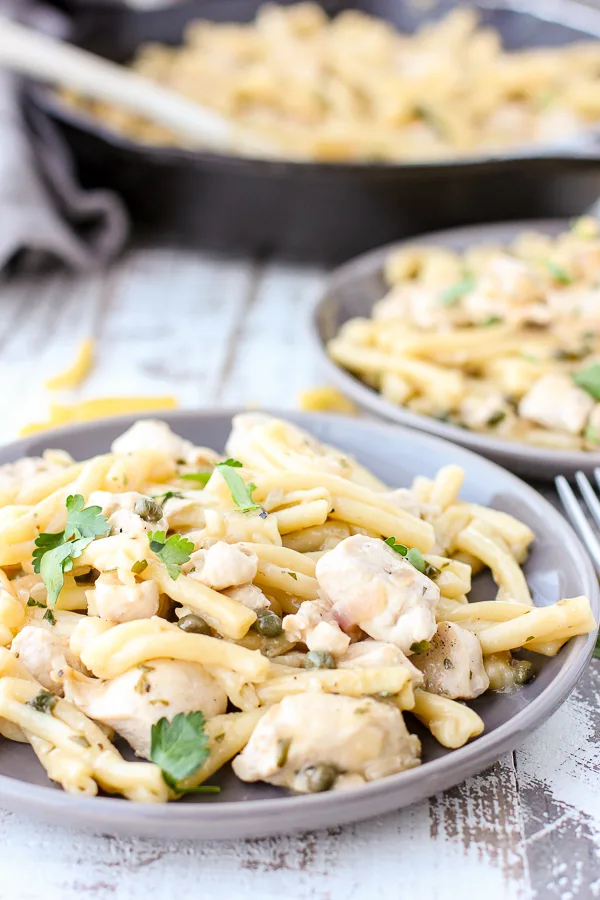 This chicken piccata pasta toss only takes one person to make it and, realistically, it takes about 45 minutes from start to finish. It has all the flavors of chicken piccata in an easy pasta dish. Every time I make it, it disappears quickly.
It's a perfect weeknight meal, but also works great for entertaining. If you're entertaining, you can do all of the prep work ahead of time. Once your guest arrive, you only need about 20 minutes to finish the meal.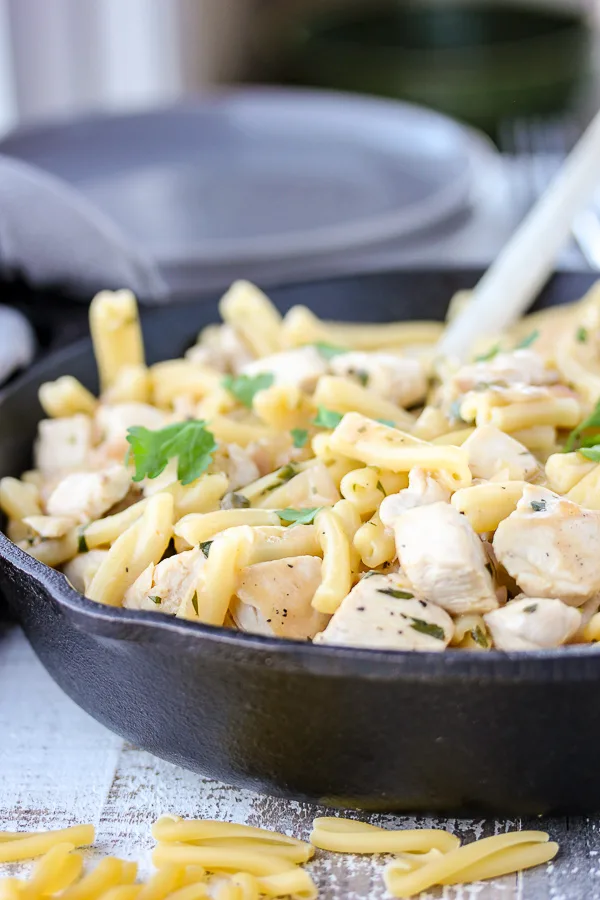 What do you need to know about making Chicken Piccata Pasta Toss?
This recipe cooks very quickly, so I always make sure that my ingredients are prepped before starting to cook.
I start my heating my pasta water a few minutes before I start cooking the sauce. That way the pasta should be done about the same time as the sauce.
I have found that any short cooked pasta works well for this recipe.
If the sauce is ready before the pasta is done, I cover it and turn the heat to simmer.
Yield: 6
Chicken Piccata Pasta Toss, a Family Favorite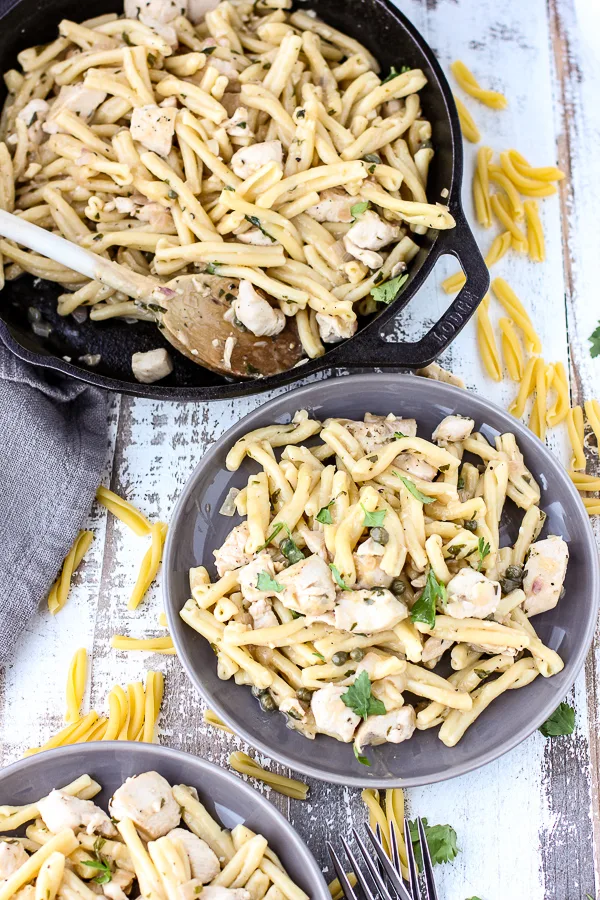 Chicken Piccata Pasta Toss is an easy weeknight meal that will quickly become a family favorite. It has all the flavors of chicken piccata without all the fuss.
Ingredients
12 oz penne pasta, cooked according to package instructions
1 1/4 lb boneless chicken breast, cut into 1 inch pieces
2 tbsp olive oil, divided
2 tbsp butter, divided
2 shallots, chopped
4 cloves garlic, minced
2 tbsp flour
1/2 cup white wine
1 cup chicken stock
juice of one lemon
2 tbsp capers
1/4 cup parsley, chopped
salt and pepper
Instructions
Season chicken with salt and pepper.
Heat 1 tbsp oil in a large skillet over medium high heat.
Add chicken and saute until no longer pink.
Remove from skillet and set aside.
Add remaining tbsp of olive oil and 1 tbsp butter to skillet.
Stir in shallots and saute for about 3 minutes.
Add garlic and saute until fragrant.
Sprinkle flour over shallot mixture, combine and allow to cook for a minute.
Whisk in wine, then chicken stock and lemon juice.
Stir in capers and parsley.
Stir final tbsp of butter in and season to taste with salt and pepper.
Return chicken to skillet and stir cooked pasta into mixture.
Serve immediately.
Notes
As you prep your ingredients, I find it works well to put the ingredients in small bowls next to the stove, since this recipe comes together pretty quickly.
Nutrition Information:
Yield:
6
Serving Size:
1
Amount Per Serving:
Calories:

376
Total Fat:

13g
Saturated Fat:

4g
Trans Fat:

0g
Unsaturated Fat:

7g
Cholesterol:

92mg
Sodium:

279mg
Carbohydrates:

25g
Fiber:

2g
Sugar:

3g
Protein:

35g
ENJOY!
.
SaveSave
SaveSave
SaveSave