Quick Chicken Cacciatore is a richly flavored pasta dish that's so easy to make. It's family friendly, as well as a great meal for entertaining.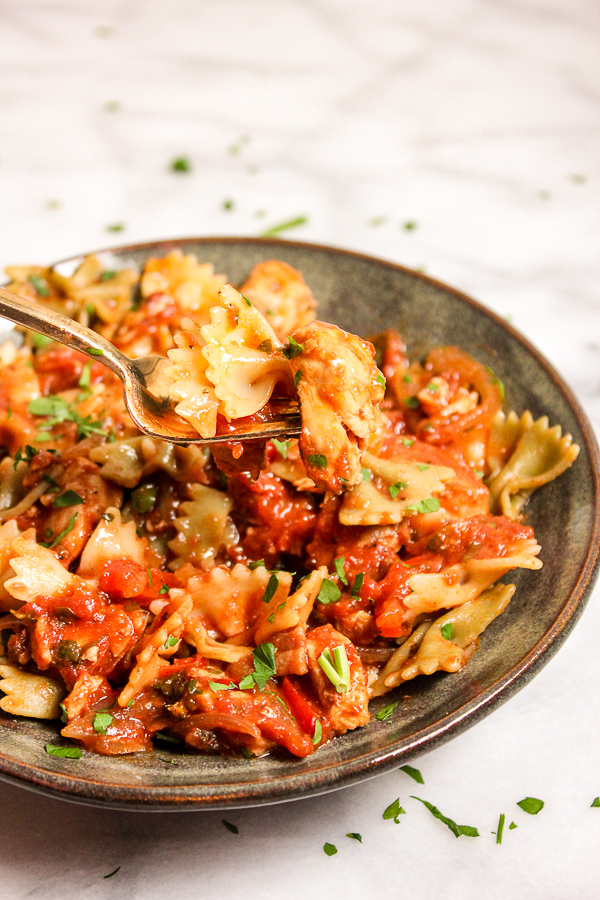 Well, here's the thing, I'm just a little distracted this morning. Last night we headed up to our cabin for a long weekend and pulled in around 10:30. We walked into the cabin, I turned the kitchen light on and immediately Steve noticed standing water in the living room…..and the kitchen…..and the dining room. Whaaat the heck?! Where did all this water come from? It took us about two minutes to figure out it was the water line to the refrigerator.
Now, I should mention, we had standing water on our almost brand new flooring and had water damage to our BRAND NEW kitchen cabinets. But wait, it gets worse. Steve went downstairs and discovered standing water down there, as well as chunks of our ceiling on the floor.
I quickly realized that this would be a situation that would be covered under our homeowners insurance and we quickly breathed a slight sigh of relief. We wasted no time getting a claim started. The insurance company sent out a company to do the clean up right away this morning. We now have two industrial dehumidifiers to help dry things out, along with a crew of three to assess the damage and pull the standing water out. What a way to start the weekend!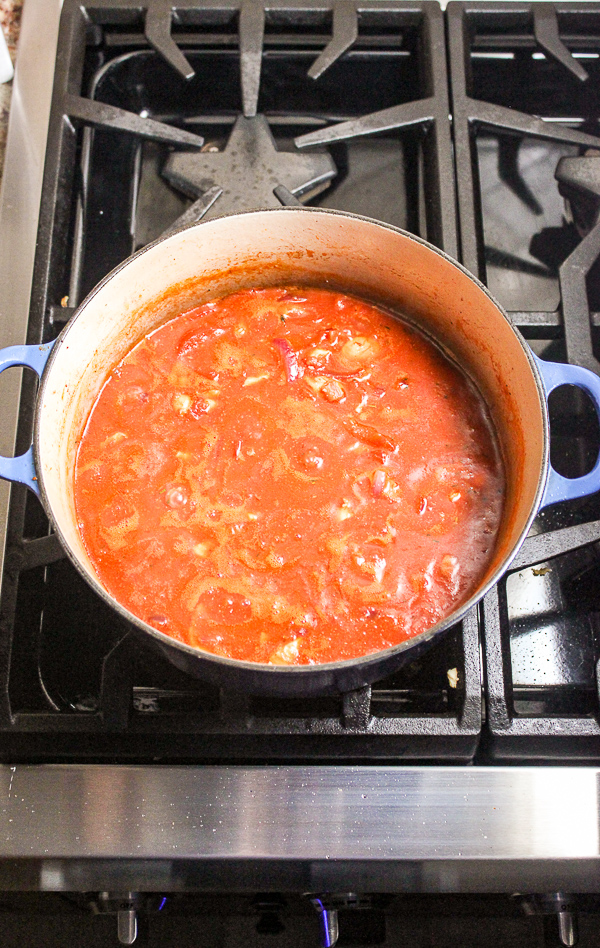 But hey, all of that stress just really makes me want an enormous bowl of this fantastic quick chicken cacciatore. And the good thing is, it's really easy to make, so I don't need to stress out about that. But seriously, this dish is so tasty and it's really easy. It doesn't take long at all to get this going and then it simmers for about 30 minutes to allow all of the ingredients to come together to create a rich, deeply flavored sauce.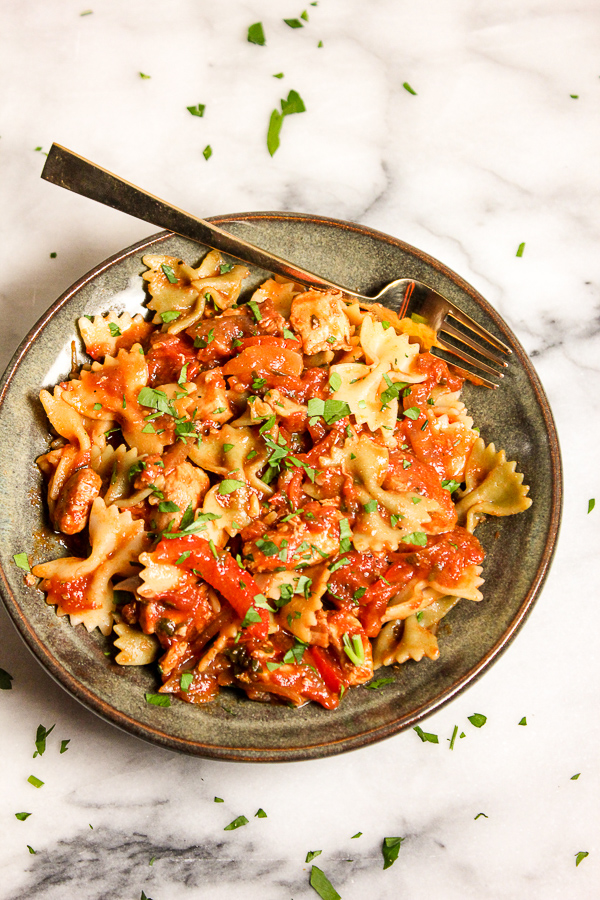 Even though this quick chicken cacciatore simmers for 30 minutes, it's still doable on a weeknight. Those 30 minutes are a great time for you to sit down and relax for a few minutes, before you and your family treat yourself to all of it's deliciousness.
But don't think that this is just a weeknight dinner. It's special enough to serve to company. Just add some crusty bread, a tossed salad and you have a meal that's sure to impress. Your guests will think you were cooking all day.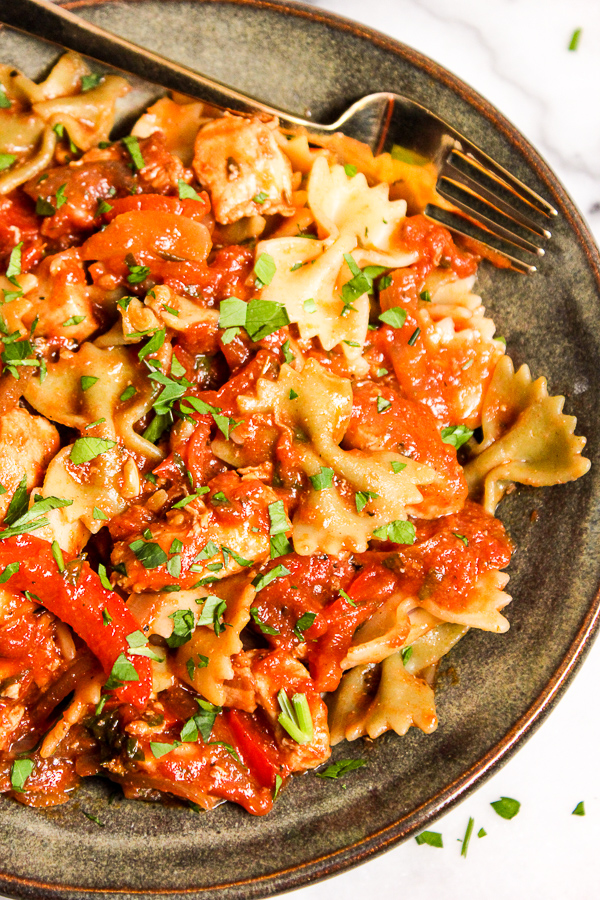 Yield: 4-6
Quick Chicken Cacciatore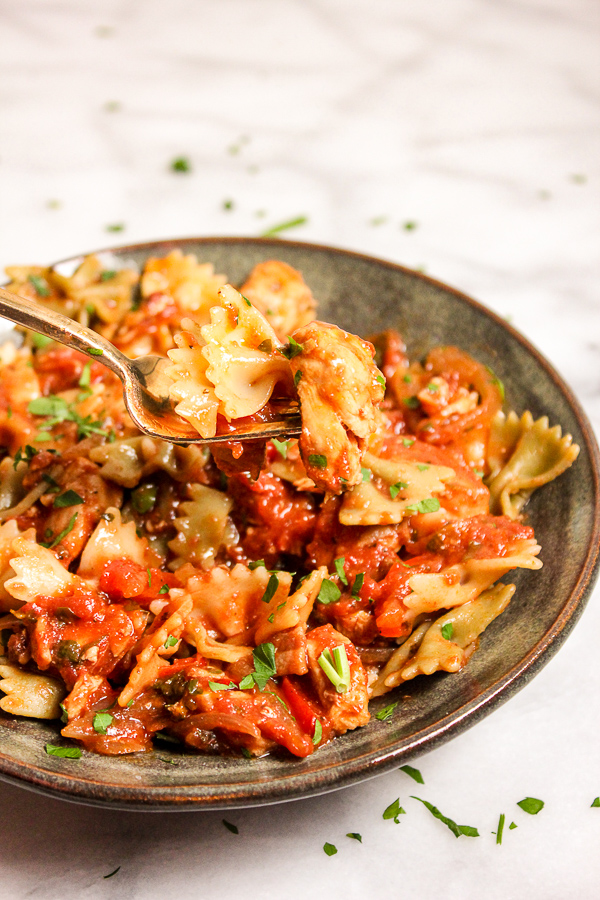 Ingredients
1 tbsp olive oil
4 slices bacon, chopped
1 lb chicken tenders, sliced into thin strips
1 1/2 salt, divided
1 tsp black pepper, divided
1 medium onion, thinly sliced
1 red bell pepper, thinly sliced
1 tbsp fresh thyme, minced
1 tbsp fresh rosemary, minced
1/4 tsp red pepper flakes
4 large cloves garlic
1/2 cup white wine
1 cup beef stock
1 (28 oz) can whole San Marzano tomatoes, crushed with your hands
1/4 cup fresh parsley, finely chopped
1 lb short cut pasta, cooked according to package instructions
grated parmesan for serving
Instructions
Heat olive oil in a dutch oven over medium heat.
Add bacon and cook until bacon is crispy.
Remove bacon from pan and drain on paper towels.
Add chicken to pan and season with 1/2 tsp salt and 1/4 tsp pepper.
Sauté until chicken is no longer pink.
Remove from pan and set aside.
Add onion, bell pepper, thyme, rosemary and red pepper flakes to pan.
Season with 1/2 tsp salt and 1/4 tsp pepper.
Saute until onion and bell pepper are tender, about 5 minutes.
Stir in white wine, bring to a boil and cook until wine has reduced by half.
Stir in beef broth and bring to a boil.
Return chicken and bacon to the pan.
Stir in tomatoes and remaining 1/2 tsp salt and 1/4 tsp pepper.
Bring to a boil, reduce heat to low and simmer, uncovered, for 30 minutes, stirring occasionally.
Before serving, stir in parsley.
Serve sauce with cooked pasta and parmesan.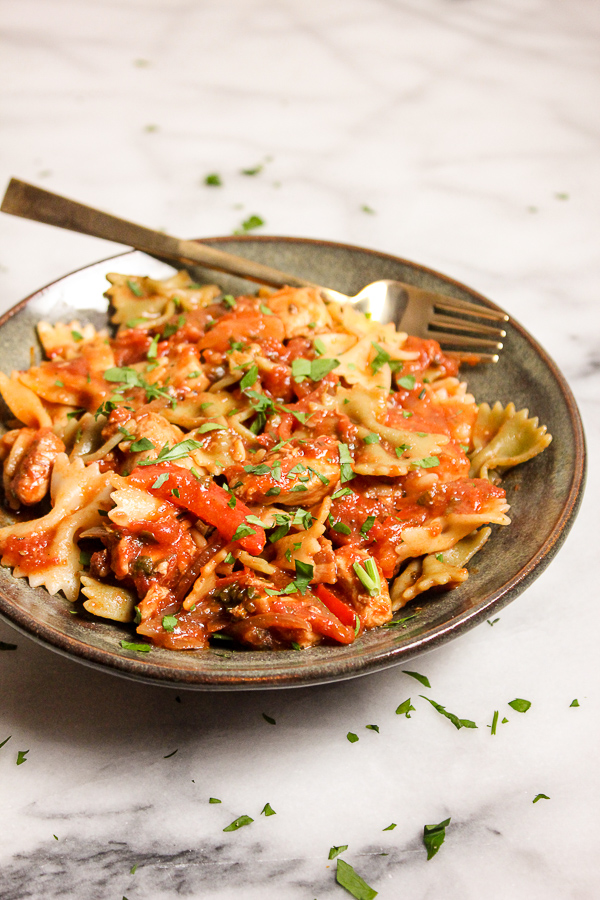 ENJOY!
This recipe has been shared at: Weekend Potluck