There is something so simple about a roast chicken dinner and at the same time it's seems like a special meal. But it's a special meal that's actually very simple to make. Plus, it takes less than an hour to roast so it's even possible for a weeknight meal.
The secret to getting the chicken skin nice and crispy is to roast it at a fairly high temperature and preheat the pan. I like to throw a variety of root vegetables in the pan as well. They get great caramelization, plus they soak up some of the juices from the chicken, which makes them taste absolutely amazing. Since the chicken cooks at a high temperature for less than an hour, it turns out super juicy and tastes amazing as well. By adding some aromatics to the cavity of the chicken, such as onion, garlic, lemon, herbs, you will further infuse the chicken with great flavor.
So how about a roast chicken dinner this week?
Foolproof Roast Chicken and Vegetables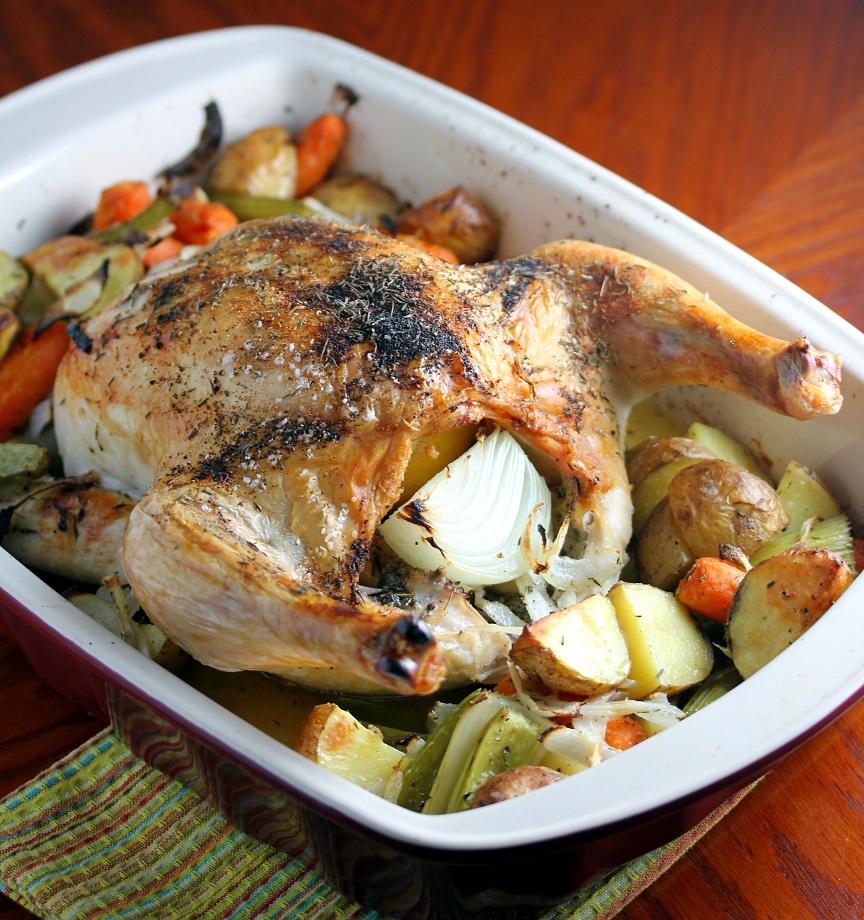 1 – 4 to 5 lb whole chicken
6 small Yukon gold potatoes, quartered
4 stalks celery, cut into thirds
12 baby carrots
1 onion
1/2 lemon
3 cloves garlic, peeled
salt
pepper
garlic powder
dried thyme
olive oil
Preheat oven to 425 degrees. Put a large baking dish or a roasting pan in the oven while it preheats.
Rinse chicken and pat dry.
Season generously with salt, pepper, garlic powder and thyme, inside the cavity and outside.
Put 1/4 of the onion in the chicken's cavity, along with the lemon and garlic.
Slice the remaining 3/4 onion. Combine with potatoes, celery and carrots.
Drizzle vegetable with 2 tbsp olive oil and sprinkle with 1 tsp salt, 1/2 tsp pepper, 1/2 tsp garlic powder and 1/2 tsp thyme. Toss vegetables until they're thoroughly coated with oil and spices.
Once oven has come to temperature, remove baking dish and drizzle olive oil over the bottom.
Place chicken in the pan and pour vegetables in around the chicken.
Bake for 50-60 minutes, until chicken is golden brown and the juices run clear. The legs should also feel loose if you try and wiggle them.
Let chicken rest for 15 minutes, lightly covered with foil, before serving.
Serve with the pan juices.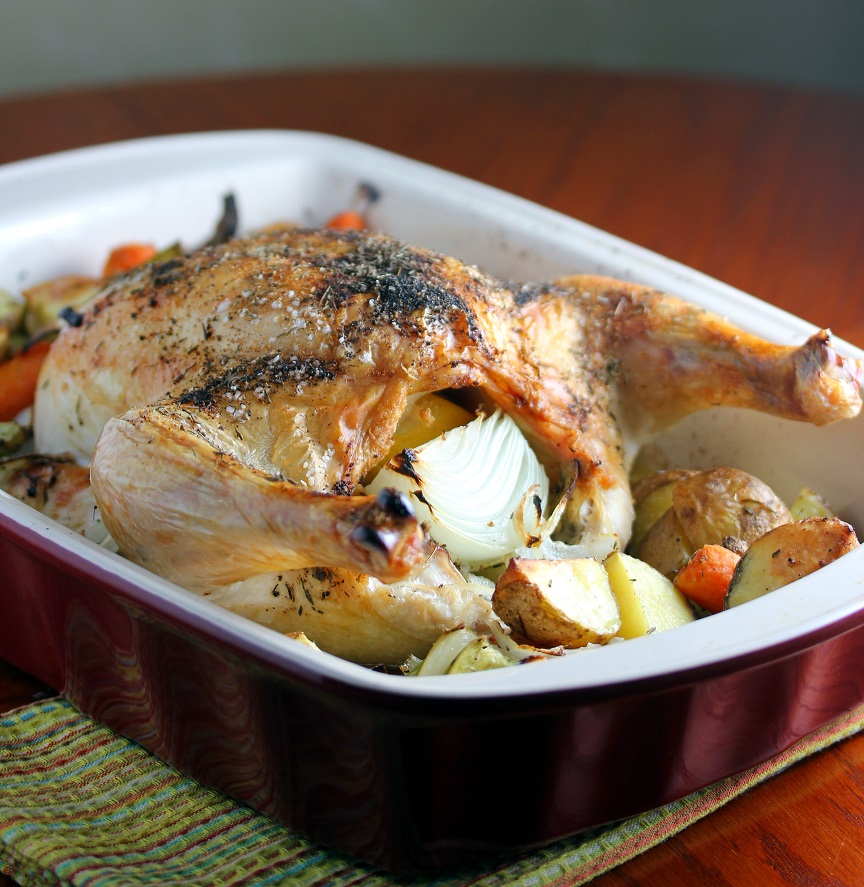 ENJOY!


Shared at these great blogs: