Italian Mini Chicken Meatball Soup is full of veggies and flavor with just a slight kick. It's also ready in 30 minutes, making it a perfect weeknight meal.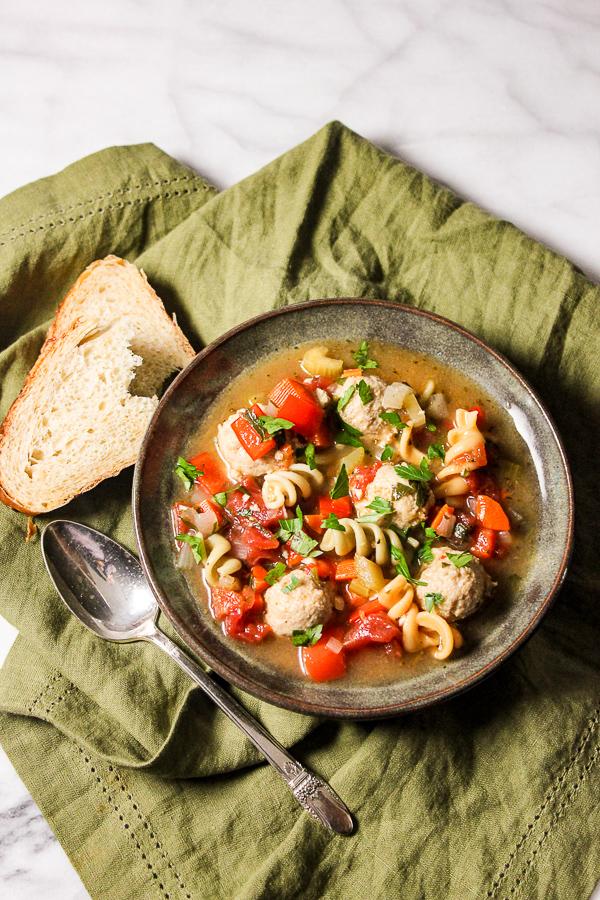 Now that we're squarely into the holiday season, I'm all about easy weeknight meals. There always seems to be so much going on this time of year, so the last thing I want to worry about is making a complicated meal on a busy weeknight. Enter Italian mini chicken meatball soup. Not only is it quick and easy, it's also a healthy meal you can feel good about serving to your family.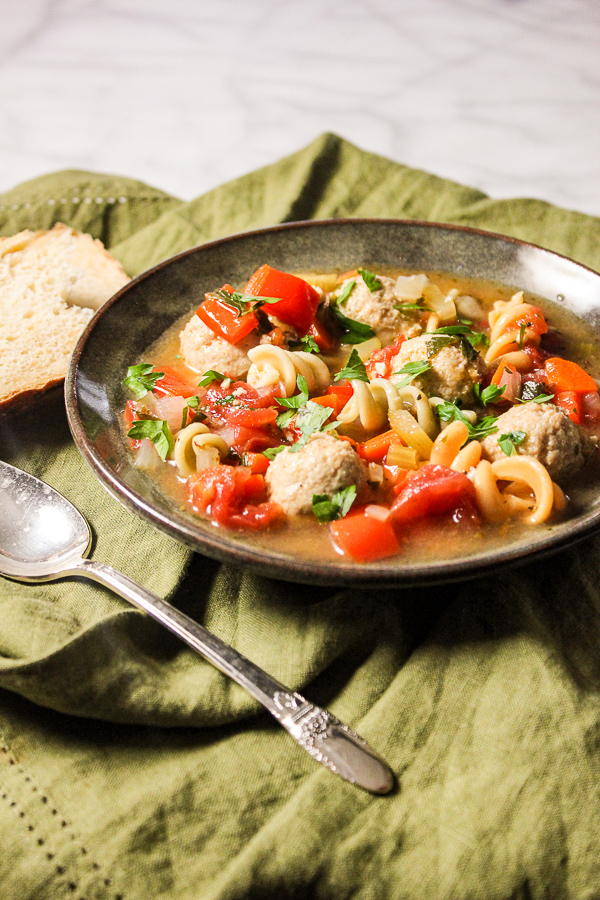 This soup is so easy to make and you probably have all of the ingredients on hand. If you don't happen to have ground chicken on hand, you absolutely could substitute ground turkey or even ground beef. You can also feel free to us whatever veggies you happen to have on hand. I think zucchini or peas would be a delicious addition. I also added just a little red pepper flake to give the soup a little kick. You can certainly adjust that to suit your family's taste.
This makes a pretty big pot of soup, which is great because it reheats beautifully for lunch the next day.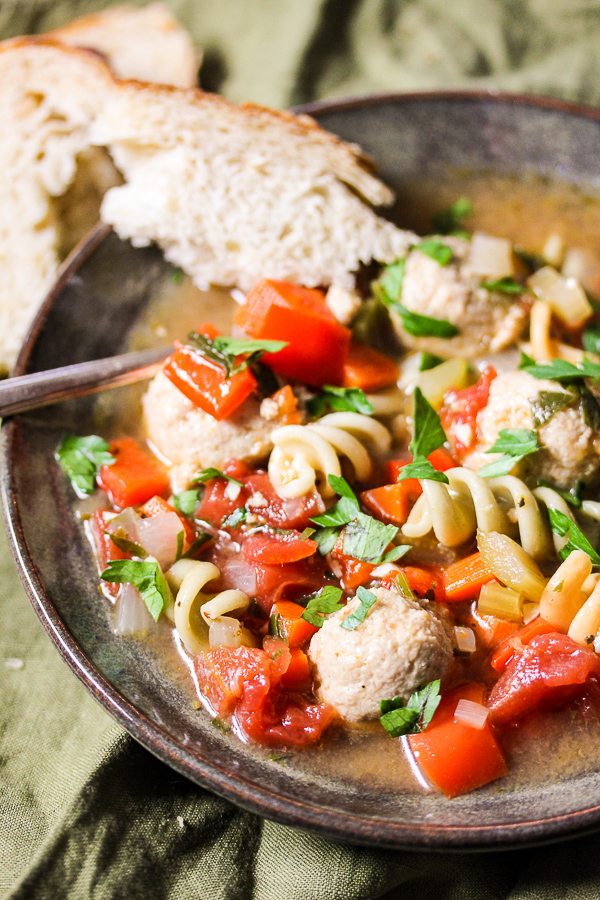 Yield: 6
Italian Mini Chicken Meatball Soup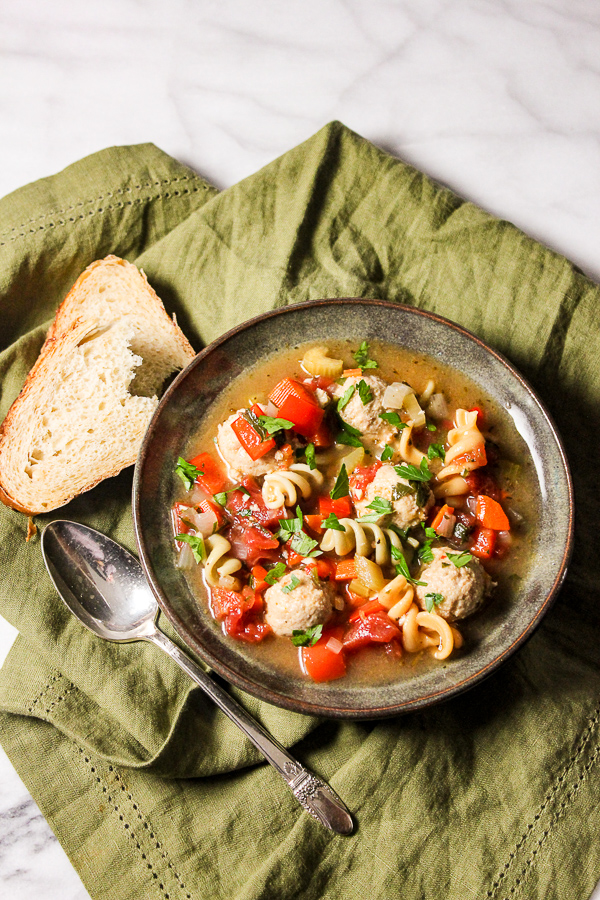 Ingredients
2 tbsp plus 1 tsp olive oil, divided
1 medium red onion, chopped
1 red bell pepper, chopped
2 carrots, peeled and diced
3 ribs celery, diced
3 cloves garlic, minced
1 1/2 tsp salt, divided
1/2 tsp black pepper
1/4 tsp red pepper flakes
1/2 cup white wine
1 (15oz) can diced tomatoes
8 cups chicken stock
1 lb ground chicken
1/2 cup Italian bread crumbs
1/3 cup grated parmesan cheese
1 egg
1/2 tsp salt
1/4 tsp pepper
1 cup short cut pasta, uncooked
Instructions
Heat 2 tbsp olive oil over medium heat in a dutch oven.
Sauté onion, bell pepper, carrots and celery until onions are translucent, about 5 minutes.
Add garlic and sauté for 1 minute more.
Season with 1 tsp salt, black pepper and red pepper flakes.
Stir in wine, bring to a boil and cook for a couple of minutes, until wine has reduced slightly.
Stir in tomatoes and chicken stock.
Bring to a boil, reduce heat to low, cover and simmer for 10-15 minutes.
While soup simmers, make meatballs.
In a mixing bowl, combine, ground chicken, bread crumbs, cheese, egg, remaining 1/2 tsp salt and remaining 1 tsp of olive oil.
Mix until well combined.
Form mixture into balls, using about 1 tbsp for each. A small scoop works great for this.
Drop meatballs into the soup along with the pasta.
Simmer, covered, for an additional 10 minutes, until pasta is tender and meatballs are cooked through.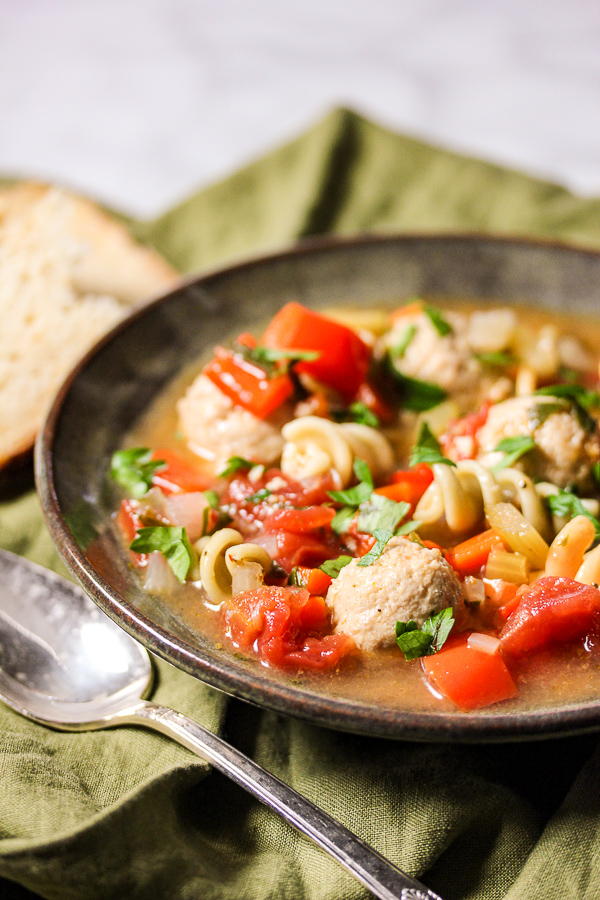 ENJOY!
This recipe has been shared at: