Tator tot casserole just got a little healthier with a homemade sauce and a healthy dose of fresh veggies. You and your family will love this comfort food classic.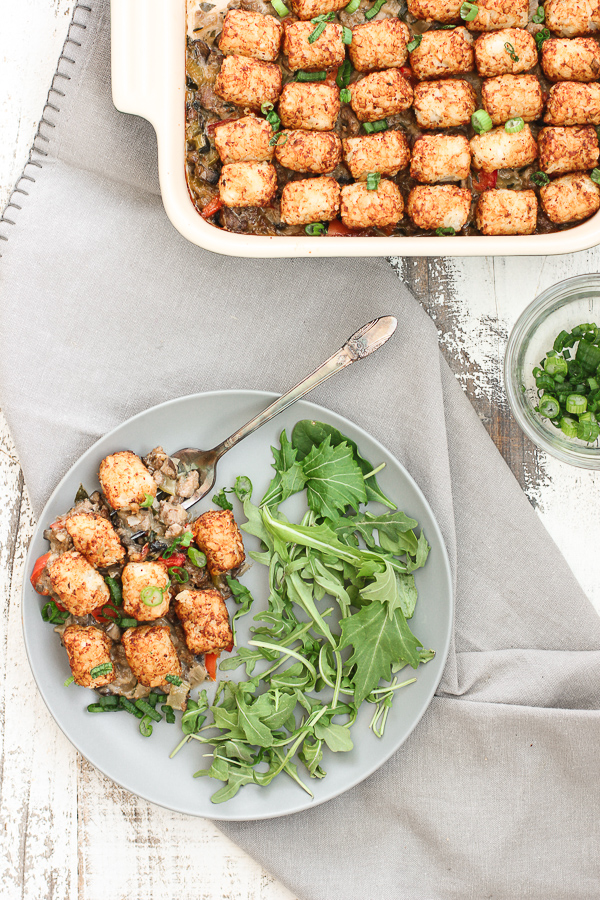 Tator tot casserole is such a classic. Over the years, it's been the star at many potlucks and I'm pretty sure we all ate it growing up. The problem I have with it, though, is that it's heavy on cream soups and a little light on veggies.
Cream soups are certainly convenient, but they are filled with so much sodium. To reduce the sodium and make this classic dish a little healthier, I started by making my own sauce.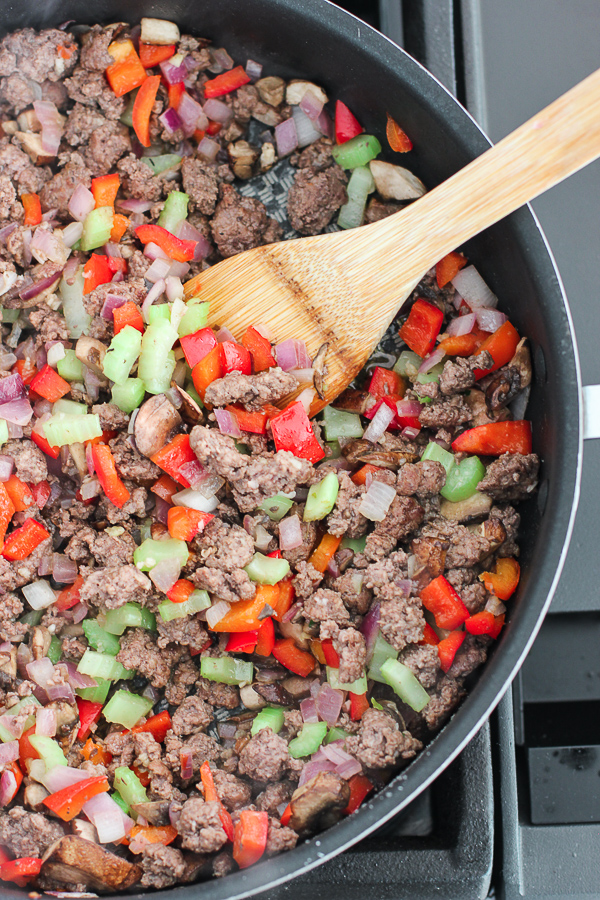 To make the sauce, I replaced the cream soups with a homemade sauce that's a combination of beef stock and milk, thickened with a little flour and seasoned with fresh herbs. It really isn't much more work than opening the can of cream of mushroom soup and the result is delicious!
As I said, traditional tator tot casserole can also be a little light on veggies. I think back in the day everyone had their own mix of veggies they would add, like corn, green beans or a mix of both.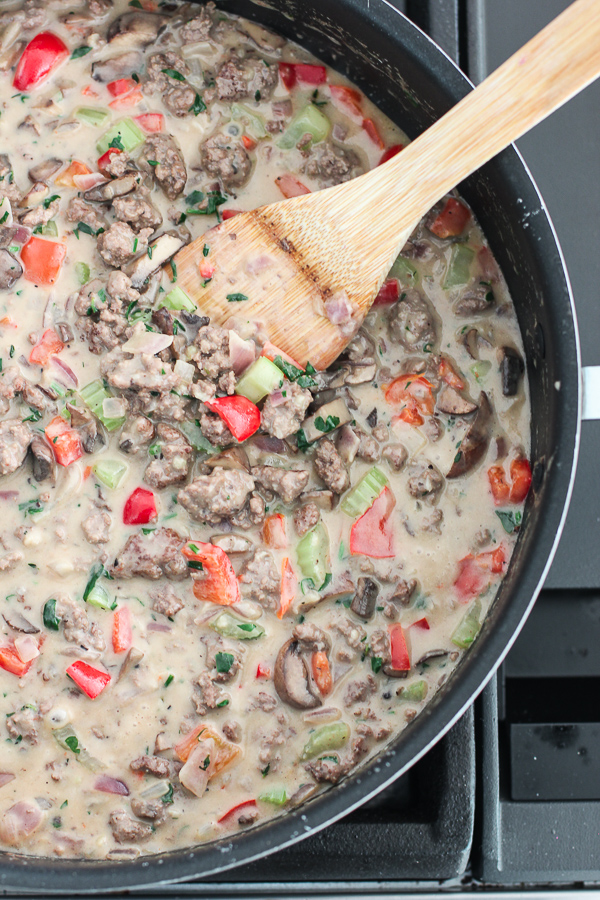 I decided to bump up the nutrition and the flavor by adding a variety of fresh vegetable. I like the combination of onion, garlic, red pepper, mushrooms and celery. You can add any mixture that you choose, but I recommend using fresh veggies if possible, because of the brighter flavor they add.
I think carrots, green beans or zucchini would also be delicious additions to the casserole. I also have found that a little sliced green onion sprinkled on top of the tator tots after the casserole comes out of the oven adds a perfectly fresh, light onion flavor. But you do you.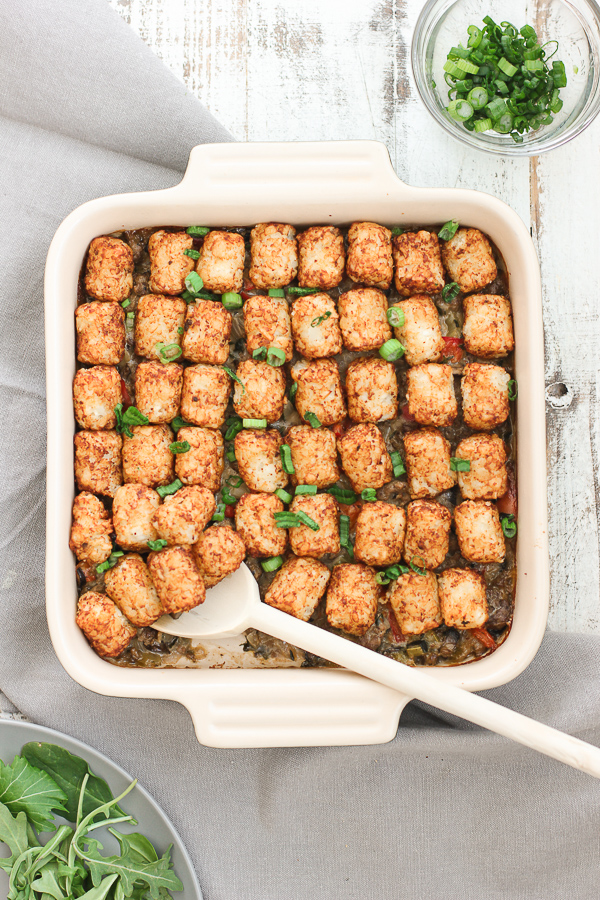 The other thing I love about this casserole is that you can make it ahead and freeze it. You can either freeze it in a 9×13 pan or if you have a smaller family, divide it into two 8×8 pans. You could also double the recipe and divided between two 9×13 pans.
If you're cooking a pan from frozen, just add about an additional 15 minutes of baking time. Basically bake it until the tator tots are browned and crispy and the sauce is bubbly.
Of course, I'm not going to try and convince you that tator tots are any kind of health food, but I think we all know they are delicious. By making these healthier swaps to the recipe, you can enjoy this comfort food a little more guilt free.
So how about a healthier tator tot casserole for dinner tonight?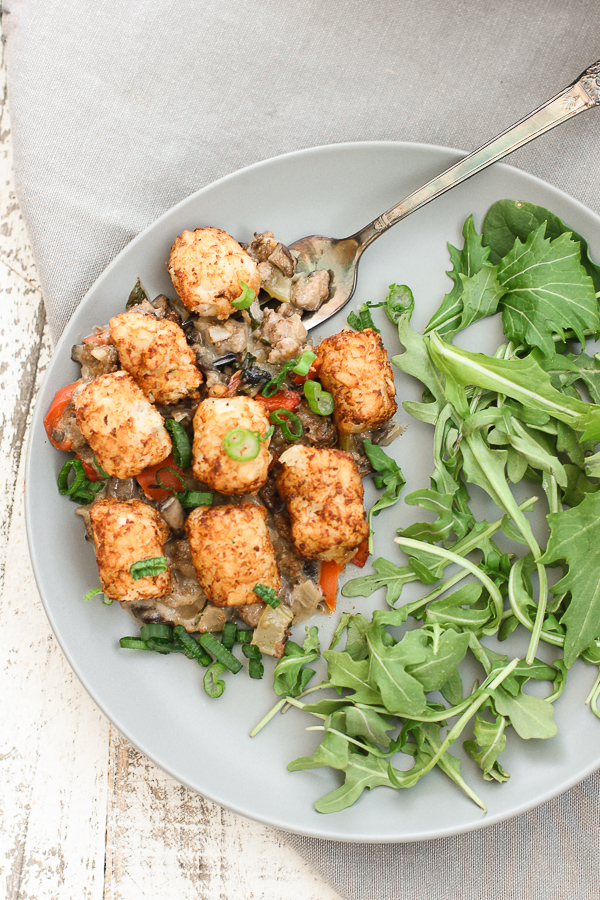 Want some more healthier comfort food?
Try these comfort food classics: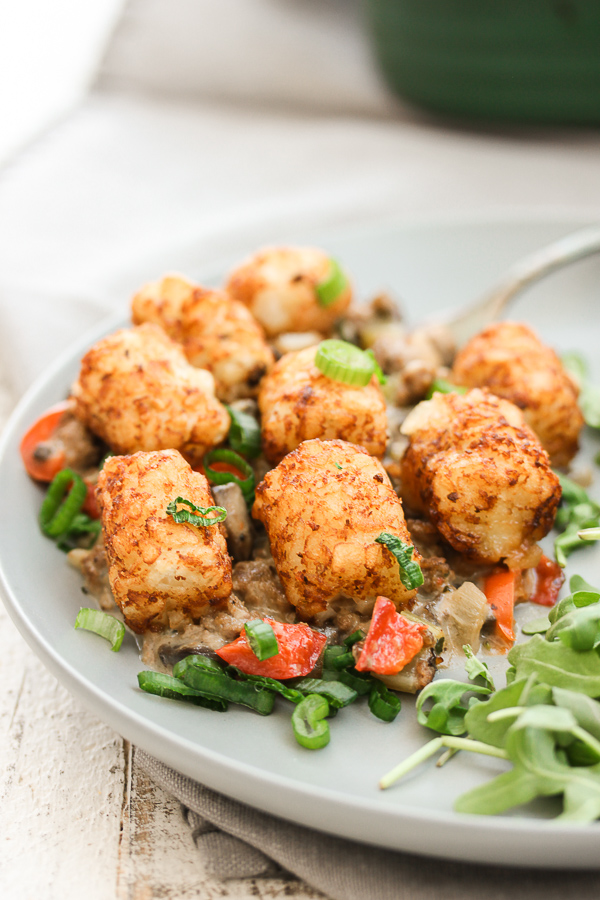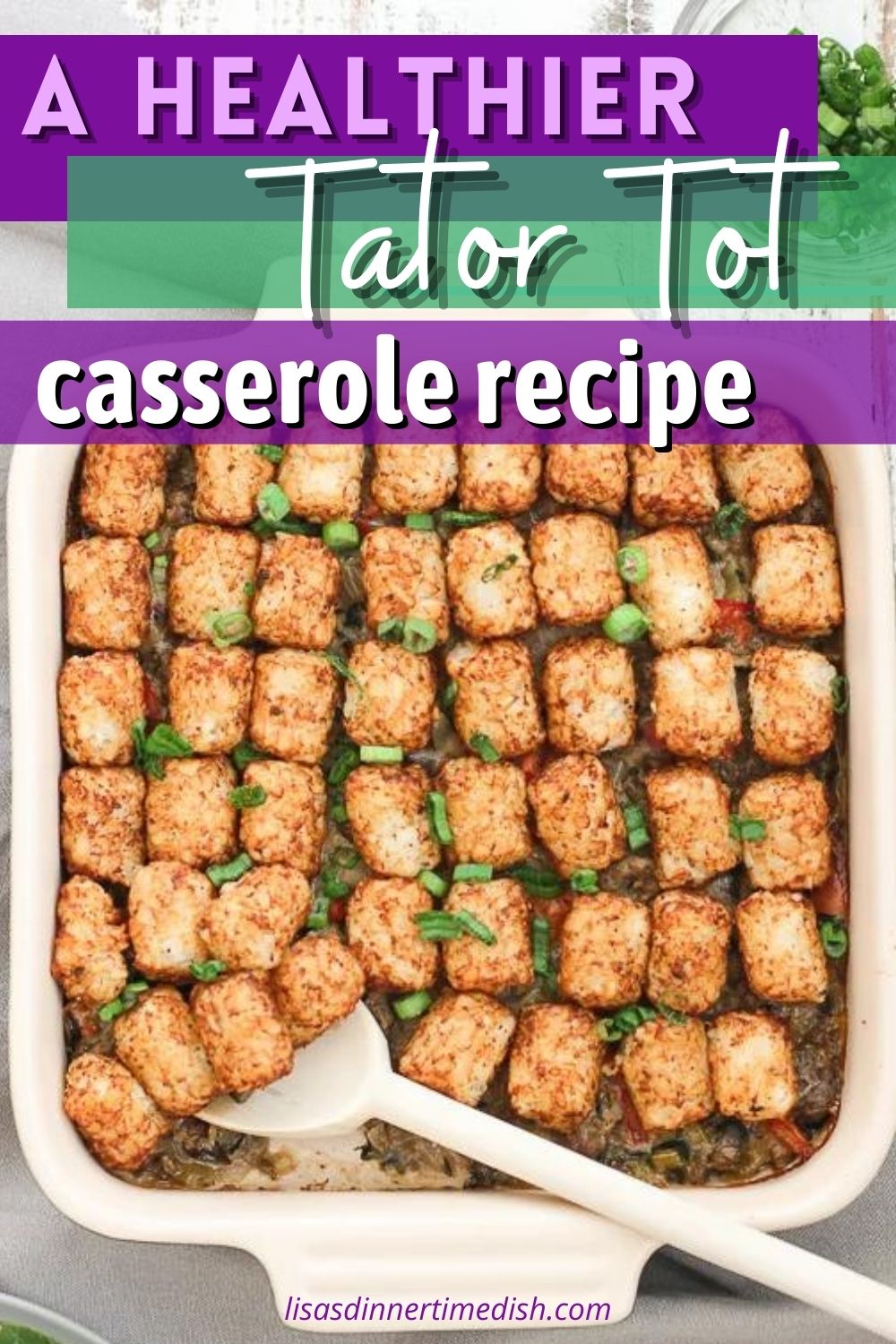 Yield: 6
A Healthier Tator Tot Casserole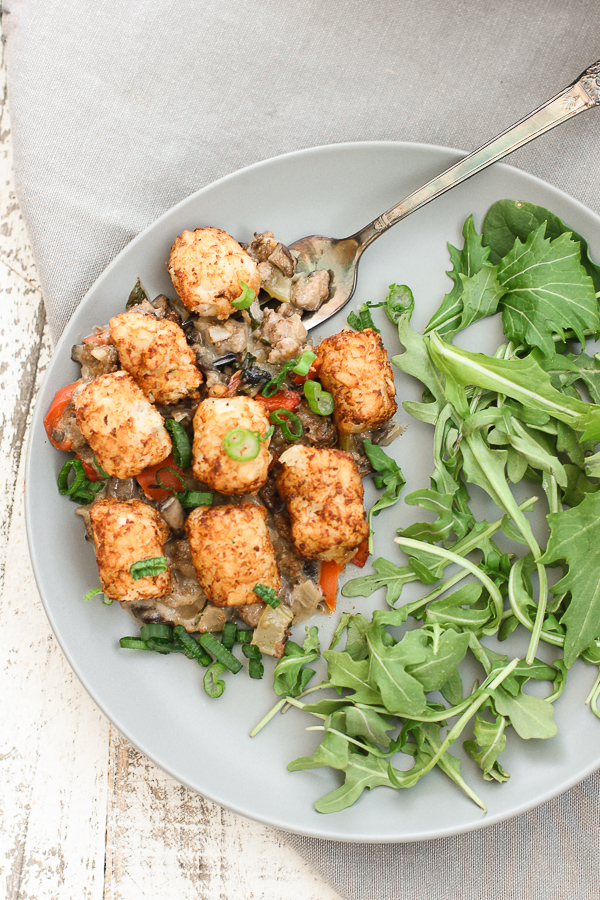 Tator tot casserole just got a little healthier with a homemade sauce and a healthy dose of fresh veggies. You and your family will love it.
Ingredients
1 pound ground beef
2 clove garlic, minced
1 small onion, chopped
1 red pepper, chopped
2 ribs celery, chopped
4 oz sliced cremini mushrooms
1 tbsp fresh thyme, chopped, or 1 tsp dried
2 tbsp flat leaf parsley, chopped
2 tbsp olive oil, divided
2 tbsp flour
1 cup beef stock
1 cup milk
Salt and pepper
1 (32 oz) bag tator tots
sliced green onions for garnish (optional, but recommended)
Instructions
Preheat oven to 400 degrees.
Coat 1- 9×13 pan or 2- 8×8 pans with cooking spray.
Heat 1 tbsp olive oil in a large skillet over medium high heat.
Add ground beef and break up with a spoon.
When meat is starting to brown, add all of the veggies to the pan.
Season with about 1/4 tsp of salt and 1/4 tsp of pepper.
Continue cooking until beef is no longer pink and onions are translucent.
Add remaining tbsp olive oil and reduce heat to medium.
Sprinkle flour over mixture and stir to combine.
Gradually stir in beef stock and then milk.
Stir in thyme, parsley, another 1/4 tsp salt and 1/4 tsp pepper.
Bring to a bubble and continue cooking, stirring frequently until sauce has thickened.
Pour mixture into prepared 9×13 pan or divide between 2 prepared 8×8 pans.
Top with tator tots.
At this point, if you're going to freeze any of the casserole, cover tightly with foil and freeze until ready to use.
Defrost before baking, or add an additonal 15 minutes cooking time if baking from frozen.
Or bake immediately in preheated oven for 20-30 minutes until sauce is bubbly and tator tots are browned and crispy.
Sprinkle with sliced green onions if desired.
Nutrition Information:
Yield:
8
Serving Size:
1
Amount Per Serving:
Calories:

245
Total Fat:

15g
Saturated Fat:

5g
Trans Fat:

0g
Unsaturated Fat:

8g
Cholesterol:

53mg
Sodium:

223mg
Carbohydrates:

9g
Fiber:

1g
Sugar:

2g
Protein:

18g
This recipe was originally posted on 10/03/12. It was updated to improve user experience and reposted on 03/02/20.
ENJOY!