Are you a cilantro lover or hater? I feel like cilantro is an herb that people either love or hate and there's not a lot of middle ground. I happen to love cilantro. It has such a unique, fresh flavor that really brightens up Asian and Mexican dishes. This stir fry is especially delicious with a generous helping of cilantro stirred into the spicy peanut sauce. Now, I understand if you happen to be on the hater side of cilantro, you probably aren't buying what I'm selling. So I won't feel bad if you substitute fresh parsley, this dish will still be delicious and the parsley will brighten up the flavor, too. But if you're a cilantro lover, make sure you're generous with the cilantro and give the dish an extra sprinkle before you dig into its deliciousness!
This stir fry is perfect for a quick weeknight dinner, it takes almost no time to cook and, let me tell you, the spicy peanut sauce is SOOOO delish. It's got just the right amount of heat, not too mild and not too hot, just perfect. And of course, there's the bright, delicious flavor of all that cilantro!
Chicken Stir Fry with Spicy Peanut Sauce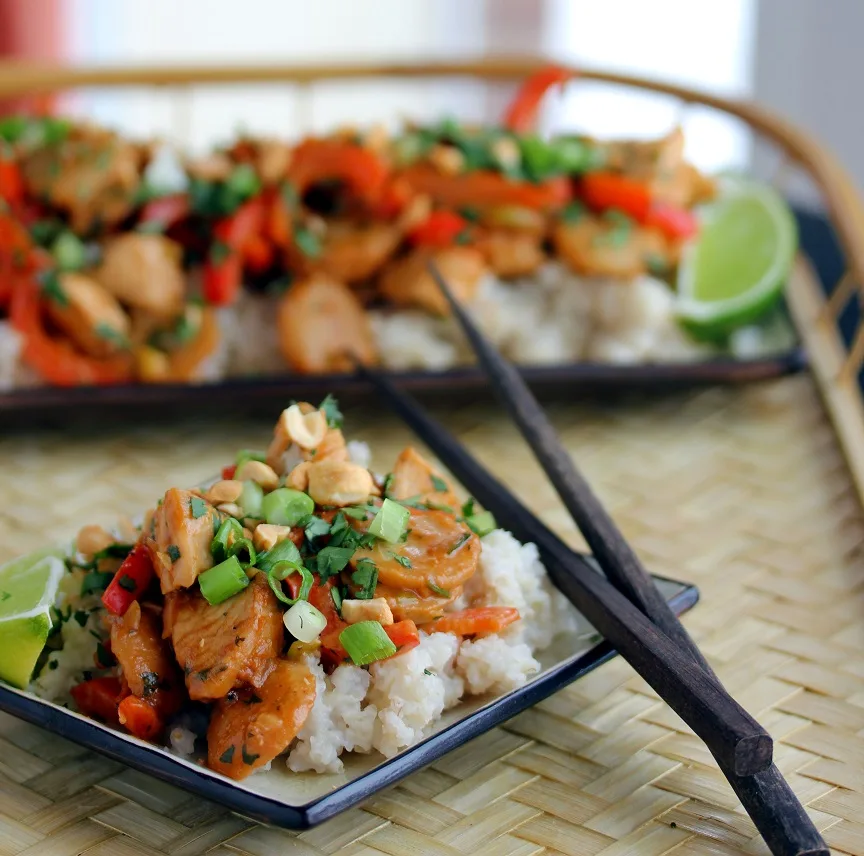 2 tbsp vegetable oil
12 oz boneless chicken breast, cut into bite size pieces
2 cloves garlic, minced
4 green onions, sliced
2 medium red bell peppers, cut into 1 1/2″ slices
1 can sliced water chestnuts, drained
1/4 cup creamy peanut butter
juice of 1 lime
3 tbsp reduced sodium soy sauce
1 tbsp rice wine vinegar
1 tbsp sriracha sauce
1/2 tsp garlic powder
1/4 tsp black pepper
2 tbsp finely chopped cilantro
cooked white or brown rice
additional sliced green onion, chopped cilantro and lime slices for garnish, if desired
chopped peanuts for garnish, if desired
Cut vegetables and chicken, set aside.
In a small bowl, combine peanut butter, lime juice, soy sauce, vinegar, sriracha, garlic powder and black pepper. Whisk together until well combined and smooth. It will look lumpy at first, but as you whisk, it will get nice and creamy. Stir in cilantro.
Heat oil in a wok or large skillet over high heat until oil is very hot.
Add chicken and stir fry for about 3 minutes, until chicken is no longer pink.
Move chicken to the sides and add green onions, stir fry for 1 minute.
Add garlic and stir fry for 30 seconds.
Add red peppers and stir fry for 1 minute.
Add water chestnuts and stir fry for 30 seconds.
Pour sauce over mixture and toss to coat. Cook for another minute until sauce is heated through.
Serve over rice. Garnish with green onions, cilantro, lime slices and chopped peanuts, if desired.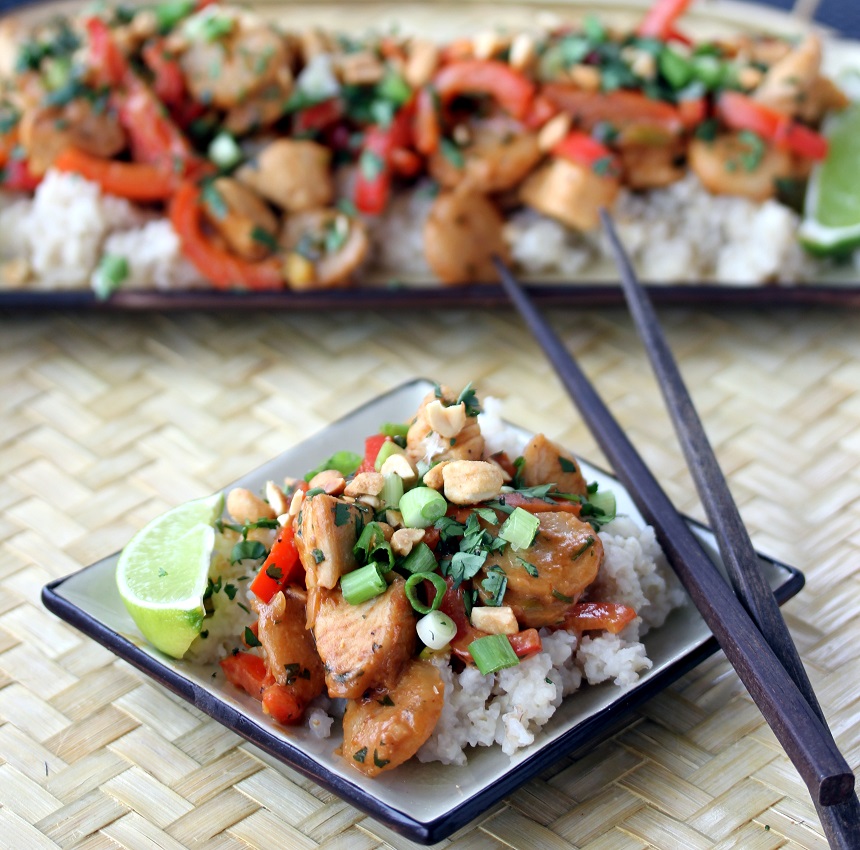 ENJOY!

Shared at these great blogs: