I love these pork chops, they are so delicious and flavorful and they're perfect for both a family dinner or for entertaining guests. The stuffing is savory and full of great flavor from the sausage and the herbs and the pork stays juicy and tender.
What I also love about these pork chops is that they can be prepared in stages, which is why they're are so perfect for entertaining. You can prepare the stuffing and take them as far as stuffing or you can take them all the way through the searing step. I prefer taking them all the way through the searing step. Then all you have left to do is finish them in the oven, which is great if you're entertaining because your mess is all cleaned up and since they're in the oven, it's very hands off, so you can be with your guests.
Oven Roasted Stuffed Pork Chops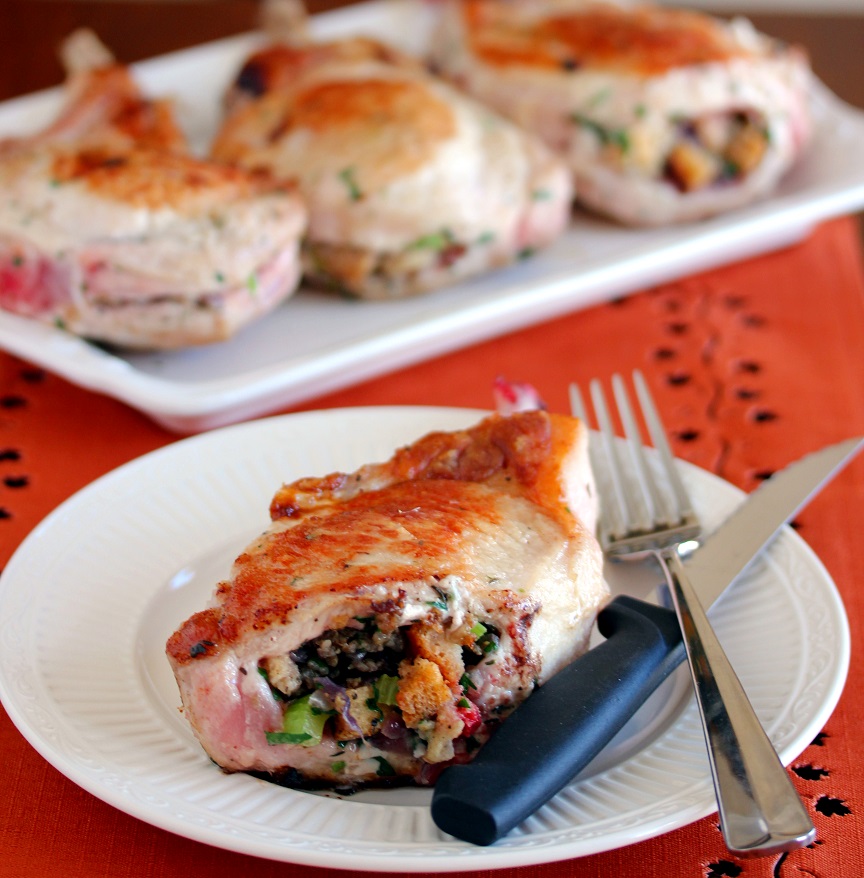 1/4 onion, small dice
1 rib celery, small dice
1/4 lb bulk breakfast sausage
2 tbsp butter
1/2 tsp dried sage
1/2 tsp dried thyme
1/4 tsp salt
1/4 tsp pepper
2 tbsp parsley, finely chopped
1 1/2 heaping cups stuffing croutons
1/3 cup chicken stock
4 bone-in porks chops, 1 to 1 1/2 inches thick
flour seasoned with salt and pepper
canola oil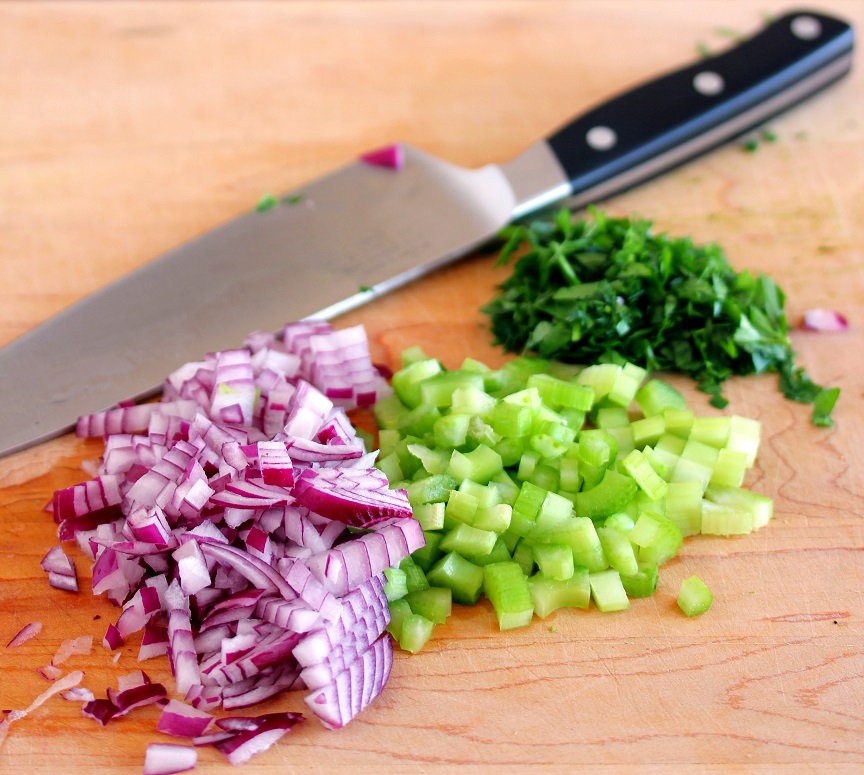 Melt butter in a medium skillet over medium heat.
Add sausage to pan and brown, breaking up into small pieces with a spoon.
Once sausage is almost cooked through, add onion, celery, sage, thyme, salt and pepper. Cook until sausage is no longer pink and onions are translucent.
Remove from heat and stir in croutons and parsley. Pour chicken stock into the pan, a little at a time and stir until croutons are well coated and softened, but not mushy.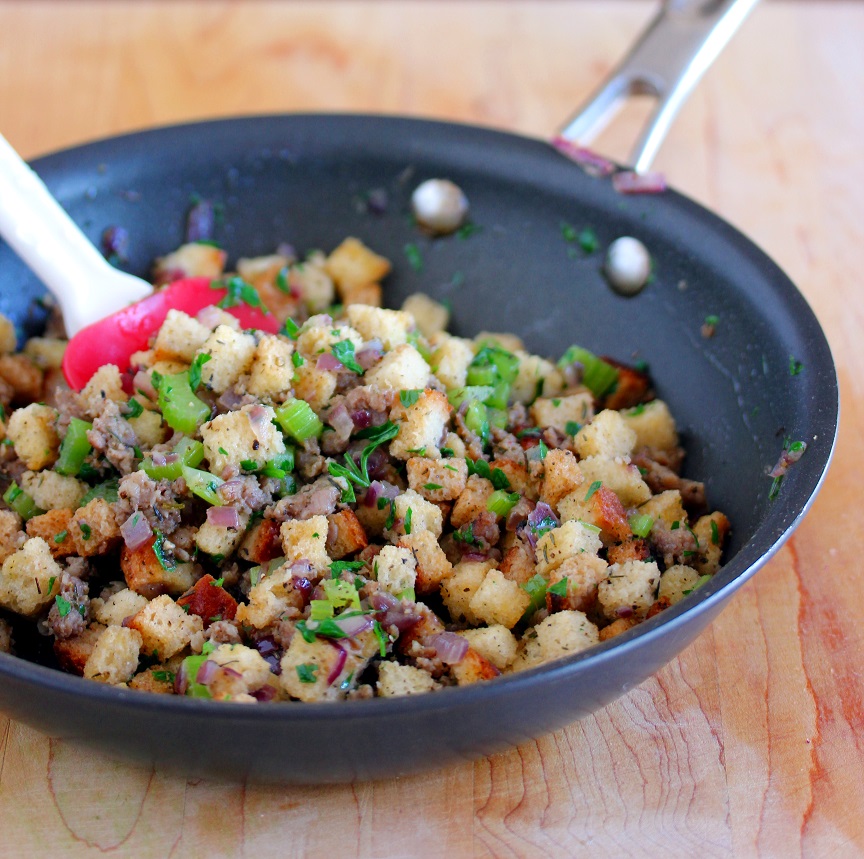 Set stuffing aside while you prepare the pork chops for stuffing.
Take a paring knife and cut a slit that's about 1 1/2 to 2 inches wide in the middle of the side of the pork chop.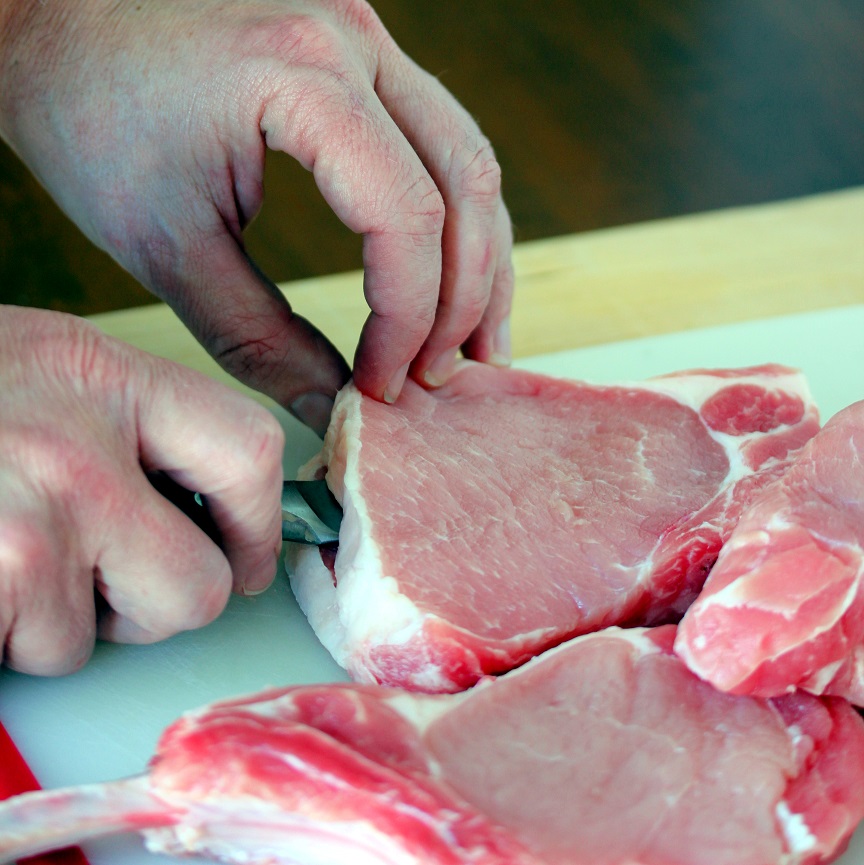 Once you've cut the slit, continue cutting into the pork chop until you have a pocket in the center.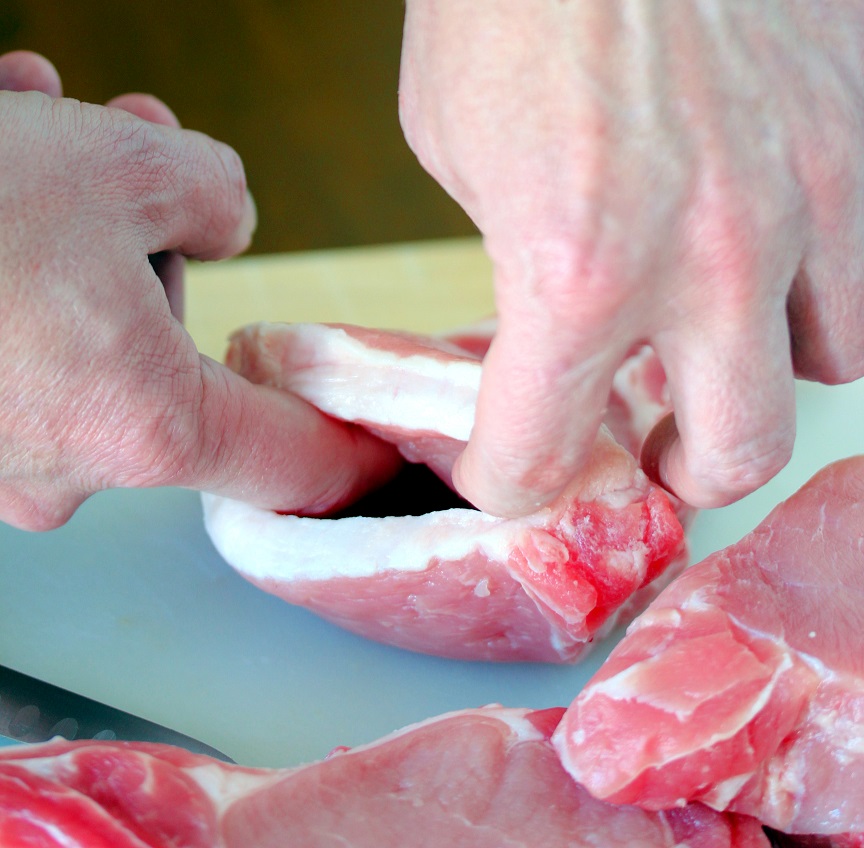 Fill each pocket with the stuffing (all of the stuffing should fit in the pork chops).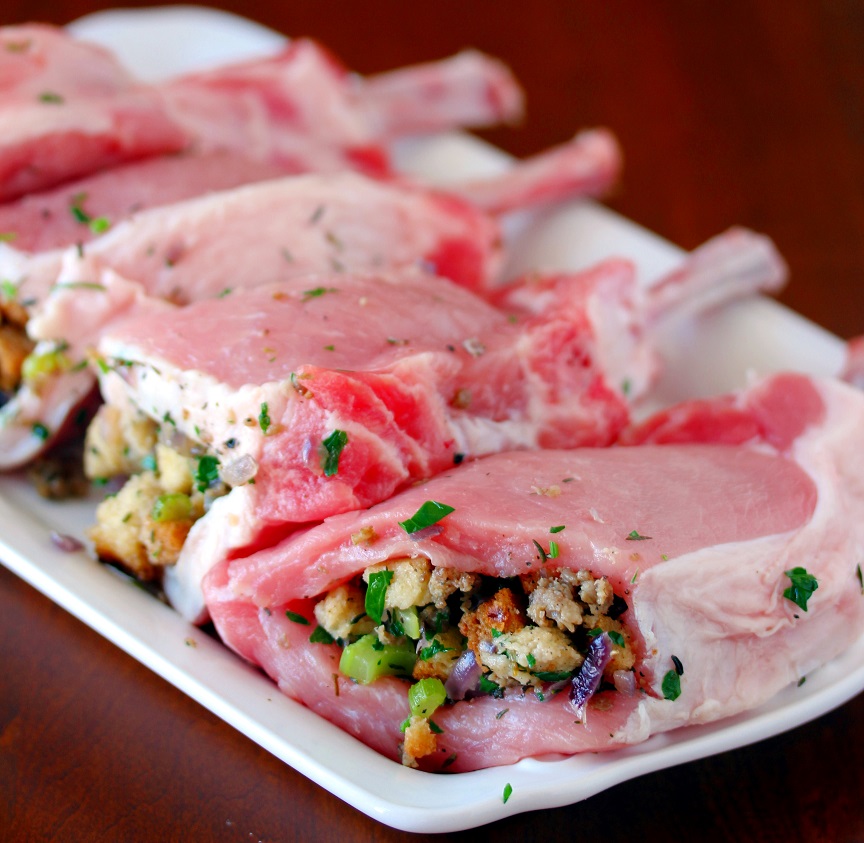 Coat each pork chop with the seasoned flour.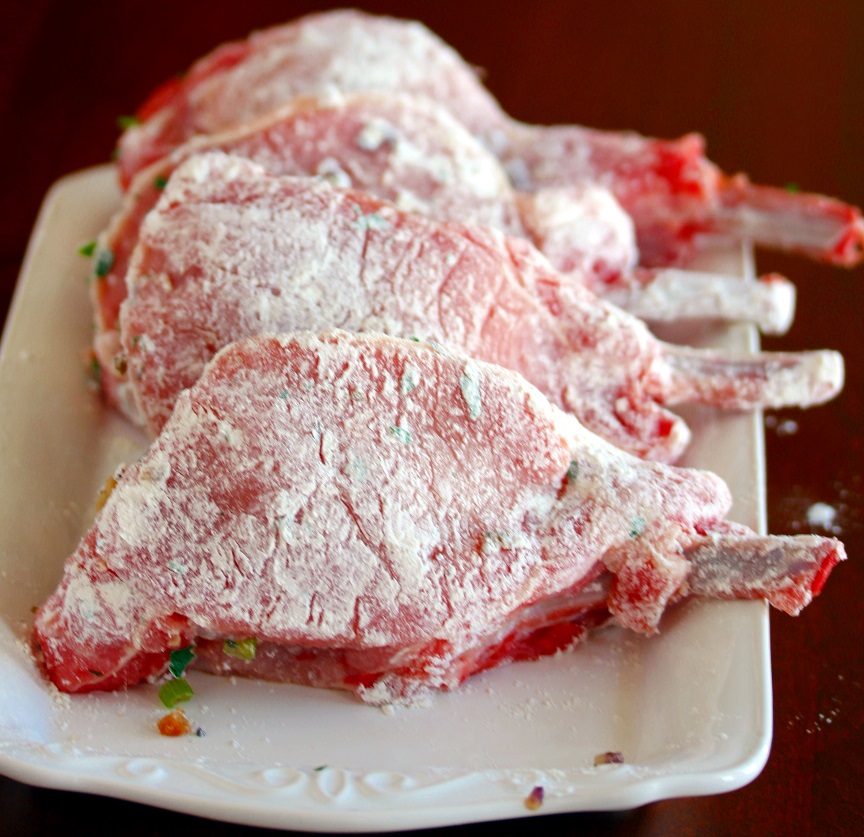 Pour enough oil into a large cast iron (or non-stick, oven safe) skillet to coat the bottom (about 3 tbsp). Heat pan over medium high heat, until oil is starting to ripple.
Add pork chops to pan and sear for about three minutes on each side until well browned.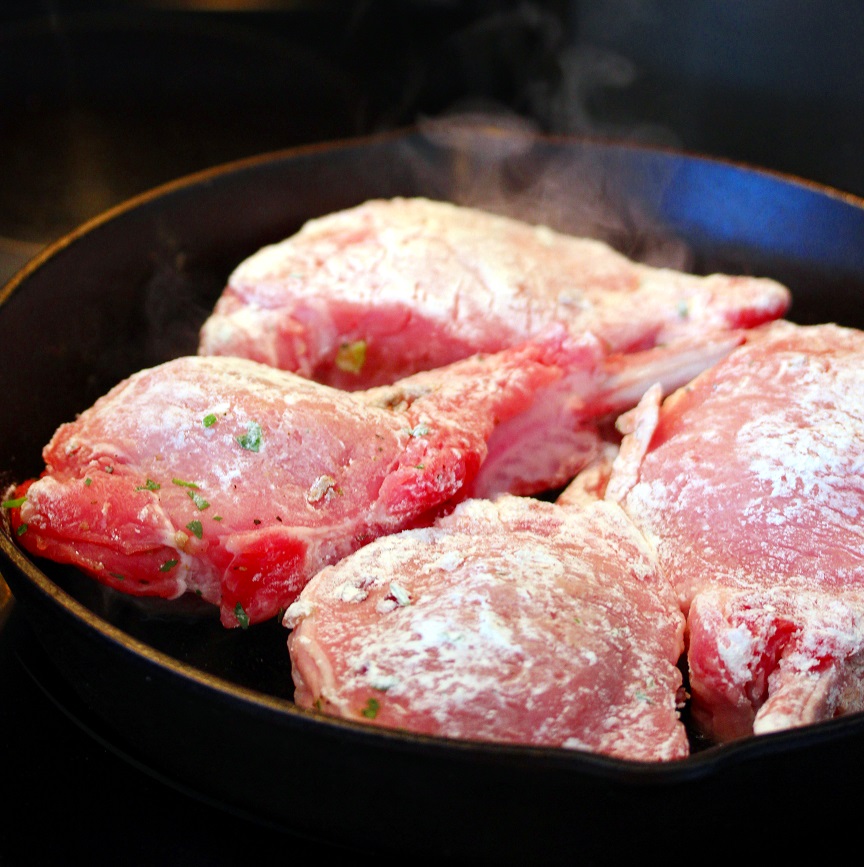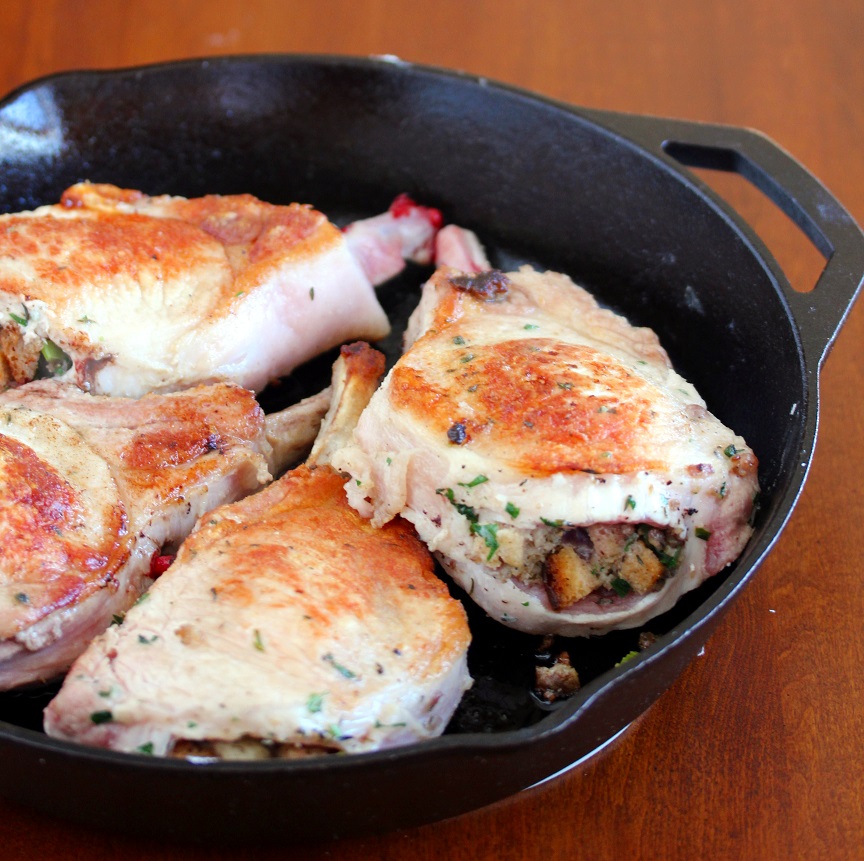 Once pork chops are browned, finish cooking in an oven preheated to 375 degrees for about 20 minutes until pork is cooked through.
Let pork chops rest for about 5 minutes before serving.
*If you want to prepare these ahead of time, you can prepare them to the point that they're stuffed and refrigerate. When you're ready to finish them, coat them with flour, sear and bake as directed above. -OR- Prepare them through the point where you sear them on the stove top. Refrigerate until you're ready to finish them in the oven. When you're ready to finish them, preheat the pan in the oven. Once the oven and pan are preheated (to 375), bake the pork chops for about 30 minutes, until cooked through.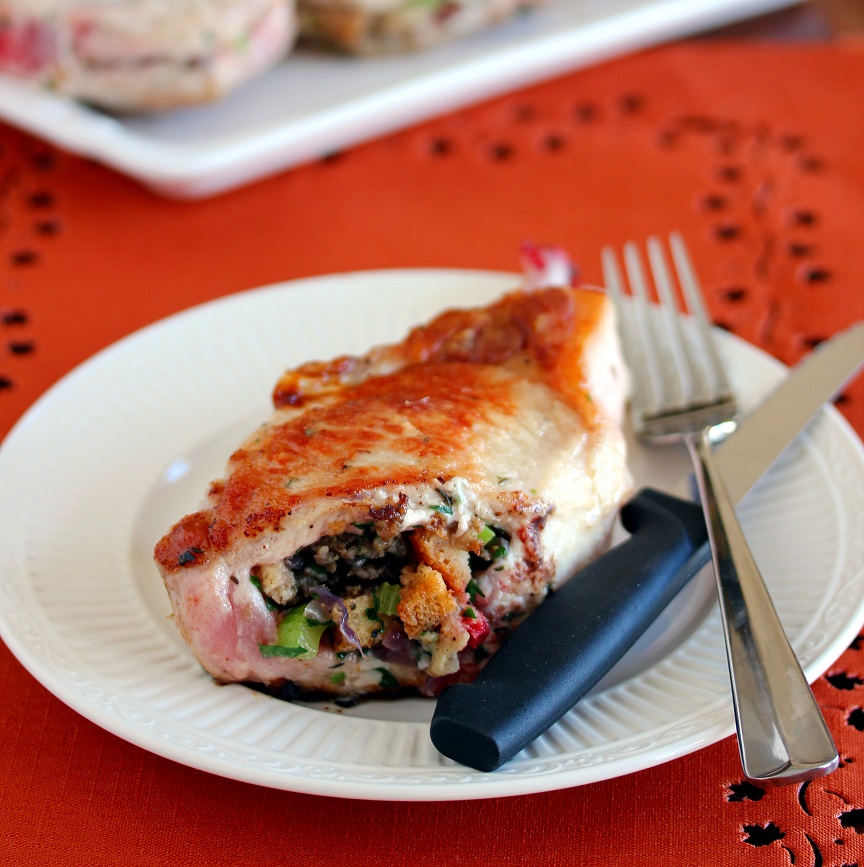 ENJOY!
Shared at these great blogs: